Suzuki DR-Z125L Review | Bike Reviews
Some people might not have seen a DR-Z125L but it has a local history dating back to 2002 and is still going strong as the perfect entry-level bike.
The Suzuki DR-Z125L is a little different to the 125s you might be used to seeing in ADB. When you see a 125 being tested in ADB, you probably expect it to be Enduro Editor Geoff Braico dragging his pinky finger through a purpose-built, 'bar-scraping rut on our Yamaha YZ125X long-termer in search of Instagram followers. No doubt about it, 125s are trendy right now, not because they have the latest tech or are the best to ride but because of their nostalgic value.
Most Insta fans are looking for that video of a 125 sounding like they're breaking land speed records. But, not all 125s are designed to get Tinder dates. The Suzuki DR-Z125L won't get you likes because of its exhaust note or its 'bar-dragging ability. But, it does have its own attractions.
Some people might not have seen a DR-Z125L but it has a local history dating back to 2002 and is still going strong. It belongs to the DR family just like the DR200 trailbike we tested last month but this one doesn't have the ADR gear, which means it's built specifically for the trails.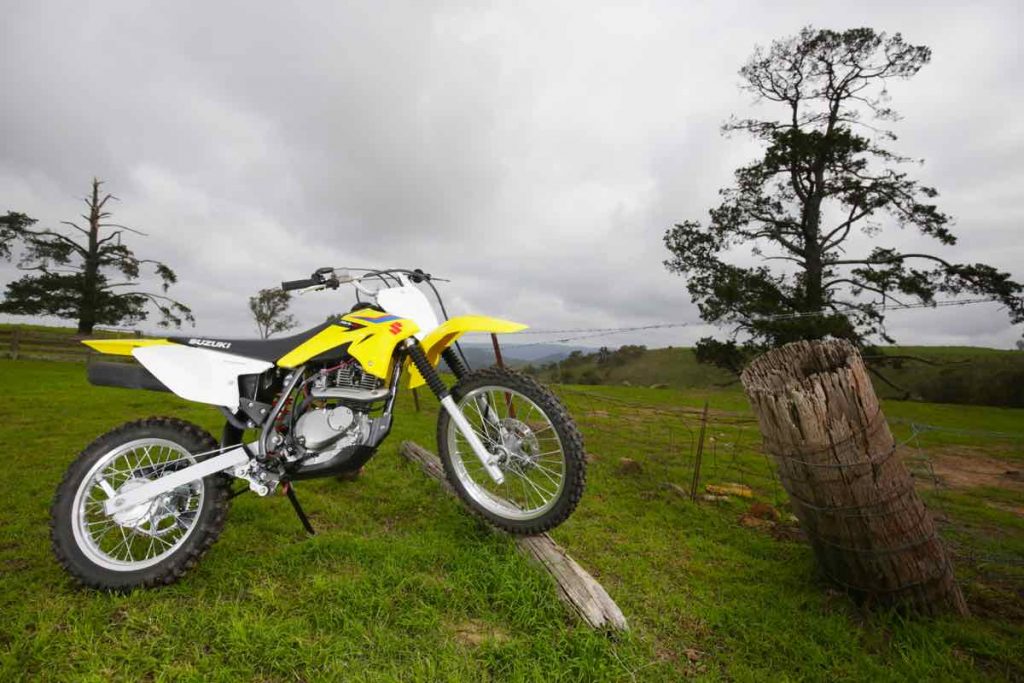 There's not a lot of basic, air-cooled fun bikes on the market these days for kids and learners who want something reliable and simple. The DR-Z125L is. This 124cc air-cooled mill runs a single camshaft so it's an older style but faithful engine. It's not going to blow you off the back but it will last.
The Suzuki DR-Z125L has a five-speed transmission and, being a kids' bike, it has short first and second gears for learning. When going uphill I used second or third to get some speed. I also had to go through the gears a lot, which isn't a bad thing for a new rider to practice and get comfortable with.
It was really fun on the moto track, good for practicing sharp turns and it was easy to throw around because it is light, nimble and agile. The cable clutch was easy to pull in and the gears were easy to change.
Despite how small the DR-Z125L was for an adult rider it still had a comfortable seated position. The foot pegs were grippy and the sidestand was easy to use. The bike was easy to balance and had a good turning circle.
Because the Suzuki was so easy to ride I tried it over a few logs and rock surfaces. The suspension was good, not too soft and not too hard. The monoshock allows for various settings to be used for a range of riding conditions and also caters for growing pilots.
The bike comes with definitely daggy front and rear drum brakes but that's all it needs. The DR-Z felt a little bit wobbly going fast on gravel compared to the 200 but this is expected from a smaller trail/enduro/farm bike.
I was surprised to see that it had a kickstarter and no button. I guess it's good to remind the kids of how the dinosaurs used to start their bikes. The test bike was pretty hard to start when it was cold but that is what you would expect for a new bike. Once it had warmed up, it was pretty easy.
The bike looks great in the Suzuki yellow and I am sure any kid would be stoked to show off this bike at the local ride park. For a newbie or younger teen, the DR-Z125 is a great choice. For a first bike, it will teach them the basics of riding. It's simple design means not much can go wrong and it doesn't have batteries that can go flat. It's also a good upgrade and next step up from a Pee Wee or XR80.
As a female who is new to riding I had a ball on this bike. It was easy to manoeuvre and easy to practice log hops and sharp turns because it was small and light which is perfect for a beginner. If you are new to riding this is a great bike to practice your skills and to have fun on, but for an adult it is probably too small and it is something that you would outgrow quickly.
You would be better to look at something a bit bigger, like the DR200 or Honda CRF250, as you will hold onto those bikes for a longer time without outgrowing them. My husband took the Suzuki DR-Z125L for a quick spin and looked like an elephant in a circus riding a tricycle, but said he still had quite a lot of fun on it and it would be a great pit bike or one to muck around on with the fellas.
I took it fencing and it was perfect for racing up and down the fence line and opening gates. Because of the low seat it made easy to do this stuff without getting off. I did keep it idling though so I didn't have to keep kickstarting it. With first gear being so low, certain jobs like moving cattle are made easy.
Although this bike wouldn't be the most suitable for an adult, for a younger and smaller person this is a great bike. It has a low seat and is light, which is perfect for kids moving up from an 80 or for a kid or young teen new to riding. The only thing that might get annoying is the kickstart but I'm sure the kids will get the hang of it.
Suzuki DR-Z125 Big or Small?
There are two sizes available for the DR-Z. The smaller DR-Z125 is for younger kids and the vertically challenged with a seat height of 775mm. It is very light at 88kg and has a wheelbase of 1245mm. You can buy this one for $3790 rideaway.
The DR-Z125L has an 805mm seat height. It is only 1kg heavier despite having a 1270mm wheelbase. This is for older kids and young teens and sells from $4490 rideaway.
Both bikes have the same width, 770mm, come with a six-month warranty and are both fitted with a 4.8-litre fuel tank.
Especially when learning, it is pretty important to have the right-sized bike. You want to be able to touch the ground even if it's just with your toes. This helps you gain balance and feel more in control of the bike. It's good these different size options are available.
WORDS AND PHOTOS // BEC WILSON