We pitch Suzuki's DR-Z250 against the latest, greatest two and four-stroke weapons to see how it measures up at the Myrtleford Alpine Rally
TRAIL TEST: SUZUKI DR-Z250
Suzuki's DR-Z250 might seem dated, soft, even unfashionable, but it offers endless kilometres of fun – on the street and in the bush. Its low-fuss nature suits those who ride for pure pleasure rather than to push the limits of speed and difficulty.
The best thing about the DR-Z250 is its simplicity. It's easy to ride. The low seat – just 890mm – is wide and soft. You can ride all day long and never suffer a numb bum. The seats on the KTM 250EXC-F and Yamaha WR250F are 970mm and 990mm respectively, and they're hard and sleek to provide unrestricted manoeuvrability in racing conditions. Comfort isn't a priority.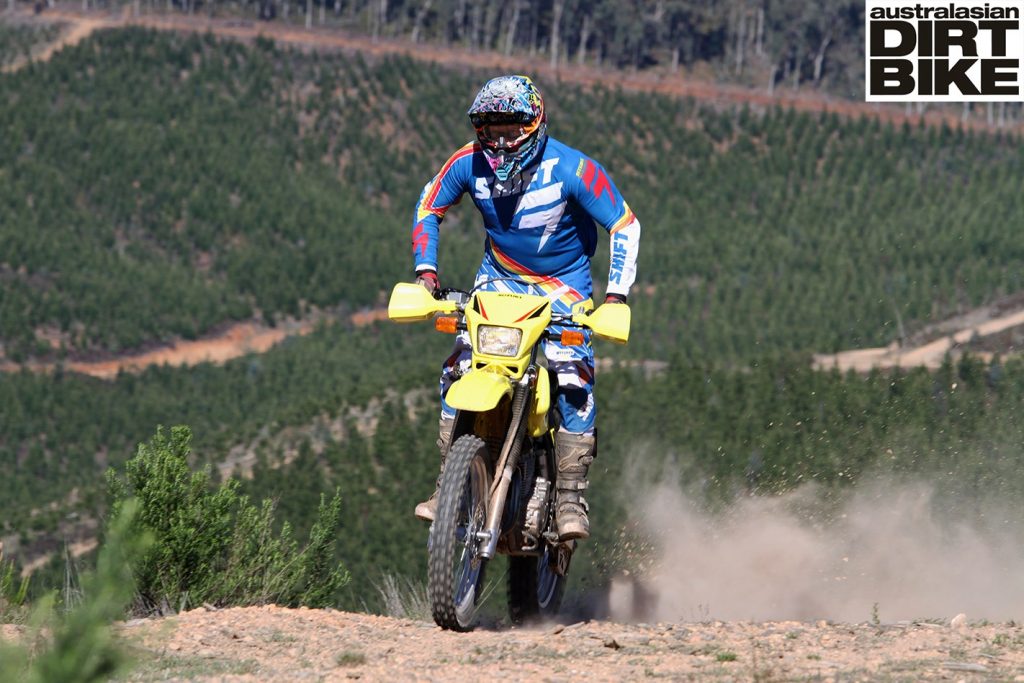 The air-cooled engine is low fuss despite the fancy four-valve Twin-Swirl Combustion Chamber cylinder head. Its 249cc donk is a gem, tough as nails. This is not a race bike, nor does it pretend to be.
A sizeable oil cooler keeps the engine happy, so it ticks away without demand. The 10.5-litre fuel tank is great – I didn't empty it, despite wedging the throttle wide open for 130km of trail.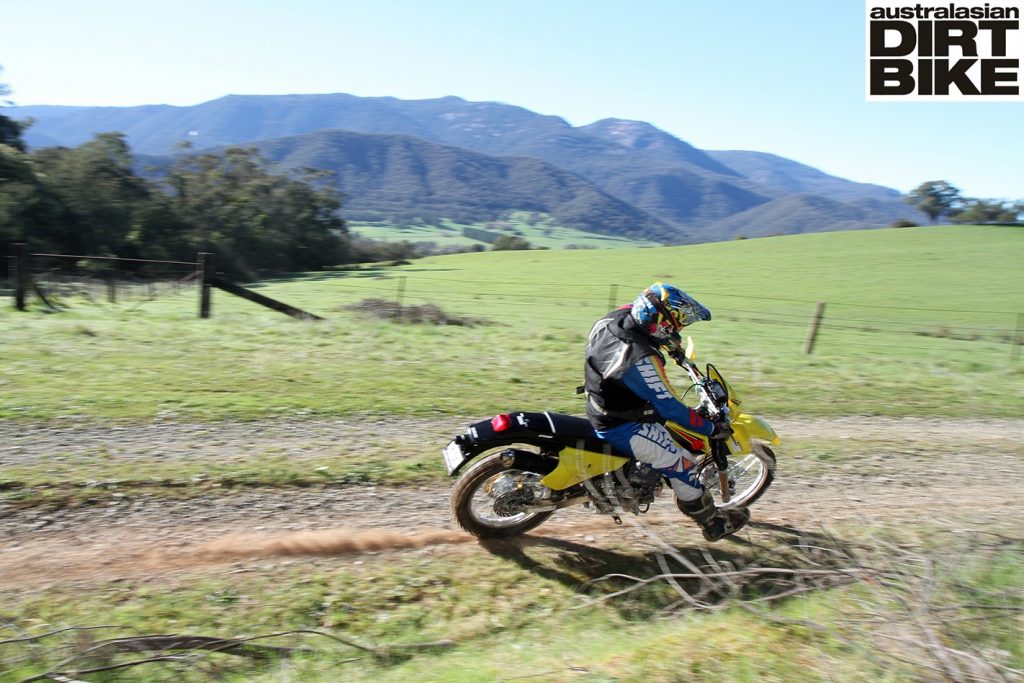 We ditched the mirrors and rear indicators to save smashing them off in the bush and went to 13/47 gearing that proved good for single trail or open-road cruising. Other changes included Pirelli Scorpion mid-soft tyres, heavy-duty tubes and rim-locks to deal with serious off-road riding.
The hand guards look big but offer good protection, though the handlebars are steel and wouldn't last long in a fall. Anyone above a novice will find the suspension's limitations, but it is a smooth ride. There are rebound and compression adjusters front and rear and while I didn't touch them, it's nice to know they're there.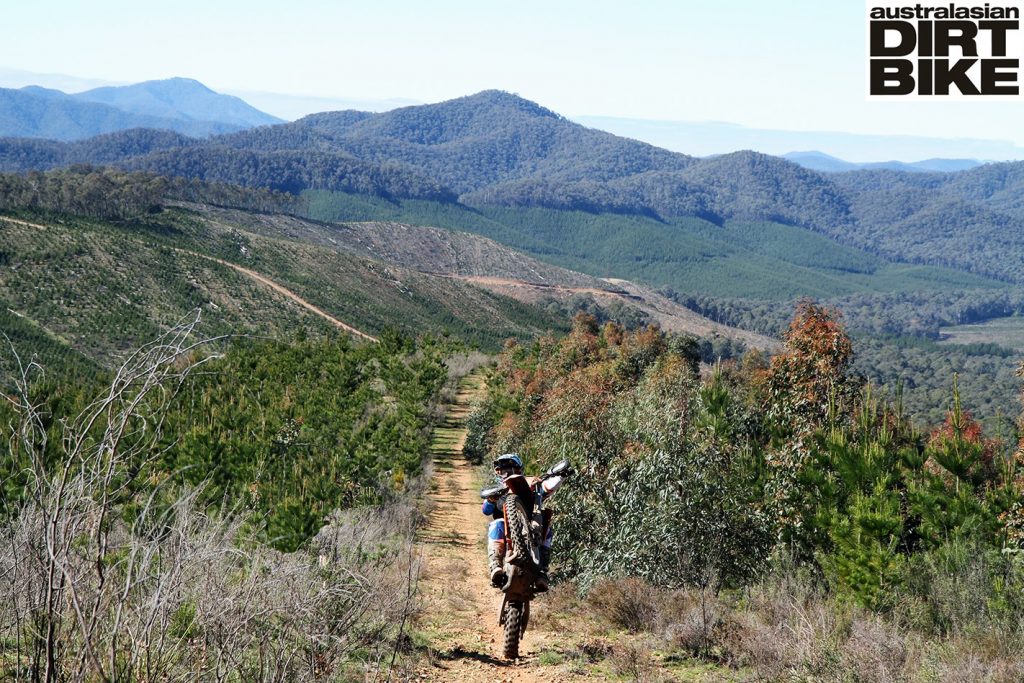 The electric and kick-start combination is good; tool-less air filter access is another positive. Ground clearance, however, is limiting when it comes to clearing logs and rocks. The outright horsepower of a modern high-revving four-stroke isn't there but even uphill we passed riders who had lost traction and control.
To complete my time with the bike, I clocked up some road kays. It's a smooth, efficient ride – the bike swaps from weekend warrior to city commuter with zero changes.
The dated looks might put a few riders off it but a sleeker front guard, lighter headlight assembly, more compact speedo and shorter rear guard extender/plate holder would make this bike much slicker.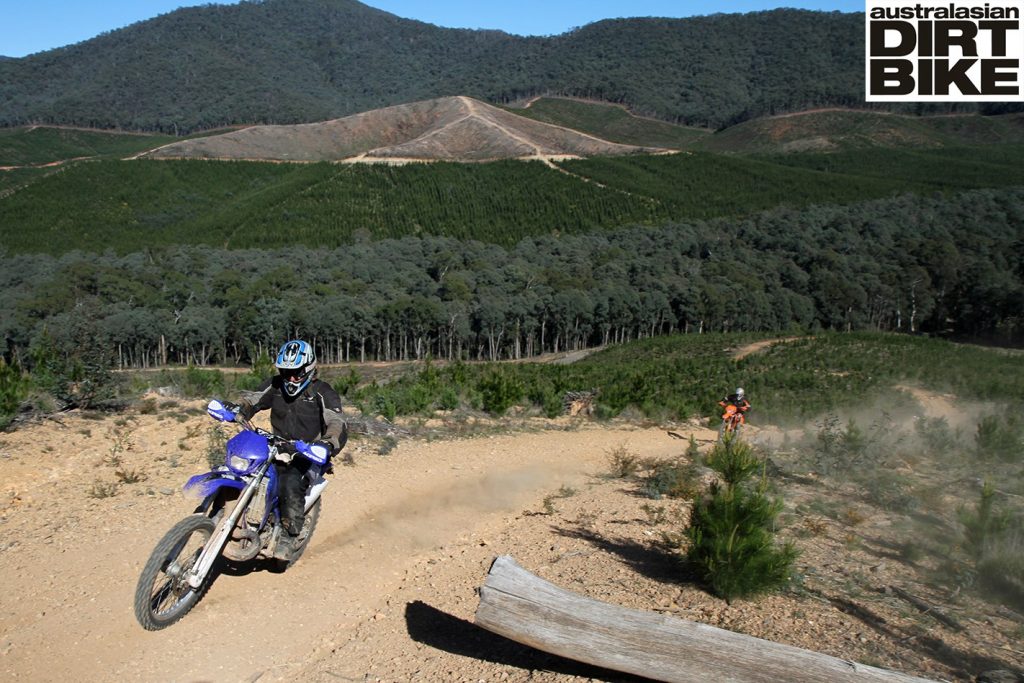 The DR-Z250 is simple and mild-mannered. It'll go anywhere and keep on going long after more complex bikes are in need of a heart transplant.
Is the little Suzi better suited to urban commuting and rounding up sheep, or is it simply overlooked in favour of more trendy options? Does the DR-Z250 have any right to be out there on the same trails as the latest and greatest? The answers in issue #424 of ADB!
HONDA MYRTLEFORD ALPINE RALLY
This rally is a non-competitive trail ride just 15km from Myrtleford, in the Merriang Plantation and through the Buffalo River region of Victoria, approximately two hours from Melbourne. The course is marked, with a 60km loop on forest roads and trails before lunch and 70km on forest roads, single-track, big hills and twisting trails after. Entry is $140 and includes lunch, dinner, a T-shirt and entry to a raffle to win a Honda CRF50. The day suits intermediate riders; there are a few challenging hills and easier routes around some of the more difficult sections. You need to be licenced and riding a registered bike – recreational registration is acceptable. It's a well-organised day run by a great bunch of people attracting entrants from as far as Byron Bay, NSW. Find out more at www.myrtlefordalpinerally.com.
SPECIFICATIONS:
SUZUKI DR-Z250
ENGINE
Type: DOHC four-stroke
Displacement: 249cc
Bore x Stroke: 73mm X 59.6mm
Cooling: Air/oil-cooled
Compression ratio: 10.4:1
Fuel metering: Mikuni carburettor
Fuel capacity: 10.5L
Transmission: 6-speed
Clutch: wet multi-disc
DIMENSIONS
Wheelbase: 1450mm
Seat height: 890mm
Ground clearance: 300mm
Weight: 131kg
SUSPENSION
Front: Conventional fork
Rear: Linkage
BRAKES
Front: Hydraulic disc
Rear: Hydraulic disc
RUNNING GEAR
Handlebars: Steel
Front: 80/100-21
Rear: 110/100-18
PRICE & CONTACTS
RRP: $6990
Distributor: www.suzukimotorcycles.com.au
Warranty: 12 month/unlimited km