The Suzuki never gave me any reason for concern.
Is the V-Strom 1050XT the all things to all men adventure bike?
Adventure bikes are a little different to other bikes in the dirt bike world, as one mans' adventure is another mans' highway to hell. A motocrosser is purpose built to ride motocross, a known condition, but my idea of an adventure ride may well differ from yours. To one rider a Sunday ride on sealed quiet country back roads, through small towns, may be his adventure. To another it may be finding the most circuitous route from A to B avoiding as much bitumen as possible and the manufacturers have to meet this broad definition.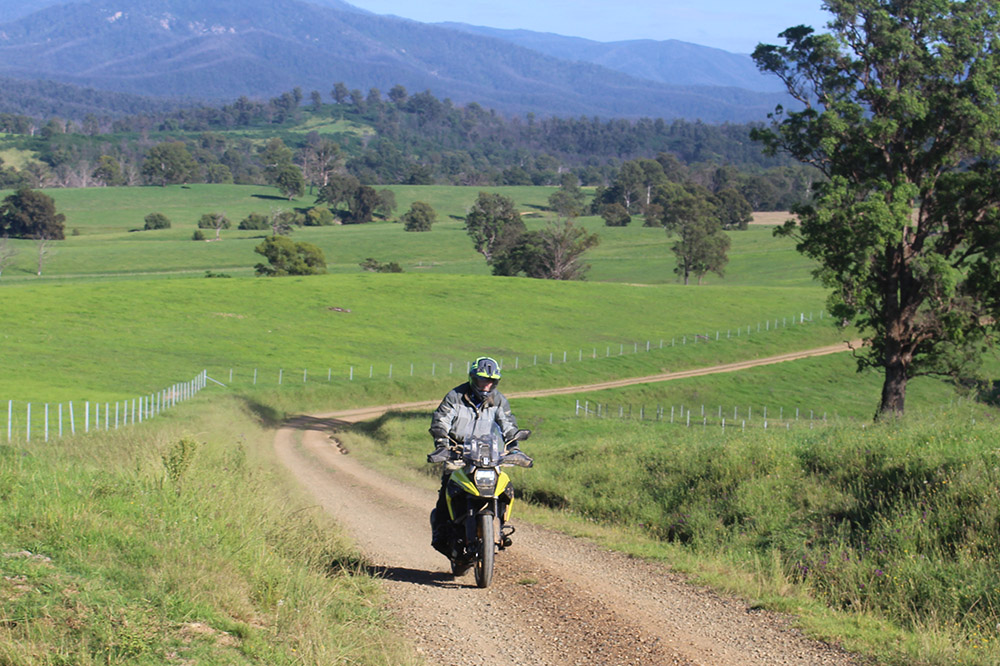 With the V-Strom 1050XT Suzuki has done a pretty good job and I enjoyed my time on it. It did everything I asked of it, and I asked a lot in some places and it came through without disgracing itself. My first impression was the striking colour scheme and the distinctive 90 degree V-twin motor. It's a bike that catches your eye make no mistake.
Like a lot of the bigger ADV bikes it also looks heavy and at 246kg wet, you wouldn't want to pick it up too many times in one day but it's not alone in that regard. The 1037cc liquid cooled motor gives a nice purposeful note that is not intrusive at all, even after long hours of riding. There is plenty of power on tap for highway use and the three position SDMS (Suzuki Drive Mode Selector) allows you to tame the power if necessary. I didn't find the need to do so and left it on the highest A setting.
A-mode gives the sharpest throttle response, B-mode is a slightly softer throttle response up to half throttle and C-mode provides the softest choice. It's part of what Suzuki call the SIRS (Suzuki Intelligent Ride System) which also includes Motion Track Brake System, Hill Hold Control, Slope Dependent Control, Load Dependent Control, Cruise Control, and Traction Control. Some are self-explanatory but the Motion Track Brake System allows the ABS to activate in a straight line and when leaning, the Slope Dependent Control prevents rear wheel lift during downhill braking and Load Dependent Control optimises braking by compensating for varying load conditions.
Any adjustments to the ABS, Traction Control and power settings are made from the multi-function switch on the left grip which cycles the menu on the LED screen. It's not exactly intuitive and requires some study of the owners' manual and practice before feeling familiar with it. Practice and study I would have benefited from if done before going riding.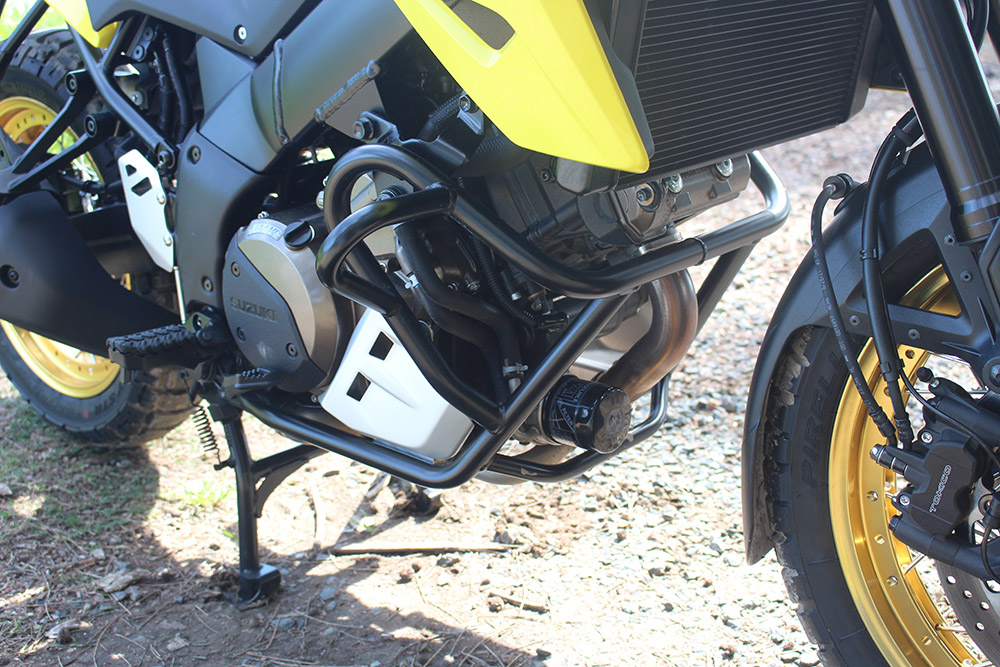 One of my riding mates, an older gentleman, fell off in front of me and needed assistance. We were on a rutted and rain worn uphill slope and I needed to roll backwards a little to find a secure spot for the sidestand but the Hill Hold feature was having none of that. Fiddling with the multi-function switch I managed to zero one of the two trip meters three times before turning off the Hill Hold. If I'd read the manual more thoroughly I would have known of the options to either wait 30 seconds or pull the brake lever twice quickly to de-activate it.
Traction Control can be one of three settings or off, I rode all day with it on "1", the lowest setting more from curiosity than a need. ABS gives two choices with "1" giving little intervention and "2" standard ABS, I chose "1" again for the whole days ride. If you can't control traction and braking adequately yourself then why are you riding a dirt bike? Catch a bus.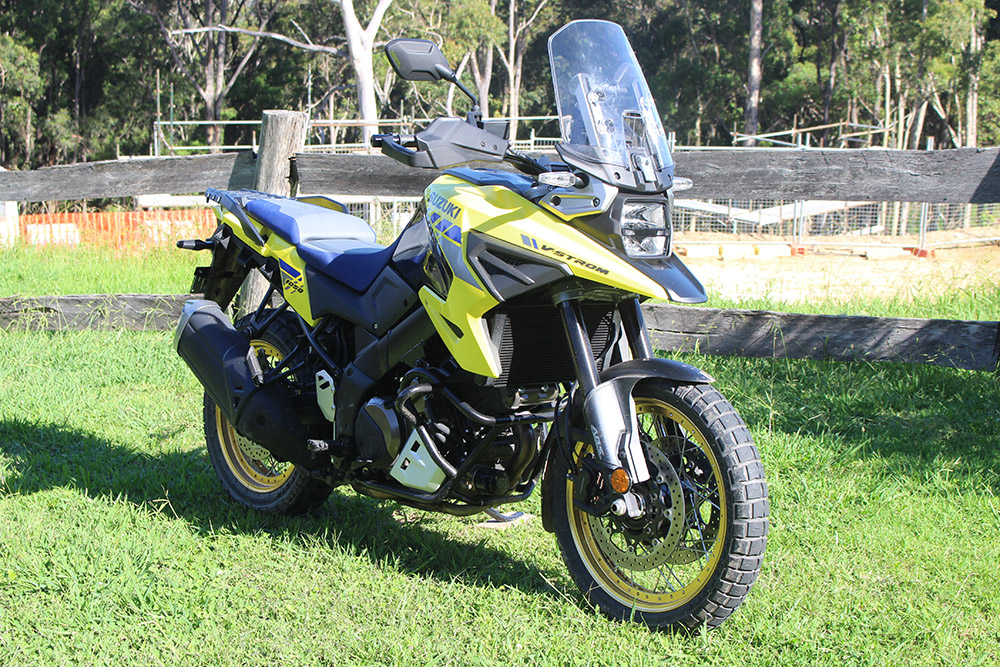 Our predominantly bush route took us westwards from Mogo on the coast up over Clyde Mountain, passing south of Braidwood and through Majors Creek before crossing the Shoalhaven River and turning south towards Numeralla. A little on the north side of Numeralla we turned east again and back through more mountainous country to hit the tar at Bodalla on the coast after having peaked at an altitude of 1200m. By then we were all suffering fuel anxiety as there was nowhere to get fuel on our route once we departed Mogo until reaching Bodalla.
The big Suzy drank 16.5L into the 20 litre tank with the speedo reading 343kms, (335km on the GPS) which equates to 20.7km/l or 4.83L/100km. I was impressed as a lot of the morning had been spent on 2nd and 3rd gear climbs up some rough fire trails full of ruts and rocks.
Picking a line on those tracks had to be done with conviction as the 1050XT is manoeuvrable but not overly nimble and the 19 inch front wheel tends to fall into holes a little easier than a 21 inch does. In saying that though, the Suzuki never gave me any reason for concern and was stable enough in the rough stuff with the Pirelli Scorpion tyres giving good grip. The suspension remained on the standard settings and only bottomed once on the front on a particularly nasty descent.
In the more open going on good dirt roads through farmland the 1050XT was comfortable and smooth at speed. In fact more than once I surprised myself when the speedo was showing faster than I thought. I should add here that on a long flat straight stretch of tar at the days end I set the Cruise Control on 100 to compare with the GPS, which was reading 95. I also had two small slides, one front and one back on loose gravel, and each time the bike corrected almost before I could react.
The brakes never gave me any cause for concern and were responsive with good feel, no matter what the surface, even on broken steep descents. Power delivery was easy to control, on the "A" or full setting and it was never a problem dialling in just the right amount on some of the washed out slopes we had to climb.
Gear selection was smooth but with my big plates of meat I had to adjust the linkage to raise the gear lever for comfortable up changes. At the full range of the linkage it was still not perfect but moving one spline on the actual gear shaft would have solved the problem properly. With six gears to choose from I never got caught out and was pleasantly surprised by both how low in the revs each gear would pull from and how high a speed could be achieved before changing up.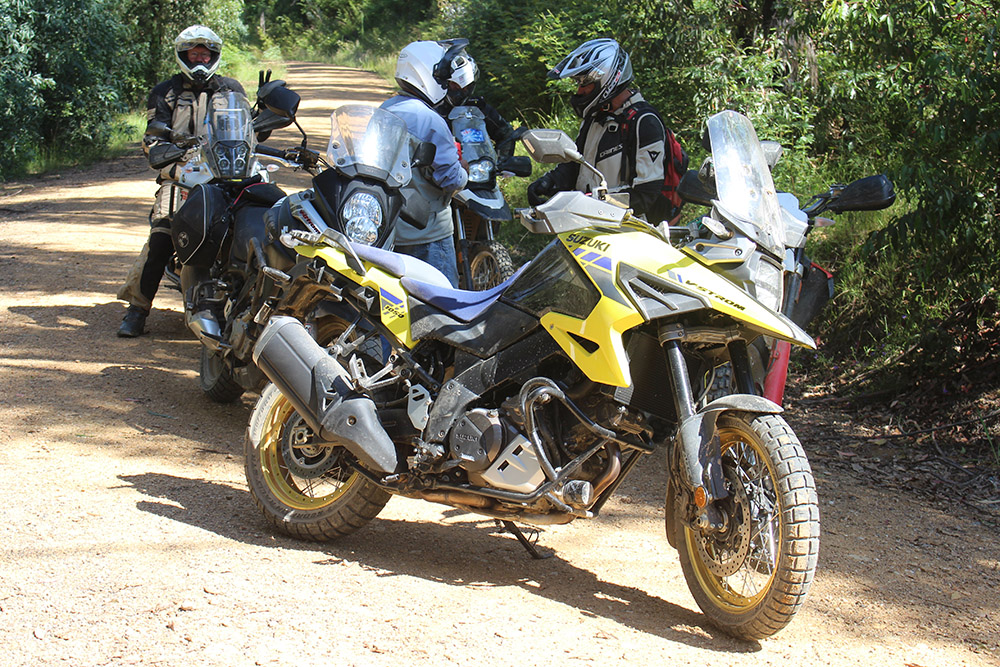 The screen kept the wind and bugs off my face, with no helmet buffeting but there was some wind noise. The handguards are best described as flimsy and do little more than deflect air flow, Barkbusters should be on any potential buyers shopping list. Suzuki also offers a bashplate as an option, as do countless aftermarket fabricators, and it would be a wise investment for any owner. The forward cylinder, header pipe and oil filter are all in a vulnerable position and would be appreciative of the protection.
The LED screen offers up all sorts of info on speed, gear position, revs, engine temp, distance travelled, fuel consumption, estimated distance remaining, ABS, Drive Mode, Traction Control, time and ambient temperature. Some of the info is hard to read even on the brightest setting as the contrast of the white lettering against a dark background could be better and some of it is in small print. Add a light covering of dust to the screen and I was constantly wiping it to be able to read anything at all.
The stepped seat is adjustable for extra height and even though I'm tall the standard height was comfortable enough, but the seat was getting hard about halfway through the day. I am a fan of the centrestand, a feature all bikes should have for easy chain maintenance and tyre repairs. The rubber inserts in the footpegs can be removed to reveal serrated steel platforms adequate for the job, there is a 12v socket under the rear half of the seat, which needs to be removed to access it and a USB socket on the left of the LED screen.
As I said at the start, ADV riding means different things to different people and with the V-Strom 1050XT Suzuki have managed to fit it into a broad section of the market. It's only the hard core end of the adventure spectrum that would be testing its limits but it would even do some of that with suitable care. For the Sunday adventurer, or the weekend or longer camper it's great value for the money. If you're planning on a search for Lasseters' Lost Reef though, there are lighter, better suited choices.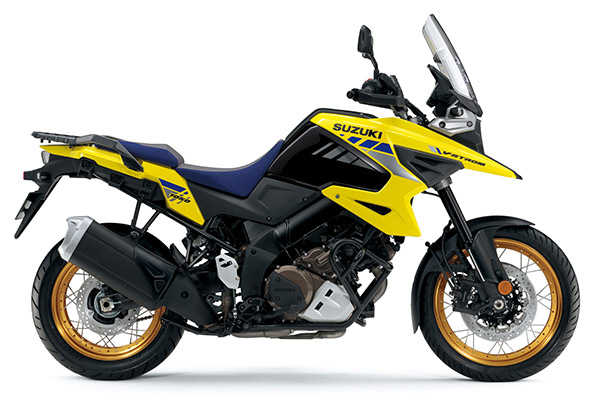 Suzuki V-Strom 1050XT
ENGINE
Type 90° V-twin, liquid-cooled, DOHC
Displacement 1037cc
Cooling Liquid
Fuel metering EFI
Tank capacity 20 litres
Transmission Six speed constant mesh with back-torque-limiting hydraulic clutch
DIMENSIONS
Wheelbase 1555mm
Seat height 850mm
Ground clearance 160mm
Claimed Weight 247kg wet
SUSPENSION
FRONT 43mm KYB inverted forks with adjustable compression, rebound and spring preload
REAR Link type, KYB shock with adjustable rebound damping and spring preload
BRAKES
Front Tokico radial-mount, four-piston calipers, 310mm floating discs
Rear Nissin single-piston caliper, 260mm disc with ABS
RUNNING GEAR
Front tyre 110/80/R19
Rear tyre 150/70/R17
PRICE & CONTACTS
RRP $21,490 ride away
WARRANTY 3 Year Unlimited Kilometre (2 Year Std + 1 Year Bonus)
CONTACT suzukimotorcycles.com.au

WORDS & PHOTOS // WARREN JACK