TESTED: 2019 Kawasaki KX450 | Bike Reviews
The Kawasaki KX450F has built a formidable reputation as a championship winner. It has won motocross and supercross titles in Oz but has experienced even more success in the U.S.
THIS FEATURE WAS FIRST PUBLISHED IN ADB ISSUE #468 – SEPTEMBER 2018
Words: Mat Boyd
Pix: Nick Wood
Ryan Villopoto piloted the KX450F to two AMA Pro Motocross Championships (2011, 2013) and four AMA Supercross ones (2011-2014), while Eli Tomac took out last year's Pro Motocross Championship.
Even Chad Reed had a stint using the KX-F with his Two Two Motorsports team after he was left without a factory seat. Despite all that history, Kawasaki has dropped the F designation for 2019. It's not to save weight, either. With the Big K no longer producing 125, 250 and 500 two-stroke motocrossers (just the 85 and 65), the 2019 four-strokes will be known simply as the KX450 and KX250, but the name change is just the tip of the iceberg.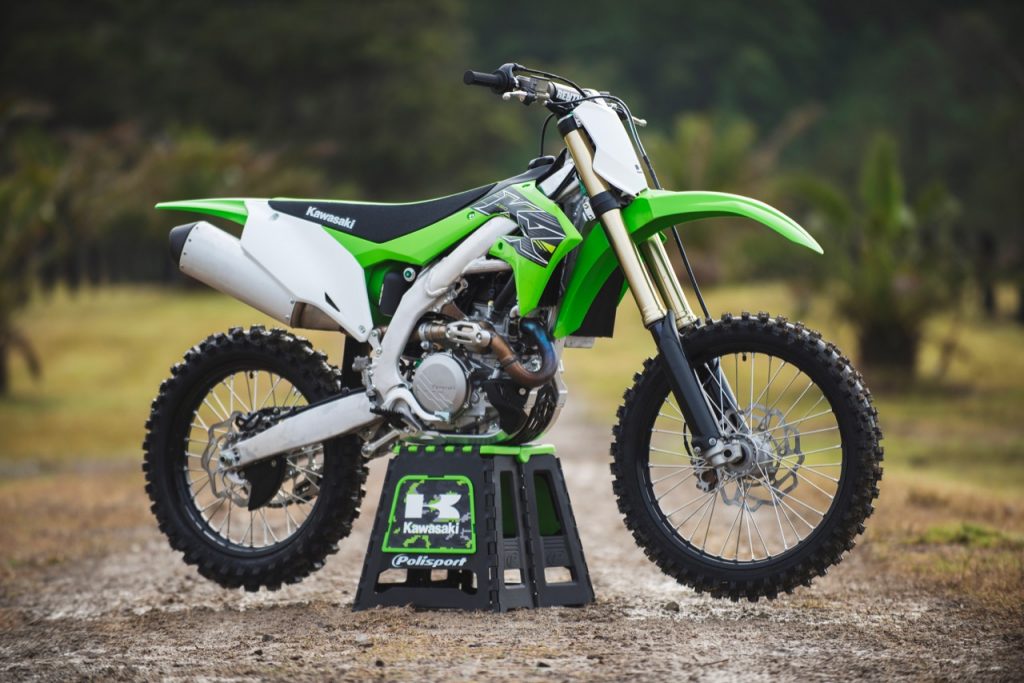 MORE CHILLI
Kawasaki is claiming that its new engine has 2.5kW more power and a much flatter torque curve. It comes with DLC-treated finger camshaft followers designed by Kawasaki's MotoGP and World Superbike engineers. This technology enables larger diameter valves and more aggressive cam profiles.
The bigger valves and lumpy cams are paired with a downdraft inlet port, a bridge-boxed piston that is lighter than the 2018 one and a plain-bearing conrod to reduce friction and lengthen the service life of the crankshaft.
But perhaps the most exciting additions on the KX450 are the Nissin hydraulic clutch and the electric starter. These features are a first for Kawasaki, with the hydraulic clutch being the first on a Japanese motocrosser. Kwaka has fitted a lithium-ion battery to power the starter motor that is claimed to be the lightest on a production bike.
READ MORE ABOUT WHAT'S NEW ON THE 2019 KX450 HERE
SLOPPY SECONDS
The test track was The Island Action Sports Complex. The Nerang facility boasts an AMA-style motocross layout that had been ripped super deep but the heavens had opened, which turned it into a total mud fest. But, a day away from work, wife and children meant that no amount of rain was going to stop me getting the new bike dirty.
As soon as I hit the track two things immediately stood out:
1. The track was much wetter than it looked.
2. The KX had much more power, but not too much for the conditions. The torque was surprising and actually very handy on such a wet track. The power was plentiful but came on smooth and strong so that getting drive in the thick mud was much less of a problem than it could have been. It wasn't overly aggressive but it drove very well through the mud.
The Nissin hydraulic clutch is a bonus. The pull isn't necessarily much lighter but it does eliminate the need to adjust freeplay at the lever. This can be a pain with cable clutches, as they can get very hot in muddy conditions and you need to be constantly adjusting the freeplay. The electric start is handy and never hiccupped during our day of testing.
The bike starts easily without any issues as soon as you hit the button. I can't believe I'm actually saying this but I love having an electric starter. I used to laugh at the idea of electric start on a motocrosser but it seems to be a regular thing now and it's hard to go back to kicking a bike after you've lived with a button.
One thing I did notice with the new engine is a new noise. The addition of the finger followers has added some valve train clatter. After a few laps I got used to it but it was something I'm not used to hearing from a Japanese engine. I chose to stick with the standard ignition coupler in the mud because it gave the best overall power and allowed me to carry momentum through the mud.
I've found the launch control works best if you have a slippery or hard-pack start but in the boggy mud we had in Nerang I actually preferred using the standard map to take off.
SIZE MATTERS
The new KX450 looks and feels like a small bike. I know it's marginally heavier than the previous model but it doesn't feel like it. The styling feels very much like last year's KX250F. It is flat and slim and easy to move around on.
The spring-cartridge fork is a welcome addition. The Showa SFF-TAC Air fork was rough and harsh at low speeds, whereas the new fork is plush and forgiving. I felt it might actually be a little on the soft side for a rough, dry track but in the wet it worked well as the track was not overly rough. The shock is stiffer than the fork and works well.
It was smooth but firm and soaked up the pounding it copped through the wide-open whoops. At 85kg I felt the rear spring rate could be on the hard side for anyone below my weight. At the front-end I don't think there will be many people complaining about the fork. An A-Grade racer will most likely be looking for a stiffer set-up but for the average rider I feel like Kawasaki has go this one pretty spot on.
The Nissin brakes worked well. There wasn't much difference in the rear brake compared with last year but maybe on a drier track you might notice the extra braking power from the 10mm bigger disc. The front brake lever felt very thin. It wasn't the same thickness as the clutch lever and it felt like there was two different brands of levers fitted. The front lever was firm and worked well, but it just felt out of place compared to the clutch one.
Unfortunately, the handlebar is a little disappointing. Like Honda, Kawasaki is still using Renthal 7/8-inch alloy handlebars with cheap handgrips. If this bike was fitted with a decent handlebar and 'grips then I would be struggling to find something I didn't like about it. The wider footpegs are comfortable and the adjustability of both the footpegs and handlebar means you can easily modify this bike to suit a wide range of riders.
VERDICT
Two things stood out for me on this bike, the power and the chassis. The bike makes strong but smooth power and the chassis is slimmer and nimbler than last year, making it feel more like a 250 rather than a 450. We asked for the hydraulic clutch and we got it. We asked for a return to the spring-cartridge fork and Kawasaki delivered. The last thing we're asking to be changed is the cheap handlebar and grips. It's like fitting a plastic steering wheel in a Ferrari.
I would really like to get this bike out on a dry track before I go making any bold claims. Like with any model upgrade, it should improve on it's predecessor, and the KX450 has. I feel totally comfortable saying this is the best 450cc machine Kawasaki has produced but I'm not game enough to go saying it's the best bike on the market just yet. It's certainly up there but quite a few of the other manufacturers have pulled out some big hitters for 2019 so, come shootout time, it's going to be one hell of a show.
Grilling the Leader
We were fortunate enough to sit down for a chat with Kawasaki Heavy Industries' Mr Ryosuke Atsumi, who led the team that designed and built the 2019 KX450 so he was the perfect candidate to answer the big questions we had:
ADB: After several years running the SFF-Air TAC, what led to the change back to a spring-cartridge fork for 2019?
Ryosuke Atsumi: We believed the triple-air chamber fork was a good fork that, if set up correctly, worked well. The feedback we got from customers was that they found the air fork to be too harsh at low piston speeds. For this reason we chose to go back to the spring fork to satisfy our customers and give them what they were asking for.
ADB: Why, after so many years with a cable-operated clutch, did you finally decide to fit a hydraulic one?
RA: We wanted to make this 2019 bike a big improvement over the 2018 model. We weren't just looking for little improvements. We wanted to make big improvements to every part of the motorcycle. This meant to better the clutch we had to make it hydraulic.
ADB: Is this bike designed around Eli Tomac and what he wants in a race bike?
RA: While we do listen to Eli's feedback and take it onboard we are not directly designing a bike for Eli. Eli has customised parts to suit him. We take feedback from all around the world to determine what our customers want in a motorcycle then we go about providing them with what they ask for.
ADB: The diamond-like coated finger followers are a common feature on certain European motorcycles. Did you copy this technology from KTM?
RA: We had this technology many years ago in MotoGP. This is not our first experience with finger followers but it is the first time it has made its way into a Japanese production motocross bike. It is technology we are very familiar with and we anticipate it being something that many other manufacturers will begin to copy.