When ADB released footage of me testing Dakar competitor Andrew Houlihan's pristine KTM 450 Rally Replica, I expected people to ask what it was like to ride.
No one on the internet cared about how good the KTM 450 RALLY REPLICA was. All the traffic was about the $55,995 price. How could it cost so much? Was it really worth it? Why would you buy one when you could turn a 450EXC-F into a rally bike for half the money? COVID's done funny things to people's heads!
Why $56K? Well if you start adding up the standard parts: WP Xact Pro 48mm Cone Valve fork, WP Xact Pro shock, full Akrapovic exhaust system, 33 litres of intricately moulded fuel tanks and plumbing, carbon-fibre navigation tower, 450cc SOHC rally-specific engine full of custom Pankl parts, carbon-fibre toolbox, Hinson clutch, cush-drive hub, Xtrig triple-clamps with PHDS handlebar damping, Scott steering damper, map roller, ICO tripmeters, emergency water tank, oversize Brembo disc, oil cooler … the list goes on.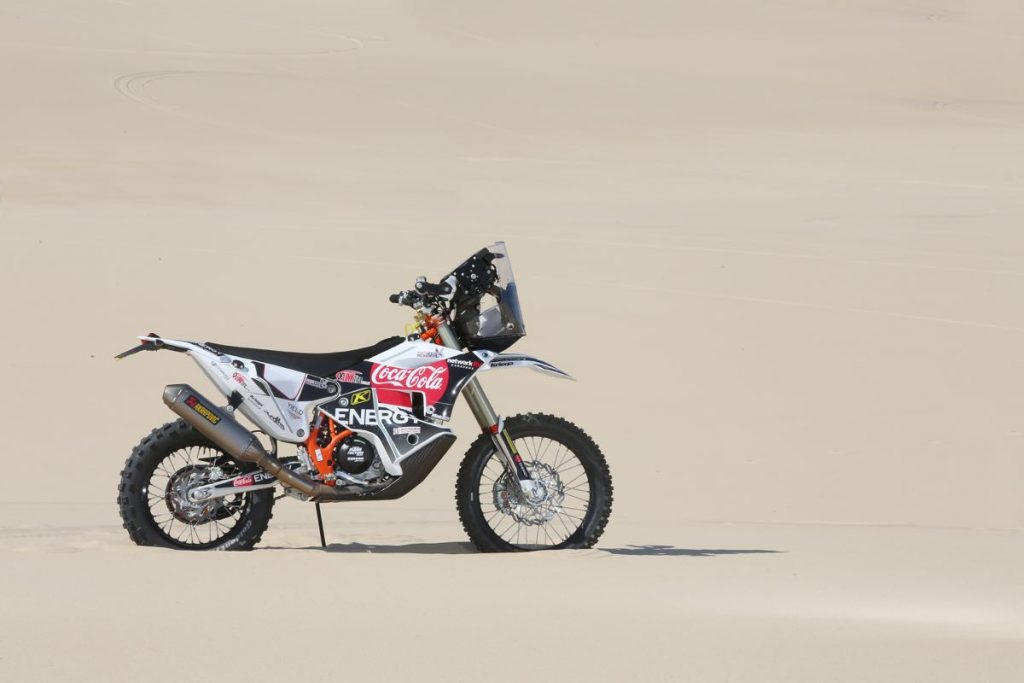 No idea how much that engine is worth but add up the rest of the parts and you start to understand the price and see that the KTM 450 RALLY REPLICA is actually good value for money. The other factor you need to take into consideration is the thousands of hours of testing and development KTM has done at massive expense.
You don't get 18 Dakar victories by riding around the factory in Austria. I know someone out there is saying: "KTM won them 18 Dakar's with factory bikes" and, yeah, that's true, but I can tell you just how different they are after riding a Rally Replica and a factory bike on the same day.
Before the last world championship rally I raced in Morocco, I headed to Spain to train with then-current Dakar champ Marc Coma. I was on a production machine and Marc was on his factory bike, but I got to spend a few hours on it after my bike's battery died. Clever of me, eh?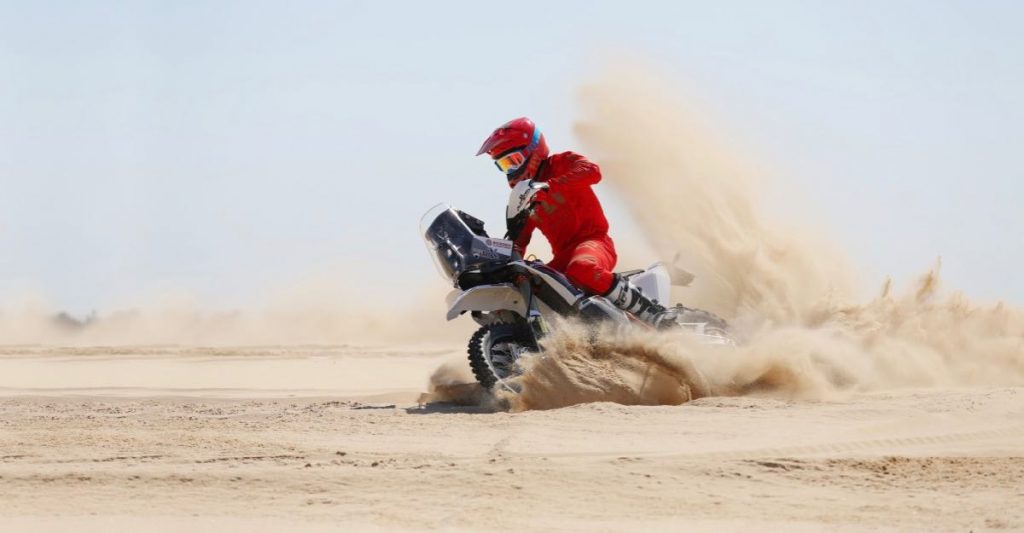 The factory engine felt stronger, but nothing as crazy as you might think. The biggest difference was that the factory WP 52mm Cone Valve fork and Trax shock soaked everything up effortlessly and felt really comfortable at speed.
Could I go the same speed on the production bike? Yes, but not with the same confidence I had on the factory.
The perfect example of what a Rally Replica can do is Toby Price riding one to third in his first Dakar in 2015. Taking this into account, it's safe to say KTM uses all its winning knowledge and technology when making the production bike.
No doubt you can turn a 450EXC-F into a rally bike for a lot less coin. Don McGrath from CPW built a lot of them (ADB #484), even my last Safari-winning rally spec EXC.
You can get reasonably close in specs transforming a 450EXC for around $30,000, but I believe there are a few areas where you won't get close to the features of the rally bike, which makes it a bit of a deal breaker.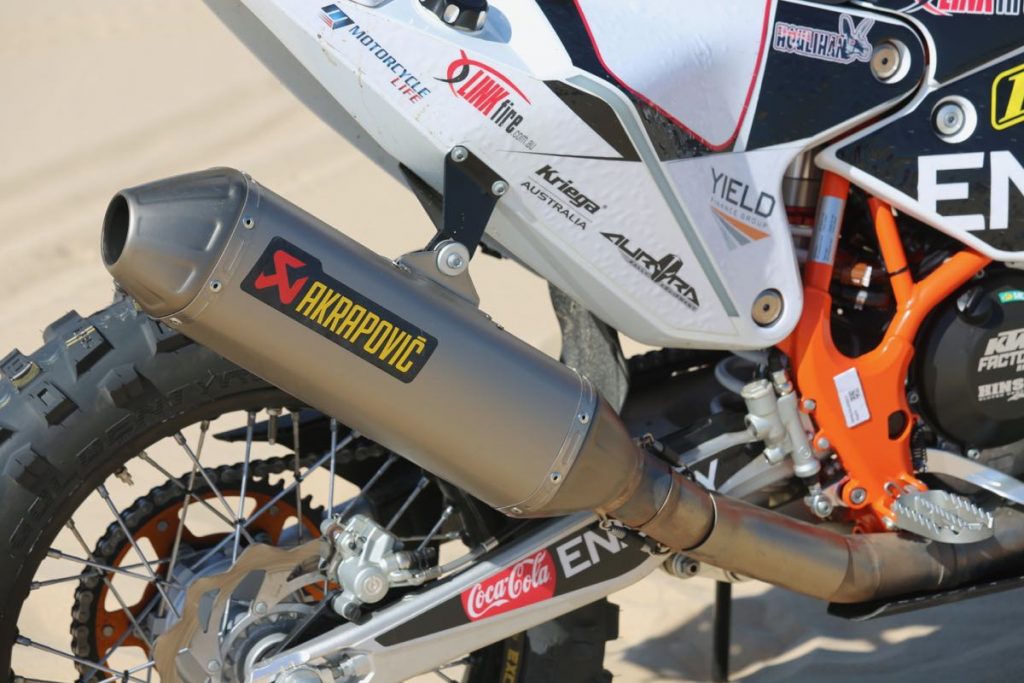 Dakar rules require that a rider does not carry any tools on their body. This may sound basic, but I'm yet to see a converted enduro bike that has a purpose-built toolbox that even compares to what comes standard on the 450 Rally. Or one that carries 33 litres of fuel for the marathon stages without handling like a complete pig.
There's also the serviceability of the motorcycle at an event like Dakar.
You only need to take a quick glance at a 450 Rally to see its been designed to not only go fast, but to come apart fast as well. I know of a KTM rally engine being removed and replaced in under 15 minutes. I doubt a converted 450EXC-F engine swap could be done in under two hours.
I'd even go as far as saying that I believe KTM's competitors would struggle to swap out an engine in under an hour. Trust me, Dakar is long enough without spending extra time working on your motorcycle. But if you don't mind the added tool time, then I know you can get a rally spec EXC pretty close in performance and handling to a 450 Rally if that's what you want!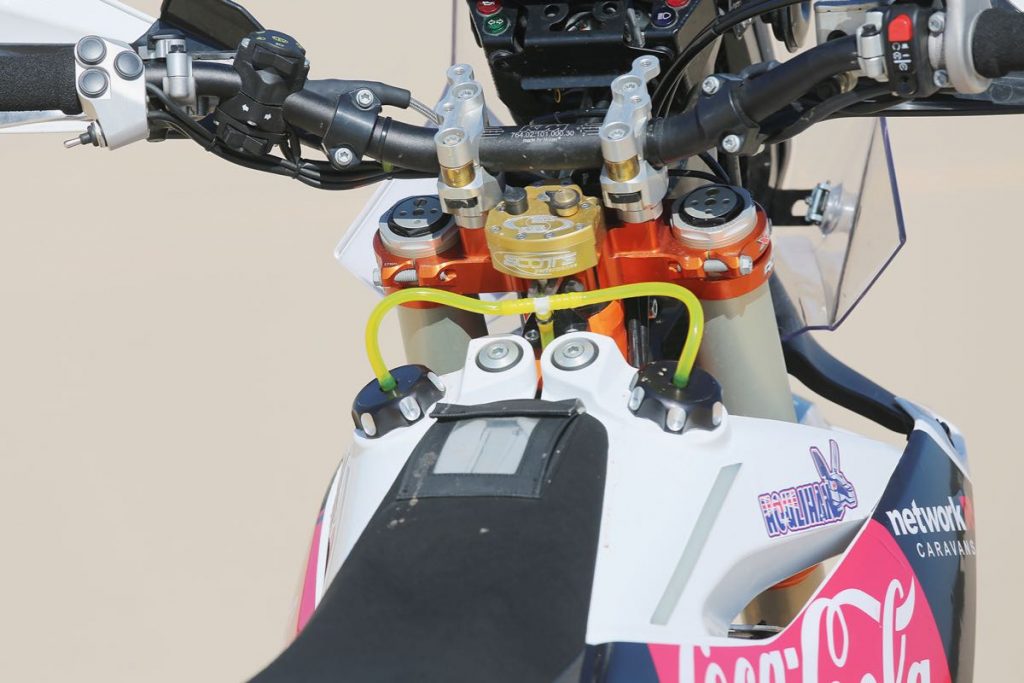 HOW'S IT GO, BRO?
From 2011-13, the KTM 450 Rally Replica was a carburettor-fed, DOHC engine slotted into the previous 690 Rally chassis. I raced one of these at Dakar and they had tonnes of power but handled pretty average as the rear monoshock was very stiff to support the previous, heavier engine. At speed it felt safe, but I had close to zero comfort.
In 2014, KTM redesigned the donk from its current SOHC, EFI engine, coming up with something close to 10kg lighter than the previous model and resembling the EXC-F engine a lot more. To ride, the bike definitely felt a lot smaller and more refined. The biggest improvement for me was the shock and linkage, which now felt a lot more compliant and more comfortable at all speeds.
That brings us to Houlihan's latest-generation Rally Replica, complete with eye-catching Coca-Cola Energy graphics. It's quickly evident how refined the whole motorcycle is compared to even the previous model. The swingarm is now tiny and looks similar to a standard EXC one and the styling is closer than ever. If you imagine the bike without the nav. tower and Akro rally exhaust, everything is a similar size and shape to the current enduros.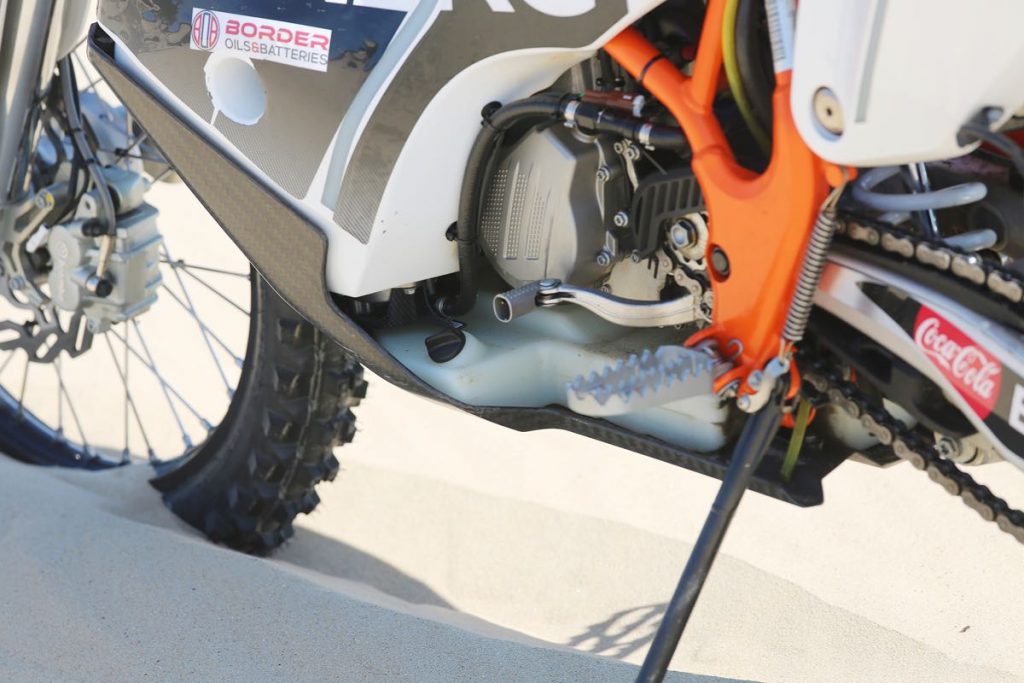 Now if you have not heard a Rally Replica exhaust before, you are missing out as it is very impressive plus a bit intimidating. As much as I like the sound, it only took a few hours to remember why I wore earplugs when I raced one.
Visually the whole bike looks smaller and more compact but riding it out to the sand dunes it did not feel as small as it looked.
I guess whenever there's a bike with a nav. tower and roadbook holder in front of your chest it's hard to make it feel small.
As soon as I found the first sign of a dirt mound I lined it up. All previous rally bikes I've ridden would have flopped over it because of their weight, but this KTM 450 RALLY REPLICA bounced up and over it like an enduro bike. After a few more jumps it was obvious how much lighter it was, giving it a much more playful feel than any previous Rally Replica I've ridden.
Out on the high-speed dunes where I expected a Rally to feel right at home, I couldn't get comfortable at all. I kept feeling like I was going to either swap out sideways or go flying over the handlebar. I was not enjoying the way it handled.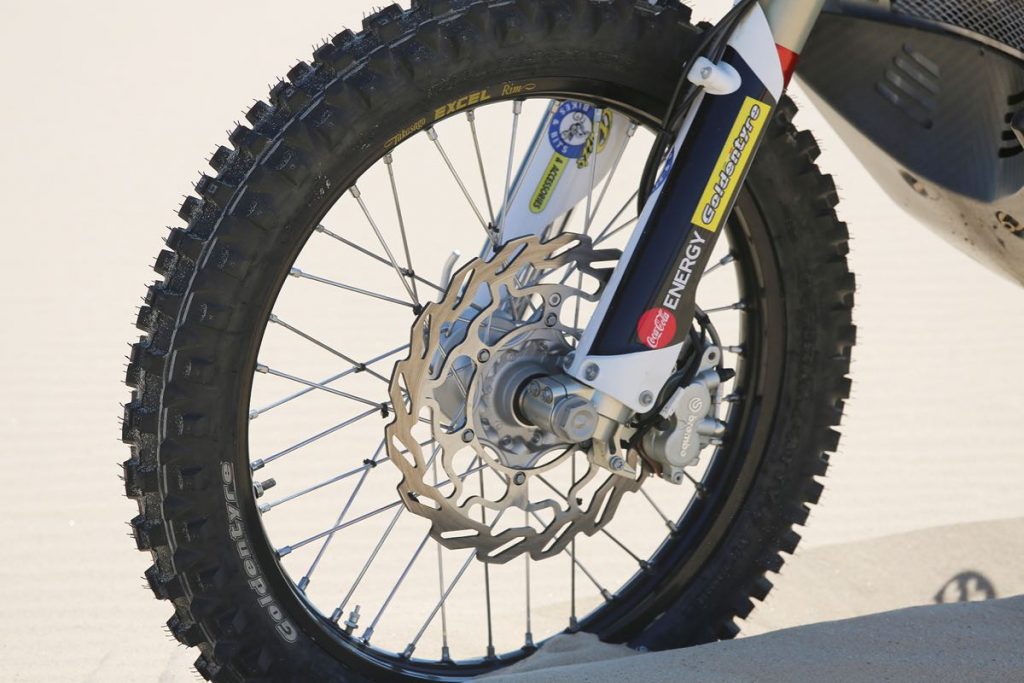 Knowing what the WP suspension was capable of, I asked Andrew if I could make some adjustments and I'm glad he said yes. I raised the fork height two lines, added a few turns of front spring preload, softened up the shock's high- and low-speed compression damping before venturing off again and was much happier with how it felt at speed in the dunes.
Now that I was happy with the handling I could focus on engine feel. One might think that a 450F that is designed to be bulletproof over two weeks of desert torture wouldn't be overly powerful.
Wrong, this engine is super strong right from the bottom all the way until the rev limiter kicks in, making it easy to ride and easy on tyres for the long Dakar stages. To improve the power curve even more and make it stronger again, Andrew had Rex from Fuel Torque fiddle with it and now it produces more torque, everywhere!
The only quirky thing is how firm you need to be on the gearlever, which takes a bit of getting used to.
I'm pretty sure it is set up like this so you don't go getting any lazy false neutrals and damaging the gearbox 300km into a stage. Without a doubt this is the best Dakar-spec bike I have ridden.
It changes direction really well, has tonnes of power and stops really well as it runs a 300mm Brembo front disc and weighs just 139kg dry. I would happily argue with anyone that this is the privateer bike to be on at Dakar.
WORDS // BEN GRABHAM | PHOTOS // MITCH LEES