My journey to the MY20 Husqvarna enduro launch in Finland was always going to be a big one, as I was starting from Alice Springs.
Husqvarna's main goal for 2020 was to improve agility, rideability and comfort. To achieve this at least 60 per cent of each model in the 2020 Husqvarna range is either new or re-designed.
As with the 2020 KTM enduros, a new frame has been built with increased longitudinal and torsional rigidity. It's wrapped in new, slimmer plastics for improved ergonomics. The seat foam is 10mm lower, while a new shock linkage reduces seat height by a further 10mm.
The carbon-composite subframe is now two pieces instead of three. It is 250g lighter and has been designed to provide more comfort for the rider by reducing rigidity in the vertical direction by 15 percent. Lateral rigidity has been increased by 18 percent to produce the characteristics the R&D team wanted.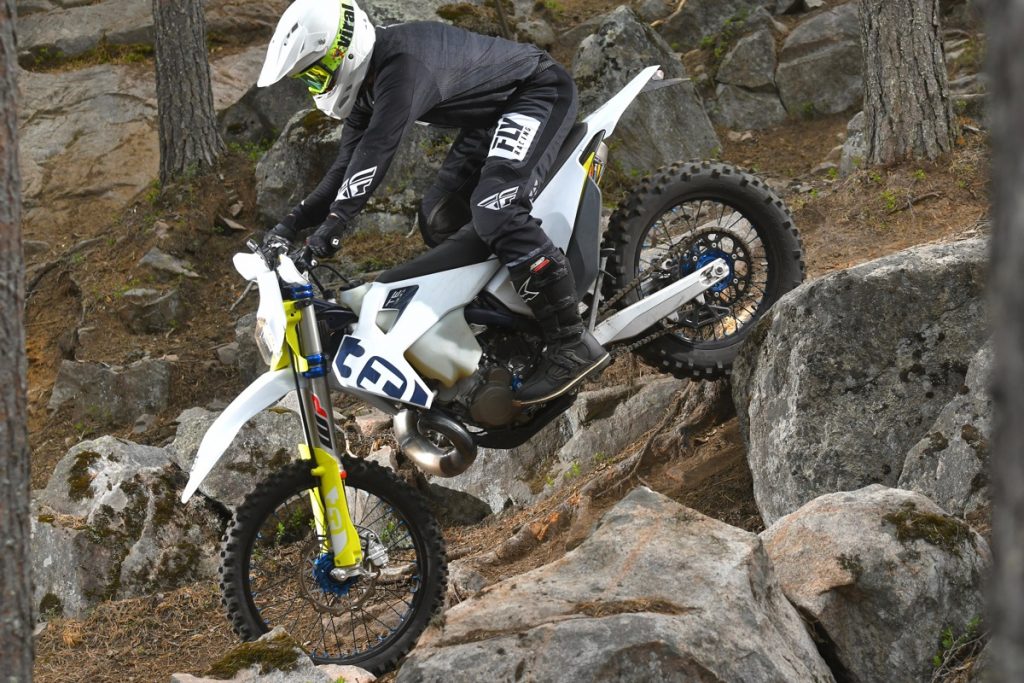 The WP Xplor fork has been updated, with a new mid-valve piston and revised settings to improve the initial part of the stroke. Out the back, the WP Xact shock has a new main piston which is also intended to improve low-speed response.
The cooling circuit has been improved and the radiators have been moved down 12mm to lower the centre of mass and improve ergonomics. All the ECU map settings have been updated and now there is a bigger difference between map one and two.
The kickstarter housing has been removed from the FE450 and 501, saving 250g, while the housing remains on the TE250/300i but now you have to buy a kickstarter kit if you want your bike to look like the factory team ones. The new 2020 Husqvarna TE150i is the only enduro that comes with both kickstarter and the button, which you hardly need.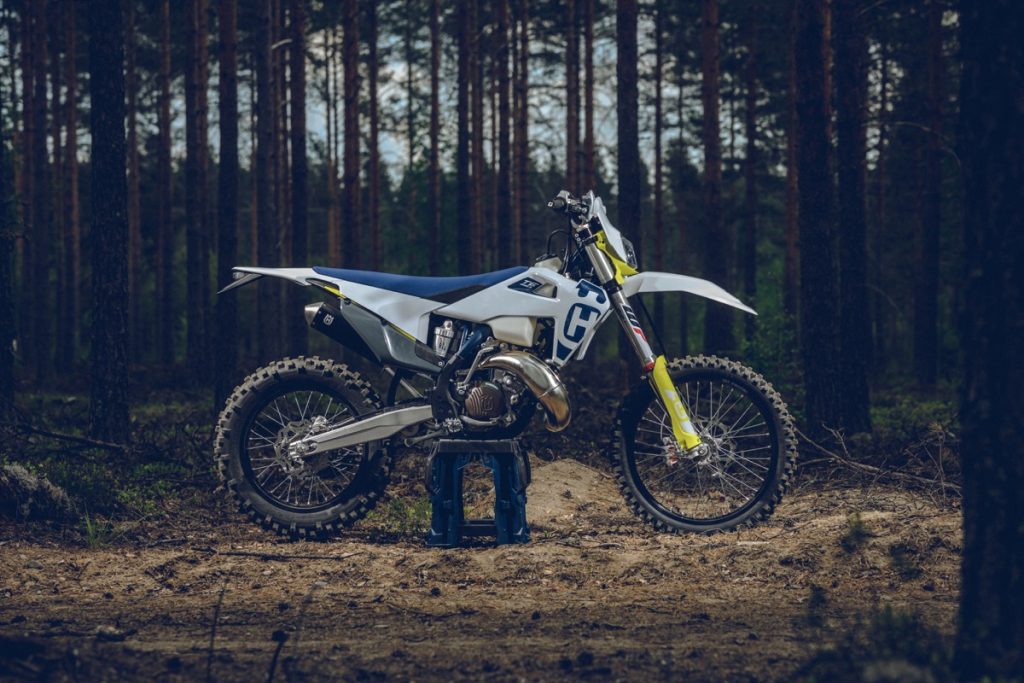 The 2020 Husqvarna TE250i/300i engines have been rotated one degree forward for improved front wheel traction and they now have an ambient pressure sensor as the existing ambient temperature one wouldn't adjust quickly enough for altitude changes, causing some bogging.
Florian, from the engine R&D department, said their goals had been weight reduction, better rideability and improved output. He said the 2020 Husqvarna FE450/501 engines were now 15mm lower thanks to a more compact cylinder head that was 500g lighter. Combustion has also been improved in both bikes to prevent stalling. The compression ratios have been increased on all the four-strokes, with the FE250 going from 12.8:1 to 13.8:1, FE350 12.3:1 to 13.5:1 and FE450/501 11.7:1 to 12.75:1.
2020 HUSQVARNA RIDE IMPRESSIONS
The test location was a ride park only a short bus ride from our accommodation in Jamsa. Driving into the park, it was easy to see why it has been the location for many off-road events, as it was surrounded by forest, some stony hills linked together with sand sections and countless exposed tree roots in the rough sections.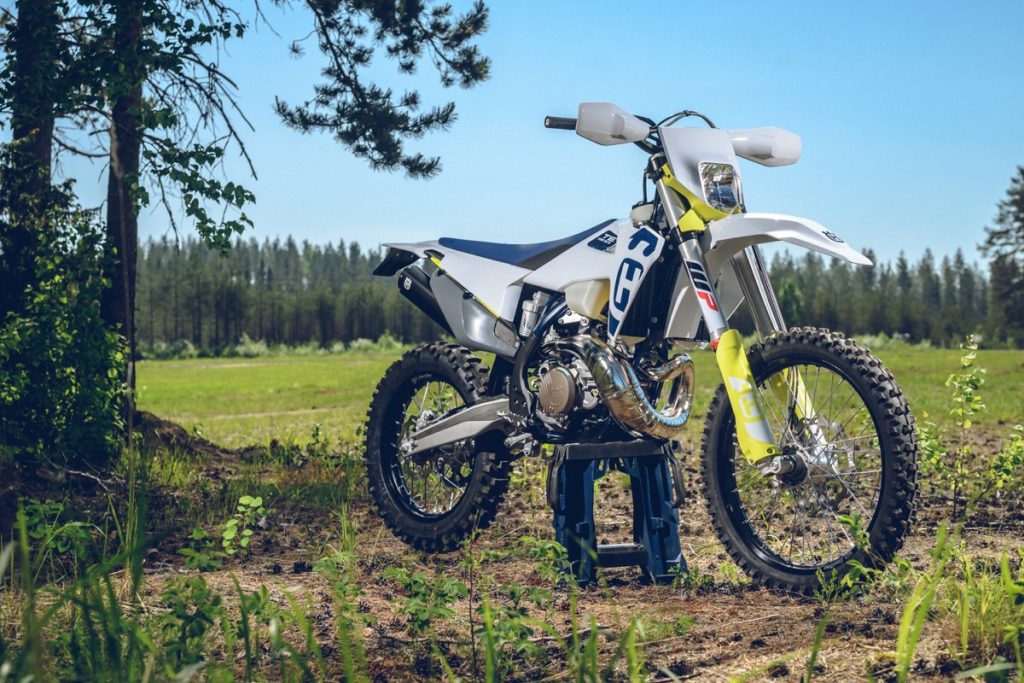 Husqvarna knows how to run a good test day, as it had two tracks in operation, one that took only three minutes to get around for comparing bikes back-to- back, then a 15-minute track that had a little bit of everything to get a good feel for the bikes in all kinds of situations.
I have to mention that when the first pictures were released of the range I was not a fan. The grey lower sideplates and blue frames looked pretty average to me but when I was actually standing next to them, I really liked the appearance of the bikes and the uncluttered clean white look with minimal graphics.
When I sat on the four-stroke models, the 20mm lower seat was very noticeable. The other thing that was very noticeable from just sitting on them was how soft the initial part of the suspension stroke felt.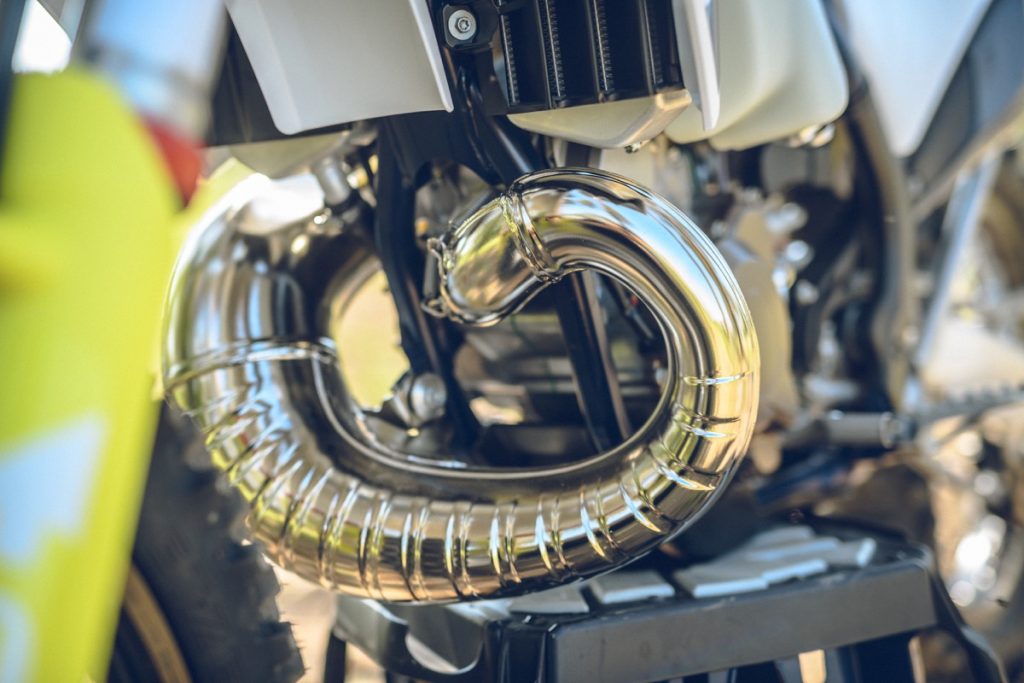 During my first few minutes riding a four-stroke I was already thinking they were definitely easier to ride and that the Husqvarna technicians had definitely nailed one of the goals they spoke about when saying they wanted to make them easier to ride.
The slimming of the plastics was giving me a better feeling, while the lower seat made life easier in situations like chucking a U-turn or getting through a technical section. The new radiator shrouds felt great when sitting through turns and made the bike easy to flip-flop between turns or trees.
I heard mixed comments about the new seatcover but I am a massive fan. The reduced amount of grip was perfect for me. I've spent long days in the saddle with sticky seatcovers and, for those that haven't, let me tell you it's not nice trying to peel you undies from your arse because the skin is worn off!
At first I was loving the overall feel from both ends of the WP suspension but wasn't sure how it would handle big hits as it felt quite soft and comfortable on all the small and medium rocks and roots.
But I soon found out it was very capable, and a step ahead of the MY19 range in handling big hits. I know I used all the travel as the latest Xplor fork has a cleaning ring that also marks the travel used but there was no harsh bottoming. Some of the great suspension feel would also be coming from the new frames, as I was getting a really good feeling in the turns and down rough straights from the frame and suspension combined.
The Magura brakes have always felt great in power and feel to me, but I've seen quite a few blow seals in the last 12 months, so I asked one of the Husky technical crew about it and he assured me the seals have been updated.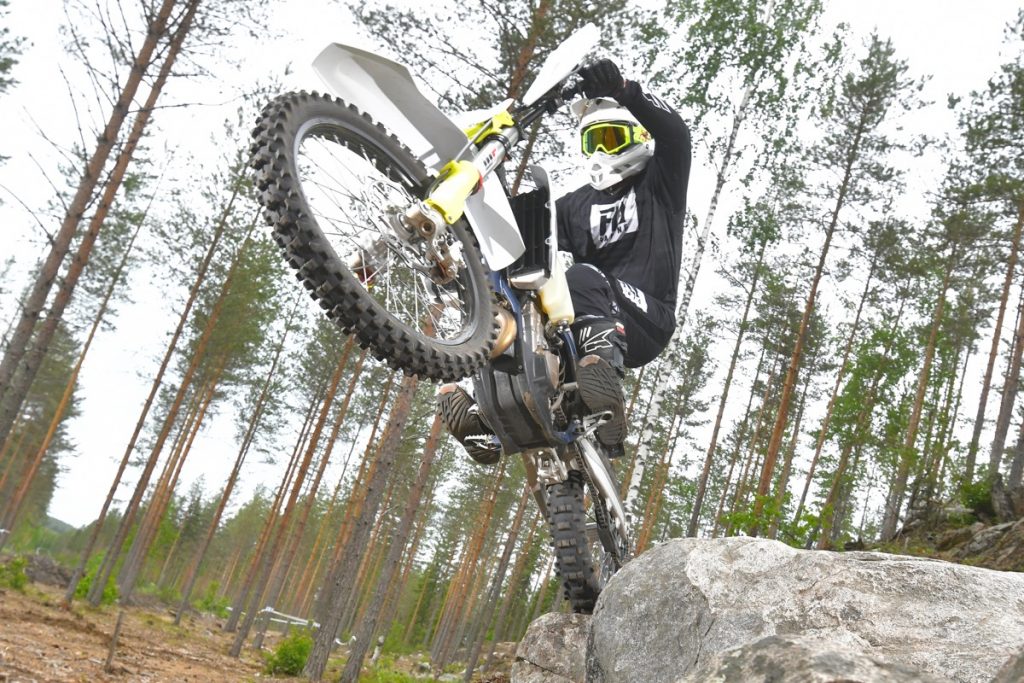 All the four-stroke engines felt sweet. The higher compression ratios have definitely reduced stalling while I like how the maps are now noticeably different. In the past the maps have been that similar it was really hard to notice a difference.
I have spent a decent amount of time riding the MY19 Husqvarnas and know how good the overall package was, so I am pretty impressed that they have made the MY20s even easier to ride while improving overall performance.
As much as I say I'm now a four-stroke guy, I still love my two-strokes but when Husqvarna and Kato introduced the TPI models in 2017 I didn't like them. I felt they'd lost power compared to the carburettor models, while losing excitement in the power delivery.
I did rate the MY19 TE300i pretty highly at our 300T shootout (ADB #477), but still found it had its limitations compared to four-strokes in open terrain, as it felt underpowered and still a little flat in its power delivery. So I was interested to see what direction Husqvarna had taken for MY20.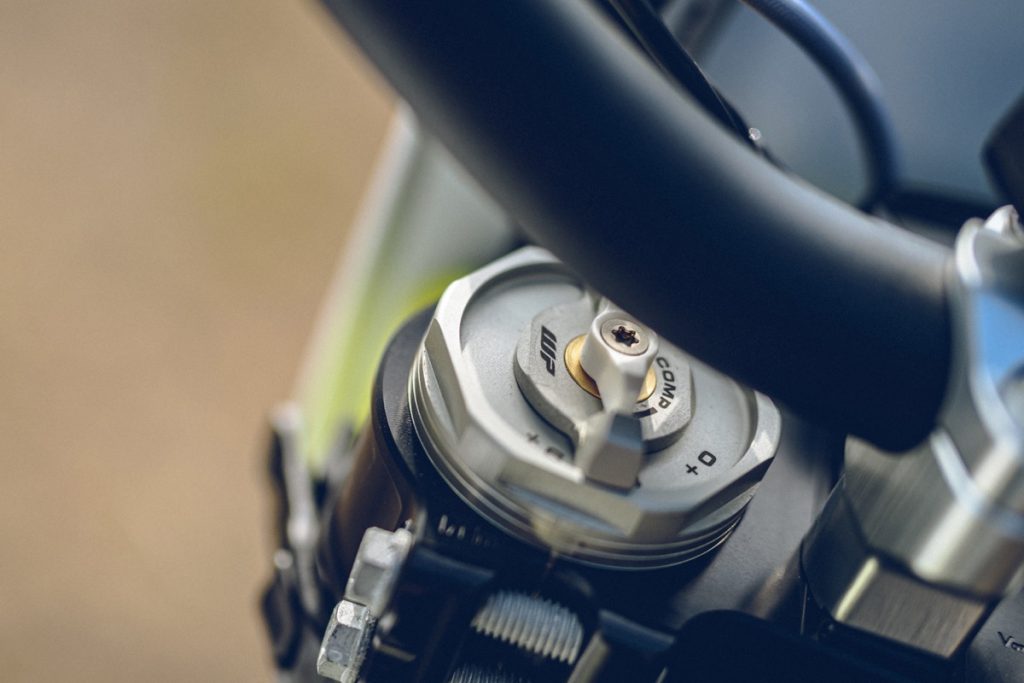 I really was impressed at how planted the two-strokes felt on loose, stony ground with the extra weight on the front. Normally I struggle to keep enough kilos on the front wheel for maximum grip. Rotating the engine by one degree on the 250i/300i has nailed it. I also found I could brake much later going into turns than what I could on a four stroke.
Where I noticed the biggest improvement on the two-strokes was in throttle response. No longer were the TPI engines boring for me. All three models were very responsive while making better power than the previous ones. It wasn't long ago I thought that TPI could be the death of two-strokes but now I wouldn't be surprised if it helps sales boom.
Grabbo's pick of the 2020 Husqvarna Range
Up until now, I would have never said I'd choose a 450F out of a four-stroke range. I've always enjoyed ringing the neck of a 250 or lugging around on a 500.
The 450 has generally not had enough bottom-end power or been too aggressive for me. After testing the 2020 Husqvarna FE range, I was surprised to find the 450 was my favourite.
It may only be 500g lighter than the current model but all the new features make it feel like it is 5kg lighter. The way it delivers power just had me smiling the whole time.
It always had more than enough power, as 450s do, but it was very controllable and got great traction in all kinds of terrain. Both maps worked well. I used the mellower map in tight, technical terrain than found Map Two worked great in open country. I just couldn't fault the FE450 and it gave me the fun factor that keeps you wanting to ride more.
As for the two-strokes, I've always been a small-bore man but as soon as I rode the new TE300i I was hooked. It has all the benefits you get from riding a two-stroke, can brake really late, switch lines at the blink of an eye, rail corners effortlessly and get away with things a four-stroke would normally throw you on the ground for. But I've always felt there is a big downside to two-strokes in some of the dry, slippery, fast Aussie terrain where traction isn't easy to find and front-end grip is low. This 300i felt every bit as good to be in all the areas that the four-strokes did. That's why it's my pick of the new crop.
Husqvarna TE150/250i/300i
Engines
Type Piston-port, reed-valve
Displacement 143.99/249/293.2cc
Bore & stroke 58×54.6/66.4×72/72x72mm
Cooling Liquid
Compression ratios N/A
Fuel metering Dellorto Transfer Port Injection (TPI) with 39mm throttle body
Tank capacity 8.5L
Transmission Six-speed, constant mesh
Clutch Magura hydraulic, wet multiplate
Dimensions
Wheelbase 1487mm
Seat height 950mm
Ground clearance 360mm
Weight 99.6/105.2/105.4kg without fuel
Suspension
Front WP Xplor 48mm USD, 300mm travel
Rear WP Xplor/Xact monoshock, 300mm
Brakes
Front Magura twin-piston, 260mm wave
Rear Magura single-piston, 220mm wave
Running Gear
Handlebar ProTaper tapered alloy
Front tyre Metzeler Six Days
Extreme, 90/90-21
Rear tyre Metzeler Six Days
Extreme, 140/80-18
Prices & Contacts
RRP TBA
Web husqvarna-motorcycles.com.au
Phone 1800 644 771
Warranty Six months parts and labour
Husqvarna FE250/350/450/501
Engines
Type DOHC/SOHC, four-valve
Displacement 249.9/349.7/449.9/510.9cc
Bore & stroke 78×52.3mm/88×57.5mm/95×63.4mm/95x72mm
Cooling Liquid
Compression ratios 13.8:1/13.5:1/12.75:1/12.75:1
Fuel metering Keihin 42mm EFI
Tank capacity 9.0L
Transmission Six-speed, constant-mesh
Clutch Magura hydraulic, wet multiplate
Dimensions
Wheelbase 1487mm
Seat height 950mm
Ground clearance 360mm
Weight 105.5/106.8/108.3/108.4 without fuel
Suspension
Front WP Xplor 48mm USD, 300m travel
Rear WP Xact monoshock, 300mm travel
Brakes
Front Magura twin-piston, 260mm wave
Rear Magura single-piston, 220mm wave
Running Gear
Handlebar ProTaper tapered alloy
Front TYRE Metzeler Six Days
Extreme, 90/90-21
Rear TYRE Metzeler Six Days
Extreme, 140/80-18
Prices & Contacts
RRP TBA
Web husqvarna-motorcycles.com.au
Phone 1800 644 771
Warranty Six months parts and labour
WORDS // BEN GRABHAM PHOTOS // HUSQVARNA | THIS FEATURE WAS FIRST PUBLISHED IN ADB ISSUE #480