TRAIL TEST | SWM RS500R | Bike Reviews
If you're looking for a brand-new bike and your price range to around $5000 – $7000, I'd encourage you to stretch.
I'd suggest you push your budget just that little bit more, to $8990 and consider an SWM RS500R. Sure it's got the odd Chinese part (many bikes do) but most of it is European and it's only a smidgeon more than a bike found on eBay. Here's a list of parts you would have expected SWM to go cheap on but, instead, they've opted for quality components that make the bike a pleasure to ride.
HYDRAULIC CLUTCH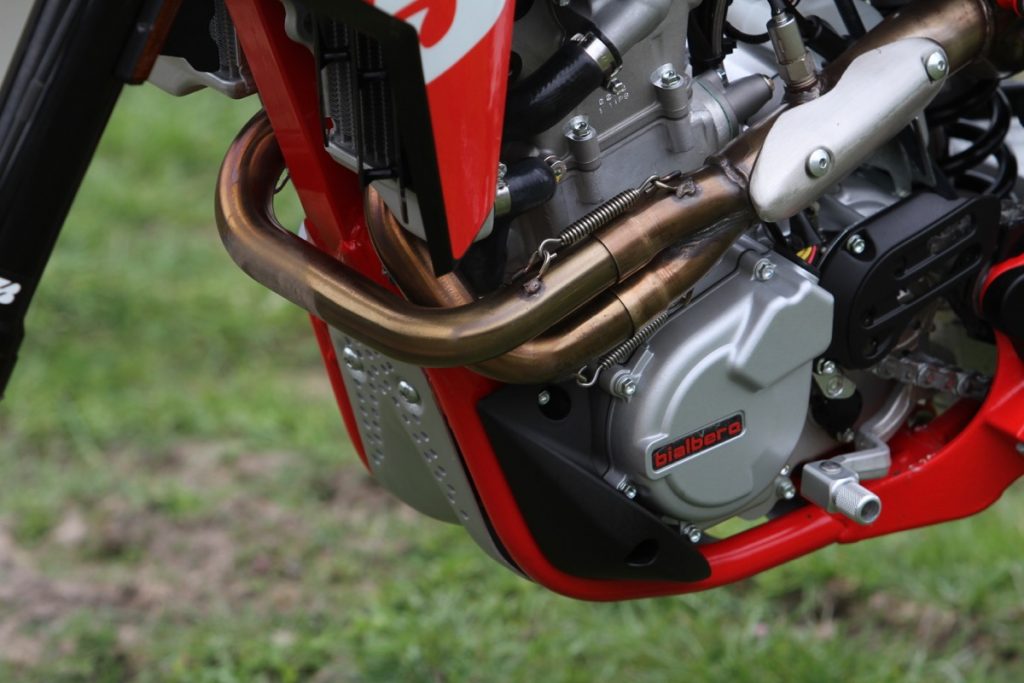 Even the Japanese haven't forked out for a hydraulic clutch (except Kawasaki's KX450 which isn't an enduro bike anyway) and instead persist with a cable. The SWM's clutch basket is Italian made but the master cylinder is not. Nevertheless, it still feels like the hydraulic clutches we are used to.
While a hydraulic clutch won't make you faster it will reduce fatigue and doesn't run the risk of getting stiff over time unless you leave the fluid in there for too long. The RS500R hydraulic clutch is smooth, predictable and easy to pull. It gives the SWM a polished finish and didn't let us down once on our test loop. We got no clutch drag and it needed hardly any adjustment when the riding got hot and steamy.
BREMBO BRAKES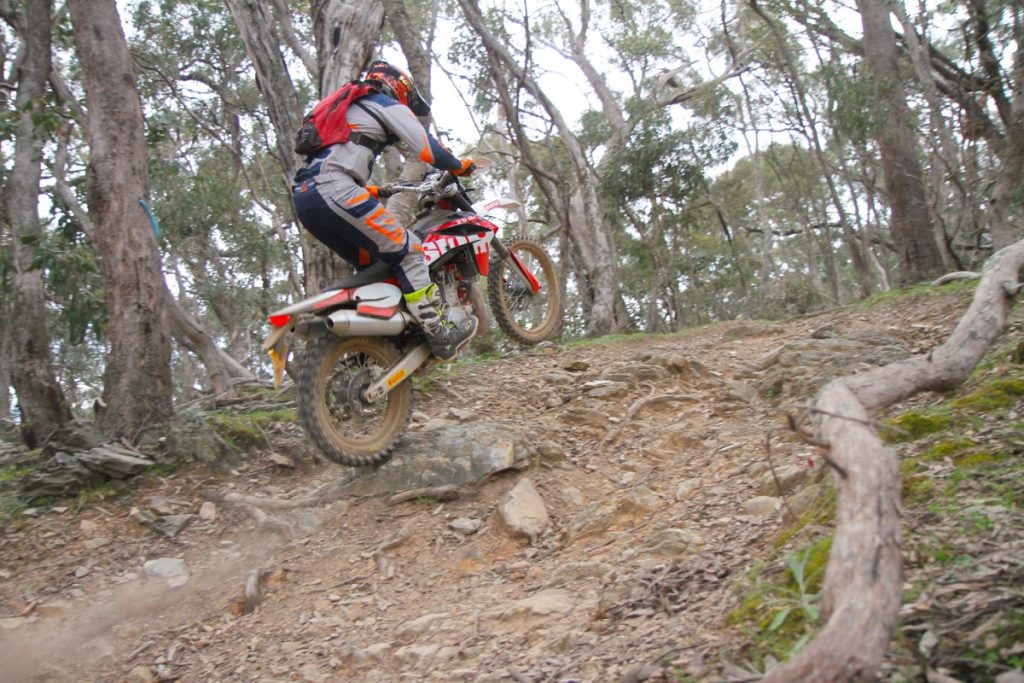 Brembo brakes are found in sports cars from Porsche, Audi and Mercedes. Even Lamborghini and Ferrari use Brembos in some of their models. So it would be fitting for high-end mobs like KTM, Husqvarna and Sherco to run Brembo stopping power. But would you believe me if I told you SWM ran Brembo calipers as well (the master cylinder isn't Brembo)?
Well they do, and it works exceptionally well. They perform no better or worse than the other brands just mentioned but remember you've got about $5k sitting spare in your back pocket.
Both front and rear brakes never squealed, got stiff or faded. They were predictable, strong and confidence-inspiring all day long.
KYB SUSPENSION

I'd expect a bike that comes in at four figures to run in-house suspension you've never heard of. But not SWM, they've opted for an impressive set of KYB boingers. While it may not be the same KYB gear found in our Sherco 500SEF Factory long-termer, it is still impressive. The SWM RS500R sports a 48mm fork with adjustable rebound and compression while the KYB shock also has rebound and compression clickers, plus spring preload adjustment.
The suspension in the SWM RS500R is stiffer than that in the RS300R (ADB #473). For bigger blokes like myself (100kg) this is a good thing because it doesn't dive under braking or wallow when ploughing through braking bumps like the RS300R can.
It feels firm and predictable without being harsh or prone to scary deflections. It is excellent trail suspension from a proven, reputable suspension company.
WARRANTY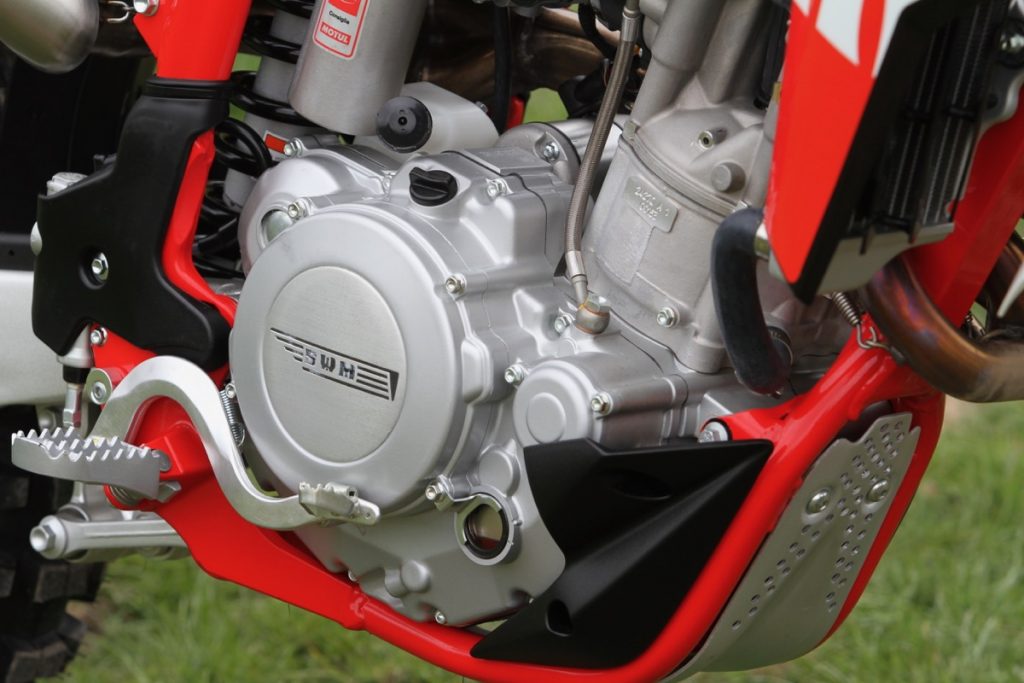 With many manufacturers offering limited three-month warranties or no warranty at all, SWM offer a six-month parts and labour warranty. That means you can ride the wheels off your RS500R and know you're covered if anything lets go.
Engine
The RS500R engine is still made in Italy (I've been to the manufacturing plant and seen them bolting them together) which means most of the bits will be Italian, like the GET ignition system. The throttle body is a 42mm Mikuni. Knowing these parts have been used for decades by many motorcycle manufacturers should eradicate any concerns you might have about serious engine malfunctions.
The RS500R is an absolute tractor. The six-speed DOHC beast pulls hard in any gear but is still rideable. Unlike some of the more aggressive, race-bred weapons like the Sherco 500SEF-R Factory, the RS is not aggressive and the power feels more linear. You could even be forgiven for thinking the SWM RS500R isn't a full 500 but it is, with 501cc and a bore and stroke of 97 x 67.8mm.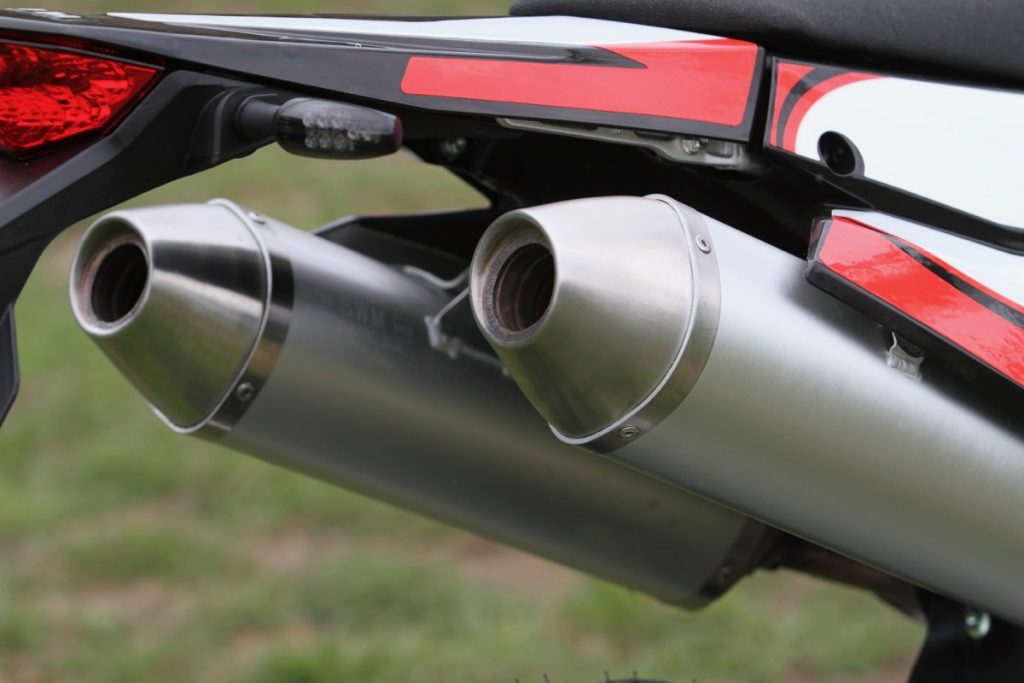 SHOULD YOU BUY A SWM RS500R?
I was on the Triumph Scrambler launch recently with legendary road-racer Steve Martin who was asking me about the SWMs because one of his mates was about to buy one. His question was simple: what do you think? So I proceeded to ask him all the standard questions like how big was his friend and what was his riding ability like.
His friend was a middle-aged man returning to dirtbikes after a long stint of road riding. He wasn't in peak physical form and wanted a bike he could comfortable sit down on and punt through trails. I told him the SWM RS500R or RS300R would be perfect for what he wanted to do.
For the equivalent money he could buy the more agricultural DR-Z400E or a second-hand enduro bike that is most likely five years old. But his mate wanted a new enduro bike that was easy to ride and had all the fruit that I just listed at a fraction of the price. I told him his decision was easy then, SWM it is!
What's Chinese then?
As far as we can tell, the only Chinese parts are largely bolted on. A bloke named Bin Zhang, vice general manager of the Shineray Group, was the man responsible for the purchase of the SWM brand a few years ago, and most of the manufacturing is done in Italy in a former Husqvarna factory that was upgraded during BMW's ownership of Husky. Parts like the plastics, levers, seat, wheels and master cylinders are not produced in Italy but all the important stuff still is.
SWM RS500R
Engine
Type DOHC, four-valve
Displacement 501cc
Bore & STROKE 97 x 67.8mm
Cooling Liquid
Compression ratio 12.9:1
Fuel metering Mikuni D42 EFI
Tank capacity 7.2L
Transmission Six-speed, constant-mesh
Clutch Hydraulic, wet multiplate
Dimensions
Wheelbase 1495mm
Seat height 963mm
Ground clearance 250mm
Weight 112kg dry
Suspension
Front KYB spring-cartridge 50mm USD, 300mm
rear KYB gas-oil monoshock, 295mm travel
BRAKES
Front Brembo twin-piston caliper, 260mm disc
Rear Brembo single-piston caliper, 240mm disc
Running Gear
Handlebar Tapered alloy
Front TYRE Pirelli Scorpion MX fitted, 90/90-21
Rear TYRE Pirelli Scorpion MX fitted, 140/80-18
Price & Contacts
price $8990 rrp
web swmmotorcycles.com.com
phone (03) 8363 1600
Warranty Six months parts and labour
WORDS // Mitch Lees PHOTOS // Warren Turner – THIS FEATURE WAS FIRST PUBLISHED IN ADB ISSUE #480