Top Tenere Tragic and ADB Adventure Editor, Andrew Clubb, reveals what he's done to his Yamaha Tenere 700.
It was a long wait for the Yamaha Tenere 700, aggravated by mouth-watering prototypes, but, let me tell you, the wait was worth it. The 700 is a Tenere that makes adventure riding nice and simple, and F-U-N, again.
The bike's not over-complicated with a myriad of electronic aids, it's not over-powered so you can actually use all it delivers, and it's not over-priced, not by a long shot. And it is fun to ride, whether you're just ducking down to the shops to get in the queue for a twin-pack of bog paper, or loading up for a week away in the boonies to seriously practise your self-isolation skills.
I love it, but I will get the two points that pester me out of the way: a Tenere should have a larger tank than 16 litres, especially for those of us with a penchant for exploring wide-open spaces in the outback, and it should have a more practical sub-frame that allows you to simply bolt on a compact and tucked-in luggage plate. Every other Ténéré since the dawn of time has offered those two features.
My set-ups for the Tenere 700 are all straight-forward and the good thing is the bike has been on-sale in the UK and Europe since mid-last year, so there are stacks of aftermarket bolt-ons already, with stacks to come, including bigger tanks.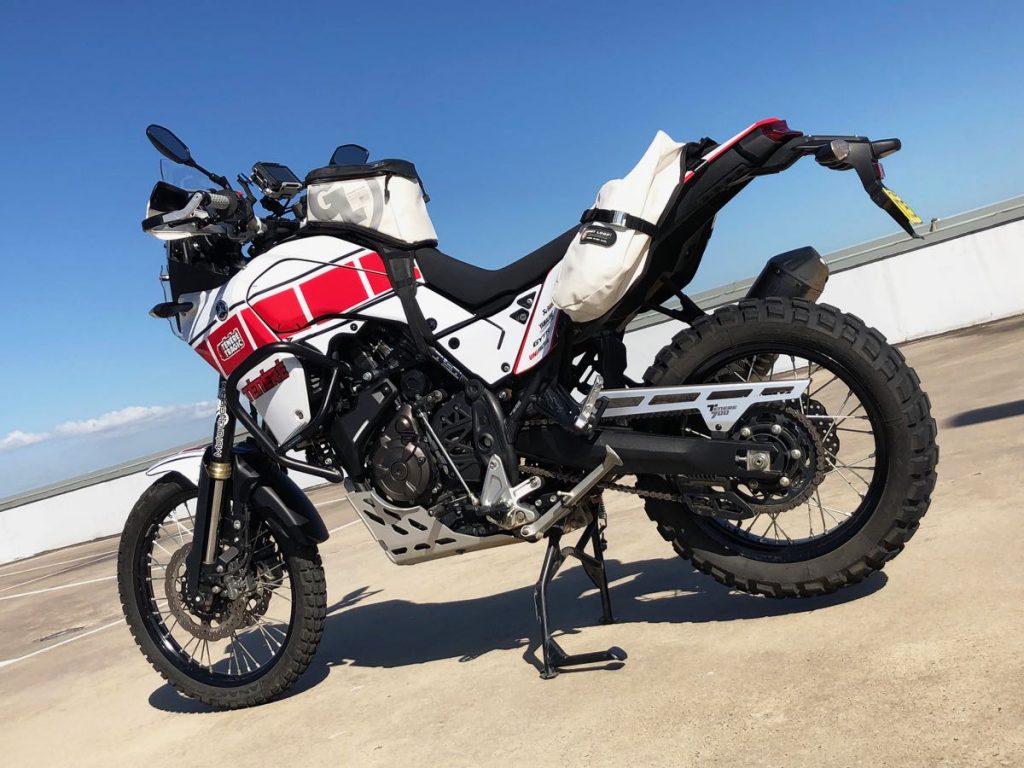 Here's what I'm running on my Tenere 700 so far and why:
ENGINE: The 689cc donk is standard. I might go to a one tooth larger (16T) front sprocket from the MT07 to bring the revs down at highway speeds.
MUFFLER: Akrapovic. Lighter than the stock steel muffler, but doesn't offer much boost in performance, unless you get into it and remove the rear baffle, which gives a slight boost to bottom- and mid-range, and boosts the exhaust note slightly.
AIRBOX: Unifilter foam airbox element and pre-filter. That pre-filter does an awesome job. You can trim about 12mm off the bottom of the airbox snorkel to improve dust dispersion around the element.
SUSPENSION: MotorcycleBiz in Raymond Terrace fitted preload spacers and tweaked the valving of the fork to suit my weight and riding style, while out back they fitted a firmer K-Tech spring and revalved the shock, again to suit my weight, load and speed.
TYRES: I've used Dunlop 908RR tyres front and rear, which are great on the dirt but wander a lot on the tar. I've since swapped to Michelin Anakee Wilds and they are a great compromise between road and dirt performance, and last well – if you can control your throttle application.
BASHPLATE: Yamaha Rally bashplate is much stronger than the stock alloy unit and the engine cases, header pipes and oil filter need that added protection.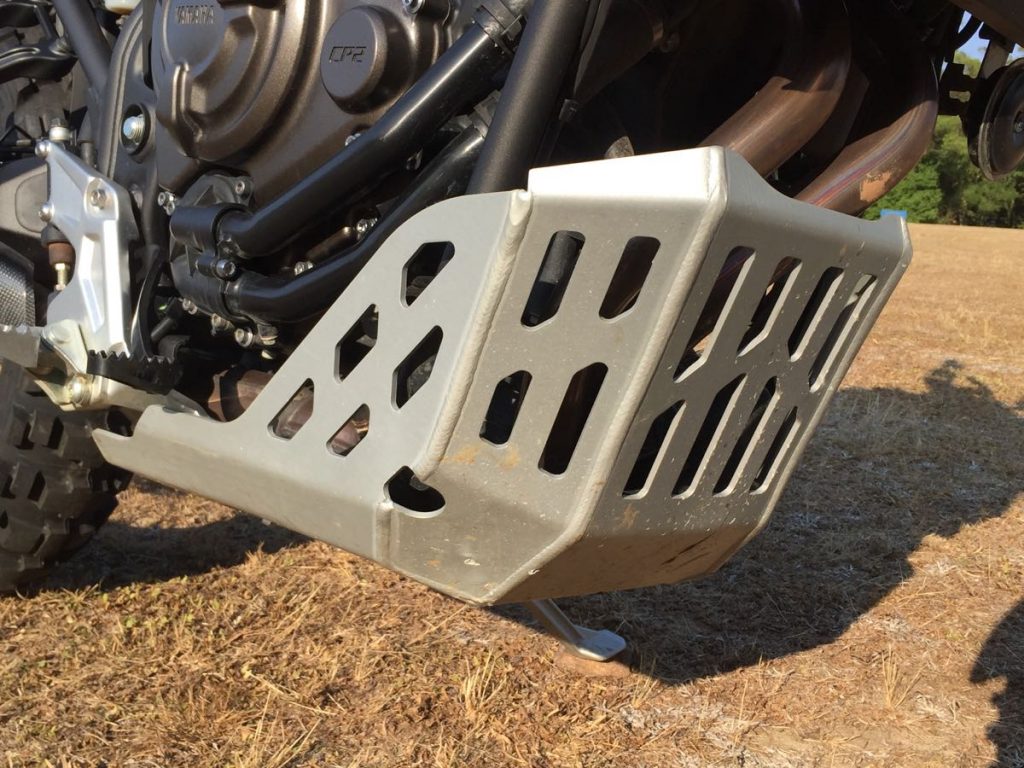 CENTRESTAND: SW-Motech. It's a must-have for getting the wheels out for trailside puncture repairs. I've tethered the left leg of the mainstand to the pillion footpeg mount with a rubber band to keep it firmly up when punting through really rough ground.
NAVIGATION: Rally-Raid Products top 'bar clamp, with RAM ball mount attached to take a Touratech lockable cradle for my battered and bruised but ever-faithful Garmin Zumo 660 GPS.
LUGGAGE: I recently fitted a B&B Off-Road Compact Tail Rack that is tucked in close to the rear of the bike but does not inhibit seat removal. A Giant Loop Mojavi saddlebag is a perfect fit over the rack and rear-end of the seat and holds all my tools, spares, tubes and first aid kit. I then strap an Enduristan Tornado 2S duffle bag on top for my drinking pants/dancing shoes/brocade smoking jacket/wet weather gear etc for overnighters. I also run a classic Giant Loop Fandango tank bag, which is a perfect fit on the tank.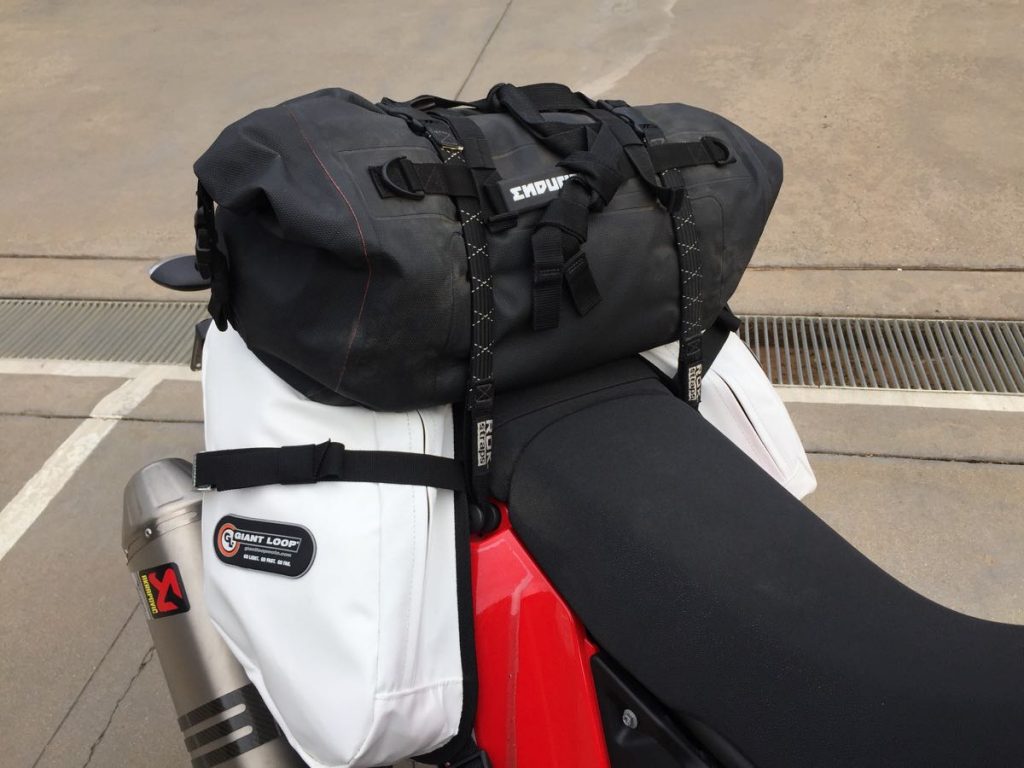 DETAILS: Yamaha headlight protector, Yamaha radiator guard, Yamaha adjustable-reach levers, Yamaha tank pad, Yamaha chainguide, Yamaha alloy chainguard, SW-Motech engine crashbars, SW-Motech rear brake master cylinder protector, VPS Barkbusters, DRC Ultra-Wide footpegs, ProTaper Pillow Top 'grips and Rally-Raid multi-tool to get the wheels out. Finally, to pay true homage to the original 1983 Tenere 34L model, I've fitted an SK Designs 'Camel' custom graphics kit, which looks damn awesome sitting next to one!
WISH LIST: I definitely want a 10cm taller screen to reduce wind blast on the highway; a five-litre fuel bladder to boost the bike's range from 300km to 400km; I use the standard perch (not the one-piece Rally seat) and find it okay but from prior experience, just know Seat Concepts will come up with an even more comfortable saddle.
WORDS & PHOTOS // ANDREW CLUBB