Yamaha YZ250X Long-Term test bike update #8 | Back End | Bike Reviews
Update #8 for the ADB Magazine Yamaha YZ250X long-term test bike as printed in issue #443, August 2016.
Hours: 27
Mods this month: Desert spec
Mods next month: back to normal
I have raced Hattah a few times and it's quite brutal. My first try was awesome. The Victorian desert track was perfect and I had a blast. Unfortunately, my rear wheel decided to quit on the last lap and I DNFed.
In 2015 I felt like I was better prepared but, again, I had dramas. I ran out of fuel at about the one-hour mark and had to limp back to the pits. I finished about 20th overall once I got some fuel and got back going.
There is something about this race that just screams fun. Whether it's the wide-open straights where your bike is tapped out, the spectators drinking beer and cheering you on or the fact that they shut the main street of Mildura for scrutineering on the Friday night, the Hattah Desert Race is probably the coolest event in Australia.
2016, I decided to tackle the race on my trusty long-term Yamaha YZ250X. I figured that while it wouldn't be as fast as the big four-strokes down the long straights, it would be nice and lightweight through the tighter stuff and that could come in very handy near the end of the race.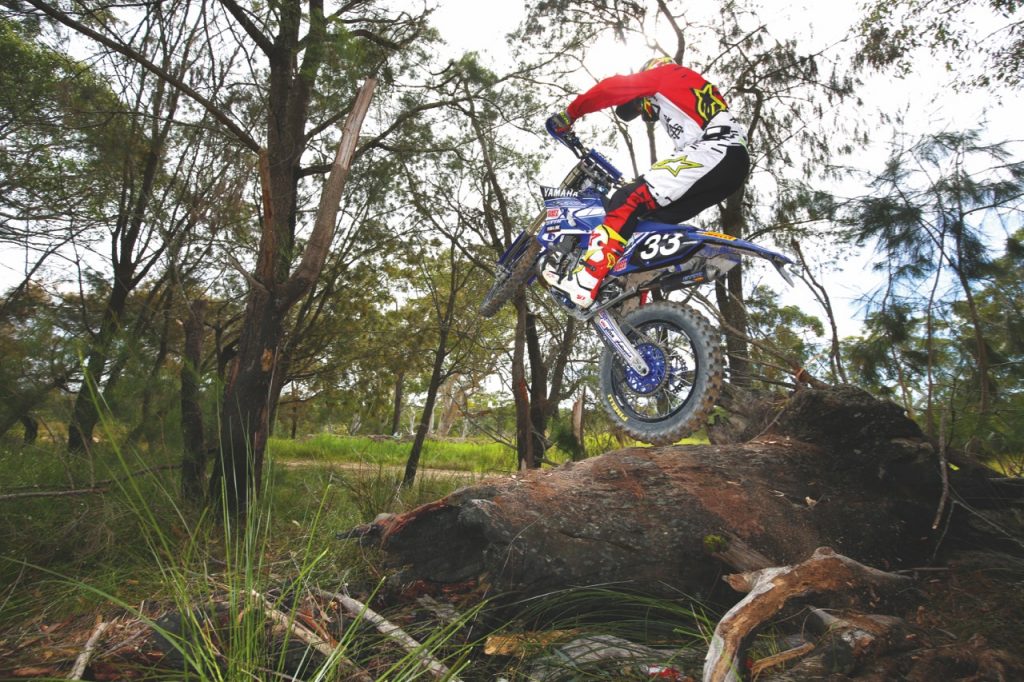 TRANSFORMATION
To bring this wonderful two-stroke bark to the spectators at Hattah, the biggest thing was making sure the YZ didn't lean out with all the high-speed riding. Two-strokes need oil in the barrel, so when there isn't any, the piston seizes. I, along with Yamaha Australia, did not want that to happen.
So, first up, I went up one size on the pilot jet from the #42 to get more oil into the barrel when backing off. After final testing and a plug chop, I was going to go up maybe two or three sizes on the 180 main jet. I had to make sure that the bike was getting plenty of pre-mix.
Bikes run hot in the desert. So to help with that, I fitted a high pressure radiator cap, along with top notch coolant. Activ8 Yamaha Off-Road team manager A.J. Roberts told me to swap out the GYTR FMF pipe for the standard one. For some reason the bike runs cooler with the stocker.
I also had to refit the GYTR 12.1-litre tank to make sure I could make it around a lap without running out. Ideally it would be best if it went two laps but with the bigger jets, I doubt that I will be able to make two laps without stopping. I also was going to play around with the gearing to try to get a healthy top speed.
Another important part of the set-up is the accessories that helps you stay on at high speed. When I first got told to run Steg Pegz and a steering damper, I kind of doubted it. But once I raced Hattah I realised they were a necessity. The high speeds combined with the sandy surface mean plenty of headshake. After four hours, that frisky front-end becomes real hard to hold and you are glad you have a damper.
The Steg Pegz are a must. It's easy enough to stand up through sand whoops for a short stint but when you are on the footpegs for hours, your arms become like jelly.
Having them also is a life saver down the long sandy straights. The bike gets this crazy rear-end speed dance going on so you pretty much lock into the Steg Pegz and hold it wide open.
PAINFUL ROOST
Other than those mods, the bike wasn't that much different to how I usually have it. I took off the headlight and taillight and mounted the motocross front plate as the roost would easily smash the lights.
I've never experienced roost like the clay pits at Hattah produce. It is so painful. Imagine been shot with paintballs over and over again. Sounds crazy doesn't it? But that's part of the fun.
I got to run my old junior number, 111, for the race which was pretty cool and my good friends at Holeshot Graphics came through with the vinyl. The States MX wheels were already in place to take care of the pounding and trusty Pirelli Mid Softs were my tyre of choice. Pirelli Sand hoops are not an option after the organisers rolled the track several times before the 2015 race to produce more hard-pack. The Mid Softs are perfect for that mixture of hard and soft dirt.
My motto for Hattah is always to be early for everything. Friday scrutineering in Mildura can be a long, long night if you're late as the queue becomes 650-odd bikes long. Same goes for the Saturday prologue.
You need to make sure your bike is parked at the front of the line because it becomes an all-in war for start position. You haven't seen real anger until you see riders pushing into the lines before prologue.
Also, pick a pit area early on Saturday. The pits fill up really quickly with that many riders. Pitch your tent early, strap it down well, dig your refuel trench and then get ready for the race.
I use two hydration packs, a bunch of Hammer gels and some snacks to keep me going for the four hours. On the first lap, I try to pick spots on the track where I can drink every lap. Although the first lap is usually an all-out brawl of speed and craziness, you still want to get some fluids into you.
Don't underestimate the leg cramps that you will face, they are a killer! The cooler weather that usually comes with this time of year is a big help with fatigue and sometimes the big straights are a chance to rest as well.
It is a super fun race that has everything. If you love going fast then there are definitely sections for you. If you love sand whoops, then you'll love this race. And if you love railing big long berms corner after corner after corner, then believe me, you will love this race.
The number of people who go there to race it and the number of spectators on the side of the track cheering every rider on is something that I have only really seen in Europe or the US. We don't really get that in off-road racing here in Oz.
By the time you read this, the Hattah Desert Race will probably be over but I was really looking forward to flying past those people who sit there all day yelling and screaming at the top of their lungs, flags flying, fists pumping.
Enduro Editor Geoff Braico