Yamaha YZ450F 12-Month Review | Bike Reviews
I have been a bLUs fan for years as I raced Yamahas for much of my time as a Junior and into my Senior years. When I heard that I was getting the 2019 YZ450F as a long-term test bike I was thrilled.
My last blue long-termer was another Yamaha YZ450F back in 2014 and, before that, I raced a YZ450F in 2008 and 2009.
So I guess you could say the YZ-F and I just go well together. It is a bike that feels very much like home. The MY19 and I had a fantastic run over the last 12 months. From our very first ride there have been no issues at all.
In fact my last few long-term yarns got boring because the bike just would not break or give me any issues to talk about. The bike is so well set-up from the factory that I never needed to make major changes to it.
My dad claims that the Yamaha YZ450F is the first bike I've brought into our workshop that I haven't pulled apart and fiddled with for hours every week to try and find better settings – I just never felt like I needed to.
The Yamaha YZ450F has good, reliable suspension from standard and the engine packs some serious horsepower. It has been a fantastic bike to live with.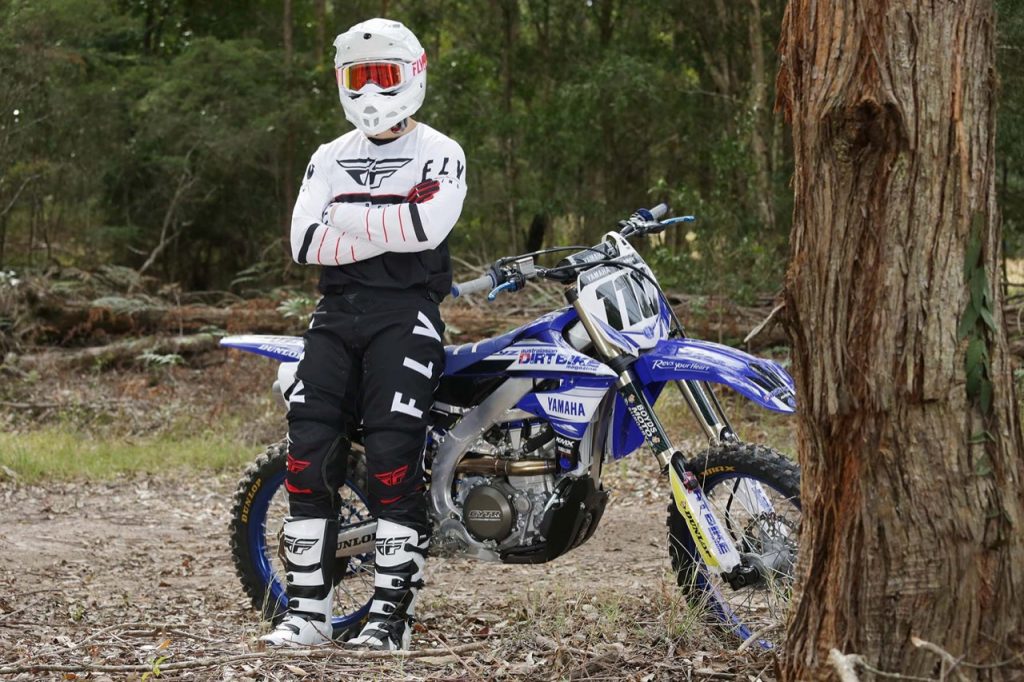 HORSEPOWER
It's no secret that the YZ packs a serious set of ponies. You won't find a rider in the world who will call the Yamaha YZ450F slow. The power is aggressive and strong. The most impressive part about it is the torque.
The engine has some serious low-rev grunt. It's like a diesel tractor. It will just chug away and pull through anything you can throw at it. And then the other side to the story is the engine will still rev hard and produce strong power right to the rev limiter.
It feels like an odd combination for a bike with so much torque to still have such a strong top-end power but that's fuel injection for you.
The power comes in quite abruptly so I found it best to remap the ignition with a map that tamed off the initial hit. The bike still got full power at full throttle but at lower revs it was smoother and more manageable. This made the bike easier to control and made it far easier to get the power to the ground.
Once I changed to the Hollis map I was able to ride the bike faster for longer without getting fatigued so easily. It's all well and good to have all the power in the world but if you can't actually put it to the ground then it becomes useless.
SUSPENSION
The stock suspension suited my 90kg frame well, so I never needed to change springs. I didn't even go changing the stock valving. I set the rear sag at 105mm and then fine tuned the suspension using the clickers and left it at that.
The stock suspension is smooth and has a very predictable action so I felt best to leave it as it was. The fork has a nice, plush initial stroke to soak up the smaller bumps but also stiffens up well to handle the bigger hits. I stiffened the shock slightly on the high-speed compression damping and slowed down the rebound and the back-end sat very nicely. I used the bike mainly on motocross tracks but I did venture into the bush a few times and the suspension was able to handle everything I threw at it with no issues. In fact even after a year's worth of riding I never even had to replace the fork seals.
BLING
The biggest changes I made to the Yamaha YZ450F were to its appearance. I had Kustom MX do me up a custom graphics kit to make the bike look special and Topline Upholstery made me a matching seatcover that really finished the look off nicely. Everywhere I went with the bike I stood out.
The sticker kit lasted well, with no major damage or wear to report at all. The guys at Kustom MX make very durable sticker kits, which is why we keep using them. Add that together with their class-leading designs and we have no reason to want to use another company ever.
The seatcover really looks factory but it also helps performance. The pleats give some extra backside traction and prevent you from sliding rearwards under hard acceleration.
GYTR threw us a bunch of parts like a set of pivoting levers, holeshot button, anodized blue sprocket, skidplate and the big-ticket item, a GYTR exhaust system. Obviously the levers fold so they don't break and the skidplate provides protection but the pipe is about power. I've already said the YZ-F is a powerhouse so why would I want more? Well, I didn't really.
The GYTR exhaust is made by FMF to improve torque and overall power but it also adds some serious style points. The pipe improves the note of the engine and has a real earthy noise.
This time around I have been running Dunlop Geomax MX33 tyres front and rear. I have ridden on these tyres before but never ran them for a long period so I was interested to see how they would last. The performance and traction is fantastic, which I am sure nobody would dispute, but I wanted to know how long a rear tyre would last.
The front wore very well and even after months of riding still showed minimal wear. The rear lasted much better than I was anticipating. I expected the 450 power to shred the tyre in a ride or two but I was pleasantly surprised. Yes, rocks would wear the tyre much quicker but even on hardpack surfaces, the tyre was reasonably durable for a softie.
I could run a harder compound and get better wear but I would sacrifice performance. If I rode a lot on rocky surfaces then I would bite the bullet and opt for a harder tyre but, for the riding I was doing, the MX33 worked fantastic. What I also noticed was that the tyre continued to work well even once worn. I didn't notice a drop in performance until the tyre was at least 40-50% gone.
SERVICING
I run a motorcycle repair shop so I can't afford for my bikes to break down or look rough, it's just not a good look for my business. For that reason I always go above and beyond on my bikes, just like I would for my customers. I changed the oil and filter in the Yamaha YZ450F every five hours without question.
I would much rather know there is good oil in the bike every ride than have to worry about something going wrong. I would also clean and re-oil the air filter after every ride. I had two GYTR air filters that I would swap between. This way I could take a dirty one out and put a fresh filter in straight away while I washed and dried the other one.
I checked the valve clearances at 10 hours but was happy to see that they never needed adjusting. From time to time I would find a loose spoke that would need tensioning and I would lube and check the chain adjustment after every ride. The coolant I never had to change but I did check the level after every ride.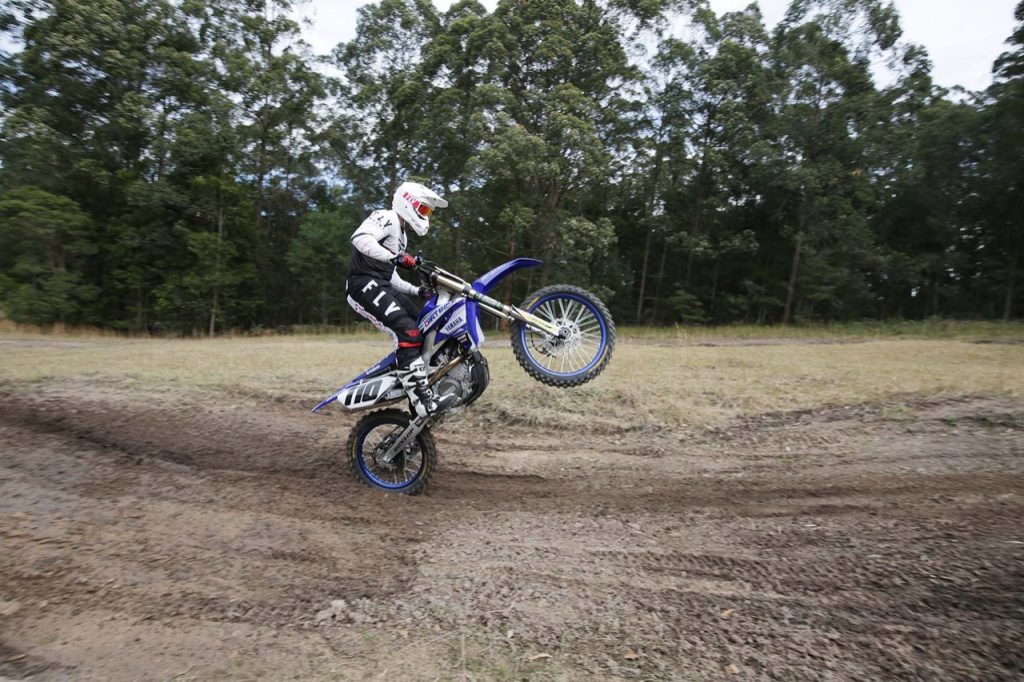 The brakes I would always check after each ride but the pads and fluid lasted well and I never had to touch either of them. After each wash I would spray a little silicone lube on the clutch lever pivot to keep it feeling smooth. If you are going to adopt this trick don't use any thick or sticky lubricants as it will attract dirt and dust and cause your clutch to feel gritty. Use a light lubricant.
I used the Yamaha Power Tuner app to keep track of servicing. I set up my service warnings for every five hours so I would be notified by the app when the YZ-F was due for a service. I recorded and saved all my suspension settings in the app so I would always have a record of them. In today's age, the app is very handy. We keep everything in our phones so the app just fits into our normal lives perfectly. Its always in your pocket so there is never any excuses to miss a service.
I never had any mechanical failures with the YZ-F, actually I never broke anything or had any issues to report. Once I got the sag and suspension set up and the power delivery smoothed out I was very happy with the bike overall. It has loads of power and a very good suspension package.
Once I used the app to smooth out the power the bike was much easier to ride and very enjoyable. Every now and then though, I would grab a fist full and be reminded just how powerful the YZ-F really is.
I'm disappointed to be parting with it. I was very comfortable with everything about the bike and feel like it could have been a keeper. But, as the life of a test rider would have it, the Yamaha YZ450F has been pulled from my clutches and I'm being moved on to my next long-termer. Hopefully it will impress me just as much as the YZ450F.
WORDS // MAT BOYD PHOTOS // MITCH LEES