It's been a long time between drinks for Yamaha in the 65cc class, going back nearly 30 years to when the class was limited to 60cc and the company made a YZ60.
The MY19 Yamaha YZ65 shares its styling with its bigger brothers such as the YZ125 and YZ-Fs. It might be the smallest bike in that line-up but it's got all the good gear. The 65cc engine is new but seems to share a very close relationship with the YZ85 unit. The engine incorporates the Yamaha Power Valve System (YPVS), which lowers the exhaust port height at low revs so that bottom-end torque is not compromised and then raises the port roof to create a bigger exhaust port for better top-end power.
The steel cradle frame is new. It has a removable aluminium subframe and is designed with the level of rigidity needed for its class. Complimenting that is a KYB 36mm spring-cartridge fork and a KYB shock, minus the linkage of the YZ85. Both front and rear suspension are completely tunable, with adjustable compression and rebound damping, plus spring preload adjustment at the back. The internals can be revalved and the spring rates changed so that the bike can be set up for specific little racers and tweaked as they grow.
The ergos are also customizable, with four-way adjustable handlebar clamps. The clutch and brake levers are both adjustable and, just like its bigger brothers, the Yamaha YZ65 uses hydraulic brakes made by Nissin.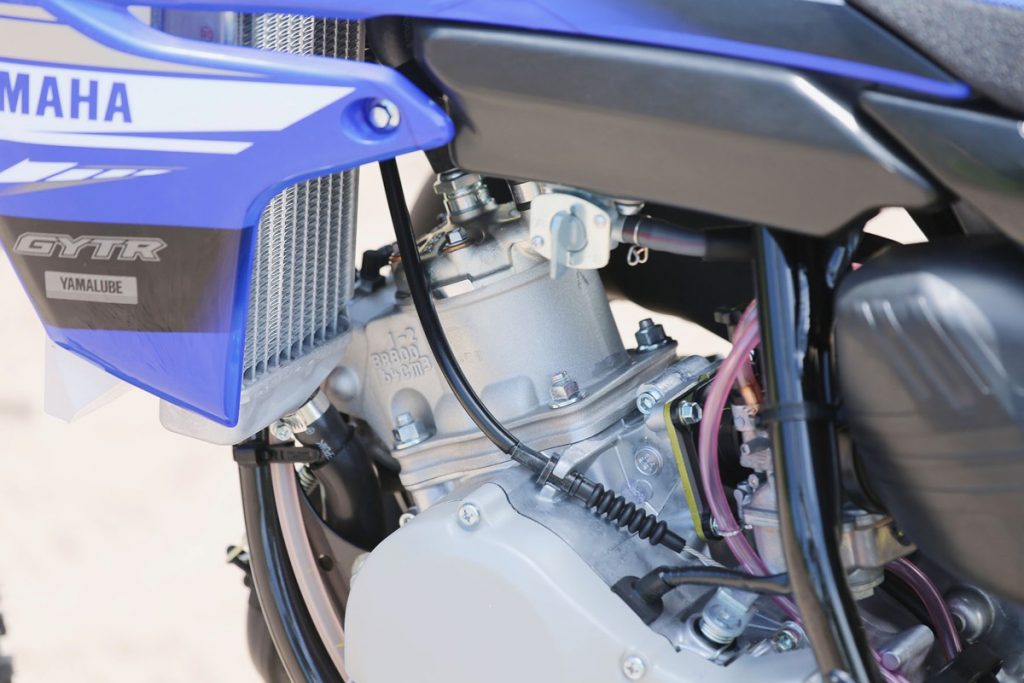 How Did it Fit In?
It's a tough task to break through the orange mist that surrounds Junior motorcross racing at the moment but the longer the YZ sticks around the more it will be accepted. The majority of parents I speak to just assume they have to put their kids on an orange or white bike for them to be competitive and seem shocked when I tell them the Yamaha YZ65 is just as good.
I usually get a response such as "really?" or "do they pay you to say that?" Now I'm open to a little extra cash but nobody pays me to say anything but the truth and you will certainly never catch me putting my reputation on the line over a claim that is untrue. I've seen the Yamaha YZ65 go straight to the front of the pack in state and Aussie title races and still parents were saying "yeah, but they are race team bikes that aren't stock".
The first YZ I saw win was just weeks after they had shown up on our shores and Yamaha didn't even have alternative springs available yet, let alone any race parts. I saw this dead-stock bike holeshot and win from bikes that had had several credit cards thrown at them. So if there's anyone left that still thinks the YZ doesn't belong on the podium then you better get educated because I can only see this bike getter better and better.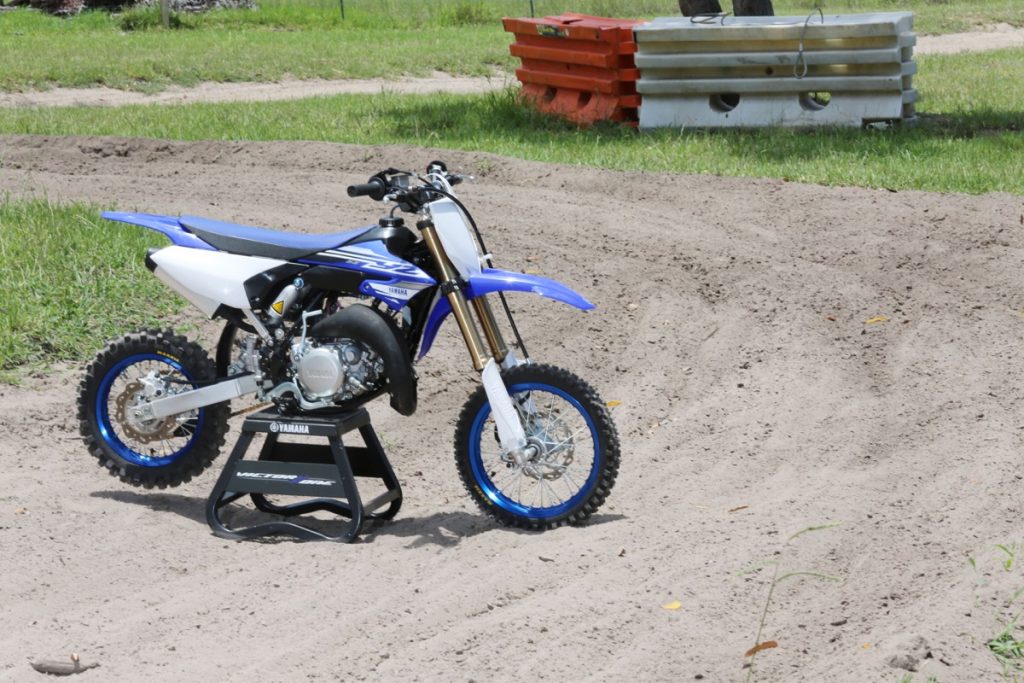 Who Does it Suit?
One of the things I really like about the YZ65 is that it suits a broad range of riders. The exhaust valve smooths out the power so it can be ridden by a novice but it still has plenty up top for experienced little chargers. The suspension can be a little hard for lighter riders but it is tunable and Yamaha has softer springs available for the light-weights.
It is designed as a race machine but, in saying that, I have seen several of them being ridden by weekend riders or on farms by young kids and they still seem to be handling that fine. I wouldn't normally recommend a race bike for a social rider but being that the little Yamaha YZ65 is so easy to maintain I can't see it doing any harm.
The YZ does feel like a bigger bike for smaller riders but, on the up side, bigger riders seem to feel more comfortable on the YZ and feel like they have more room. The YZ has good power as standard so it is perfect for club-level racers or anyone looking to win.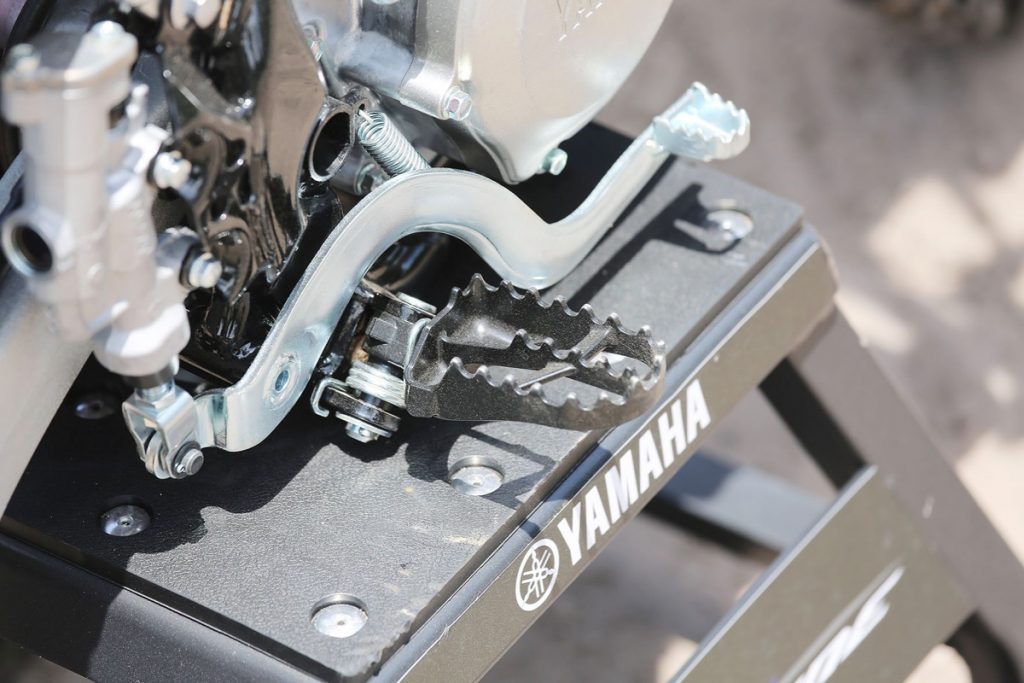 Is it Competitive?
The Yamaha YZ65 is very competitive. As I have mentioned already, I have seen one win in standard trim straight out of the box at state level in front of some very talented riders on very trick and expensive bikes. The YZ has a great power curve but only gets better with the GYTR products available. Yamaha offers things like pivoting levers, skidplates, power pipes and holeshot buttons, plus much more. The YZ engine is strong and, with the right tuner, can produce more power. The suspension, in my opinion and that of many others, is the best you can get on a production 65cc machine. The KYB stuff is top-level equipment and is very easily tuned. The valving is adjustable so it can be set up perfectly even for the elite. The compression and rebound clickers on both the front and rear are sensitive to adjustment and can make a large difference even with just a few notches.
The four handlebar positions become an advantage when trying to set the bike up for different riders. The tapered handlebar can be moved forward or back to suit taller or shorter riders.
Is it Reliable?
I love this question because I have been biting my tongue just waiting for it. I had a rider who was racing in the 65 class and he was struggling to get his bikes to make 10 hours before they would lose compression and then refuse to start. He got on a YZ and, after 10 hours he rings me and says: "This thing hasn't stopped yet, should I keep riding it or bring it in and get you to check it out." At that stage I had very little experience with the YZ65 as it was very new so I said: "Don't ride it anymore. Bring it in and let me see how it's wearing and we will go from there." I didn't hear from him for another few weeks and when he did bring it in the bike had over 30 hours up.
I was panicking, thinking the piston was going to fall apart in my hands but when I removed the cylinder I was astonished as it could have passed for a new one. Since then I have tried to change the piston every 30 hours but he even brought me bikes with more than 50 hours on the piston and, while they were worn, they were not about to explode like you might expect a 65 to.
Not only are the engines proving to be powerful and reliable but I don't seem to be getting problems with the brakes or clutches and I am yet to rebuild a gearbox. This all tells me that the YZ65 has really lived up to Yamaha's reputation for reliability and performance.
Rider talk RILEY BURGESS
"I found the suspension firmer than the KTM and Husky and the bike a bit wider. I didn't like the cable clutch but the motor had good power"
WORDS: MATT BOYD | PHOTOS: MITCH LEES
Yamaha YZ65 Specs
Engine
Type Piston-port, reed-valve, YPVS
Displacement 64.8cc
Bore & STROKE 43.5 x 43.6mm
Cooling Liquid
Compression ratio 8.1-9.6:1
Fuel metering Keihin PWK28 carburettor
Tank capacity 3.4L
Transmission Six-speed, constant mesh
Clutch Cable, wet multiplate
Dimensions
Wheelbase 1143mm
Seat height 749mm
Ground clearance 267mm
Weight 60.8kg wet
Suspension
FRONT KYB 36mm USD fork, 215mm travel
REAR KYB linkless shock, 269mm travel
Brakes
Front Twin-piston caliper, 198mm wave disc
Rear Single-piston caliper, 190mm wave disc
Running Gear
Handlebar Yamaha tapered alloy
Front tyre Maxxis Maxxcross SI 60/100-14
Rear tyre Maxxis Maxxcross SI 80/100-12
Price & Contacts
Price $5999
Web yamaha-motor.com.au
Phone (02) 9757 0011
Warranty None