Choosing which bike to splash your cash on is getting more difficult with every generation of machines that comes out.
As I wrote last issue for the 450 EXC-F test, sometimes too much choice is bad and if you're indecisive you almost want someone to make the decision for you and save you the anguish. I can't do that for you because I don't want death threats if it turns out to be a lemon, but I can help. A lot of people are drawn to the 500 EXC-F simply because of its engine size. It's the V8 of the enduro class, just like the V8 LandCruiser in the 4WD world, but the same few questions always crop up; "Is it an animal?", "Is it too much to handle?" or "Is it guaranteed to win me Hattah next year?" And the answers always "no" across the board from me.
If you haven't ridden something close to a 500F in the past 10 years then forget everything you think you know about them. The 500 EXC-F is not just for winning the Finke Desert Race.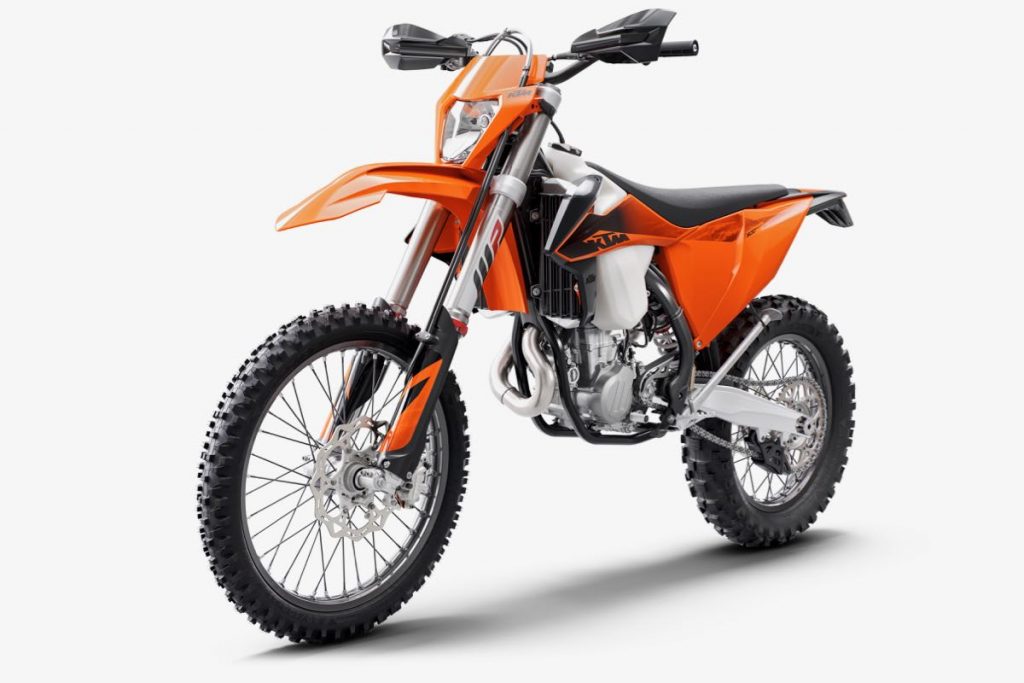 1 SPLIT PERSONALITY
The KTM's wider appeal to everyday trail punters starts with that 510.9cc engine. Although it's built for crossing the continent at blistering speeds in the hands of professional riders, that's not it's only trick. The same brute power that has propelled it to multiple Finke wins also makes it surprisingly easy to trailride, to the point where sometimes it feels like cheating. It all comes down to torque.
The SOHC, fuel-injected engine pumps out torque unlike most other enduros and it's a get-out-of-jail-free card on the trails. It doesn't demand that you be in the optimum gear at all times because the oodles upon oodles of torque can get you through nearly any situation to the point where it almost defies physics.
One such situation is hill climbing. A lot of the time when I'm out trailriding I'll start a hill one gear too tall. If I'm on a smaller bike, like a 250F, there isn't much choice but to go down a gear. If it's a loose, rocky hill and you go for a gearchange there's a good chance the rear wheel will spin up.
Worse yet, there's a rock ledge or tree down across the trail and you need to loft the front wheel. Some quick clutch work and a big hit of throttle will get the job done but you're working hard, not smart. The same situation on the 500EXC-F isn't really a situation at all because there is no "wrong" gear. If you approach a hill in third, or even fourth, and you quickly realise you should be in second, the 500 will just pull through. You can wind on the throttle to pick up momentum without any clutch work and it's effortless to loft the front wheel.
Even though you're manhandling more weight and inertia, you don't have to ride the KTM as hard for the same outcome.
To get to the top of the same hill, a 500 takes a lot less effort than a 250F. This saves energy and makes a day out on the trails more fun. This isn't without an exception. Slow, first-gear terrain can be tiring on the 500EXC-F because, as geared out of the box, it doesn't want to walk. Even first gear can be too much if you're really crawling. However, experimenting with different final-drive ratios helps to solve this.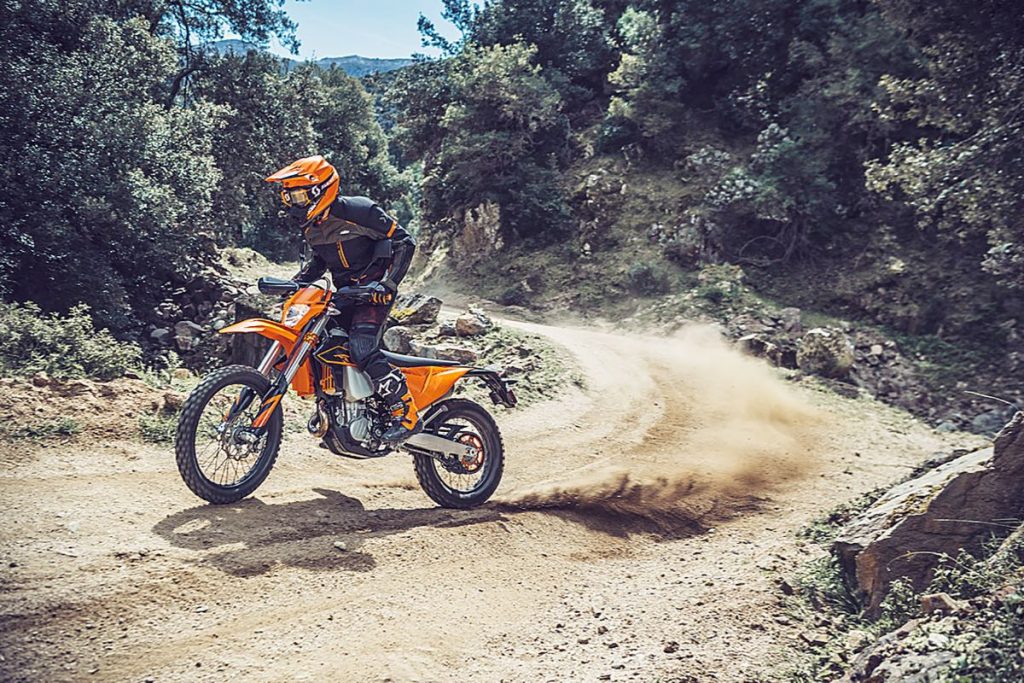 2 NIMBLE
You might not think of the word nimble when talking about a 510cc four-stroke enduro. Usually the larger the capacity, the heavier the bike and the more effort it takes to steer. And this is the case, to some extent, with the EXC-F, but not to the level you might think. The 500EXC-F is a little more work through tight, technical terrain than some of its competitors (see next feature) but once the trail starts to flow it's hard to fault the handling.
On paper the 500EXC-F weighs an insignificant 1.8kg more than the 350EXC-F and, officially, it's only 100g more than the 450 for the bigger piston. That's a couple of bags of snakes and a sandwich! It's hard to overlook the power advantage the 500 offers for such a minimal weight penalty.
3 FORK YEAH
The 2020 KTM EXCs got updated settings for the WP Xplor48 fork and Xplor shock. No bike benefitted more than the $15,195 500EXC-F. Previous- generation EXCs had always felt a little soft in the front and the inertia of the 510cc exposed this more than it's siblings. The fork was in no way bad for trailriding but when pushed hard it wasn't as stable or balanced as you'd like in a fork.
For this year, KTM installed a new mid-valve piston. Its purpose was to keep the front-end sitting higher in the stroke, maintaining the all-important front-rear balance. The result was a fork that doesn't dive as much under braking so the bike maintains better balance through corners. A balanced bike is easier to ride and takes less effort to steer. Plus, the changes have a psychological effect because your confidence in the bike to behave how you want it to increases, you don't hold on as tight and riding just becomes more fun.
4 JACK OF ALL TRADES
You can buy a 500EXC-F knowing it'll do just about everything, and do it well. Australia is a big place and our terrain varies hugely but there aren't many places where the 500 isn't suitable. If you're a West Australian desert boss who's weekend ride involves covering 300km in four hours, the 500's the bike.
If you're a Victorian who isn't infected with COVID-19, take the 500 to the Otways and watch it destroy the hills. Or if you're a Sydney-sider who loves nothing more than spending your Saturday sitting in traffic on the M1 heading north for a Watagans ride, the 500EXC-F will do the trick. Hell, they've even been adventuring riding across eastern Europe.
Unless you're one of those hard-enduro types, who probably won't read this story anyway because you'll only ever consider a 300T, the 500 will suit anywhere in Australia.
5 STABILITY
Although the 500EXC-F isn't significantly heavier than its siblings, you gain a lot of stability over rough terrain thanks to the larger engine. Over loose, rocky terrain and especially at speed, the 500 holds a steady line where smaller bikes can be kicked around.
It's a huge confidence booster knowing you can smash over rocks and roots confident the bike will hold a straight line, most of the time. It's not impervious to getting kicked around if you push the envelope but at trail pace I find the 500 much more stable than smaller-capacity machines.
What's new for 2021
If you're hanging out until October for the MY21 KTM 500EXC-F you should know that not a whole lot has changed from the model tested here, apart from the WP Xplor48 fork getting wingnut-style preload adjusters on top of the fork legs, as seen on the Husqvarnas.
The only other change, save for graphics and gray sideplates, is a reworked shift locker. This is the spring-loaded arm that holds the shift drum in position when a gear is selected. We've heard of no issues related to the bike jumping out of gear but it's something KTM felt needed updating.
We'll be swinging a leg over all the MY21 KTM models when they arrive. If it was any other year an ADB journo would have taken a day-trip to Europe in July to test them and you would be reading about it already but, for obvious reasons, that wasn't possible this year.
KTM 500 EXC-F Specs
Engine
DESIGN 1-cylinder, 4-stroke engine
DISPLACEMENT 510.9 cm³
TRANSMISSION 6-speed
STARTER Electric starter
STROKE 72mm
BORE 95mm
CLUTCH Wet, DDS multi-disc clutch, Brembo hydraulics
EMS Keihin EMS
Chassis
WEIGHT (WITHOUT FUEL) 105.6 kg
TANK CAPACITY (APPROX.) 9L
FRONT BRAKE DISC DIAMETER 260 mm
REAR BRAKE DISC DIAMETER 220 mm
FRONT BRAKE Disc brake
REAR BRAKE Disc brake
CHAIN X-Ring 5/8 x 1/4″
FRAME DESIGN 25CrMo4 steel central-tube frame
FRONT SUSPENSION WP XPLOR-USD, Ø 48 mm
GROUND CLEARANCE 355 mm
REAR SUSPENSION WP Xplor PDS shock absorber
SEAT HEIGHT 960 mm
SUSPENSION TRAVEL (FRONT) 300 mm
SUSPENSION TRAVEL (REAR) 310 mm
PRICE: BASE PRICE: 18,049.00 AUD (2021 Model)
WEBSITE: https://www.ktm.com/en-au/models/enduro/4-stroke/ktm-500-exc-f-2021.html