Will the combination of an Italian designed and Chinese built bike work in todays' marketplace? The Benelli TRK 502X certainly shows the possibilities
Benelli is a motorcycle name not unknown in Australia but not exactly common either. They started in Italy in 1911making them the second oldest Italian motorcycle company still in business, but were taken over by a Chinese company in 2005. The design, marketing and development are still handled by the Italians but production now takes place in China.
Many people are wary of Chinese products but it was once the same with cars from Japan. They were seen as nothing more than a cheap second car for the wife to do the shopping in, and are now highly regarded vehicles for both their quality and performance. Chinese products will most likely go through the same process but do it in a shorter time frame. With that in mind how does the Benelli TRK 502X shape up in todays' Aussie ADV market?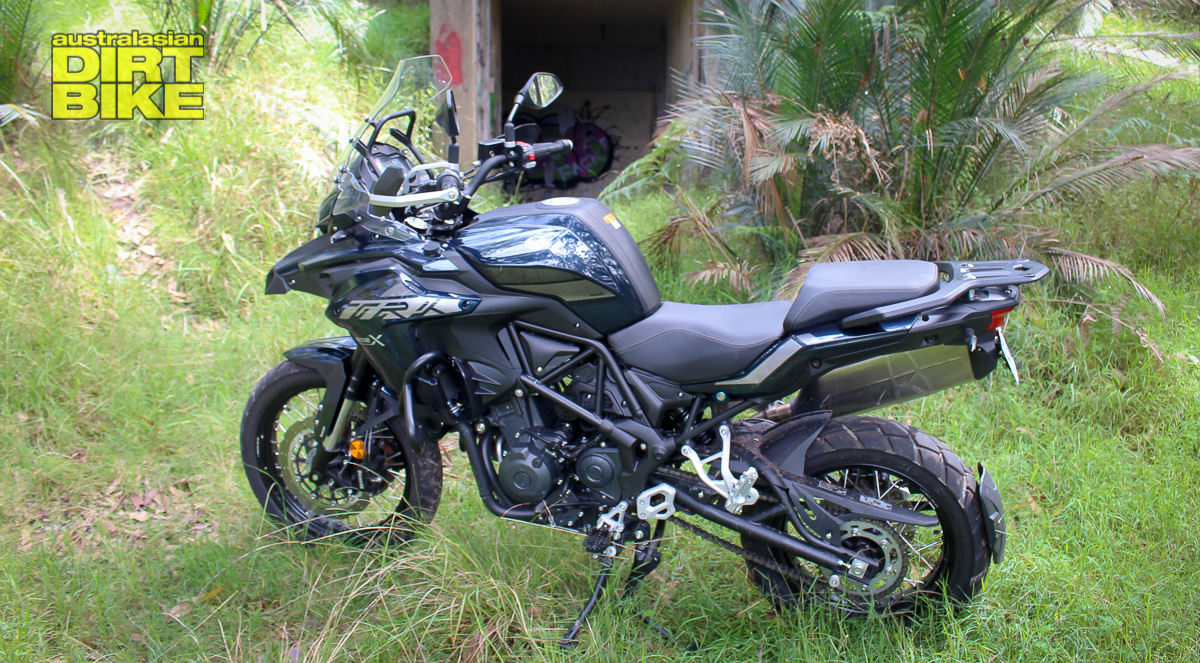 Visually it's impressive to look at, top points for Italian styling, but looks aren't everything. First we have to determine where it fits in the ADV world and how it performs in that arena. Power comes from a 500cc parallel twin that punches out 35kW or 46.9hp at 8,500rpm, and 46Nm of torque at 6,000, respectable but not wild figures. It is an easy bike to ride with no sudden surprises if you're careless with the throttle.
Maintenance shouldn't be too much of a chore either. Oil and filter changes are at 6,000km intervals and the eight valves need inspection or adjustment at 24,000km.
The Benellis' nearest competitor would be something like the Honda CB500X, also a parallel twin that makes 46.8hp at the same rpm. The Chinese/Italian machine which boasts a 20L tank, weighs in at 213kg dry while the Honda claims 199kg with its 17.5L tank full. We are yet to test the Honda, but hope to in the near future for a real world comparison.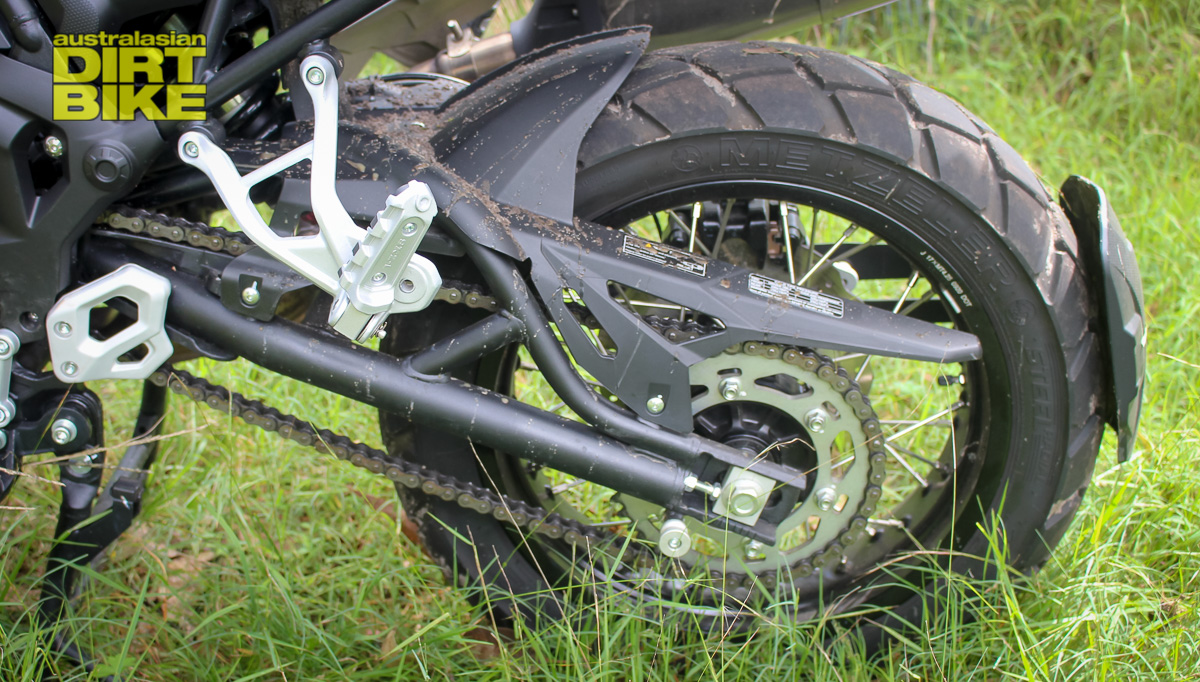 Spec sheets are a good place to start comparisons but actual riding is where the real impressions are made and strengths and weaknesses are discovered. Fortunately the official ADB fine weather prayer stopped the outpouring of the heavens long enough for me to get in a quick days ride of about 350kms to assess where the TRK 502X fits into the ADV marketplace. Page nine of the Owners Manual states "Caution: This model is only designed to drive on road" so with that in mind my planned route took in a mixture of sealed and unsealed but good quality, dirt roads.
The RRP of $10,690 is reflected in the lack of any electronic aids such as engine maps or traction control but there is ABS. That makes for a nice uncluttered instrument panel which tells you all you need to know without information overload. There is the usual assortment of warning lights, a digital speedo and gear indicator, conventional style electronic tacho, two trip meters, odometer, clock, engine temperature and fuel gauge.
The fuel gauge on this particular bike was a little indecisive at times changing up and down across three bars and when it was flashing a low fuel warning it only took 14.35L to fill it back up, which indicates a healthy reserve. I had traveled a total at that stage of 334.5kms which equates to 23.3km/l or 4.29L/100km depending on which flavour you like your fuel consumption figures in. That should give a range around the 400km mark between refills.
With a seat height of only 850mm I had no worries at all getting my feet firmly on the deck with bent knees. I'm 187cm tall and found the seat to peg relationship a little tight over the course of the day, so the Benelli TRK 502X is better suited to shorter riders than me. Not surprising I suppose, as tall is not a word commonly used to describe the Chinese.
While we're discussing the seat, it's quite comfortable but being split level it does tend to lock the rider in one position when combined with the way the rear of the tank rises. The way the tank flares outwards also restricts leg movement and is most notable when standing, but again I don't imagine this would be as much of a problem for shorter riders. The screen directed any wind and bugs away nicely, the handlebars are a good height and free from vibration with all controls falling easily to hand.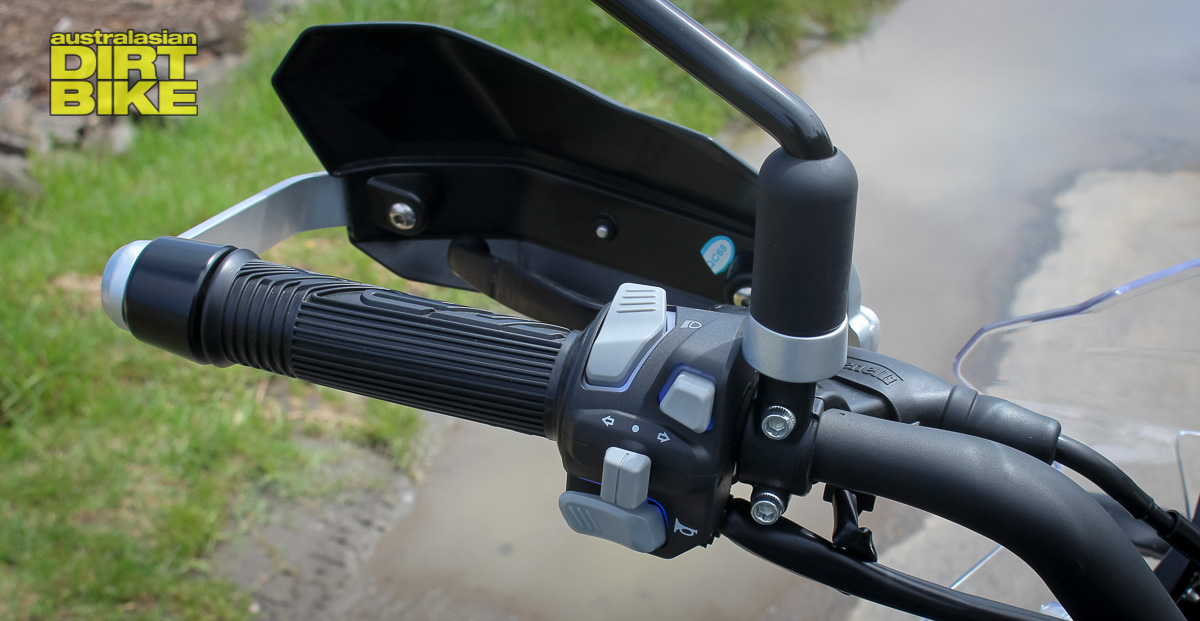 Plastic hand shields are fitted to cast alloy guards similar to BarkBusters, and a centre stand makes chain maintenance easy but the bashplate is that in name only. If considering a Benelli TRK 502X then add the cost of a decent bashplate to your shopping list. The lower engine cases, radiator hose and water pump are all vulnerable.
The 19" and 17" wheel combination is better suited to formed roads than rough tracks and the suspension is adjustable on the rear only, for pre-load and rebound. Again I'm a bit bigger and heavier (105kg in socks and jocks) than what the designers probably had in mind and I bottomed the suspension more than once throughout the day. An indicated 100kph on the speedo showed 90.3kph on the GPS with the motor humming nicely at about 6,000rpm. The slightest bit of vibration was just starting to make itself noticeable at that point, increasing with the revs, but never to the point of discomfort.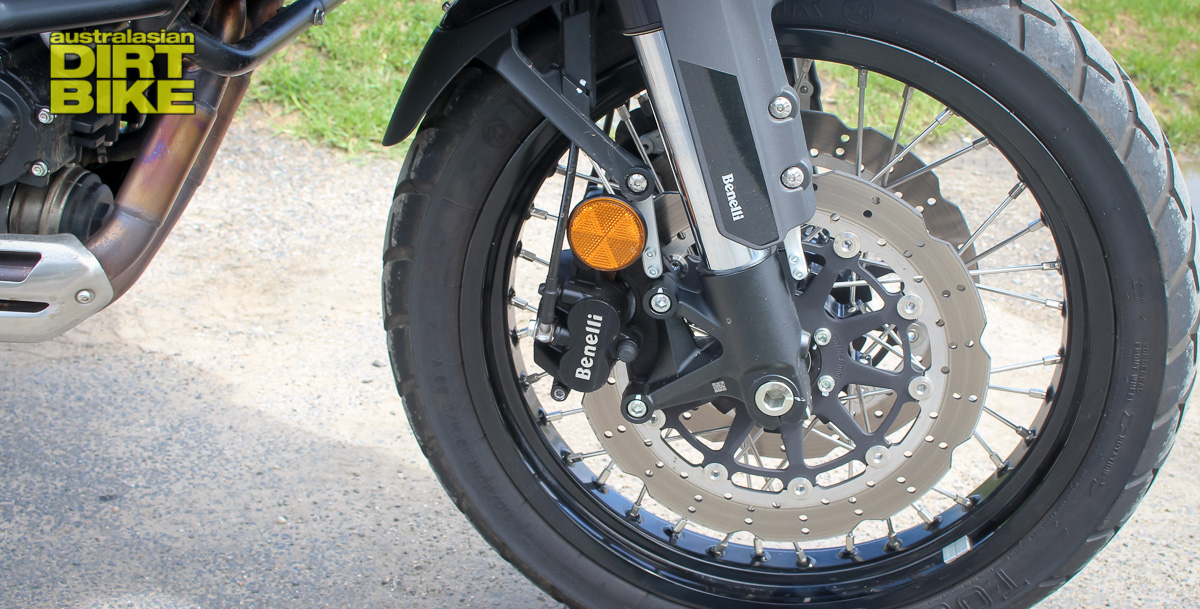 Waterproofing was tested when a causeway was up due to all the rain, it was a bit over axle height and flowing fairly strongly but the Benelli sailed through without a problem. The next causeway on our planned route was showing almost a metre deep on the flood indicator, flowing strongly and had waves you could surf on. Deciding that discretion was the better part of valour and having no desire to explore the dewatering process of an unfamiliar bike we turned back. No worries though, we still made it to the pub in time for lunch.
On sealed roads the Benelli was smooth and comfortable with good acceleration for overtaking when necessary. Not eye watering acceleration, but acceptable, you can only expect so much from a 500cc twin. The front brake was strong with good feel but I was never completely happy with the rear, it lacked any feel or real bite. On unsealed roads the suspension was reaching its limits occasionally with potholes and rain eroded ruts and the standard Metzeler Tourance tyres were not happy in mud. They were fine on dry dirt though.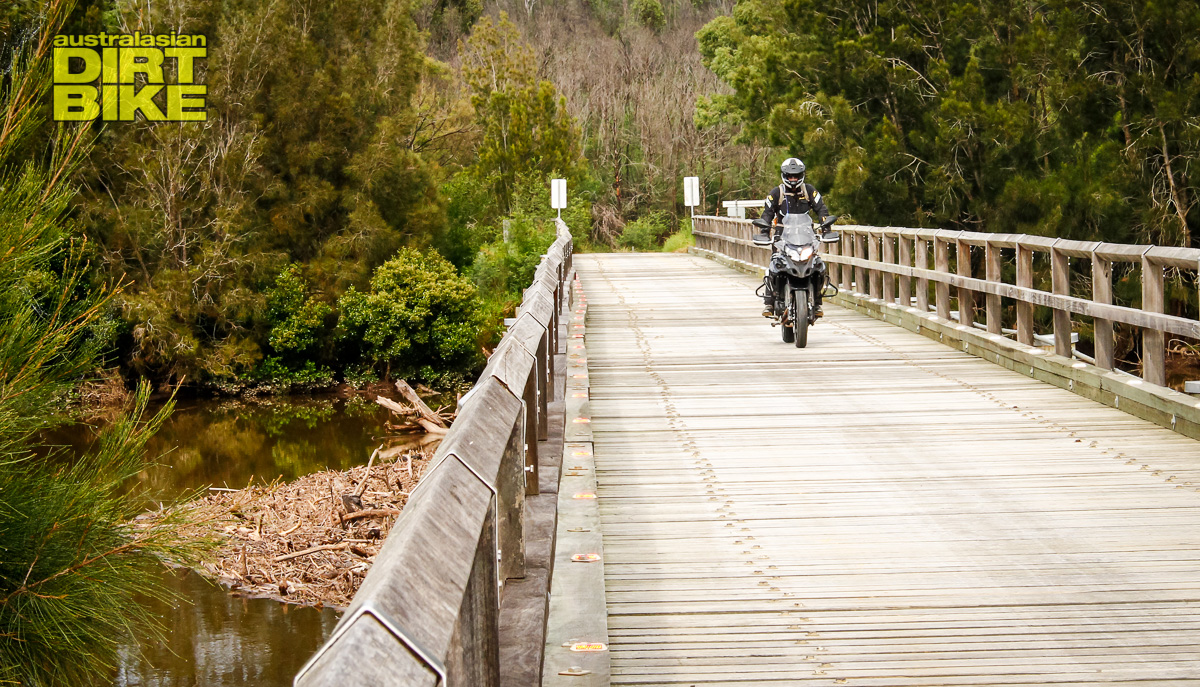 Tyres can be a personal choice in many ways and are a consumable part so that's certainly not a deal breaker if considering a Benelli. Suspension is always a good thing to spend money on and a decent tuner can no doubt improve things in that department too. I've had the suspension professionally sorted out for my speed and riding style on every bike I've owned and they've all benefited from it, I don't see the Benelli TRK 502X any different in that regard.
So just where does the Benelli TRK 502X fit into the Aussie ADV market? With its price and design it would be a good choice for someone just starting out or returning to bikes after a long absence. Someone planning on more sealed than unsealed routes, and not exploring for possible clues to Ludwig Leichhardts' disappearance. Someone who wants a bike with acceptable but not frightening performance that will purr along happily all day. Someone who is shorter and lighter than me.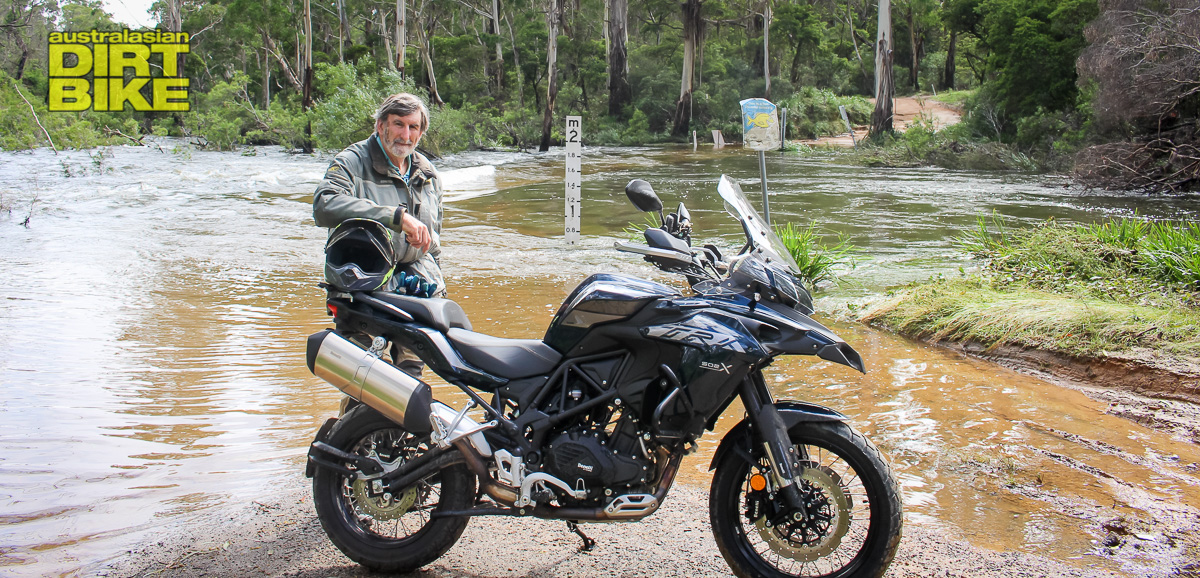 Benelli TRK 502X
ENGINE
Type                           2-cylinder, 4-stroke, 8-valve, water-cooled
Displacement            499.6cc
Bore & stroke            69 x 66.8mm
Cooling                      water-cooled
Compression ratio   11.5:1
Fuel metering           EFI
Tank capacity           20L
Transmission            6 speed
Clutch                        Wet multi-plate
Maximum Power      35kW/8500r/min
Maximum Torque     46Nm/6000r/min
DIMENSIONS
Wheelbase                1505mm
Seat height               850mm
Claimed Weight        213kg dry
SUSPENSION
FRONT                      non-adjustable USD telescopic fork
REAR                         single shock, no linkage, rebound and pre-load adjustable only
BRAKES
Front                           Dual discs
Rear                           Single disc
RUNNING GEAR
Handlebar                 Benelli Gran Turismo
Front tyre                   110/80 R19 Metzeler Tourance
Rear tyre                    150/70 R17 Metzeler Tourance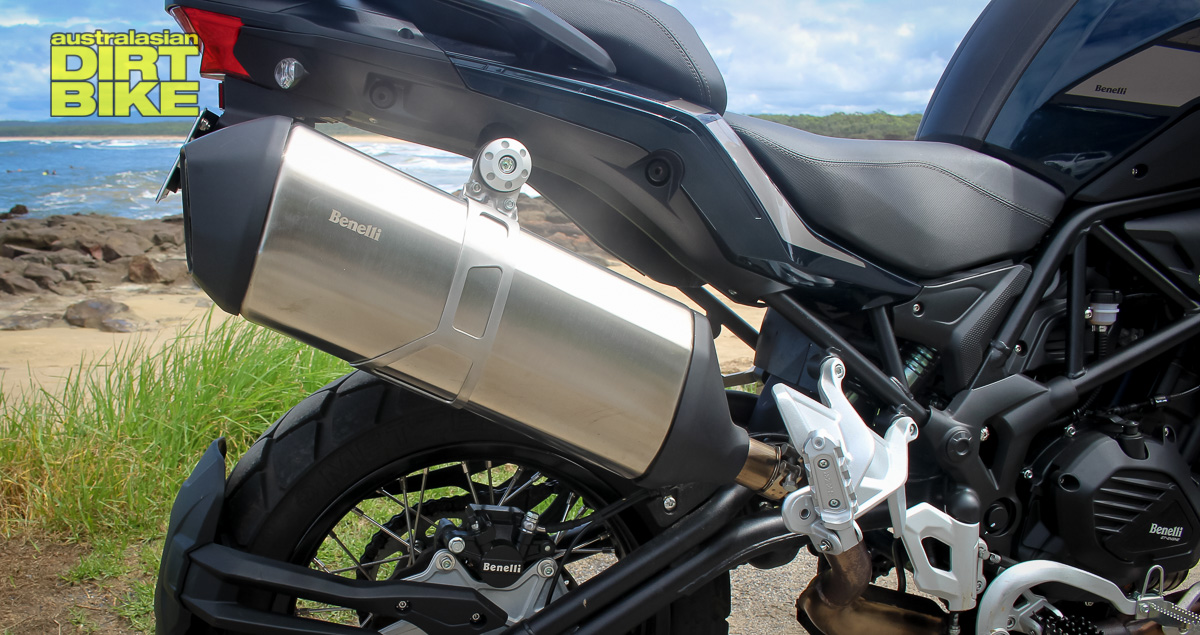 PRICE & CONTACTS
RRP                           $10,690 ride away
BROWSER               https://benelli.com.au/
Warranty                    2 year unlimited kilometres
WORDS & PHOTOS // Warren Jack
This Article appeared in ADB Issue #516