Yes, you read that correctly, we put the twin-cylinder BMW R 1200 GS Rallye X Goliath up against David, the Yamaha WR250F.
Adventure bikes have been bridging the gap between grey-haired tarmac tourer and dirt digger for years, but they've typically sided with our bitumen brothers. Shortish suspension travel, road tyres, rubber footpegs and no defence gear made them a handful in the tight stuff. But in the last few years, that has all changed.
Small-capacity adventure bikes like the SWM 650 Superdual X, AJP PR7, Yamaha WR250R, Honda CRF250 Rally and Husqvarna 701 Enduro are obvious choices for adventurers wanting to explore the more gnarly tracks. They offer dirtbike characteristics in an adventure package. But some of us want more grunt. We need that adrenaline spike from cracking the throttle and sliding into a dance with the dirt.
I'm one of those guys. I like large-displacement adventure bikes. Not because I'm a hero in the dirt but because I'm lazy. Having that much horsepower at your disposal means those with decent off-road skills can be more blasé with their concentration, relying on a little instinct to kick in when whipping the ponies.
I've seen butt cheeks pucker when big bikes start to slide or when things get off balance, but not mine. These bikes are more capable than you might think and if you're willing to trust your ability and hang on for the ride, the bike will push through more than you can imagine.
But, does a 1200cc adventure bike have enough natural talent to keep up with a 'real' dirtbike? With the right pilot, almost.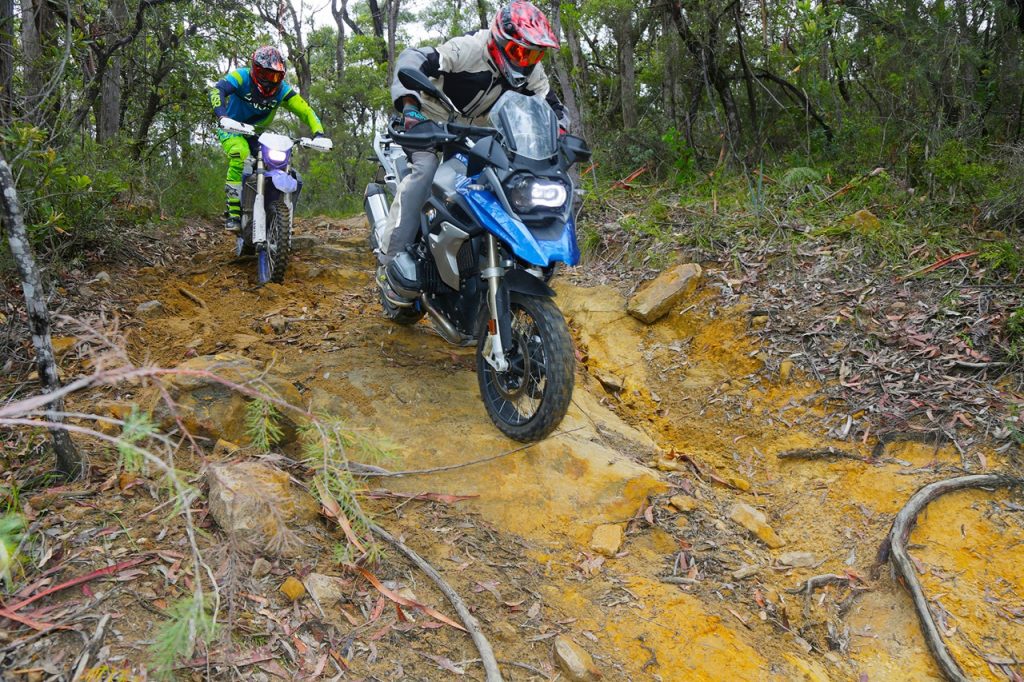 BALLARD'S BALLS
The idea for this story came about several years ago on the annual ADB Industry Ride near Batemans Bay. Enduro legend Geoff Ballard decided to join us at the last minute, on a BMW R 1200 GS. Clearly he didn't understand what we were doing. This was a trailride not an adventure ride.
Ballard is almost solely responsible for BMW's Rallye X version. Not entirely happy with the standard model, Ballard blended the best bits of the R 1200 GS and GSA in his garage, which included the longer travel suspension of the Adventure married to the lighter chassis. The result, as we discovered years later at the launch of the Rallye X, was exceptional. Ballard had created a singletrack-worthy adventure bike.
After riding the Rallye X it became clear how Ballard had been able to keep up with the rest of the us on his Frankenstein Beemer. But could a stocker still keep up? We bashed through kilometres of tight singletrack near the Letter A in the Watagans, switching between our Yamaha WR250F long-termer and a Rallye X to put this myth to bed but we came out fighting over who would get to keep the big dog.
TORQUIN' ABOUT IT
The fact that we're even talking about comparing a 1200cc, 200+kg adventure machine with a hardcore enduro/trailbike is ridiculous. But we are. And one of the reasons this discussion is taking place is because of the low-down grunt 1200s produce today.
Gone are the days where manufacturers would lace up a set of 17-inch spoked rims on a bitumen screamer and call it an adventure bike. These machines have ride-by-wire electronics, which allows you to select a more off-road friendly setting from the mountains of torque available.
The Rallye X is a second-gear brawler in the tight stuff, especially when wrapped in some decent knobbies. Almost all tyre manufacturers produce an off-road adventure tyre but the Continental TKC80 is my favourite. While they improve traction out of sight, it's the wear that's most impressive. Unlike a set of knobby tyres on your dirtbike, which would be lucky to get 1000km, the TKC80s will go beyond the 5000km mark and still find traction if treated respectfully.
A linear power curve, coupled with an incredibly torquey engine that can be adjusted for off-road conditions, driven by a set of long-wearing, traction-finding rubber makes the 1170cc engine easy to manage on tough off-road surfaces in tight spaces.
JUMP FOR JOY
If you've got an early-model R1100GS Beemer, I dare you to send it off the nearest erosion mound. Just the thought of someone attempting that scares me. Back when the R11GS was in it's prime (late '90s) it had about 20-30mm less suspension travel than the current R 1200 GS Rallye X, at 210-220mm. The suspension was also set up for touring, not off-road riding, so the ride was soft and probably a little more forgiving, but it didn't hold up to abuse.
The extra suspension travel and firmer setup allows you to send the Rallye X off erosion mounds and not freak out that the Telelever front-end will wind up in your forehead. Sure, the old-school 990 Katos will out jump any modern 1200, but that's a different kettle of fish.
When comparing the 1100s or 1200s of yesteryear with the current crop of big-bore adventurers, like the Triumph Tiger 1200 XCA in this issue, the improvements in the suspension are significant. Not only do they soak up the choppy stuff like Aladdin's magic carpet, but they can be smashed into square-edge bumps and dropped off ledges without clunking on the way down and bashing the underacarriage.
And making things even more comfortable is the range of suspension tweaking available. Thanks to electronically adjustable forks and shocks, the compression, rebound and sag can be changed at the press of a button. Meaning when you hit the dirt, you can go full hard on the front and rear and reduce the sag to handle the extra work.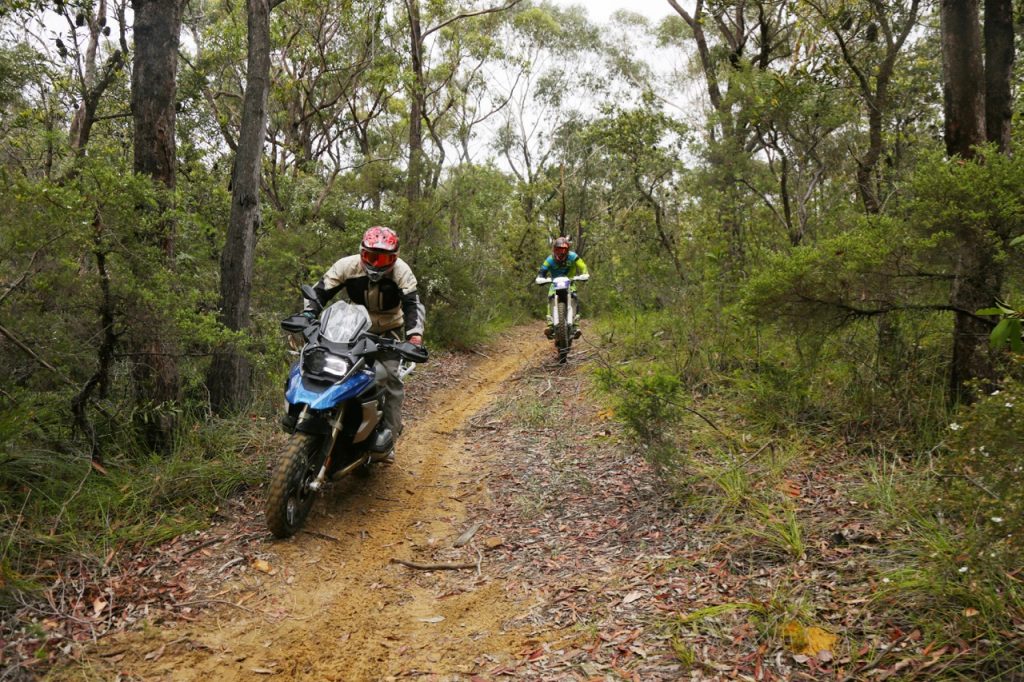 ELECTRONIC TRICKERY
Try and ignore the rubbish that comes out of your old man's pie hole when he says a real rider doesn't need that electronic crap. If you plan on riding tight, gnarly singletrack, you will benefit. Most high-end 1200s come with adjustable traction control and ABS.
When piloting 200kg+ through singletrack, ABS will be your friend. Despite the assumption that the tighter it gets the less desirable ABS becomes, with the current crop of ABS systems stopping is easier. For example, on the Rallye X you can arrange your braking system to lock up the rear while the front provides minimal ABS interference. This means you can still skid the rear-end into a rut while squeezing the front brake as hard as you like but avoid front-end wash outs.
TRACTION CONTROL
Even when charging down your typical rutted-out four-wheel-drive track, being able to squeeze the front brake and slide the rear where you want makes negotiating descents easier. As for traction control, fortunately this can go from full intervention to nothing and everything in-between.
We chose to switch traction control off for most of our singletrack test, except when we came to some slippery red clay. We switched to the least interference and were able to crawl slowly uphill while using our legs to stay upright. But of course there are downfalls, the obvious one being the weight. Try dropping a bike this size in tight singletrack and picking it up.
There's also the weight transfer of up to 20 litres of fuel when you're trying to save it. Rather than attempt that, just eject and get as far away as possible.
There's also the shear size of the thing. The width of the engine, especially a boxer, makes some tight sections impassable. It's also longer and the bulkiness of the windscreen and dash make pivot wheelies a scary prospect and the likelihood of losing your bottom jaw on a hard landing, higher.
And then there's ground clearance. On several occasions we bellied out the big Beemer when trying to hop a log and unless you've got long legs, saving a belly-out can end in disaster. You need to be confident you can clear the log by performing the textbook double blip, otherwise you'll need another 1200 or the Hulk to drag your bike over the obstruction.
BOX GAP
The gulf between the Beemer R 1200 GS and the WR250F is still miles wide. They offer completely different riding experiences and share no DNA, except they have two wheels and a handlebar. But, the rideability of the 1200s has improved thanks to more user-friendly engines, longer-travel suspension and convenient electronics.
Most people investing $30k in an adventure bike aren't going to drag it through singletrack but, if you find someone mad enough to try, just make sure there aren't too many logs. Mitch Lees
This feature was first published in ADB issue #467