Grabbo rides the French big-bore, the Sherco 500 SE-F Factory and considers its possibilities as a potential Finke winner.
I took the chance at Sherco's 2023 Enduro model launch to ride the 2023 Sherco 500 SE-F Factory with the mindset I was testing it solely for the Finke Desert Race.
The 2023 Sherco 500 SE-F Factory has a bit of a unique and interesting backstory. It was first introduced to the Sherco Enduro model line-up back in 2018 thanks to the Australian Sherco importer Mojo Motorcycles. He hassled the big wigs at Sherco head office to supply Australia with a model to compete in the half-litre field we have here in OZ.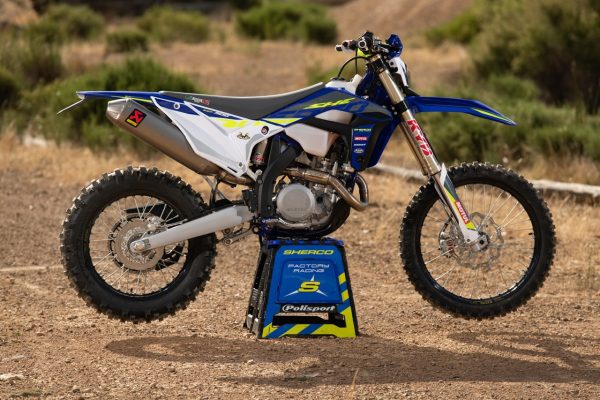 Sherco certainly have not held back on their 500 SE-F Factory as it comes loaded straight off the showroom floor with a hefty list of top-of-the-line parts and accessories. There's in-mould racing-inspired graphics, a Sherco Factory header pipe with Akrapovic silencer, Galfer discs, Excel Takasago rims, black anodised billet triple clamps, a heavy-duty 6mm AXP HDPE bash plate, Selle Dalla Valle seat, dual-map switch and Oxia oversized handlebars.
Jumping onto t2023 Sherco 500 SE-F Factory the first thing I notice is the traditional low bend handlebars Sherco have been running for well over five years. Even though the specification sheet lists this 500 the same as all the other Sherco enduro models it felt slightly larger to me, mainly because the front wheel and fork felt and looked to be a long way out front.
Heading out onto the test area, I headed straight for the flowing open sections that were all connected by fast fire trails, as this would be my best chance to test the 500 as a potential Finke racer. Before jumping onto the 500 I noticed it had no kind of noise restrictor baffle in the end of the Akrapovic muffler. Normally in off-road riding I would have preferred one as I don't generally need all the power of a big bore. However in this instance it was perfect, as I wanted to feel everything the 500 had.
Even with no baffle I was surprised at how quiet the 500 is. Once I was out on the open terrain, I fed in some throttle and let it rip. In some areas it totally surprised me in and others I honestly hoped for more. As soon as you open the throttle this thing wants to go and picks up speed really fast. If you're not ready it can catch you out with how aggressive the power comes on with the first crack of the throttle.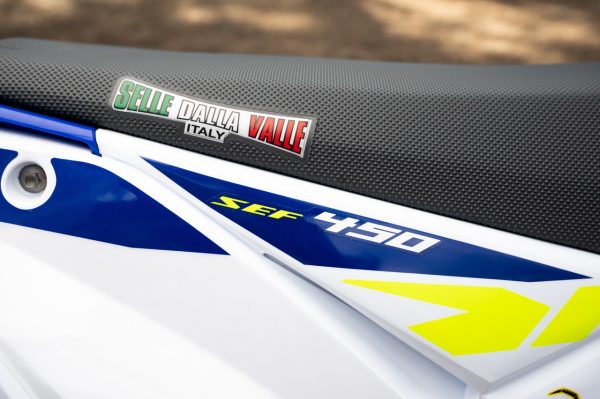 As it builds power the midrange is still quite strong, just without the aggressive nature of the bottom end. Once you get the 500 revving that is where I would say it was a little underwhelming, as it signs off very early in the making of power and does not feel overly fast at full throttle. To make the most of this engine in open terrain I found it best to short shift the gears and make the most of the aggressive bottom end and strong midrange power.
As I was running the dual-power map switch in the aggressive mode I tried it in the mellow mode out of Interest. The mellow mode was definitely noticeable as it made the power come on in a much friendlier manner. Considering I was testing this bike with Finke in mind I would hardly ever see myself switching to the mellow option, unless Finke was a mud bath with no traction. At Finke even though I do not believe it to be a must, the 6-speed gearbox on the 500 had a nice feel that made me feel like there was plenty of choices for every section of the high-speed track.
SUSPENSION
Now I am not going to bullshit, no bike I have ever ridden is close to perfect with standard spec suspension for the extreme unique terrain that makes up the Finke track. However, could you race Finke on this suspension package as it is?  My simple answer is yes you could.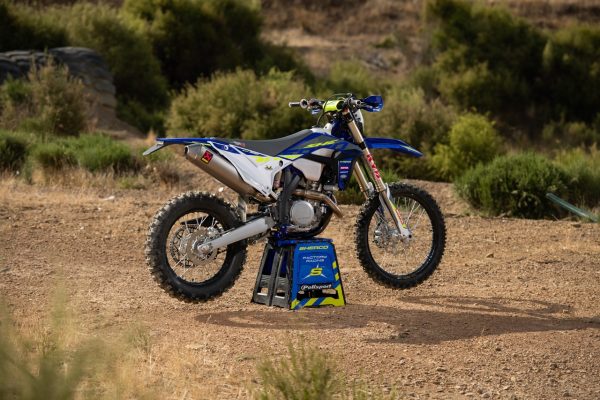 On the high-speed square edge terrain it would beat you up as it has too much in-built control at both ends. Then on the big high speed whoops it would not follow the ground well enough to give me full confidence to keep the throttle wide open. Honestly it should not be a surprise to anyone as Finke is like no other track I have ever ridden anywhere in the world.
Where this suspension felt totally at home and best was when I linked together the high-speed sections with the traditional enduro sections. As a trail bike or off-road racer is where you get the best feeling from this quality KYB suspension package. If I was going to name the one area of this package that felt the most capable and at home in Finke terrain it would easily be the chassis feel and frame behaviour. This bike feels very long to ride and that is a good thing at Finke as it gives you confidence during the high speeds.
The frame also has a soft feeling that translates into no harsh hits through the foot pegs. This is also a good thing when ripping through the desert at crazy speeds. When I mention frame behaviour, this bike is super stable in a straight line which is  another plus on the Finke track as it allows you to rest and relax every chance you can.
Overall, this bike has some very strong points that could work very well for certain riding styles and body types on the Finke track. If you love to short shift, ride at low RPM or gear your bike with crazy tall gearing this is the choice for you. I can also see riders on the plus side of 100kgs taking a liking to this power package. The overall handling is quite confidence inspiring with its stable nature in a straight line and planted feel at high speed, all of which can translate into a nice ride at Finke.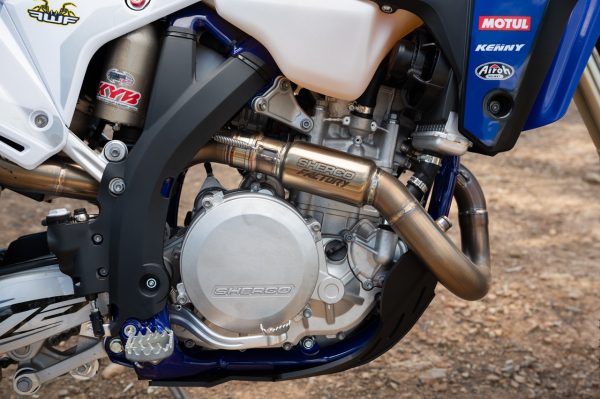 WHAT WOULD I DO TO MAKE IT A FINKE RACE BIKE?
First up I would add everything that I class as Finke necessities.  A steering damper, Stegpegz, desert tyres, UHD tubes and some desert style larger profile foot-pegs. Then I would get both the fork and shock modified to a Finke setting. For me this is something that is softer initially and more active than the standard settings and firmer on the big whoops and hits.
With this engine package being such a monster in the bottom end I would opt to run very tall gearing to make the most of this power. I feel if I ran gearing that kept it up in the revs I would be missing out on the strong area of this engine. Next I would switch out the standard handlebars for a taller bend. At Finke I find myself standing majority of the time so a taller handlebar would make multiple hours of standing up nicer on the lower back.
Lastly if I was looking at the Sherco as a top 15 outright bike I would look to get a few extra ponies out of the top end performance of the engine. Between the good engine tuners we have in Australia and the current Sherco dealers that currently run them at Finke this should not be overly hard to do.
2023 Sherco 500SE-F FACTORY
ENGINE
Type single-cylinder, four-stroke DOHC, 4-valve
Displacement 478.22cc
Bore & STROKE 98mm x 63.40mm
Cooling Liquid cooled with radiator thermo fan and expansion tank
Compression ratio N/A
Fuel metering Synerject digital electronic fuel injection
Tank capacity 9.7 litres
Transmission Six-speed sequential gearbox
Clutch Brembo Hydraulic, multi-disc in oil bath
DIMENSIONS
Wheelbase 1490mm
Seat height 950mm
Ground clearance 355mm
Claimed Weight N/A
SUSPENSION
FRONT 48mmKYB closed-cartridge, fully adjustable with model specific settings 300mm travel
REAR 50mm KYB Shock, 18mm shaft, 330mm travel fully adjustable with model specific settings .
BRAKES
Front Brembo hydraulic 260mm Galfer disc
Rear Brembo hydraulic 220 Galfer disc
RUNNING GEAR
Handlebar Oxia oversized
Front tyre Michelin Enduro Medium 90/90-21
Rear tyre Michelin Enduro Medium 140/80-18
PRICE & CONTACTS
RRP $16,999
BROWSER www.Sherco.com.au
BLOWER 03 83631600
Warranty 6 months
WORDS BEN GRABHAM || PHOTOS FREESTYLER PHOTOGRAPHY