Gas Gas EC300 vs Beta RR350 vs Yamaha WR450F | Bike Reviews
With so many enduro capacities available Ben Grabham, Olly Malone and Jeff Briggs hit the trails with the Gas Gas EC300, Beta RR350 and Yamaha WR450F to see what's what.
Our secret test location was north of Sydney, on the Central Coast. The terrain was fairly typical Aussie bush, the riding was mainly singletrack with some average hills and the conditions were almost perfect after some light rain. If I tell you more than that I'll have to kill you. To get a better idea of what each of these bikes was like to ride in other terrain, I ventured a little further than the rest of the crew for some fast, flowing fire roads and snotty creek beds.
Gas Gas EC300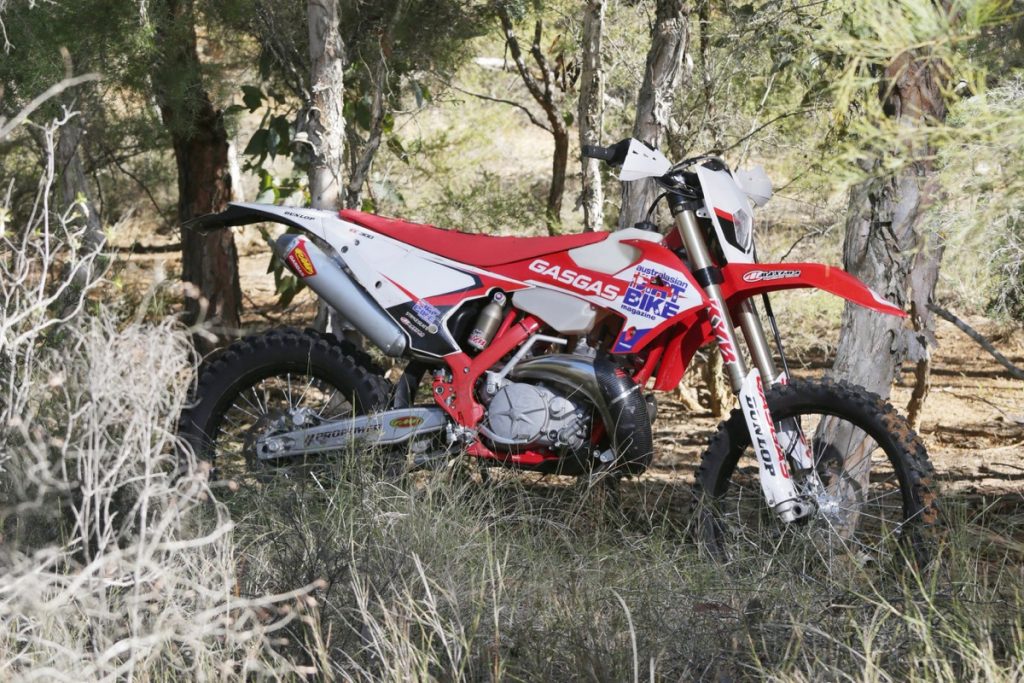 No one can deny the popularity of 300cc two-strokes at the moment. Whether it's trailriding, hard enduro heroics or desert racing, I see countless 300 smokers. Even without firing up the Gasser, you can understand why these things are popular. It's so basic to work on thanks to a simple carburettor and liquid-cooled engine that most people with basic mechanical background can even change a piston with success.
Lifting the bike off the pitstand, it's surprisingly light and that has to be a benefit when stuck on technical terrain. Having electric start, the Gas Gas EC300 starts up crazy fast. The first thing I noticed was how quick I could bring it to a stop in any situation, definitely handy when riding new trails.
The engine is more than powerful enough for 95 per cent of riders – I even ran the map switch on the mellow setting while riding singletrack. I was actually surprised how easy it was to find traction, making it very easy to tackle extreme sections.
There is no doubt the KYB suspension on the Gas Gas EC300 works great in all situations, as I couldn't fault it at all. The fast, open sections were the only place I found things got a little loose and wild, as its nimbleness can get a little unsettled at high speed.
It's hard to go past a 300T for any rider keen on extreme singletrack but in the more open, faster stuff you will need a bit of weight to keep one of these settled, either that, or be extremely fit. Still a very versatile bike.
Gas Gas EC300 Rider Feedback
Olly Malone
It's hard for me to sound unbiased when comparing the Gas Gas EC300 to the Beta RR350 and Yamaha WR450F because the test unit was my long-termer that was stolen from me while I was on holidays. Even so, I have no hesitation saying it was the best bike on the day.
For the trails we were riding and the conditions, which were perfect after some overnight rain, I felt like I couldn't put a foot wrong on the Gasser. The track was tight and technical, which favours the EC300's nimble handling and the KYB suspension showed its ability on the steep downhills, where you would brake hard for a super tight corner, then gas out along a short straight for another tight corner. No matter how out of control I got the bike remained composed.
Jeff Briggs
This bike was the biggest surprise for me. The power was really strong when in dry mode, yet a flick of the map switch turned it into a bike happy to lug around in the low rev range and ride in the torque. The biggest surprise was the KYB suspension and settings, I honestly couldn't fault it for straight off the shelf.
Gas Gas EC300 Strengths
• Great braking due to its lightness.
• Easy to change direction due to lightness and low engine inertia.
• Engine runs cooler than four-stroke in technical terrain.
Weaknesses
• Lightness makes bike more lively and less settled at speed than a four-stroke.
• Powerband is relatively narrow.
• Expansion chamber is prone to damage.
• No longer available.
Beta RR350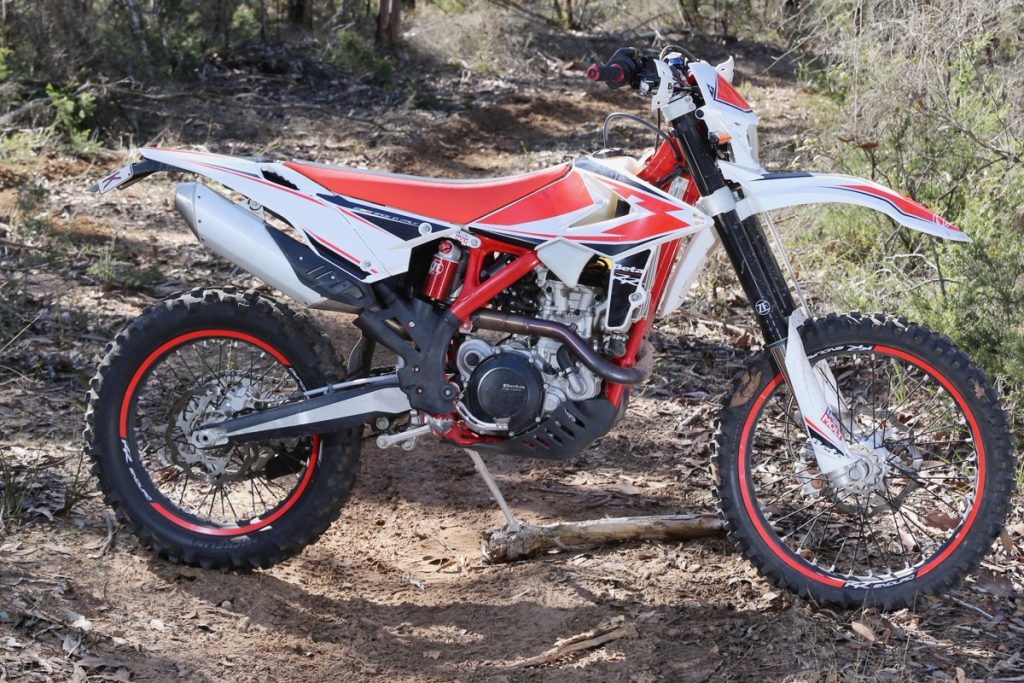 Mid-sized four-strokes have been around for the last 30 years but have really taken off towards the top of the sales charts in the last six, thanks to KTM. The RR350 is a perfect role model for this category. Looking more like a 250F, the RR350 is visually smaller than a 450. Jumping on the Beta always feels great to me, as its seat height (940mm) is the lowest of this bunch, with the WR450F up at 955mm and the Gas Gas at 960. The lower height gives me more control in tricky situations.
On the test loop the engine was not intimidating at all, as it builds power very gradually and feels most at home in the upper part of the mid-range. For a four-stroke, the 350 is still nice and nimble between the trees. The suspension is very plush but that makes for a forgiving ride at trail pace. On the fire roads it was nice and settled. I just had to be aware the suspension would blow through on big hits.
This bike is so easy to ride, it really suits the weekend warrior of average fitness, it's great for riders who are a little throttle happy as the engine is so kind it never gets you into trouble.
Riders up to the 90kg mark can easily expect one of these to lug them along with no fuss but riders over that, or who live in the more open parts of Australia will benefit from something with a few more horsepower.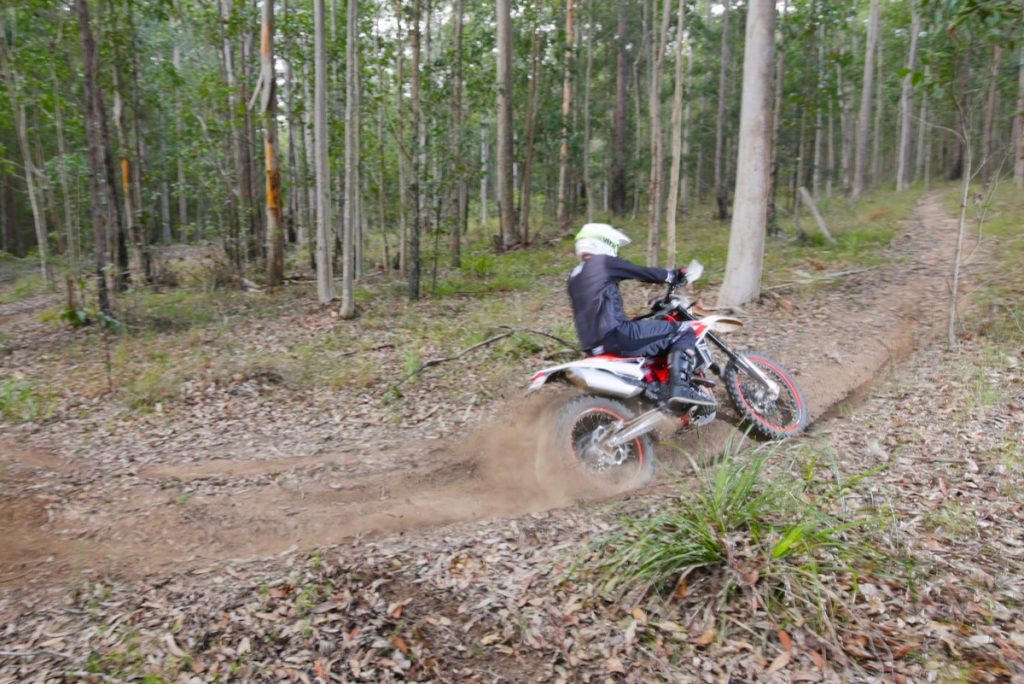 Beta RR350 Rider Feedback
Olly Malone
The Beta has a brilliant engine and the chassis is perfect for trailriding. The handling is not as sharp as the Gas Gas but once you become used to the softer suspension, it's a lot of fun. You begin to predict what it's going to do over certain terrain and how it's going to respond, and you ride it accordingly.
The suspension dives under braking more than the Yamaha or Gasser but as long as you're aware of this it's not an issue for someone riding at my pace. If you were racing it could be a different story. I rode the Beta for a long trail section after we'd finished flogging around the test loop and this is where it felt most comfortable.
Jeff Briggs
I really liked the engine. It's very smooth and linear and feels similar to a race 250F in the top-end, but not far off the torque of a 450. I also liked the feel ergo wise of both the Beta and Gas Gas and feel they have really bridged the gap between weird Euro feel to a great all-round feel. The suspension was slightly under sprung for me and seemed too soft when I was riding a bit aggressive.
Beta RR350 Strengths
• Low seat makes getting feet to the ground easier for technical terrain.
• Smooth power doesn't wear you out.
• Great traction from front and rear tyres due to soft suspension.
Weaknesses
• Does run hot in slow, technical terrain.
• Engine needs to be revved hard in deep sand.
• Slower to stop than two-strokes due to extra weight.
Yamaha WR450F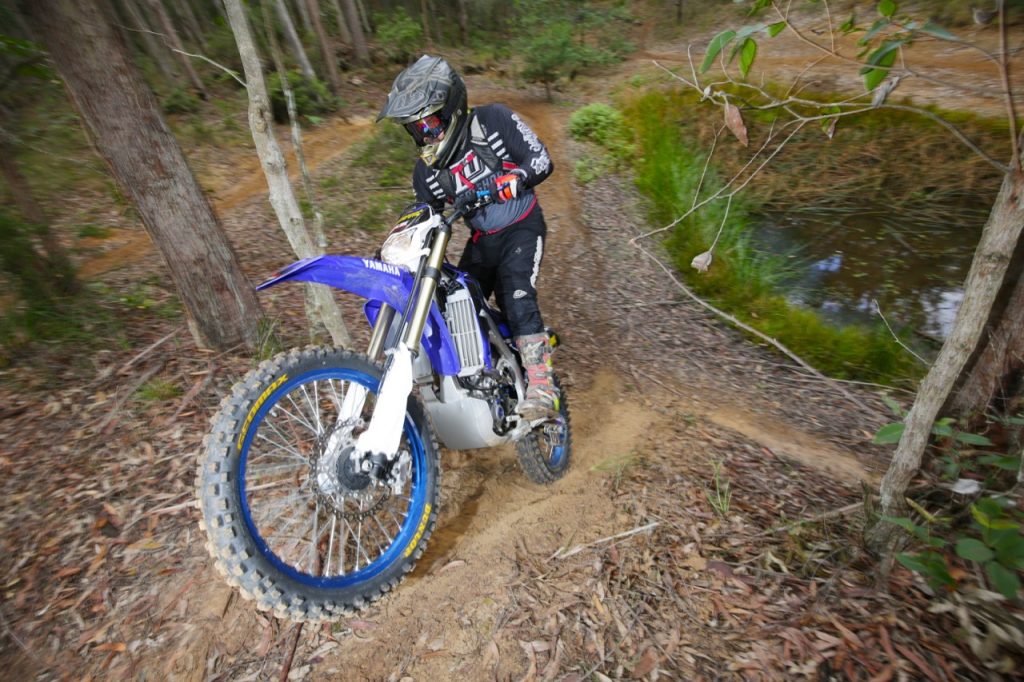 No doubt everyone has a mate who rides a 450 and pretty much every off-road brand has a 450 model, giving riders plenty of choices. Our WR450F was plastered with GYTR parts. Visually it was the biggest bike of the bunch and lifting it off the stand confirmed it was the heaviest at 119kg wet (claimed).
Firing the WR-F into life you can hear straight away that it's the biggest engine of the group. On the test loop I felt like a pro again, the bike was so fast and responsive. Unfortunately I couldn't maintain the intensity to keep it at full pace for long.
Pretty sure I was fastest on this one but only in short bursts, as its aggressive powerband wore me out a lot quicker than the Gas Gas or Beta on singletrack.
The 450 was noticeably harder to stop on the downhills as well, as a result of the extra weight and added engine inertia. When I was smooth on the throttle I found the 450 easy to flip-flop between trees but as soon as I got lazy and let my throttle hand get loose, it definitely felt a lot heavier to turn.
Out on the fire roads we can't tell you about, the 450 really felt settled. I could really use most of the power and push the KYB suspenders, that are set up on the firm side.
These bikes need to be respected, their big horsepower suits riders over the 90kg mark, or riders who like tackling the wide-open spaces. As much as it's capable of getting around hard enduro terrain I don't recommend it, as the weight and engine make it totally unhappy being lugged. For the rider who wants to be like Rod Faggotter, blasting through the countryside on a 450, it makes sense.
Yamaha WR450F Rider Feedback
Olly Malone
The WR450F has such a responsive engine it takes a lot of finesse to ride it smoothly, finesse I do not have. Because the engine is so abrupt and ridiculously fast it can be tiring in tight, technical trails unless you have perfect throttle and clutch control, again something I don't have.
Just slowing the thing down for a sharp corner is sphincter tightening. On the open trails that crazy power is addictive and the stable chassis makes it great for covering a lot of kay's at speed. Point the Yammi at a long hillclimb and it'll eat it up, the power never ceases to amaze. The riding position is vastly different to the Gas Gas and Beta, some people like it, some don't. I prefer the ergos of the Gas Gas because it's less cramped for my lanky frame. The WR450F is the sort of bike you need to ride slower in order to go faster, otherwise it'll beat the shit out of you.
Jeff Briggs
The WR450F is packed full of power. This bike can go from gentle to aggressive just by snapping the throttle. I did notice the weight a little more than the Beta and Gas Gas and also the slightly increased inertia a larger-capacity bike gives you, but it was still really balanced. The suspension package was also great out of the box and has that confident "Yamaha feel" as always.
Yamaha WR450F Strengths
• More than enough power to take on any terrain or obstacle.
• Tall bike perfect for larger riders.
• Suspension suits hard chargers or racers.
Weaknesses
• Powerful engine throws its weight around, making it a handful for tired riders.
• Stalls too easily, making technical terrain difficult at times.
• Pulling up for tight corners is harder due to the weight.