Can you ride a modern big-bore in a hard enduro competition? We muscle our way through a hard enduro loop on the Husqvarna FE501 and Beta RR480 to find out.
If someone had told me 20 years ago that we'd be riding big-bore thumpers in techo stuff as easily as a small-bore I would have laughed them out of the room. If you've ridden a KTM 640, old LC4-powered KTM 500EXC from 1997, 2004 model 525EXC, 2009 530EXC or even the trench-digging Honda XR650R then you'd know old-skool big-bores are weapons on a grasstrack but a handful grovelling through the slow, rocky stuff.
They've got heaps of power and love going fast in a straight line, just ask John Hederics or Ben Grabham, who piloted big-bores like those to victory in the Australasian Safari. They'll tell you all about the bikes' ability to rip their arms from their sockets or plough through the sand but they won't brag about their ability to climb rocky creek beds or up near vertical, log-strewn hills.
Fast forward to 2020 and stick any of those Safari pilots on a modern 500F and you'll need the Wolf of Wall Street to convince them they're actually riding what we call a modern big-bore. In the last decade, European manufacturers have worked tirelessly to produce big-displacement four-strokes that feel like small-bore trailbikes, and they're succeeding.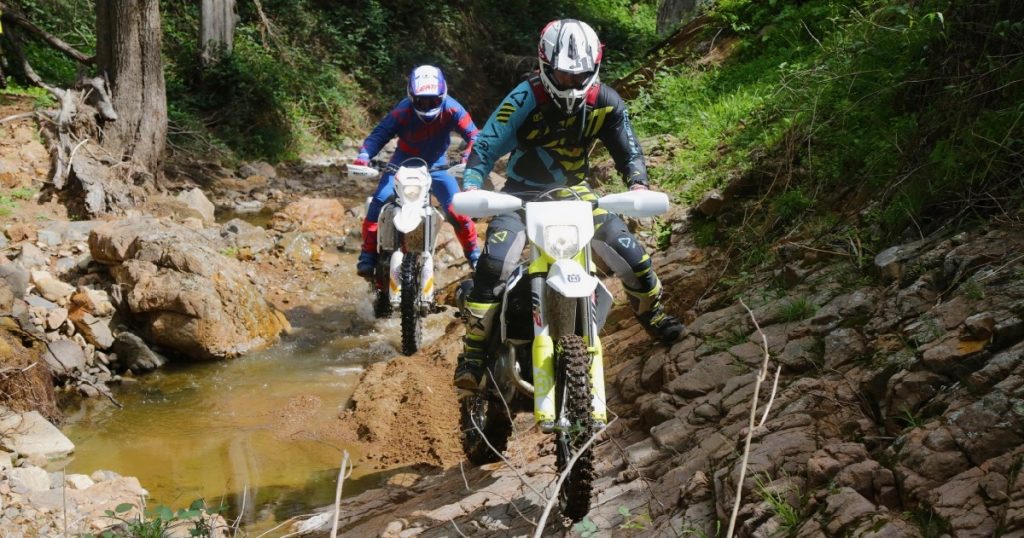 But don't think just because they can be ridden in slow, techo terrain they are for pussies. Flick a switch on the handlebar and drop the gearing a little and you have a Finke monster that would leave most late-'90s and early noughties big-bores in their dust. It really is an engineering masterstroke.
We love the hard-enduro stuff. My cattle farm, which is our go-to testing facility with tracks aplenty, is on the edge of the Great Dividing Range and littered with steep, nasty mountains and long, tricky creek beds. It makes for great hard-enduro practice so when we picked up our Beta RR480 long-termer we set ourselves the task of perfecting it as a hard enduro beast. Sounds odd, huh.
But hard enduro isn't only possible on the Beta, we also tackled it on a Husqvarna FE501. We wanted to test both 500s on the same loop for a fair comparison and while they were both more than capable, the Beta was certainly the better of the two. That being said, when we tackled the grasstrack on our way to the hard-enduro loop it was obvious the Husky was better at chewing turf.
Forget The Muscle
You're probably expecting me to say you'll need to muscle and wrangle a 500 through the rocks to have any chance of surviving but that just isn't the case. Most Euro big-bores are built on the same platform as the makers' 250s so they're almost as light and nimble as the smaller machines. They are a touch heavier (the Beta RR480 is 108.5kg dry while the RR350 is 107.5) but that can be attributed to things like bigger engine internals.
The RR480 isn't any wider than the smaller four-strokes available and doesn't run a weight bias to the front or rear that's different to the other models. The suspension, frame and ergonomics are the same as the smaller bikes. With the throttle closed and the bike not running you'd hardly be able to tell if you're sitting on a 350 or 480.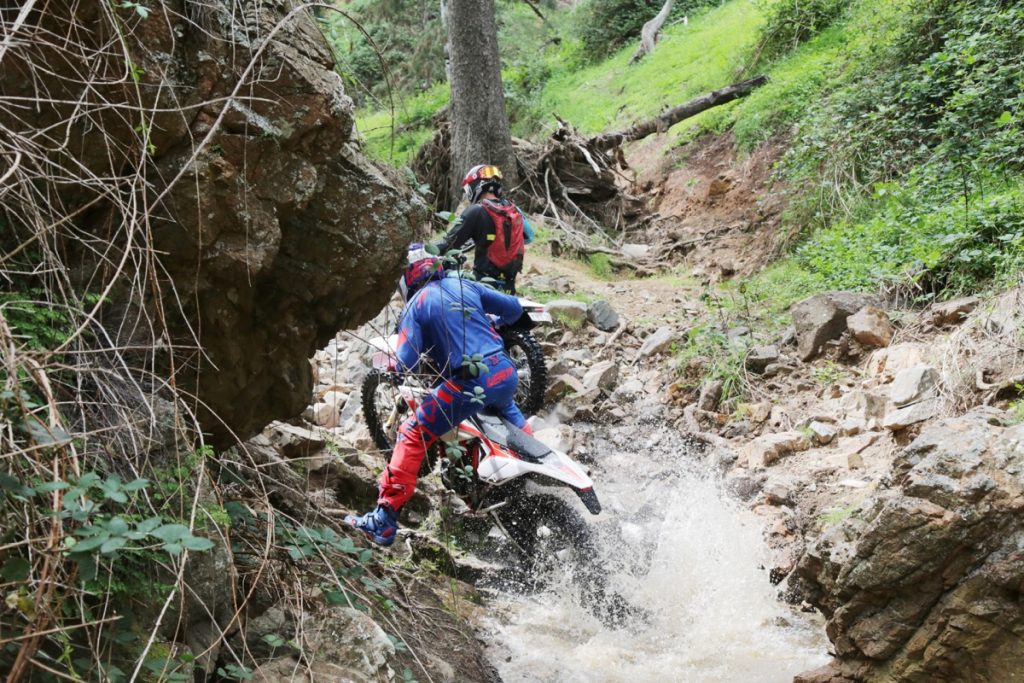 When crawling along at slow speed you can pivot, spin, balance and wheelie just as easily as you can on the RR350. When you come to a hill or ledge that needs a little aggression there's plenty on hand to launch you up and over whatever you're trying to get past. And if you need a little more you can always flick the map switch to "Sun" for a little more snap. The Beta's trials heritage was obvious, even on the RR480.
The Husky FE501 was no different. It too is the spitting image of the FE250 with all the same components and dimensions apart from a slightly bigger tank. It doesn't feel that much heavier to pick up when you drop it on a pile of rocks or slide the rear-end around when needing to lift the back out of a jam. It also has a map switch for easier riding in tough conditions.
Beta RR480 vs Husqvarna FE501 – Point of Difference
The engines are the point of difference. Like I said earlier, both 500s are capable of tackling hard enduro thanks to the ease of handling. But, the engines feel like they're built for two different purposes.
At the heart of the RR480 is a 477.5cc donk with a bore of 100mm and a stroke of 60.8 while the Husqvarna FE501 comes in at 510.9cc with a smaller bore of 95mm and bigger stroke of 75mm. It's tough to compare the two and single out one characteristic that is responsible for creating the difference in performance as they are two completely different engines. It could be anything from the cam profiles to the cam timing, compression ratio, ignition timing, fuel mapping or even something as simple as gearing. But what you need to know is these are two very different beasts.
The Beta lugs along at slow speeds with more control (this could be because of the Synerject fuel injection) as it is less aggressive on the throttle. The slightly softer ZF Sachs suspension is a little more forgiving than the WP Xplor48 fork on the Husky as well. The one downside was the lack of a thermo fan, which resulted in a boiling cup of tea at the bottom of one gully. And, after stopping and starting so many times the Beta battery failed and with no kickstart we had to push start it. Once running, it charged in minutes.
The softer engine and more user-friendly throttle made it much better in the techo stuff than other big-bore machines we've tested. It's also capable of giving your heart a flutter and you definitely notice the power when ripping on the throttle but it is still a little softer than the others.
The Husky was more exhausting to ride along the creek beds. It's speed just off idle was faster and higher in the rev range than the Beta, which meant you couldn't grovel along as slowly. It could be done, it just required better clutch control and your boot covering the brake pedal.
Verdict
Both these machines are incredibly capable in hard enduro and far more versatile than the big bores of yesteryear. They have all the agility and nimbleness of a smaller capacity four-stroke with just a little more inertia to manage and slightly stronger motor that pulls hard when you open the throttle.
Would I line up at Erzberg on one in 2021? Probably not. Both these brands make machines far more capable for riding exclusively in snotsville. Would I nervously stroll into a creek bed mid-ride or avoid the hard loop just because I'm riding a four-stroke big-bore? Absolutely not.
Anyone tried it?
Only five riders attempted Erzberg on a 500F last year and there wasn't a single Aussie among them. None finished and the furthest point any of them clocked in was at Checkpoint Six. One didn't make it past the prologue.
• Hannes Blengl, KTM 500EXC-F, Austria, DNS
• Andreas Leimhofer, Husqvarna FE501, Austria, Checkpoint Four
• Heiko Simon, 500EXC-F, Germany, Checkpoint Six
• Marcel Schoder, FE501, Austria, Checkpoint Six
• Rüdiger Wolfgruber, FE501, Austria, Checkpoint Six
Beta RR480 Specs
Engine
Type: DOHC, four-valve
Displacement: 477.5cc
Bore/Stroke: 100 x 60.8mm
Cooling: Liquid
Compression: 11.86:1
FuelLing: Synerject twin injectors
Tank Capacity: 9.1L
Transmission: Six-speed constant mesh
Clutch: Magura hydraulic, wet multiplate
Dimensions
Wheelbase: 1490mm
Seat Height: 940mm
Clearance: 320mm
Weight: 108.5kg dry
Suspension
Front: ZF Sachs 48mm USD, 295mm travel
Rear: ZF Sachs gas-oil monoshock, 290mm
Brakes
Front: Nissin twin piston, 260mm wave disc
Rear: Nissin single-piston , 240mm wave disc
Running Gear
Front Tyre: Michelin Enduro, 90/90-21
Rear Tyre: Michelin Enduro, 140/80-18
Price & Contacts
RRP: $13,995
Web: betamotor.com.au
Phone: (07) 5597 4335
Husqvarna FE501 Specs
Engine
Type SOHC, four-valve
Displacement 510.9cc
Bore & stroke 95 x 72mm
Cooling Liquid
Compression ratios 12.75:1
Fuel metering Keihin 42mm EFI
Tank capacity 9.0L
Transmission Six-speed, constant-mesh
Clutch Magura hydraulic, wet multiplate
Dimensions
Wheelbase 1487mm
Seat height 950mm
Ground clearance 360mm
Weight 108.4kg dry
Suspension
Front WP Xplor 48mm USD, 300m travel
Rear WP Xact monoshock, 300mm travel
Brakes
Front Magura twin-piston, 260mm wave disc
Rear Magura single-piston, 220mm wave disc
Running Gear
Handlebar ProTaper tapered alloy
Front TYRE Metzeler Six Days, 90/90-21
Rear TYRE Metzeler Six Days, 140/80-18
Prices & Contacts
RRP $15,895
Web husqvarna-motorcycles.com.au
Phone 1800 644 771
Warranty Six months parts and labour
WORDS // MITCH LEES | PHOTOS // OLLY MALONE