We picked up a bunch of O'Neal Kids Riding Gear for our youngest tester, Jason, and he he's loving it. Here's how it's going so far.
Now that my little fella is of riding age (well a Yamaha PW50 anyway), I've had to start investing in riding gear. He's three years old and it seems like every day his body grows. So when I started looking for riding gear, my priority was on value for money as he isn't going fast enough to do any serious damage and I knew the O'Neal Kids Riding Gear would fit in the budget.
I was immediately drawn to the O'Neal gear because having worn it as an adult for over a decade, I believe it represents excellent value for money. I picked up Jaxon, my son, the O'Neal 1 Series Rex helmet, the O'Neal Element Attack riding gear and the O'Neal Kids boots.
I knew Jax would love the 1 SRS helmet because it's covered in dinosaurs and they're his favourite at the moment. Plus, it's got that ABS Shell construction, a plush and removable/washable padded liner, an adjustable visor, intake and exhaust vents and access to replacement parts in case he breaks anything.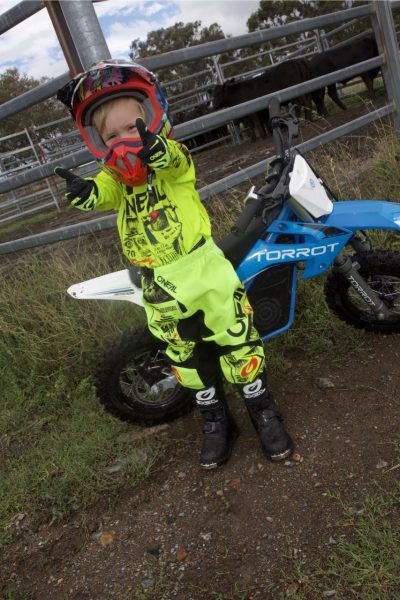 The Elements apparel I mainly got because it's fluro and I can see him! But also because it has elbow padding, cool graphics, a breathable material, spandex in the pants where he needs extra movement and an adjustable rachet waist in the pant so I could get a slightly larger size to last him longer.
The Rider boots are an entry-level boot with plenty of protection via the plastic, a metal shank through the sole for reinforcement, a snap-lock adjustable buckle system that even Jax can do (there's three of them), a metal toe guard, grippy sole and a synthetic leather heat shield to prevent heat damage.
Jax rides every week so let's see how they go!
Mitch Lees
GET IT HERE
BILL
Boots $169.95
Helmet $119.95
Jersey/Pants $29.95/$109.95
BROWSER
BLOWER
(02) 8882 1900