2019 SUZUKI RM85L Review | Bike Reviews
The Suzuki RM85 is rapidly approaching its twentieth birthday, but the basics of the engine date back even further, to 1990, when Juniors raced in a class with an 80cc limit.
The 2019 Suzuki RM85L  85cc two-stroke features a reed-valve intake hooked up to a Keihin PE28 carburettor with a rotary power valve controlling the exhaust port timing.
The front-end runs an upside-down 37mm Showa open-cartridge fork with progressive valving and 20-position compression and rebound damping adjustment to control 275mm of travel. The shock comes from the same company with adjustable rebound and compression damping plus adjustable spring preload. There's a twin-piston floating caliper up front to squash a 220mm disc and a single-piston floater on the rear matched to a 200mm disc.
The Suzuki RM85L comes with 19-inch front and 16-inch rear wheels, at the ends of a 1280mm wheelbase, plus a Race Kit of high-output expansion chamber and graphics to make it look on point with the competition. So no surprises there.
The RM may not have received the updates of its bigger RM-Z siblings of late but it still serves a purpose in the market, so let's take a look and ask the hard questions so you can see if it fits into your lifestyle.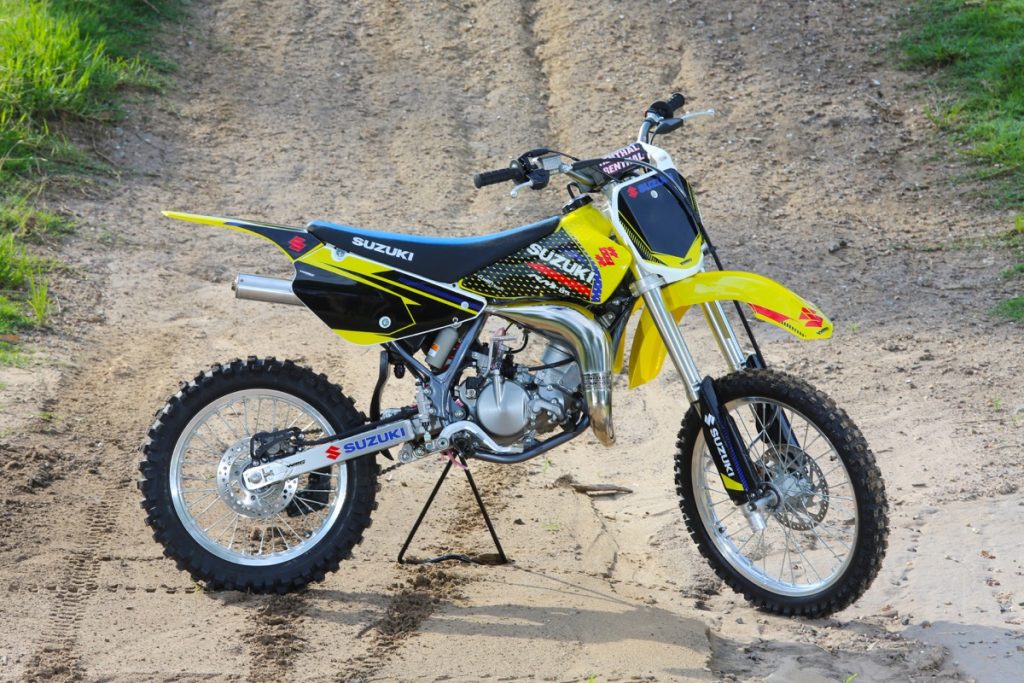 ARE THEY RELIABLE?
The RM85 engine's lengthy production run means that this is a tried and tested mill that Suzuki has chosen to stick with because it is reliable and it works. Think DR650 or DR-Z400. It may not produce the same peak power as some of its competitors but parts are readily available. Suzuki was producing a two-stroke bike in the 80cc class with a power valve long before we saw the first orange bikes nose up next to it at the start gate.
In my Junior days the RM was a popular race machine. In fact I spent many years chasing them around the track. There are no real common mechanical problems to whinge about. If kept in good condition, serviced regularly and not abused, the RM85 is reliable. If they overheat or the piston is left in there too long before it is replaced then they can have engine failures just the same as any other motorcycle.
WHERE DO THEY FIT IN?
Once upon a time the RM was a front-runner. These days, due to the lack of development, it is not up to the same power standard as the class leaders, nor does it have suspension of the same quality. I would be making a fool of myself if I tried to pretend otherwise.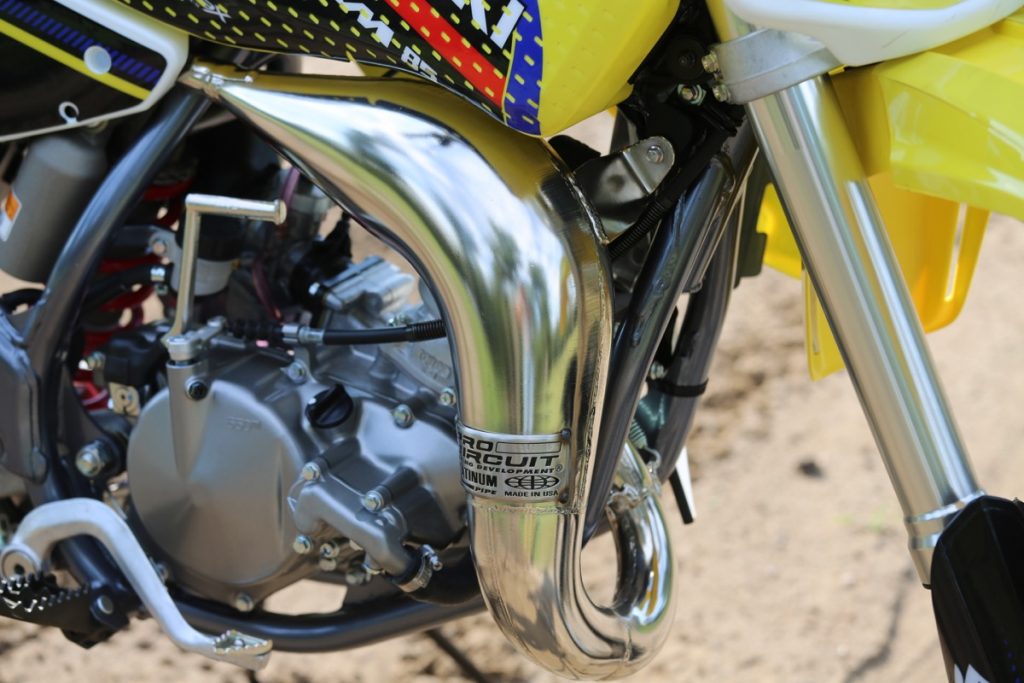 It does, however, have its place. It may not be underneath an A-Grade Junior taking on the Australian championships but it does perform well enough for any beginners or club-level racers. For anyone racing on a budget then the cheaper price tag is attractive and the less aggressive power curve means it is an easier bike for novices. And, don't get confused and think it's just a bike for the race track though.
It makes a perfect mount for kids to ride around the farm or for families who just enjoy recreational riding. It's a robust bike that can handle several types of riding for several types of riders and, while I don't recommend you mistreat it, it is capable of handling neglect better than many other brands.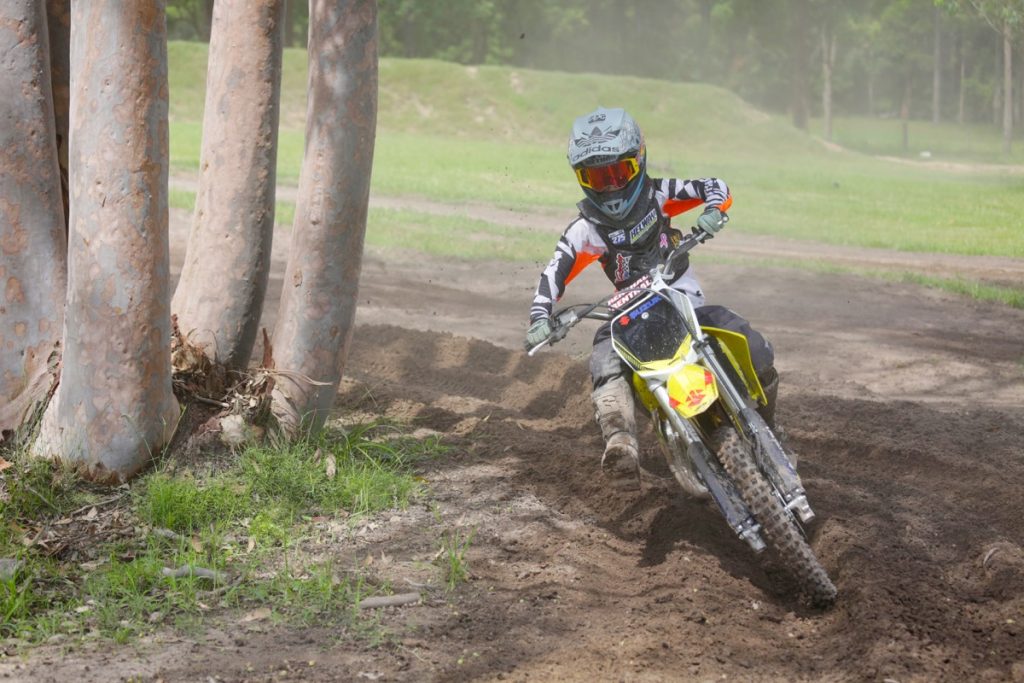 ARE THEY COMPETITIVE?
Engine wise, they can be on the pace if you are willing to take them to an engine tuner and spend some money. The good news is they come with a cheaper price and a Pro Circuit race pipe as standard. With some head, cylinder and carburettor work the power output can be greatly improved from standard and they can become much more competitive.
The suspension in its day was as good as it gets but A-grade kids are now riding so hard and fast that a really good rider will be able to push the bike to the point where they start to find its flaws. The suspension can be greatly improved but doing that isn't worth it for beginners. For a novice or club-level rider the suspension will do more than what the rider demands of it and the bike will handle perfectly fine and soak up everything you throw at it. It is only the hard-charging racers who have the potential to push this bike to its limits. Just to note, I have seen many RM85s win races at club days. It certainly is possible.
PARENTS SAY
One thing that gets parents talking is the RM85's price. It is $1500 less than the KX85, $2000 less than the YZ85 and $2500 less than the Husky TC85. It already comes fitted with a graphics kit and a chamber so that leaves you with extra cash to spend on the engine and suspension internals.
CODY SAYS
The Suzuki RM85L goes best when you ride it hard. If you let the revs drop too much then it can bog but if you keep it revving it goes quite alright. The suspension kicked around a bit but after slowing the rebound damping and getting the sag height set right it handled much better.
WORDS // MAT BOYD – PHOTOS // MITCH LEES
Suzuki RM85L Specs
Engine
Type Piston-port, reed-valve two-stroke
Displacement 84.7cc
Bore & STROKE 48.0 x 46.8mm
Cooling Liquid
Compression ratio N/A
Fuel metering Keihin PE 28
Tank capacity 5L
Transmission Six-speed constant-mesh
Clutch Wet multiplate
Dimensions
Wheelbase 1280mm
Seat height 875mm
Ground clearance N/A
Weight 74kg wet
Suspension
FRONT Showa 37mm USD, 275mm travel
REAR Showa gas-oil monoshock, 277mm travel
BRAKES
Front Tokico twin-piston, 220mm disc
Rear Tokico single-piston, 200mm disc
Running Gear
Handlebar Renthal tapered alloy
Front tyre Dunlop D737 70/100-19
Rear tyre Dunlop D737 90/100-16
Price & Contacts
Price $5790 rideaway with race kit
Web suzukimotorcycles.com.au
Phone (03) 9931 0500
Warranty None