Age is just a number – Derek Poolier | Features
Derek Poolier, 74, has done more on a dirtbike than most people could ever dream of. Derek's son, Michael, wrote to us on Father's Day wanting to tell his old man's story.
We had to know more so we asked Michael to pen us a story. This is just a teaser, look out for the full feature in an upcoming issue of ADB.
Name: Derek Poolier
Born: 1944
First bike: Ariel 500cc Twin
Current bikes: BMW G310GS, CRF250L, CRF250R Rally, KTM EXC200, KTM EXC450, W800.
Recent Rides: Nullarbor, Victorian High Country, Simpson Desert, Madigan Line, Outback Motorcycle Adventure ride, Alice Springs.
The Early Days
Derek Poolier's first ever motorbike ride was in 1957 at the age of thirteen. He taught himself to ride during his weekend job at a service station while the boss enjoyed an extended lunch hour with his ex-navy mates.
Derek got his South Australian drivers licence on his sixteenth birthday in 1960 and the next day, bought a 1949 Ariel VH 500cc twin port with a Dusting sidecar for 20 pounds. Soon after, he bought a BSA 500 ex-army motorcycle in immaculate condition for five pounds, followed by a BSA B32 350cc and a Norton ES2 500cc.

Adventure Road
During his army years, Derek managed to get hold a BSA B33, which he lost track of when posted to another location, but not before he completed a lot of trail riding on the Holsworthy military range; he still doesn't know where the bike is.
After leaving the army in 1970 and moving to Derby, Western Australia, with his new job, Derek bought his first real dirt bike, a second-hand Yamaha DT1.
Moving to a much colder, but equally muddy place, Derek joined the Mt Gambier Motorcycle and Light Car club and bought his first new bike, a Honda XL250 Motorsport.  It was the bees knees at the time, and he is doing a nut and bolt restoration on one now.
In those days, the MGMLCC ran fifty-mile reliability trials, and Derek participated in nearly twenty of the events.
In a moment of madness, Derek bought a Bultaco Alpina 250cc and rode the 1973 Hattah Desert Race, later admitting, 'I couldn't have chosen a more inappropriate bike!'
The late seventies brought on more punishment at Hattah and 50-mile trials riding a Yamaha IT200.
The 1980s were the XR era, 250s and 600s era and Derek participated in tailriding around the Adelaide hills and Enduro events.
Alice Springs – Dirt bike capital of Australia
Derek was lucky enough to be posted in his job to dirt bike Heaven – Alice Springs. Arriving in 1984, Derek watched in awe the Finke Desert Race. 'Too hard and fast for me,' he said.
Trying not to think about riding the Finke, he bought and rode XRs, Husqvarna's, KX250, KLX650, TT600s TTR250s and settled for organising and riding in slightly less challenging local motocross and Enduro events.
With others dirt bike riders, he laid out and ran the Alice Springs Masters games Enduro on the rough and rugged Undoolya station tracks and rode in five of these events, which were memorably, mainly because of the October heat. Riders from the south were quite disadvantaged when the temperature on the start line was 42 degrees at 9am.
One of the most challenging rides has to be the Australia Day Motocross at Deep Well station. Only the hardiest and most determined finish this event. It is not uncommon to see spar baths and buckets filled with ice for the heat-exhausted riders as well as paddle pools of water for the junior riders.
Derek rode the Australia Day Motocross five-times during the late 1980s and 1990s.
Finke Desert Race 2000 – 2002
At the dawn of the new millennium, Derek, now aged fifty-seven, decided at last to tackle the famous Finke Desert Race.
It is not uncommon for riders to commence pre-running for this ride twelve months before the next event. Derek, being familiar with the country and with no expectation of a win, simply rode and finished the gruelling event in his own time and without putting a handlebar on the ground.
He rode the Finke again in 2001 and won the Class 8 Veterans on a WR250F in tough, wet conditions.
Derek spent most of the 2002 Finke Desert Race in a helicopter, being medically evacuated to the Alice Springs hospital with a broken ankle. Derek's ride had come to a crashing halt at Henry's Hill, early on day one. He now decided it was wiser to rest on his laurels.
Riding On – after 70
Once again with AMTRA – SA, Derek did a Nullarbor crossing in 2014 from Kingoonya via Ceduna and though the monstrous Sahara-like sand dunes to Mexican Hat and Fowlers Bay, then nearly to the WA border. Back again along the railway line and the dog fence to include Googs track and on to Kingoonya on a KLX450. This trip was 1500km and took five days; it rained for two days and a few of the younger riders (in their fifties) froze.
One of Derek's recent and more memorable trips was on a KTM 450EXC through the Simpson Desert on the Madigan Line and Hay River track to Batton Hill with four other riders. The Simpson had a huge rain event during this crossing which resulted in wheel-deep water again and some very wet camps.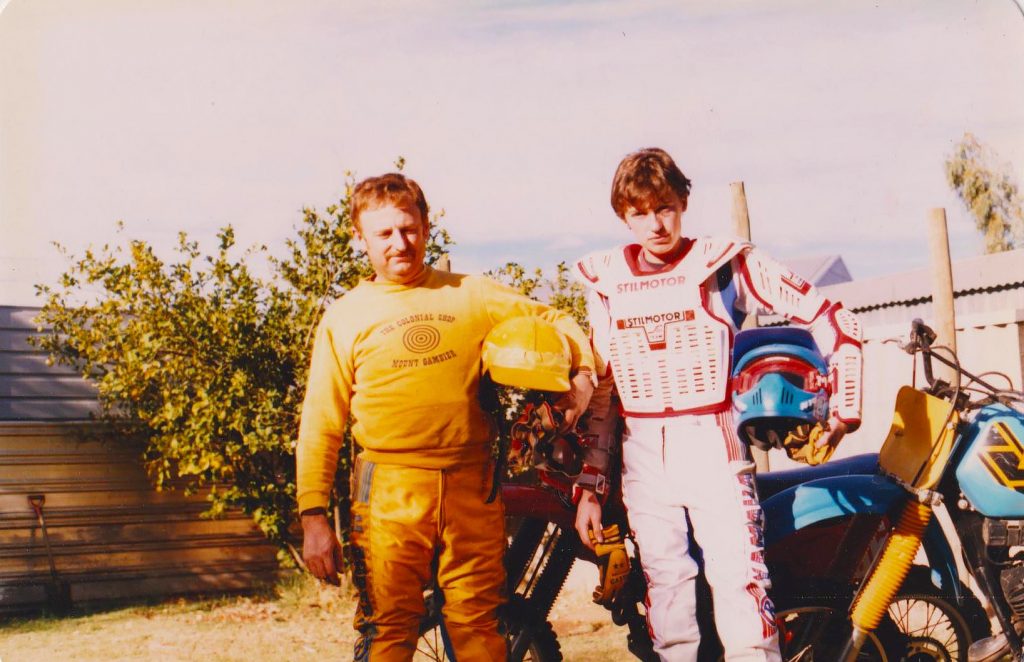 Over the last couple of years, Derek been on day trips around Adelaide with the Filthy Friday Fraternity (an offshoot of Ulysses). He claims to have ridden most of the dirt roads/tracks in the Adelaide Hills and between Cape Jarvis and Jamestown.
This year, Derek, now aged seventy-four, participated in a five-day ride with Outback Motorcycle Adventures, Alice Springs. This event took the riders to all the great riding spots in and around the Alice – Ross River, Ruby Gorge, Hale River Homestead and Boggy Hole.
Derek still regularly rides the single track around Alice Springs on his KTM EXC200 with his young friends of 50 or so. He finds it good training for the next Victorian High Country ride and particularly loves riding when it is in the high 40s, as he feels it sorts out the men from the boys.
His plan is to keep riding until he can't throw a leg and then to get a quad bike. Michael Poolier
Look out for the full feature in an upcoming issue of ADB.