BIKE BUILD PT 2 | 1996 HONDA CR250 | News
I never thought that the clapped-out $1500 junk pile that I bought a year ago would turn into the fully restored 1995 Honda CR250 you see here.
I mean, I had a rough idea of what I could do, but I never envisioned it would turn out as good as it has.
I've seen many "McGrath replica" Honda CR250s over the years and I believe that we have created one that, apart from a few logo swaps, is one that people will look at and reminisce about the epic era of moto that was the '90s.
Despite riding and racing two-strokes for as long as I can remember, this whole project has been a big learning experience for me and I've really enjoyed it. Buying the bike was wild as I've never thought I would hand over some hard-earned money so willingly for a s— box bike.
The first stripdown and rebuild was interesting as I didn't exactly pull it down with a plan, so putting it all back together was total guesswork, but I only had two bolts left over so it was all good! My internet history on my phone pretty much starts with "1995 CR250 …" as I would constantly search for new parts or mods that other people had done. The damn thing consumed my life.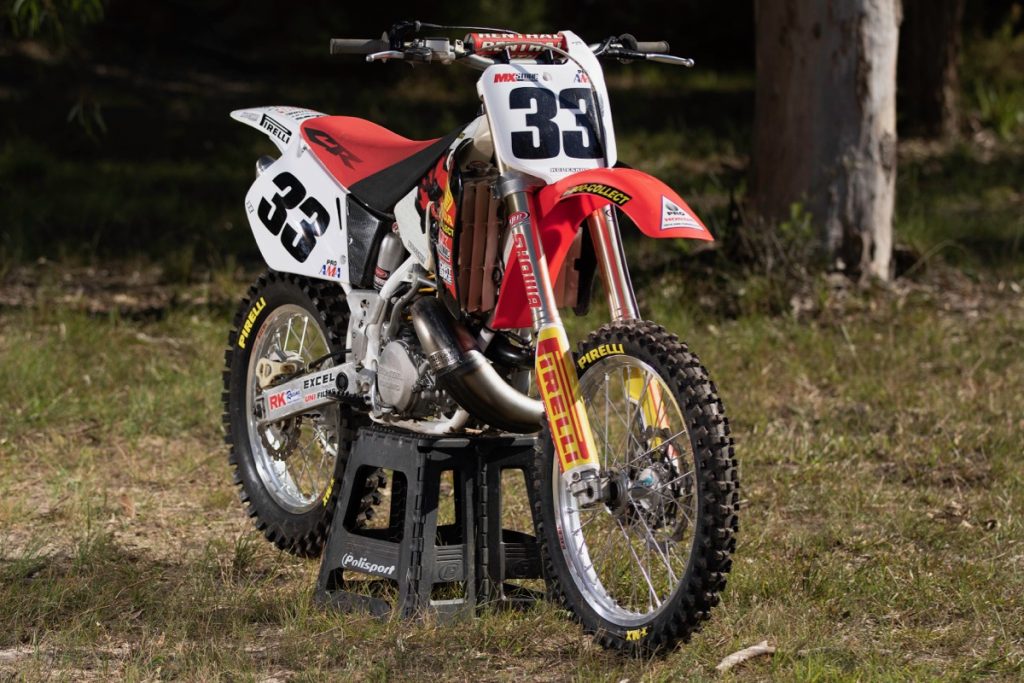 Fortunately for me, ever since the project started, I have had a huge amount of help and support from people and companies all over Australia wanting to make this bike the best it could be. I am very grateful for that. It just goes to show how many still appreciate retro two-strokes in Australia but I've had plenty of interest from overseas as well. As I mentioned in last month's feature, I had a few more upgrades to get sorted in order to make this bike exactly how I wanted. First up, MC ran a factory Showa fork on his bike in 1996 and while I could not get anything like that I wanted to get rid of the notoriously bad fork that comes stock. So, onto the internet I went and found a 2012 CRF Showa front-end for $500 delivered. Oh man, was I stoked!
HEADSTEM
The boys at MXstore hooked me up with an All Balls headstem bearing conversion kit and it all bolted straight on. Those guys really do have just about every part for every bike.
You never know what condition something is in buying it second hand so, just to be safe, I had the guys at MPE in Queensland give both the 2012 fork and the shock a complete overhaul, which turned out was much needed. They replaced all the bushes and seals in everything and chucked in a more aggressive setting that would keep up with the big CR.
Next was the front brake. The stock unit is terrible. I tried running a CRF front brake but it still wasn't what I was looking for. So I managed to successfully modify a Honda caliper mount to take the factory Brembo twin-piston caliper from my good ol' Husaberg race bike from 2014. I then borrowed the Berg's brakeline and master cylinder, fitted a Ballard's 270mm CRF disc and, just like that, had a ridiculous front brake. It actually stops with one finger. As soon as I had that bad boy mounted up, I felt like I could charge into corners just as hard as on a newer bike and with the new front-end feeling firm and stable, the CR was one step closer to being finished.
ROLLING ON FRESHIES
While the wheels weren't buckled or anything like that, I still had some questions about whether the 24-year-old rims and spokes would be in good enough shape to leave alone. The spokes were kind of fused in there and weren't coming loose so that part was good, but I've had plenty of wheels break so I didn't want to take the chance.
I called up the guys at John Titman Racing who import Excel rims and they were more than happy to help. I decided to keep the stock hubs, give them a good clean and then relace the wheels. JTR actually offer this service. You send the wheels to them, they re-lace them and send them back fresh as a daisy.
I decided to change the rear to an 18-inch rim as I find that it's just better for me and the majority of my riding is off-road so having the bigger sidewall and cushion is nice. We mounted the new rim with new spokes to the '95 hub and also a new 21-inch front rim. The Excel rims are super strong and looks awesome too. Then, of course, I added my go-to set of tyres, the Pirelli Midsoft.
I would always look at the photos of MC's bike and could not help but marvel at the handmade cone pipe. That thing looked so trick but the custom aluminium silencer, while looking good, apparently only lasted two or three races. Unfortunately for me, neither of those items are easily obtained so I decided to try my luck and contacted Pro Circuit Australia for help. To my delight, they said that they would love to get a PC Works pipe and silencer on the bike and I have to say, I was over the moon. It took six weeks to show and when it did, oh boy, I could not mount that thing up fast enough. The raw finish of the pipe just looks epic and sure, they are a little hard to maintain, but I didn't care because it was the final piece I needed.
It bolted up super easy and the sound, holy shit, it sounds so meaty and strong!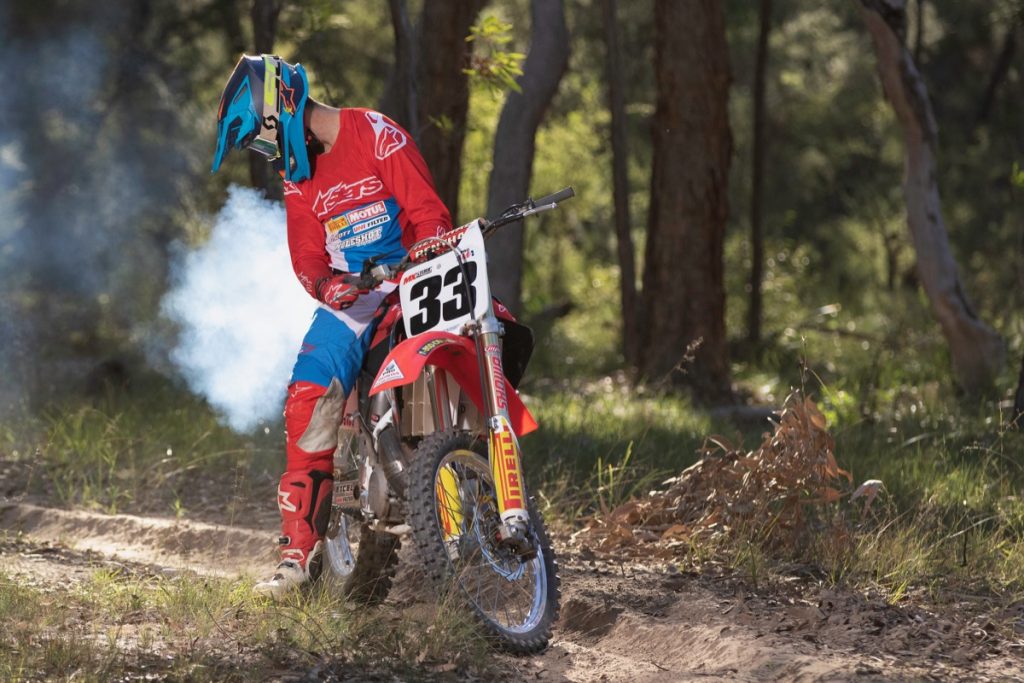 FIRST RIDE
After months of building and drooling, I finally got the beast out onto the track and I could not wipe the smile off my face. I thought the bike was fast before it blew up, but with a brand-new motor and some go-fast mods by my mechanic Drew, the CR goes like a rocket.
I could not believe the power and torque that the bike has. On my grasstrack, I can enter the corners in third gear and it pulls me out of there without even hesitating. I must have put three tanks of fuel through the bike in one day.
The only gripe I had was the clutch. The pull was heavy and I am just not a huge fan of cable clutches. I recently put a Ballard's easy-pull lever on there and a new clutch cable but have yet to ride it, it feels lighter so that's a huge plus. Other than that, I am super impressed with this motor. Sure, it vibrates a fair bit, but it feels just as strong, if not stronger than the 250 two-strokes of today. The torque is awesome as well and I know I mentioned the sound already but damn it is nice!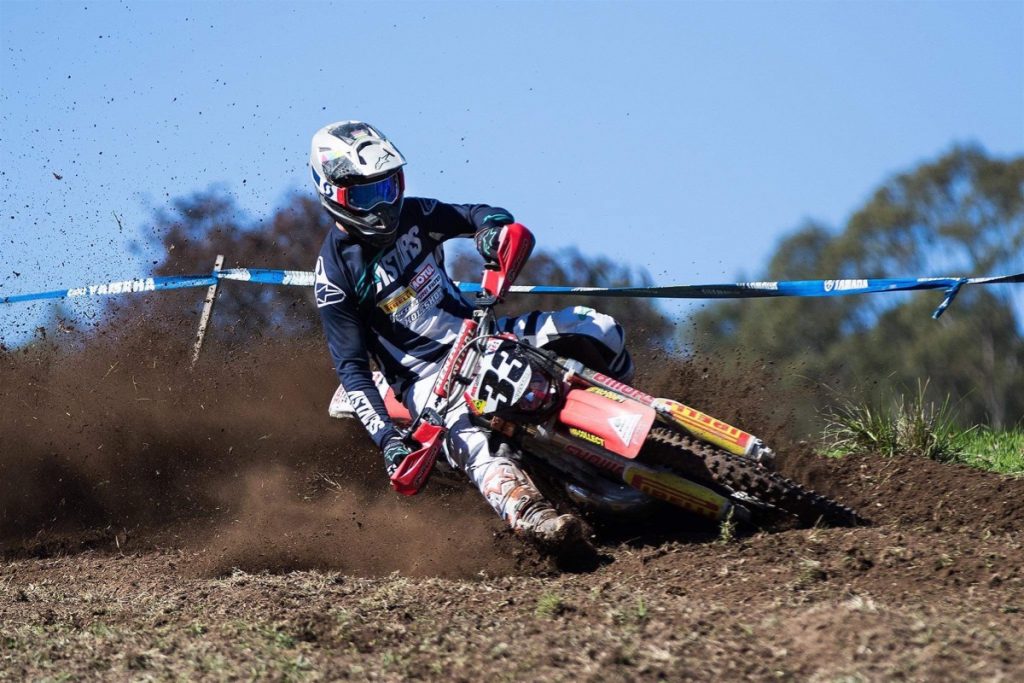 Compared to when I first got the bike, the suspension is night and day different. Obviously, the CRF fork is going to be much better but, thanks to the guys at MPE, the bike feels balanced and is firm enough that I can hit things at speed and not worry about it spitting me off. My issues with headshake are just about gone too with the CRF triple-clamps and I have been considering trying to get my hands on a CRF steering stabiliser as well, just to get rid of the headshake for good.
Other honourable mentions must go out to Mario from Topline Upholstery for making the bike feel grippy and rideable. He got rid of that horrible vinyl cover and old foam and fitted up a taller, replica CR gripper seat that actually makes the bike super comfy to sit on. Seriously, the seat is amazing. Also, the guys at Holeshot Graphics did an epic job replicating the McGrath 1996 kit. Accompanied with the Polisport kit, the MC-inspired graphics are exactly what I wanted and to have my name on the tank just like MC is pretty neat.
THE CR GOES RACING
Rather than keep the bike locked away, I decided to take it racing. The first event was a NSW Off-Road Championship sprint weekend at Nowra and, apart from destroying the rear caliper on the first day, the CR and I were actually running pretty well and were the fastest two-stroke.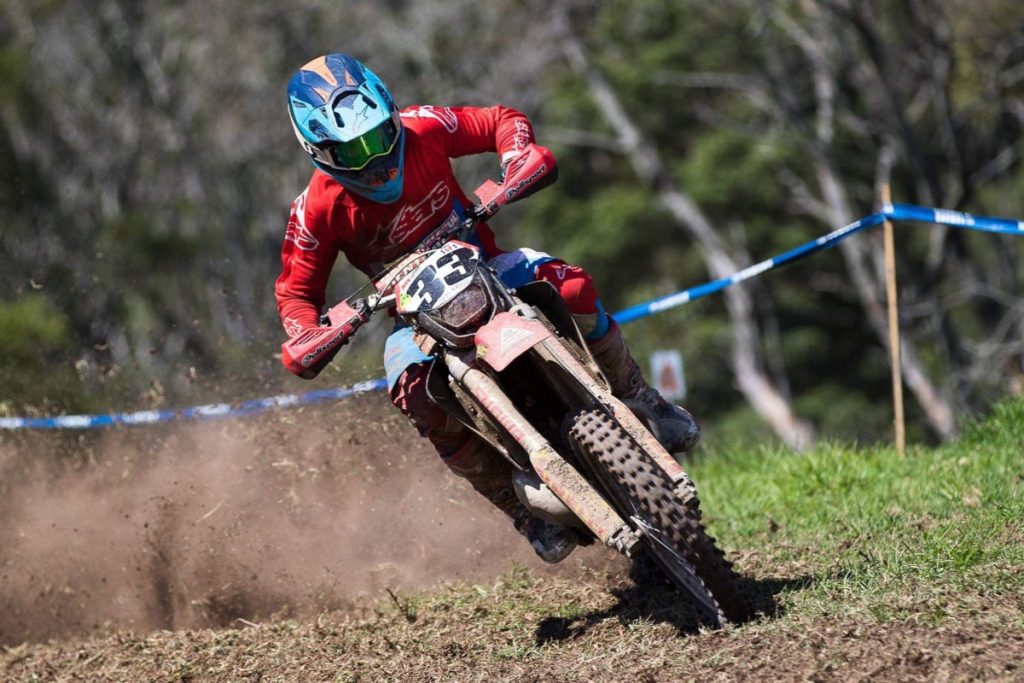 It was loving the primo conditions down there and the track was a ton of fun. Fast forward a few weeks and the CR was due to take on the AORC Two-Stroke Cup class at Dungog. Luckily, Honda Australia had a rear caliper to suit a '98 CR250 so I could go racing. I bolted on a '98 rear disc, some new Pirelli tyres, some Polisport handguards and away I went for a two-day enduro. It was a long two days but the tracks were cool and the CR loved it, especially the grasstrack Test. I was stoked to come away with the win for both days in the class and finished inside the top 20 overall.
I've got a few more races in the pipeline and it's pretty awesome going to these events on the old-school two-stroke. You'd be amazed at how many people come up to me and say "now that's a real bike". Pretty much all the moto dads have come up to me and said that and then gone on to tell me stories about the good ol' days and how they used to battle each other on these weapons. It's really blown me away the number of people who love the old two-strokes.
VERDICT
Not for a second have I doubted my decision to take on this project. I remember bringing the bike home with a rough plan of attack but it's turned out better than I could have imagined and the support I have had has just been amazing. I can't thank everyone enough. Right from the word go, I've had people offering their help with products and I am happy to say that the bike has turned out spectacularly. It looks awesome, it rides awesome, it's fast as shit and most importantly, it sounds amazing. There isn't a two-stroke fan out there who would be mad at the sound it makes.
So, again, thank you to everyone involved with the project. MXstore, Holeshot Graphics, Electrosil, Topline Upholstery, Unifilter, John Titman Racing, Link International, Honda Australia, MPE Suspension, Pro Circuit, my mechanic Drew Surrest and finally my wife, Ash, for allowing me to do these things and spend money on bike stuff when I should be at home doing chores, and buying her flowers and chocolates. Did someone say Ricky Carmichael Suzuki RM250 replica build next?
WORDS // GEOFF BRAICO PHOTOS // JP MEDIA – THIS FEATURE WAS FIRST PUBLISHED IN ADB ISSUE #480