Boom or Bust? Looking Beyond 2020 | Features
There's plenty of noise coming from the industry that times are tough, thanks to the coronavirus, and that noise is coming from retailers, industry experts and importers.
But the noise from the tracks and trails as states come out of lockdown is loud and clear and we're not talking about the volume, we're talking numbers.
Traditionally, the MX Nationals – now ProMX,  the Australian Off-Road Championship and Australian Supercross Championship, along with one-off events like the Australasian Safari, Australian Four-Day Enduro, Manjimup 15,000 and Finke Desert Race were the barometer of where the industry was at. Those events drew the big numbers in riders and spectators, with the state championships in the different codes not far behind.
For the average weekend warrior there were club days and regional races, and that was about it. Times have changed and that trend appears likely to continue when social distancing and state border restrictions are relaxed, with more riding and racing than ever before.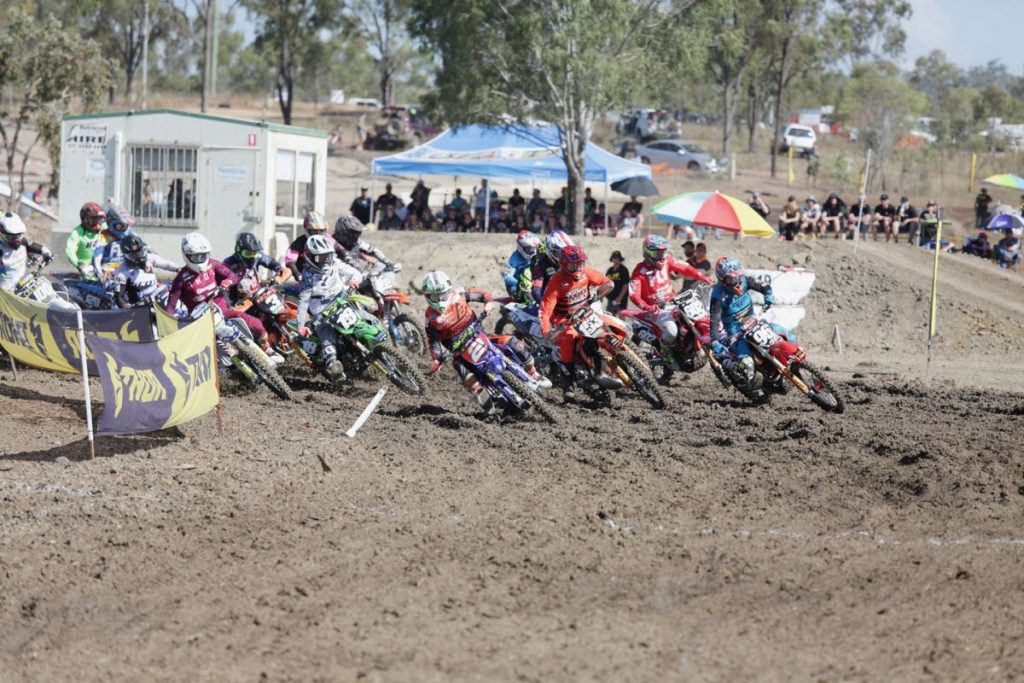 The Federal Chamber of Automotive Industries (FCAI) represents the car and motorcycle industry and they publish sales figures supplied by the importers. The bike sales figures are released every quarter and are largely used as the bible for the state of the market across all categories.
The industry tends to use the FCAI data like most people use the weather reports on the nightly news and that weird stock market analysis by Tom Piotrowski from Commsec.
Consumers, on the other hand, follow their hearts and their wallets.
For the past couple of years, the industry looks to have been in decline. However, not all importers report their sales to the FCAI so you can't hang your hat on those figures entirely. You can easily look up the reports at fcai.com.au to see which brands are signed up, and you won't find Beta or Sherco.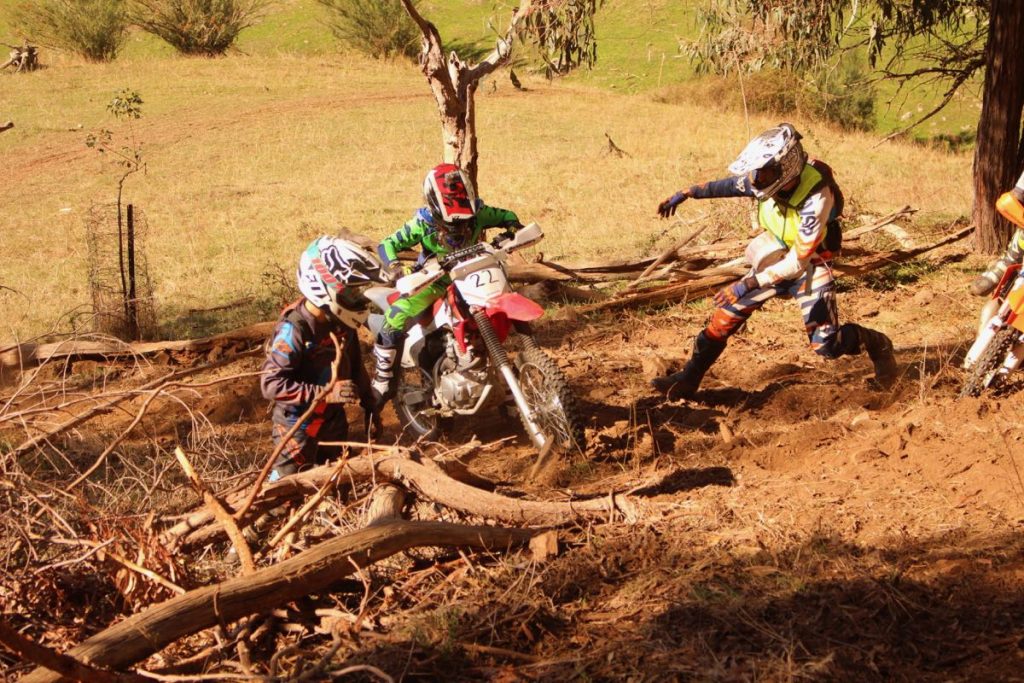 If you combined the 2019 FCAI figures with attendances at last year's major events then you could be forgiven for thinking that Australian dirt biking is in a bit of a sad state. The fields at the MX Nats weren't exactly huge and the Four-Day has been hit and miss – cancelled in 2017 and 2019 for different reasons, and then this year due to COVID-19.
If last year's bike sales figures and dwindling participation at events is your measure of good and bad then, sure, things were looking bad. But the reality is dirtbike activity in Australia is far from doom and gloom. In fact, there's plenty of evidence to suggest we're in a boom.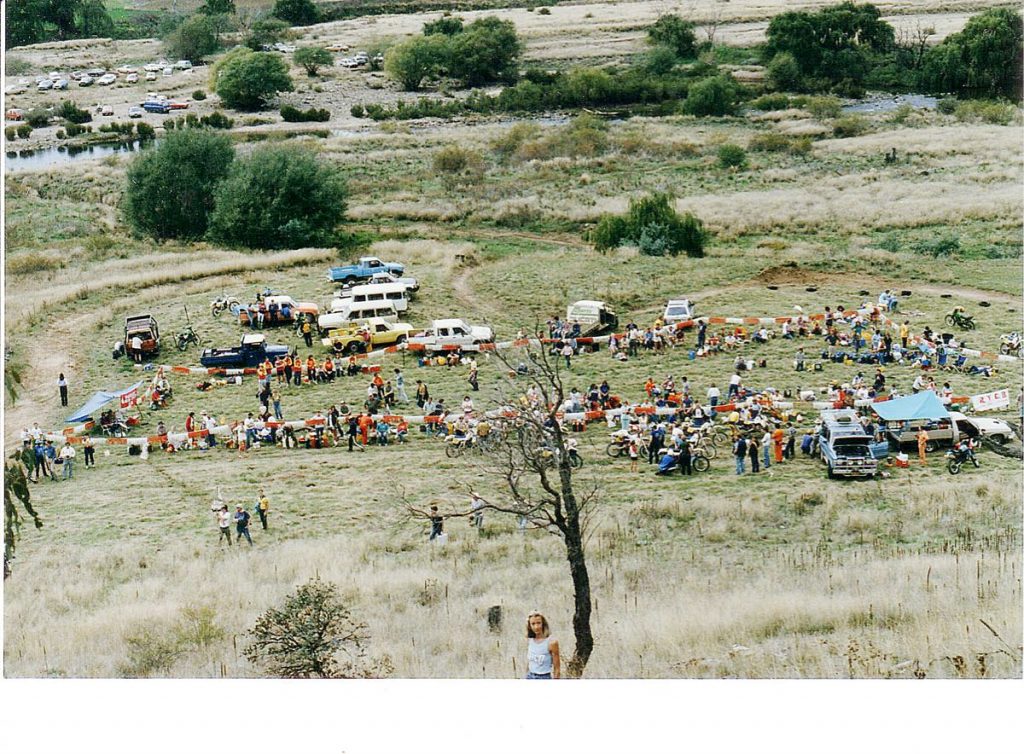 NUMBERS GAME
The new wave of ride parks is enough to put a shine on the state of dirtbike activity. There are six in Victoria alone that any rider can rock up and pay to go riding almost every weekend, although the stage four pandemic restriction period might kill one or two.
Retail has also gone nuts this year, with dealers reporting 20,885 off-road motorcycle sales for the first half of the year, compared to 14,666 in the same period in 2019, a jump of more than 40 per cent as mums and dads scrambled to get kids out of the house during the COVID-19 crisis. Of the top 10 sellers in the country, eight were dirtbikes, with only one LAMS roadie and an escape machine, the Yamaha Ténéré 700, making up the numbers.
Sure, not every kid is on a new funbike, but there's plenty of people out there riding who are using parts, wearing out riding gear and tearing knobs off tyres. And this is just the activity at the ride parks. Stop at a service station on a major highway one-hour's drive from any of the major capital cities, apart from Melbourne, and count the ute and trailer loads of dirtbikes driving past on a Saturday morning. There are heaps.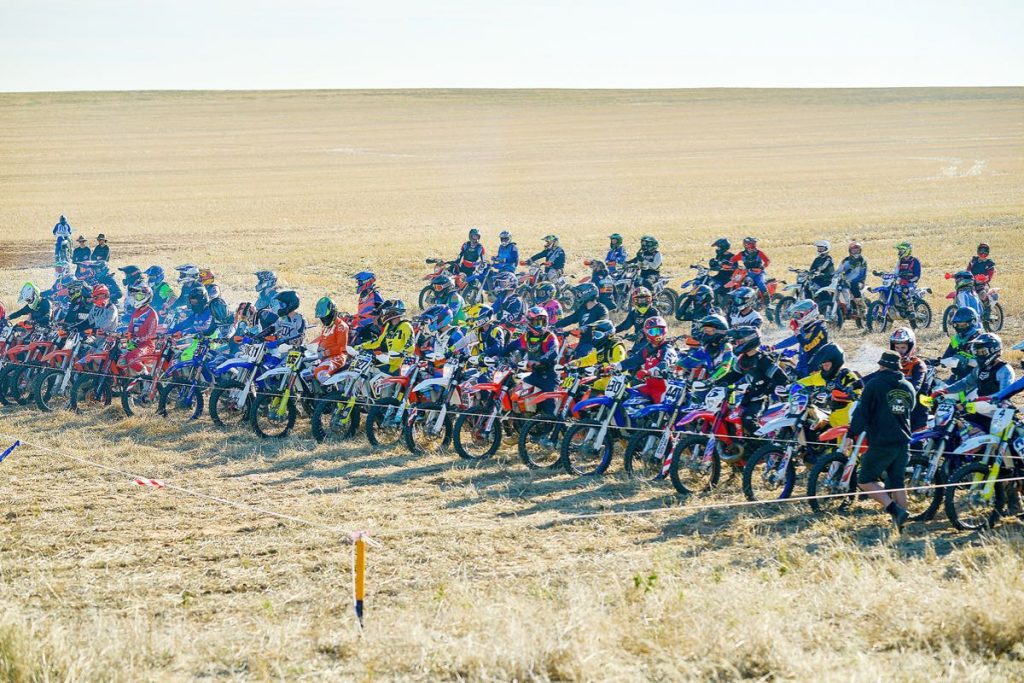 But what was really telling before the pandemic was the number of new race events popping up. The Grassroots Hard Enduro Championship was booming. Round one of the 2020 series in Tenterfield, NSW, saw 286 riders compete on the same weekend as round three of the Australian Off-Road Championship in the same state, where 220 racers signed on.
It seems hard enduro has found a very receptive audience in Australia, with an estimated 600 spectators witnessing the action at Tenterfield. We can only hope they continue to enjoy hiking through rugged terrain and the delights of bush dunnies when the action resumes.
TOO FAR FROM ANYWHERE
Legendary Australian enduro personality Laurie Alderton has been quoted as saying: "It's never too far if you really want to be there." This has proven true year after year for the thousands of eager racers and fans of the Finke Desert Race.
Alice Springs is home to the race and the town couldn't be further from any corner of the nation. Yet this year's cancelled race nailed its 650-rider limit in just 25 minutes, with plenty going on the waiting list. That's 650 bikes in race trim, with race numbers, new tyres, spare air filters, new 'grips, fresh engine oil, steering dampers and 60 litres of fuel each.
There wouldn't be a rider in that race who hadn't been riding for weeks or months leading up to it either. Then there's the 12,000-plus spectators that catch the action. It's a 2773km drive from Sydney to Alice Springs, 2532km from Brisbane, 2300 from Melbourne and 2483 from Perth. You'll find plenty of people from all of those places at Finke every year, and plenty who travel even further.
The North West Victoria Motorcycle Club knows how to put on a race that riders love. These guys have built the Hattah Desert Race into what is probably the second most popular event on the calendar behind Finke.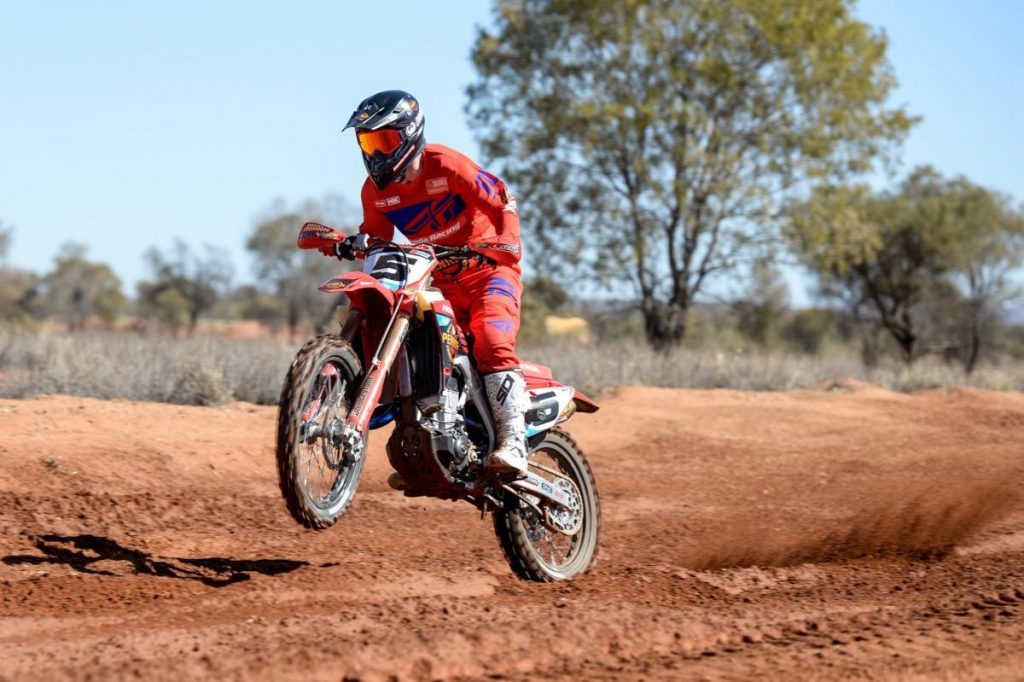 Hattah is massive, and what sets it apart from Finke is it appeals to Junior riders as much as Seniors. The two days of racing on the first weekend of July draws a big crowd and the solid cross section of riders from motocross, enduro and desert racing is proof that with the right recipe, you can draw riders from all codes with a wide range of abilities and ambition. It's very cool.
More recently, the NWVMCC has come up with another winning formula in enduro motocross. Despite the confusing name, this event has gone off with a bang. So much so that the 2020 Trigg Farms Enduro MX pulled 170 riders for one big day of racing in March (ADB #490).
The concept was the brainchild of Mallee Motorcycles' owner Luke Woodberry, who based it off the successful formula of the Deep Well MX in Alice. The 3 x 30-minute motos on a snaking sand track that over the course of the day becomes a gut-busting whoop-fest has struck a chord with riders who travel from far and wide.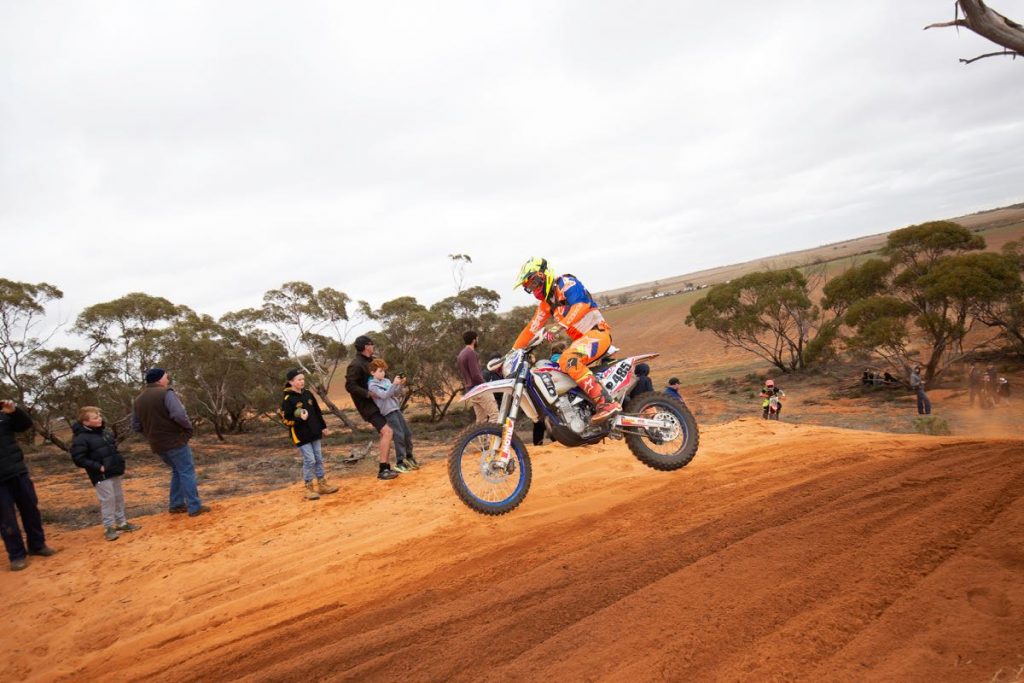 ONE OF A KIND
While the desert events are thriving, there's also a number of great races on the coast that are doing well. The Yeppoon Endurocross has become an annual highlight for the Keppel Coast Motorcycle Club in Qld. While it might not be massive on numbers it draws a few of Australia's best enduro stars and the spectators love it.
The vibe at Yeppoon is epic, with a live band and quality North Queensland commentary that rips the riders apart as much as it reports on the action. The bar is the hot spot for live radio broadcasts and local media cover it heavily. Yamaha enduro ace Josh Green is a regular and speaks highly of the event: "The Yeppoon Enduro X is awesome. The atmosphere is just great because the spectators get right into it.
"The local media give it plenty of coverage, so the local businesses support it. I take a week to hang out up there because the region is awesome with plenty of great riding, mountain biking and it's just a cool place to visit. I get to have a bit of a holiday and compete in a fun race at the same time."
It seems riding is just part of the experience that can make events that extra bit special. Finke is much the same, with many riders taking the opportunity to visit iconic outback locations like Uluru on their way home.
Beach racing
North Queensland petrol heads love their dirtbikes and being North Queensland, well, they get to do some very cool things that just wouldn't fly in the southern states. The Grasstree Beach Races is so bloody Aussie it should be a national holiday.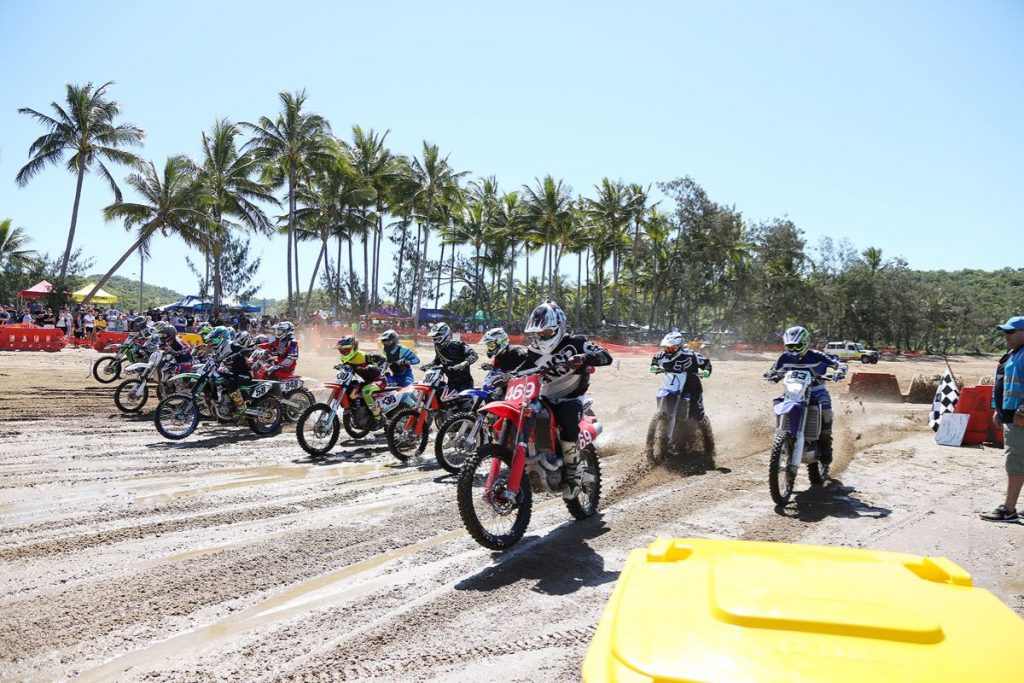 Dirtbike tragic Ben McCosh lived in Mackay for some time and raced the Grasstree on his Kawasaki KX500 so he knows the deal. "It's bloody nuts. It's like a scene out of Mad Max on a tropical beach with the most bizarre backyard creations you'll ever come across. Even the creatures that race it are worth a look. The crowd is loose and the race winners are held in such high regard that they rank higher than Ricky Carmichael up there. If you race the Grasstree Beach Races and you do some winning, you are a legend."
WORDS // STEPHEN TUFF || PHOTOS // ADB ARCHIVES