Interview: Catching up with Hayden Mellross | Features
Hayden Mellross recently completed his second year in the AMA Supercross Championship, turning in some strong results in the 250SX West championship riding for 51FIFTY Energy Drink Yamaha.
ADB caught up with him to talk racing and living in the United States and what's next for the privateer from Young, NSW.
You finished 11th overall, with some strong results towards the end of the season. How do you feel your 2017 season went?
When I look back at the season I see a lot of progress and I'm pretty content with how it went. I had some bad luck in the first half of the season, from a mechanical problem at Anaheim 1 to another DNF at Anaheim 2 where I broke my hand and missed two rounds. The biggest thing for me was just trying to get some momentum going. Once I came back from my injury I finished the following four races inside the top 10 and was able to finish the season strong in Las Vegas.
There has been some discussion about the tracks this year, some people weren't happy. What did you make of that?
This was only my second year racing AMA Supercross so I couldn't really compare it too much. I know this year the rain was a huge problem in California so all the tracks were built fast and covered up quickly, which could have been why there was so much discussion.
You picked up your injury at the same round as Ken Roczen. Do you think the track was particularly rough that night?
Yes, Anaheim 2 was a really tough round. The jumps were really soft at the bottom and it made the transition between the jumps difficult. It was an extremely tricky track on which to push.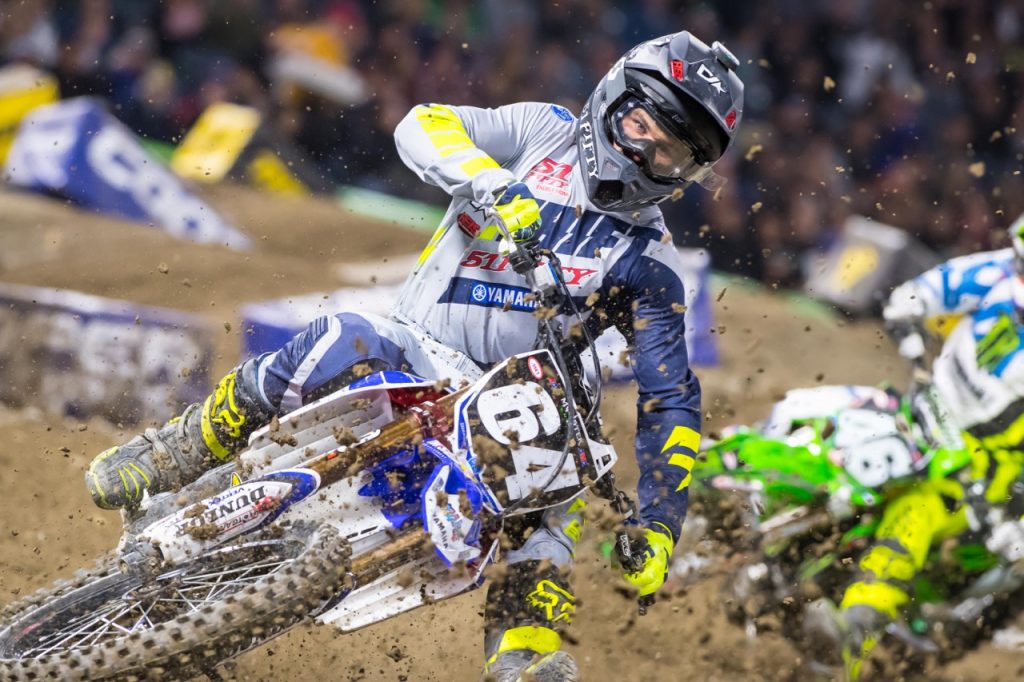 Can you tell us what it's like following the supercross series around America? Are you just flat out getting from race to race? Do you fit in much time to train during the week?
I'm based in Florida and am very lucky to be able to train every day. My trainer, Tim Ferry, has an amazing compound that we have access to which is really nice. It's not too hard travelling around and racing the 250 West is quite spread. if I need to I normally just stay in the California area for a few weeks if races are close together.
What's the team, 51Energy Drink, like to work with?
The team is great, I've been with them for two years and have built a great relationship with them. I feel we have made a lot of progress over the past few years and have improved every race!
Did your confidence grow as the season progressed?
Yes, for sure. As I said, I had a rocky start to the season so once I was able to get some races and solid results under my belt I was able to build each weekend and make some great progress.
What are your plans now AMA SX is done?
I haven't got too many plans. I am returning home around September to contest the Australian Supercross Championship for DPH Yamaha. For now, I will just continue my training here in Florida with Tim Ferry.
Do you plan to race AMA SX next year?
Yes, for sure. I would love another opportunity to contest the AMA SX. I have spoken to a few people but, as of now, it's all up in the air.
Photos: Simon Cudby