Mackenzie Tricker wins Full Gas Sprint Enduro Round 3 | News
KTM's Mackenzie Tricker and Husqvarna's Tayla Jones split the wins over two days of racing but it was Tricker who left with the overall win by a margin of 49 seconds over Jones.
"Yesterday I started off really good and then I was just missing some lines," said Tricker. "Tayla made up the time that I had gained in the first two tests and I ended up losing in the last test by just under three seconds, or something like that. Then I started off today good with the first test. I made that time back. Then I just progressed from there. I think I won all the tests today."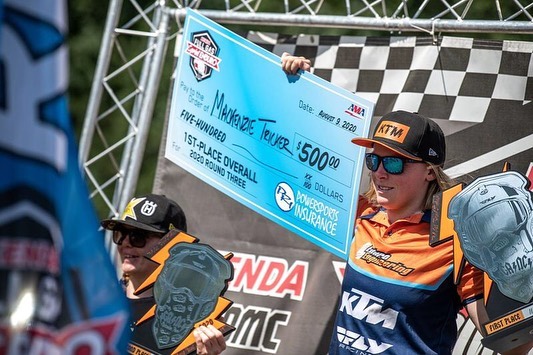 Jones made a mad dash from Tennessee on Friday to compete in the Georgia race after finishing third in the Women's division at the Loretta Lynn's Amateur National Motocross Championship in Hurricane Mills.
"Loretta's was something new. Got to do that, but it's completely different coming back here picking lines and hitting trees," said Jones. "It was cool to be able to do that. Overnight we drove straight from the race. Saturday was pretty good, but today in test two I hit a tree and we think it might be a broken hand, but I'm going to go see a surgeon tomorrow and see how it goes. But I ended up second, so I can't complain too much. It was a tough weekend for sure."
In the men's pro class, Factory KTM's Kailub Russell ripped off an incredible time in the second test of the day, the Enduro test, which was 11 seconds faster than Kawasaki duo Josh Strang and Jordan Ashburn, who was actually second-fastest in the test.
Russell's "burner" put the North Carolina rider in a position no one else could touch all day, leading to Saturday's individual win by over 16 seconds, with Strang second and Trail Jesters Racing KTM's Johnny Girrior in third (First Pro2 rider), another half-second behind Strang.
Russell carried that cushion into Sunday, and although Strang topped Russell in Sunday's results by over 2 seconds, Russell took the overall victory by a comfortable margin, just under 13 seconds.
"I was able to get the win on day one," said Russell. "On day two, I rode well for the most part, although Strang picked it up. I had a fall in the first Enduro test (second test of the day), and pretty much threw away the opportunity to open up a lead and kind of break their spirits. I still won the test, even falling, but I was pretty frustrated with that. I'd like to have the win and the five points on both days, but we are tied on points again. I'm bummed I let it slip away though."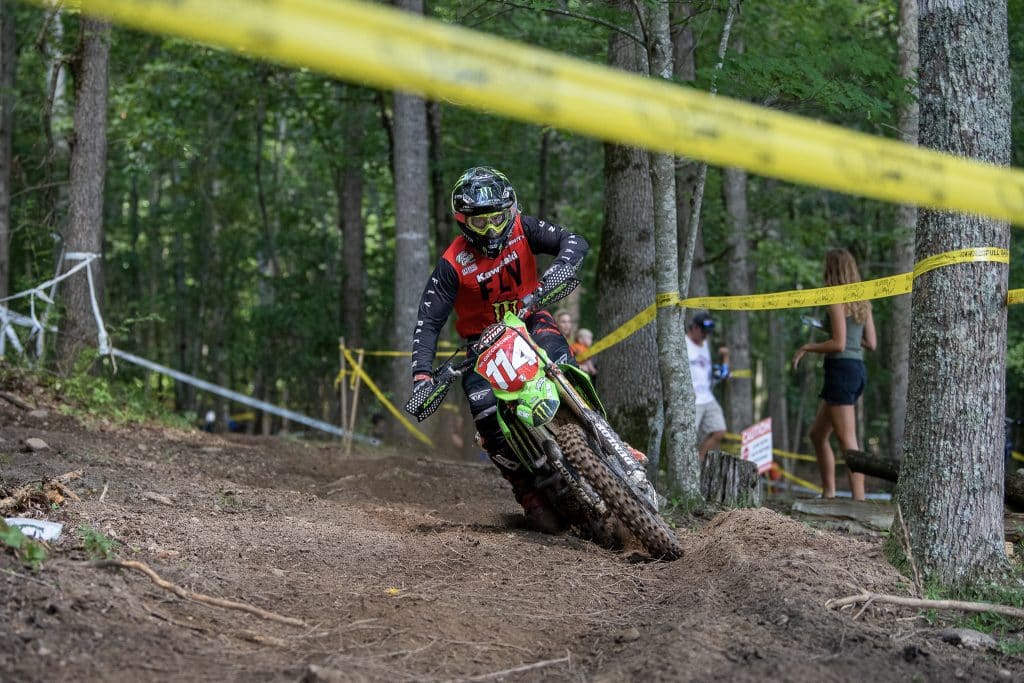 Strang continues to ride well in his second year on the Kawasaki, and has been a thorn in Russell's side all year. "Similar to the West Virginia race, I had a pretty good weekend," said Strang. "The only real test I lost time on was that first Enduro test on Saturday. It was a little wet and I honestly think I was just too cautious and Kailub put over 10 seconds on me. Every other test I was fairly close. I think there were a couple tests where he put four seconds on me. But today, in the two last Enduro tests, I put four on him, eight in total. If not for that first test. I'm staying fairly smooth for the most part and it's gone not too bad."