Small-Bore Adventure Build | Yamaha Tenere 250R | Features
ADB Adventure Editor, Clubby, shows you how to turn a regular Yamaha WR250R into a mile-munching adventure machine!
Words and Pix: Andrew Clubb
Before Covid-19, you were all set to buy the latest and greatest Ténéré 700 but now that's just a dream destroyed, again. The pandemic and resulting financial fallout have put lots of things on the backburner, especially $17,000 adventure bikes.
But what if there's something that's a lot less dollars, and not even half as much if you're prepared to go second hand? Okay, so what's the catch? Well, it is only a 250, but a very gutsy one!
It's designed for a breed of adventure riders who believe light is right. They spend light, pack light and choose bikes that weigh in light [although the riders don't always meet the same criteria].
Their bike of choice is Yamaha's venerable WR250R and, over the past decade, it has become known as the Mighty Midget of the adventure-riding world and has its own national gathering in Cessnock.
Launched in 2008, the WR250R represented a new breed of trailbike. It was designed to meet the approaching Euro 4 emissions standards and while it didn't have the outright performance of Yamaha's WR250F enduro model, it wasn't far off.
What it did have in its favour was an unbustable liquid-cooled and EFI-fed engine that offered 5000km oil changes and whopping 40,000km service intervals, perfect for adventure riding.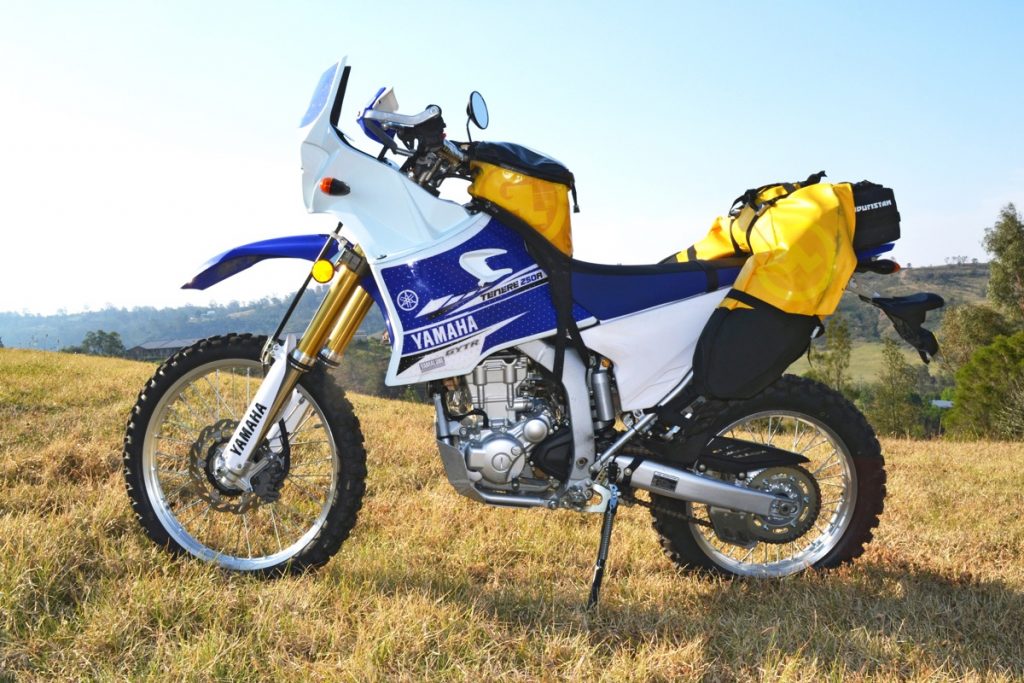 FUTURE PROOF
That maintenance schedule and the WR-R's steel subframe endeared it to adventure riders keen to rack up big miles aboard a lightweight mount that offered reliability and didn't need constant fettling as they travelled across Australia, or across the world.
In no time flat, Yamaha, its GYTR performance division and the aftermarket went into hyperdrive, developing countless performance, protection, luggage-carrying and bling parts to turn the mild-mannered WR-R into an adventure riding demon.
There have been plenty of mouth-watering, adventure-specced WR250Rs built over the years, but the bike featured here is the first to bear Yamaha's famed Ténéré logo. Yamaha Motor Australia marketing department staffer Lance Turnley was the driving force behind this one.
"It's a way we can give WR250R owners an indication of how easily they can make one of our trailbike models way more adventure ready," he says. The build kicks off with a 14-litre fuel cell from Caboor, Vic, company Safari Tanks, which has almost doubles the standard capacity of 7.6 litres.
A Safari WR-R fibreglass fairing bolts directly to the tank with the stock headlight inset, to give the rider much improved wind and weather protection for long hours spent rumbling along the adventure highway. The Safari tank and fairing are available exclusively through Yamaha dealers.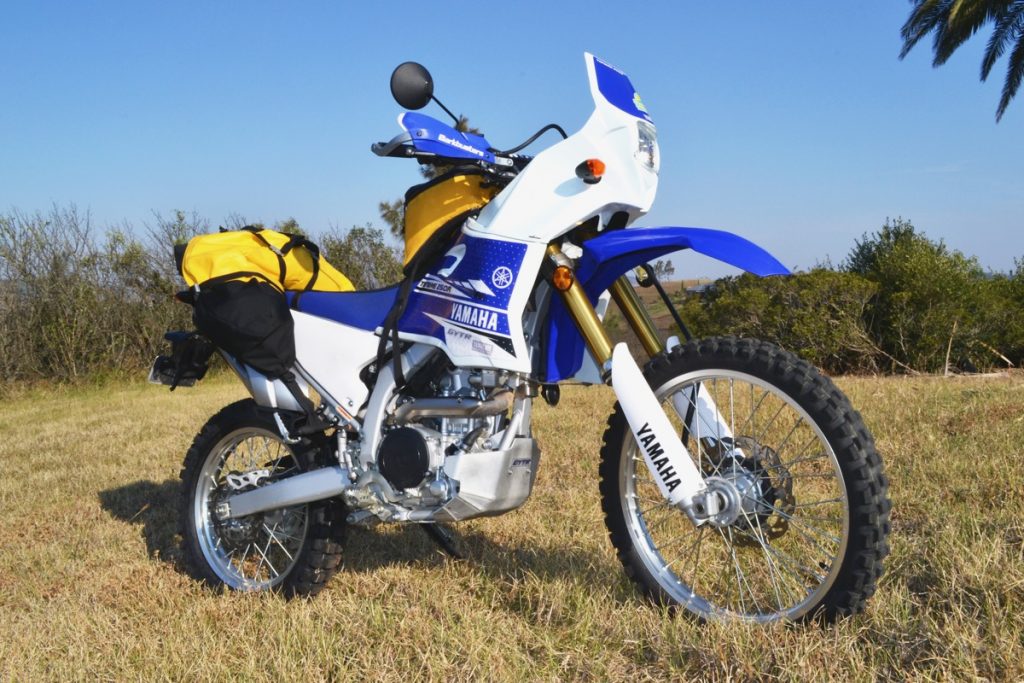 Next up came the tasty Scaggs luggage rack from Adventure Moto, which is a simple bolt-on and offers easily accessible luggage capacity. VPS Barkbusters protect the handlebar and levers, while a GYTR alloy bashplate provides much-needed protection for the crankcase, coolant pump and lower frame rails.
Finally, Ringmaster Images in Melbourne knocked up custom tank and fairing graphics, resplendent in Ténéré 250R branding.
And that's it. Which is just how the bike was supplied to us as we got set to be part of the annual Ride to The Snowy Ride Adventure from Bowral to Thredbo and back again to support the annual Snowy Ride and Steven Walter Children's Cancer Foundation.
LOADING UP
Before setting off for Thredbo, we swapped the stock Trail Wing tyres for a set of way more dirt-ready, but still tar-legal, Dunlop D606s, and installed Zeta 'bar risers to lift the stock handlebar and make the 'bar/seat/'peg relationship more comfortable when standing.
Then it was time to get the luggage loaded for the three-day trip, which didn't take long at all as we strapped on a Giant Loop Fandango tankbag and a Giant Loop Coyote horseshoe bag. The Coyote bag offered plenty of space for my clothes, personal gear and a set of Barkbusters BBZ fabric handwarmers (in case it turned real cold/wet).
Then I loaded up an Enduristan XS Base Pack bag with my tools and a spare tube, which I strapped straight onto the Scaggs rack behind the Coyote with a pair of soft-loop Rok Straps.
With the Safari Tank filled with Premium go-juice, that was it – Snowy Ride here we come!
There was a 23-strong posse for the Ride to The Snowy Ride Adventure but the Ténéré 250R was the only quarter-litre machine. It felt like I had brought a knife to a gun fight. But as the old adage goes: "It's not the size of the dog in the fight, but the fight in the dog." Indeed.
On the run down to the mountains, the 400km or so route was dominated by gravel and forest roads through picturesque country that thankfully had a pleasant green tinge to it. The Ride to the Snowy Ride is a cruisy adventure, with stops for snot blocks and lattes at Braidwood and Nimmitabel, before the final charge across the wide-open Monaro high plains to Dalgety, Jindabyne and then Thredbo.
Despite the big deficit in cubic capacity, the Ténéré 250R held its own, albeit spending most of the day with the throttle on the stop and the gearlever dipping to fifth gear any time a slight incline or headwind came into play. The WR-R is one bike that often times will actually go faster in fifth than sixth, given that top gear is an overdrive.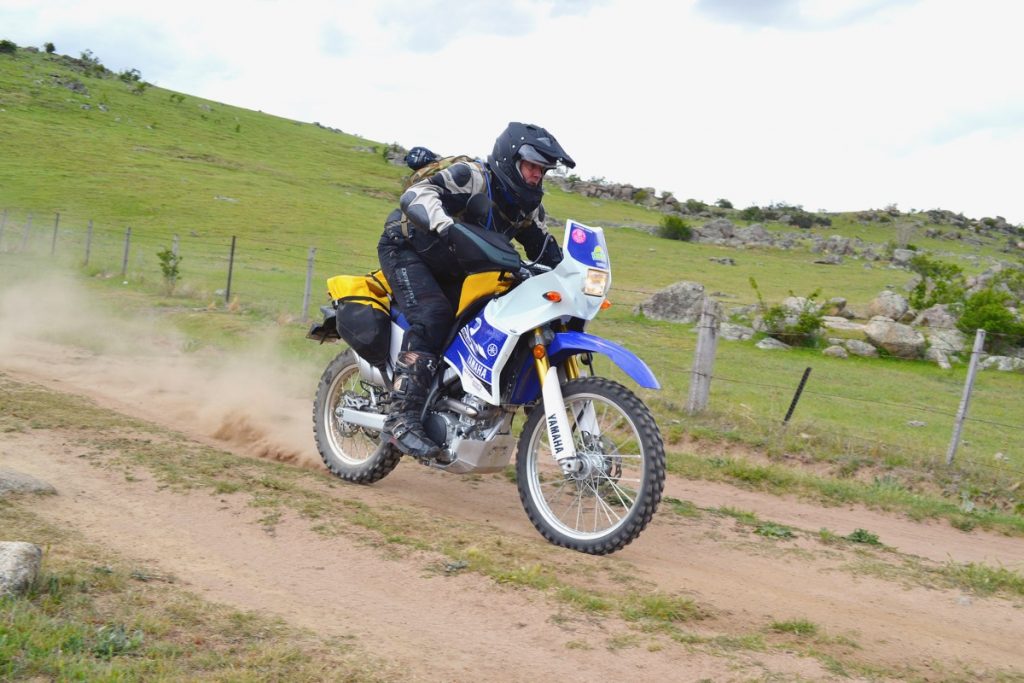 For a long day in the saddle, mostly at high speed, the Safari Tanks' fairing certainly helped to reduce wind blast on your body and head, but the addition of a small windscreen would only help to send more turbulence over your helmet. The stock seat wasn't bad at all, and being able to tether the Coyote bag well back on the seat and rack, there was enough room to move back and forth when the arse cheeks started to feel a little tender.
Or I could just stand up and give the legs a stretch. Sipping fuel at the rate of 28km/litre on the way down to Thredbo, indicated the Safari was good for a comfortable 350km range.
HOME JAMES
After taking in all the festivities of the Snowy Ride, we were up and out early the next morning to head back to Sydney. With threatening skies and way colder temperatures, I fitted the Barkbusters BBZ handwarmers and we were off.
The return route took us way deeper into the bush between Numeralla and Braidwood, the 180km section highlighted by the Bombay Firetrail, which is a cracking twin-track 4WD route through the sticks, where the light and lithe WR250R was in its element. This is a place where the WR-R's trailbike heritage shines through and you can ride it like a dirtbike, giving the Heffalumps a run for their money. And if it does go down, you can pick up the WR-R on your own before they catch up.
After slamming down yet more baked delights at the Braidwood Bakery, we had a final stretch of dirt to Marulan, where we fuelled up again before hitting the slab for the last leg back to the big smoke, the WR-R sitting on an indicated 120kmh all the way.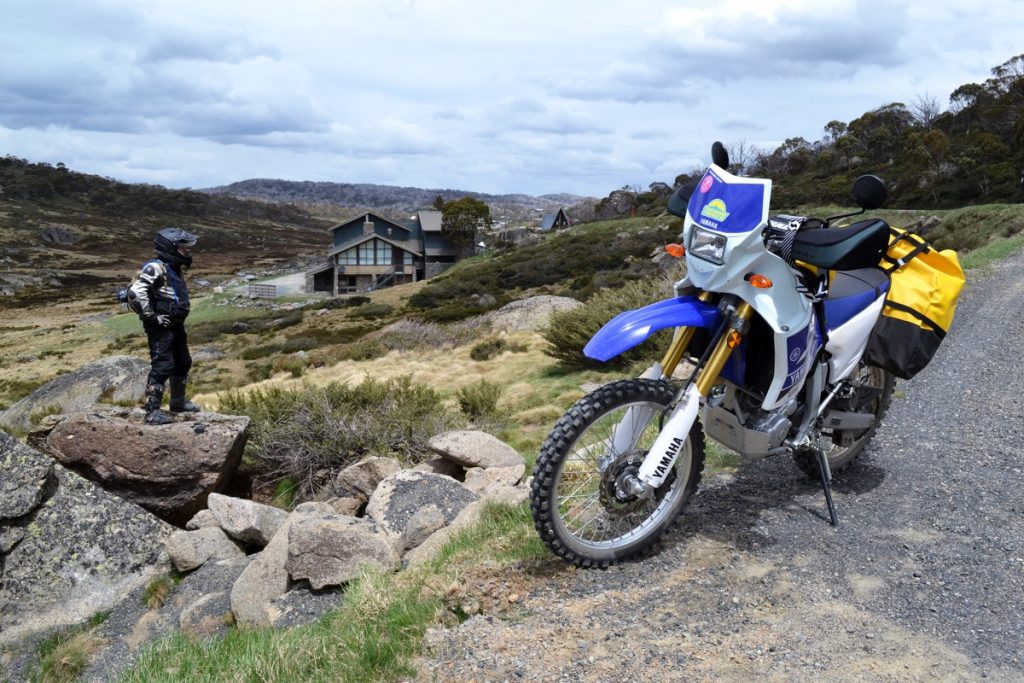 In three days, the Ténéré 250R and I had knocked over almost 1500km, and clearly the answer is 'Yes' to the question, 'can you adventure ride on a 250?' Sure, you won't get there as fast as the big-bores, but if pint-size packages are your thing, you'll be smiling every step of the way.
Not a real one
This might not be a 'real' Ténéré 250 but there is one, you'll just have to move to Brazil to buy it. The bike runs an air-cooled, SOHC engine that looks like it might have come from the XT250.
Let's go shopping
If you enjoy getting big surprises from little packages and have a penchant for small-capacity ADV machinery, the good news is you now have plenty of bikes to choose from. Options include BMW's G310GS soft-roader, Honda's pint-sized Dakar replica CRF250 Rally, Kawasaki's rev-hungry twin-cylinder X300 Versys (below), Suzuki's recently introduced V-Strom 250 and KTM's 390 Adventure. All five bikes are priced below $8000 (plus ORC), making them cheap and easy entrees into the world of adventure riding but they need work to be serious. The WR250R is priced at $9599 (rideaway), which puts it at a premium in this pack, and you still have to 'adventurise' it. But if your small-bore ADV riding is aimed towards the off-road end of the ADV spectrum, the WR-R is the stand-out choice.
Parts counter
If you are keen to replicate this small-bore adventure machine, here's the nitty gritty on what the bike and various bolt-ons cost:
Yamaha WR250R – $9599 rideaway
Safari Tanks 14-litre fuel cell – $572
Safari Tanks fairing – $590
GYTR alloy bashplate – $199
Scaggs luggage plate – $255
Barkbusters VPS – $149
Barkbusters BBZ fabric handwarmers – $137
Ringmaster Images custom Tenere graphics – Call them for pricing
Giant Loop Fandango tankbag – $396
Giant Loop Coyote tail bag – $628
Enduristan XS Base Pack – $79
Rokstraps adjustable soft-loop – $35
Dunlop D606 tyres – $239 (both)
Zeta 19mm 'bar risers – $65
GRAND TOTAL – $12,383