Yamaha Tenere 700 Tested! | Bike Reviews
The all-new Yamaha Ténéré 700 has launched in Australia we've got some fresh feedback from the Dakar-conquering Ben Grabham.
It's been three long years but the Yamaha Ténéré 700 has finally landed on Aussie soil. Since we first got a glimpse of the Ténéré 700 as a prototype, or T7 as it was branded in 2016 at the EICMA show in Milan, the concept has evolved into what Yamaha called the Ténéré 700 World Raid Adventure machine in 2017 before its release to the public in 2019 as the Ténéré 700 or XTZ690.
Getting to that age
Like most off-road motorcycle riders, big adventure bikes did not really become of interest to me until my early thirties. Since then I've been on a handful of adventure rallies on many different capacities and brands of machinery.
This has given me a good gauge on what I want from an adventure bike and what I don't in many different kinds of terrain and temperatures. Having been involved in testing and developing dirtbikes my whole life, I still can't imagine how difficult it is for the designers of an adventure bike to get it right. You have riders wanting their adventure bike to feel like Valentino Rossi's YZR-M1 as they rip along the bitumen through the Snowy Mountains. Then, as they turn off into the mountains on some dirt track, they expect the same adventure bike to feel like Rod Faggotter's factory Yamaha WR450F Rally weapon as they launch off every contour bank in sight.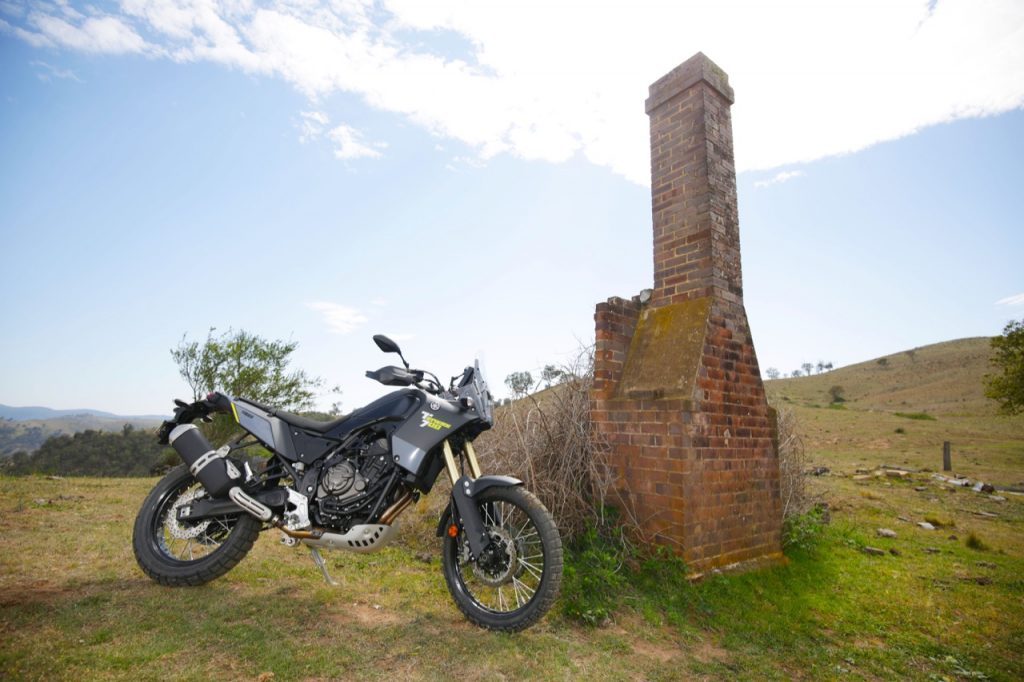 It really must be a nightmare designing a bike that will work in what we class as adventure riding here in Australia. It also does answer the question I had been thinking; why, after seeing glimpses of the Ténéré a few years ago did it take Yamaha so long to make it available? We have never received a solid answer from Yamaha but I'd guess they didn't want to mess this one up seeing as how they hadn't upgraded the XTZ660 Ténéré much since its inception in 2008, nearly a decade ago. They've tested this Ténéré in many different conditions in an effort to perfect it for the kind of hardcore off-road adventure riding we do in Oz.
Order form
The first decision buyers of the new Ténéré will have to make is what colour they want, as Yamaha has it available in three options: white, Power Black and Ceramic Ice. The bike I tested was Power Black and, while it looked pretty mean, it didn't have any more power. But, looking at the catalogue, if I was buying one I'd go for the Ceramic Ice option, as the little bits of blue and blue rims does it for me.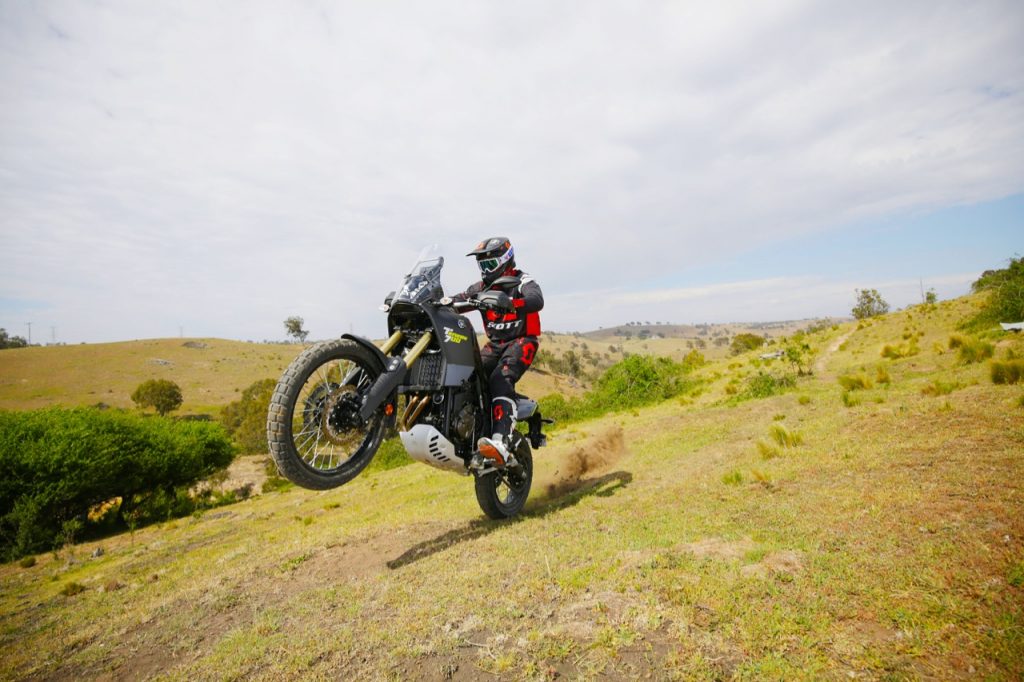 Yamaha has chosen to power the new Ténéré with its highly-respected 689cc parallel-twin that can be found in the MT-07. Yamaha claims the key characteristic of this compact CP2 engine, is its strong and linear torque output that gives instant throttle response together with outstanding acceleration – attributes that make it a capable and versatile performer on and off-road, but we'll be the judge of that! Producing maximum torque at 6500rpm, this engine offers two distinct engine characteristics without even trying to. It's docile down low and a screamer up top but more on that later.
The motor is completely new compared with the previous model but the key attributes are an extra cylinder, an extra cog in the gearbox (now running a six-speed), higher compression, now 11.5:1 as opposed to 10:1 and obviously more cubic centrimetres, now 689cc as opposed to 660cc. The fuel tank has shrunk from 23 litres to 16 but Yamaha claims the fuel economy is better so no need to stress, apparently.
During Yamaha's development of the Ténéré 700 one of the key goals was to achieve a slim, agile and light feeling chassis that would be equally suited to both road and off-road riding. To satisfy these requirements, Yamaha's designers have developed a new, lightweight double-cradle tubular steel frame. The new chassis keeps the weight down low (and amazingly it's roughly two kilograms lighter than the XTZ660 at 204kg wet) and is claimed to be stronger than its predecessor.
The new frame loses a little ground clearance, now coming in at 240mm instead of 260mm but the wheelbase has been stretched 90mm to 1590mm for better high-speed stability. Just by looking at the new Ténéré you can tell it is more off-road friendly than the last one which was too softly sprung and way underpowered. This version comes with a taller seat at 880mm (the XTZ660 came with a claimed 895mm seat height but that was because the pillion section was taller than the rider's).
It's got a rally-style cockpit and spoked rims with 21-inch front. The throttle is still cable so there's no confusing ride modes and the ABS is either on or off, as in Road or Off-Road mode. Same goes with the traction control. It's a simple design, just like a dirtbike and just how I like it. The front discs are down slightly in size from 298mm to 282mm but the rear remains the same at 245mm with both ends running the ever-impressive Brembo systems.
The KYB fork is still a 43mm unit with the same travel at 210mm but with a firmer feel and more resistance plus damping adjustment. It's much the same out the back with 200mm of travel from the monoshock. The newish shock has preload adjustment available via a large knob, which means adjusting for luggage and pillions is a piece of cake.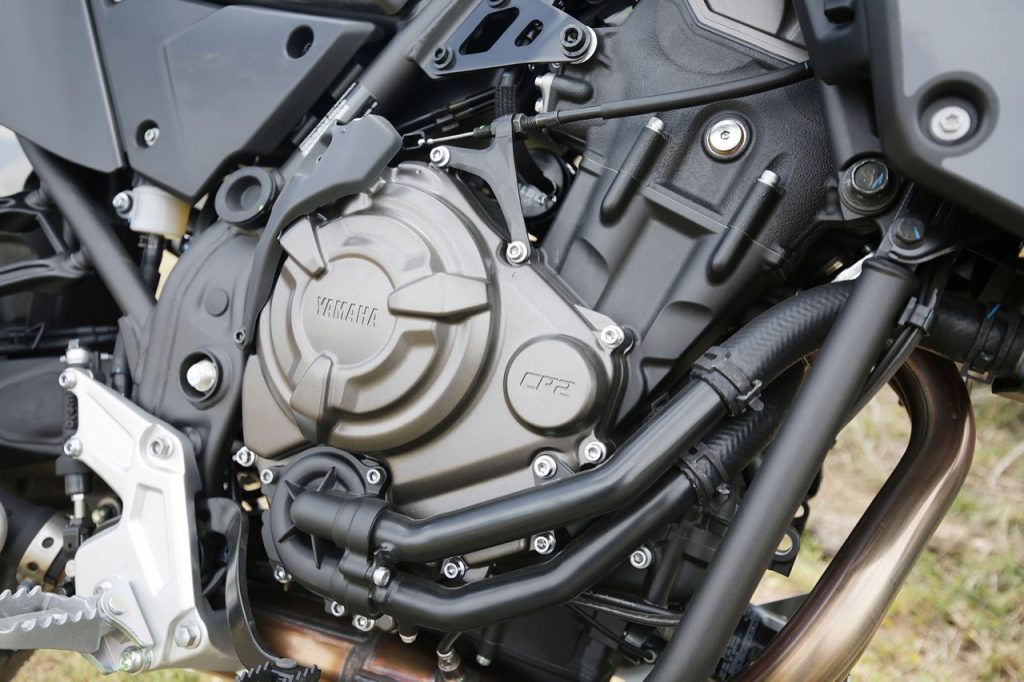 How's it go?
The first thing I noticed was how slim, compact and seamless the new Ténéré felt to sit on, especially for an adventure bike. The exhaust note was quieter than I expected but did sound nice with a big twist of the throttle. My test ride was backwards to what I would normally tell someone to do on a new motorcycle, as I went into technical terrain first. Straight away it was evident how smooth the power delivery was, as the ground I was riding on had no moisture and was littered with loose stones. Despite tricky conditions I always found good traction and never felt intimidated on the hilly terrain. The bottom-end to mid-range power was actually a lot smoother and easier to use than I expected from the road-based motor.
The Ténéré does not come with different power modes or traction control options like some of its competitors but there is the option to switch off the ABS. I found Yamaha's ABS to work better than most I've tested, but I still preferred no ABS on any kind of dirt as I like to be able to lock the rear wheel to slide the rear-end wherever I wanted. I found the new Tenere worked best for me over the hilly technical terrain when I was in a standing position, which was comfortable and not painful for my back or shoulders. It actually felt very similar to the rally bikes I have ridden when I was in a standing position.
In the suspension department, the 43mm USD fork worked great. The new springs held up really well and the fork never bottomed out. The shock was comfortable over the choppy trail debris when seated, but was a tad soft for me as I did find the bottom a few times when wheelying into ledges and jumping off mounds. Fortunately, it is possible to firm up the shock via the preload adjuster, so keep that in mind when I say it's soft. I like that there is a preload adjuster knob for the shock, as that will come in very handy as riders add luggage – as most adventure riders do – or a pillion.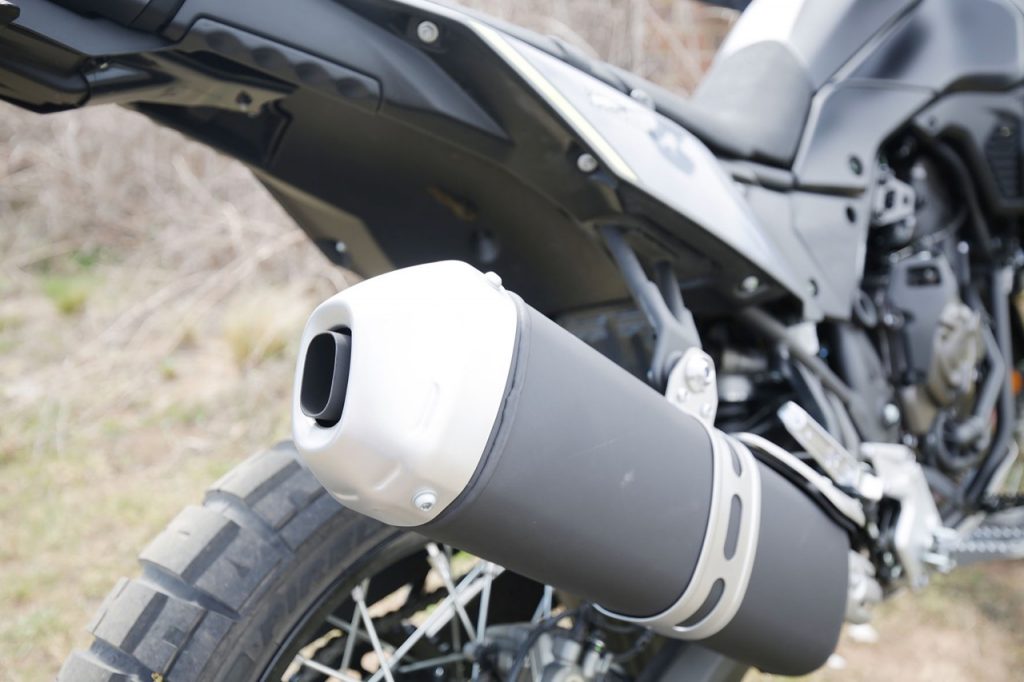 The standard gearing is tall; most of the time I was riding technical terrain I used first gear. A larger rear sprocket would help. From the technical terrain, I moved out onto the bitumen.
In the technical terrain I never got the engine over 5000rpm, but when I did get the chance to get the CP2 parallel-twin engine up in the revs out on the open road, boy was it different to what I had experienced in the technical terrain.
From about 5000rpm until the rev limiter kicked in at around 10,500rpm, it was very responsive and capable of breaking any speed limit in a matter of seconds. I really like the way this engine has two power modes simply by twisting the throttle.
It is mellow and smooth up to 5000rpm which is great for technical terrain and finding traction on slippery ground but then it's powerful and aggressive from 5000rpm to 10,500rpm which is great for open sections with good traction.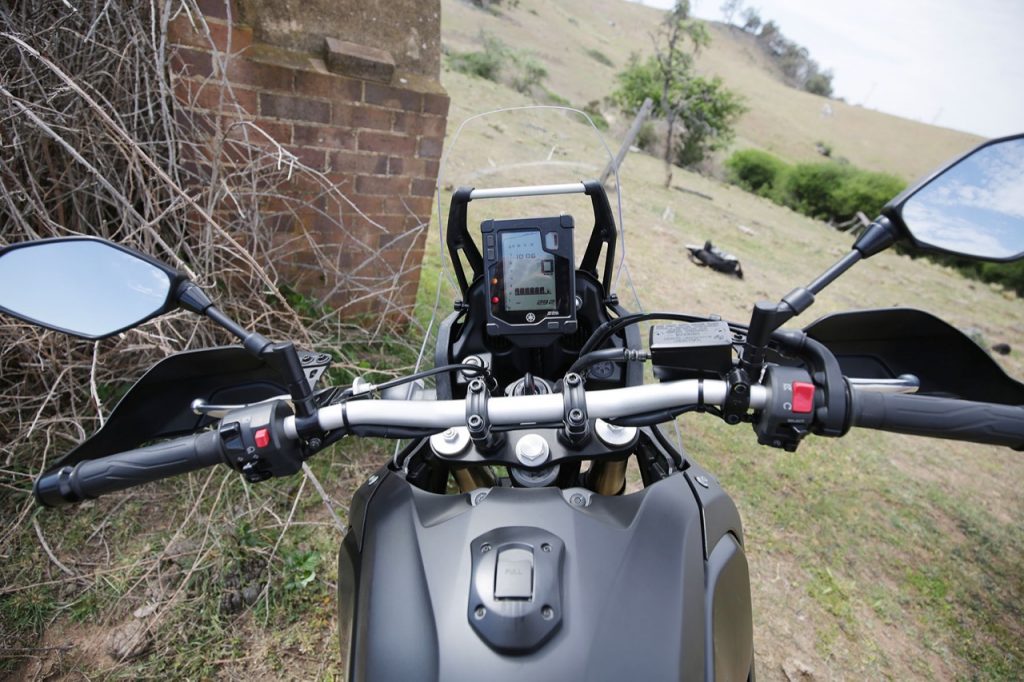 Standard gearing would be capable of some crazy speeds as I had it up to 170kph in fourth gear before I ran out of road (remember, we're on private property) so I can only imagine what it's capable of in sixth gear. As good as the new Ténéré felt off-road, it felt just as at home on the wide-open roads I had access to.
The engine is more powerful and better for different kinds of adventure riding than the previous one, the suspension is firmer and less likely to bottom when charging down dirt roads into washouts, although the shock is still on the soft side, the bike feels easier to turn and narrower while the ergonomics feel more rally-spec and look cooler with a more comfortable standing position.
Mitch asked if I would carry anything from the old XTZ660 Ténéré over onto this one and my simple answer was "no"!
Although that extra fuel capacity might have been handy, the present tank should do for most people and there's bound to be an aftermarket plastic tank before too long.
Short and simple
The new Ténéré 700 does not have all the features some of its opponents do. But when you consider the RRP is $17,149 rideaway you would be crazy to not consider it when looking for your next adventure bike. I've always felt that when Yamaha get a model right, they generally do everything well, nothing bad but nothing mind-blowing.
I feel this is another good model to come out of Yamaha. It felt sturdy enough that I'd ride it around Australia tomorrow, the only part I could see being fragile was the instrument tower as it vibrated and moved around quite a lot on rough roads. I could actually see myself riding one of these to work then ducking out to Alice Springs to watch Finke, they really have that do-it-all kind of feel.
Yamaha Ténéré 700 Specs
Engine
Type DOHC, four-valve, twin cylinder
Displacement 689cc
Bore & STROKE 80.0 x 68.6mm
Cooling Liquid
Compression ratio 11.5:1
Fuel metering EFI
Tank capacity 16L
Transmission Six-speed, constant-mesh
Clutch Wet multiplate
Dimensions
Wheelbase 1590mm
Seat height 880mm
Ground clearance 240mm
Weight Not given (205kg wet est.)
Suspension
FRONT KYB 43mm USD spring-cartridge, 210mm travel
REAR KYB gas-oil monoshock, 200mm travel
Brakes
Front 2 x Brembo twin piston, 282mm wave
Rear Brembo single-piston, 245mm wave
Running Gear
Handlebar Yamaha tapered aluminium alloy
Front tyre Pirelli Scorpion Rally STR 90/90-21
Rear tyre Pirelli Scorpion Rally STR 150/70-18
Price & Contacts
Price $15,899rrp , $17,149 rideaway
Web yamaha-motor.com.au
Phone (02) 9757 0011
Warranty Two years, unlimited kilometres
WORDS: BEN GRABHAM & MITCH LEES | PHOTOS: MITCH LEES