Dal Soggio KTM 450EXC-F Review | Bike Reviews
Dal Soggio, which is based in Vicenza in northern Italy, has these cartridge kits available for a wide range of forks, including KTM's.
TECH TEST | DAL SOGGIO KTM 450EXC-F | WORDS // BEN GRABHAM | PHOTOS // MITCH LEES
KTM's EXC range are all very capable enduro bikes off the showroom floor. Pretty much every part is capable of being adjusted or modified for different performance levels.
For example, I have seen the slowest of slow riders get the standard shock re-valved and set up exactly how they like for trailriding while I've also witnessed Toby Price get GDR to re-valve a standard shock for him to race Finke on.
Even though those riders were worlds apart in speed, I know they were both happy with the performance from their tuned, standard shocks. As much as this kind of tuneability is achievable with the majority of KTM's gear, there is one major component that is not as versatile as the rest of the bike and that is the WP Xplor 48 fork.
Now don't take this the wrong way, as I think the Xplor works great for trailriding and club-level racing, but what I am saying is I believe the Xplor is not capable of the same wide range of performance as the rest of an EXC, and I am sure a lot of riders would agree.
For example, you can go quite firm with the Xplor to eliminate bottoming on big hits but then you lose a lot of the feel and plushness on small and choppy terrain.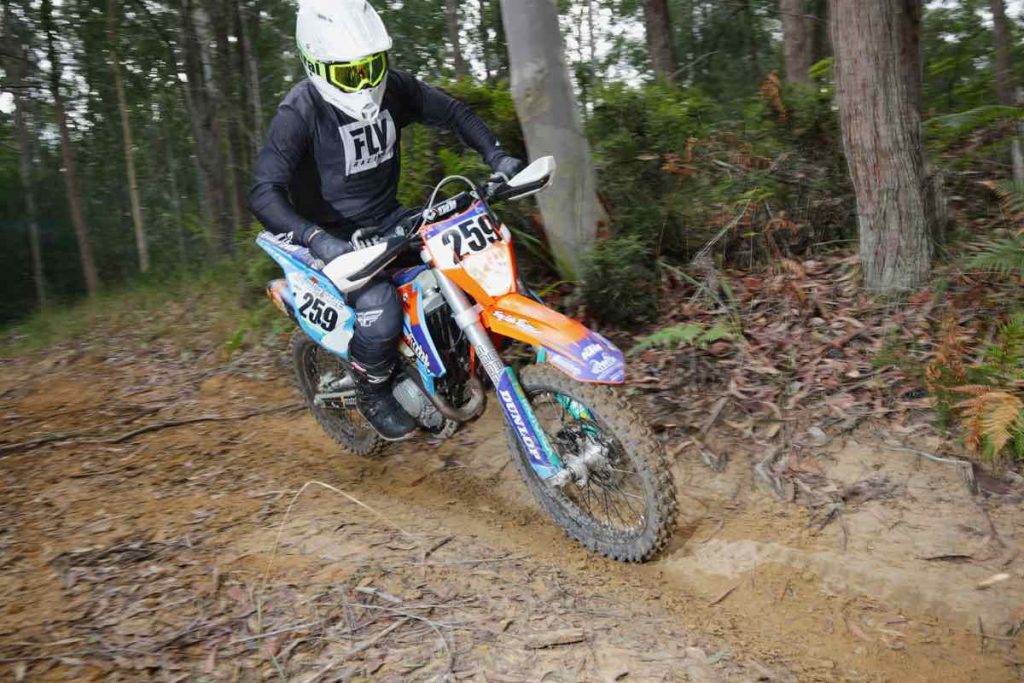 Then if you go for a softer feel to get better comfort and front grip on all kinds of small bumps, roots and rocks, you are not going to have very good bottoming resistance on any kind of big hit or bump. There are a number of fixes for the problem, right up to WP's own Cone Valve fork, but we decided to test one of the cheaper options, the Dal Soggio Sphere cartridge kit from Italy, available through Shock Treatment in Sydney for $1995, compared with a Cone Valve at over $5000. We tested this set-up on a Yamaha YZ250F exactly two years ago (ADB #491) which came with the versatile Soggio KYB Air Oil Separate (AOS) spring-cartridge fork but we wanted to see how it would handle duty in a WP fork fitted to Kato's chromoly trellis frame. Luckily, fellow ADB contributor Jeff Briggs happened to have a 2020 450EXC-F running the Sphere cartridge kit and was willing to let me try it.
Briggsy is your average, true-blue, working-class family man who doesn't mind lining up for the odd AORC, Hattah or Finke race in the Over-35s. As Briggsy lives on the Central Coast I did not know what to expect regarding his suspension set up, as I know that only 30 minutes up the road he has beach sand-training tracks and if you go out his back gate you can pick up plenty of technical enduro trails. So I was interested to see which way he'd gone with the cartridge kit.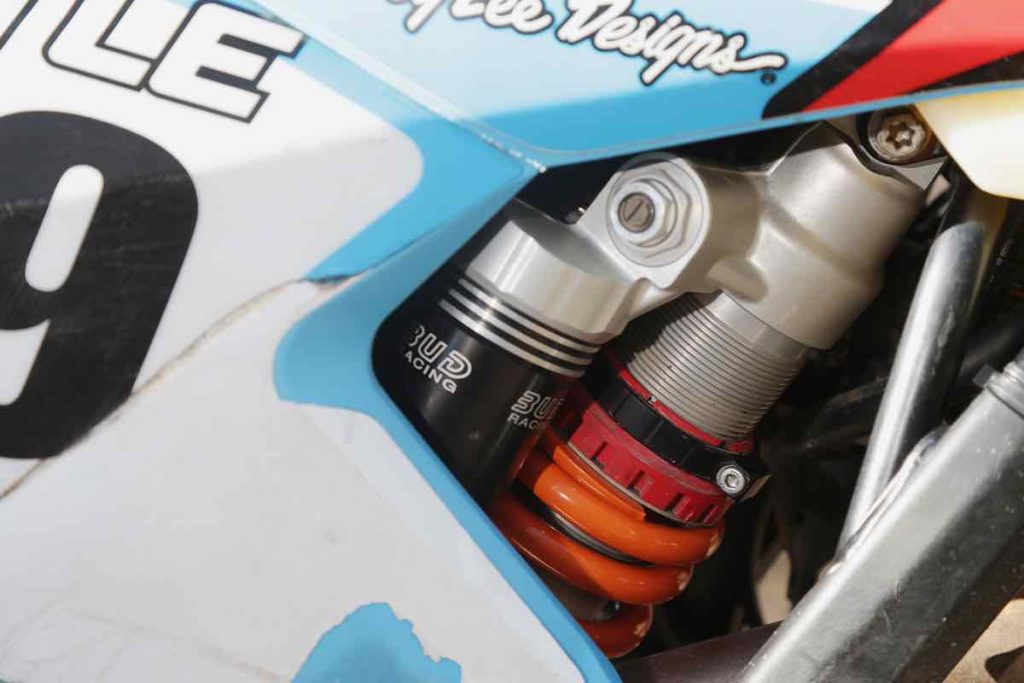 The test location I was using had a hardpack Special Test loop very similar to what you would find at an AORC round, then there was a clapped-out MX section that joined onto a fast fire trail that had some decent contour mounds. Apart from there being no sand section, it was a great location to test his kitted fork.
My first impression was that the fork felt firm, actually really firm compared to the standard Xplor. Taking off onto the AORC-style track, I expected some hard hits through the handlebar, considering how firm it felt when I first pushed on it but, to my surprise, it was absorbing all the small bumps and tree roots really well. There was a hilly section linked together with tight corners that would have the standard Xplor diving then unloading through every turn, upsetting the balance of the bike, however the Dal Soggio setup really kept the balance stable and never gave me the feeling of the front-end diving much at all.
Moving onto the more motocross-style terrain, I purposely over jumped a dam wall into some braking bumps where the standard fork would normally bottom out hard but the Sphere cartridges took it like you would expect a motocross fork would, with no hard bottoming or harsh feeling. I definitely know the standard fork couldn't compete with the Dal Soggio in this kind of situation.
Out on the fire trail was the first time I didn't like the Dal Soggio damping. At speed it felt like the front was not following the ground, causing it to feel very nervous, so this was a good chance to see how sensitive the cartridges were to clicker adjustments.
CLICKER TIME
Wanting them to rebound faster I went two clicks softer on the rebound and this produced exactly what I was chasing, as now the front-end kept up with the ground perfectly. It was nice that two clicks actually did something as I have ridden with forks where you can go 20 and feel no difference.
I know I could get the Xplor to work well in one of these three situations, but no way do I believe it would be capable of working even close to the level of the Dal Soggio over all three.
This should be a serious option for a rider looking to up-spec their WP Xplor fork that can't afford the factory-spec WP 48mm Cone Valve option I tested in last issue.
BRIGGSY'S THOUGHTS
The reason I went with the Dal Soggio cartridge kit is because I felt the Xplor fork sucked. I couldn't get it progressive and the Dal Soggio was as close as I could get to a Cone Valve without paying $5000. Shock Treatment set up the cartridges and fitted them with .50 springs for me. I wanted them to be decent on all kinds of terrain as I can find myself on anything from sand to arenacross tracks.
Shock Treatment nailed it as the cartridges work well on everything. The main thing I find is that the fork is predictable in all situations. It has really good bottoming resistance and holds up well in the stroke, which is one area where the standard fork struggles big time. I actually got the kit for my 2018 450EXC and ran it for the duration I had that bike.
I kept the kit when I updated to my current 450EXC-F and got it refitted. Pretty sure the book recommends I get the cartridges serviced every 20 hours but, seeing Shock Treatment is down in Sydney and I'm on the Cenny Coast, I've only had them serviced every 40 hours and they have been great the whole time. Jeff Briggs
Who can use them?
Dal Soggio, which is based in Vicenza in northern Italy, has these cartridge kits available for a wide range of forks; Showa SFF-TAC, KYB PSF, WP AER, WP 4CS and WP Xplor. So don't feel left out if you are on a Suzuki or Sherco, you can go purchase exactly what I tested for your motorcycle and get the same kind of fork performance gains. I know there are a lot of riders who don't like the performance of air forks like the SFF-TAC and this is a great option for them.