FAMILIRISE YOURSELF WITH SHAUN MACKENZIE | Features
Shaun Mackenzie is a commercial pilot with a passion for motorcycles. In 2003 he established Zac Speed in Melbourne with the aim of creating unique backpacks and protection for action sports.
Where did you grow up?
I'm Melbourne born and bred.
When did you get your first bike?
When I was 12. I started riding a bit at the local tracks and then progressed into a bit of racing. I didn't really progress past that junior level of racing. Like a lot of young people, I aspired to be a motocross ace and, as a result of that, I ended up getting a job as a light-engine mechanic at BTX Motorcycles in Ferntree Gully.
How did you become a commercial pilot?
I'd been pursuing my riding career and broke my leg, which kind of stopped me in my tracks a bit. It gave me some time to think about where I was going. I was in the shop one day and a work-experience kid told me I didn't look like a motorcycle mechanic. For some reason, that resonated with me and I thought to myself, maybe I'm not a motorcycle mechanic. As a young bloke, I always liked the idea of flying. One day, I was looking through the bike magazines and there was an aviation magazine in the rack next to the motorcycle section. I was flicking through it and there was an ad that said that 'you can fly this aeroplane in 56 weeks.' It was a 747 taking off. Little did I know that it actually takes a lot longer.
And now you're working for Virgin Australia.
I became a flight instructor down at Moorabbin, then got a job in Papua New Guinea flying turbo props. From there I managed to land a job at Cathay Pacific, so I was working out of Hong Kong for three years. That's when the dream was realised and I got the job flying a 747. It didn't take 56 weeks; it was more like five years. I ended up getting a job back in Australia with Virgin when it started up.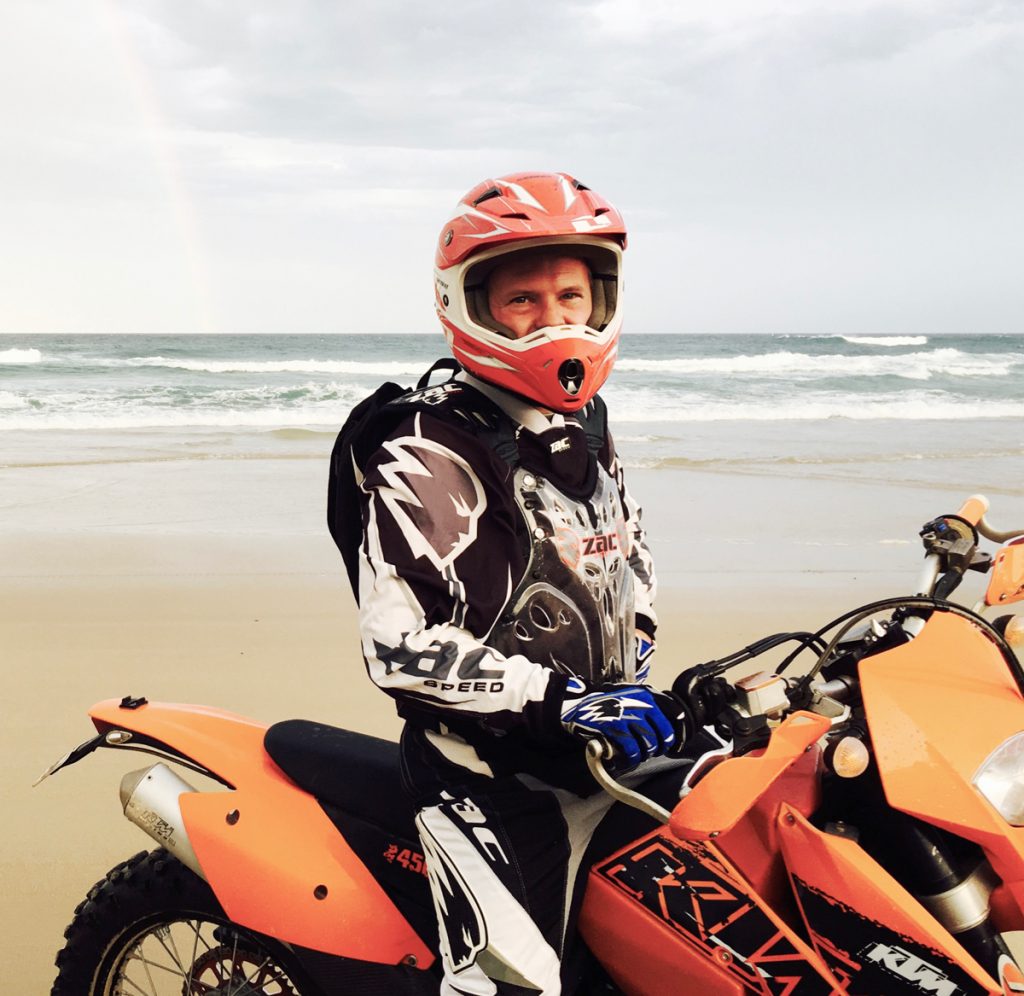 How did Zac Speed come about?
I'd always wanted to own my own business in the motorcycle industry. Being around Richard Branson and all those entrepreneurs [in the early days of Virgin] really got that entrepreneurial side sparked up. Once things settled down at the airline I had a bit of time to think and I started Zac Speed.
Where did the idea for the products come from?
Rewinding back to when I was working in the bike shop, I started doing a bit of trailriding. Flying in Hong Kong, I couldn't really pursue the trailriding that I'd enjoyed doing. When I returned to Australia, I bought a trailbike. A lot of people that fly actually trailride. Virgin Australia has quite an active trailriding community. It seems like a lot of pilots have dirtbikes or road bikes. It's a common theme. I used to wear a pressure-suit style of protector, but I couldn't stand it because of the heat and how uncomfortable they were. I thought that there must be a better way. I went to a shop to buy a new protector and I was trying to work out what backpack I would need as well. I had this Eureka moment where I thought, what if I could do this with that? I bought a chest protector and a backpack, took them home and started pulling them apart to try and bond them together. I came up with this pieced- together thing that actually seemed to work.
Why Zac Speed?
We were originally going to call the company Speedworks, because I'd been looking at some hardware products like bling kits. The protector pack was a unique thing so I decided to go down that path and the Speedworks name didn't work well with a soft product. We wanted the speed element to be apart of it because we are an action sports company. We had the head image (Zac Speed logo), but we needed to give him a name. The name Zac just seemed to work well with the logo. So that was it. We named him Zac like you would a baby.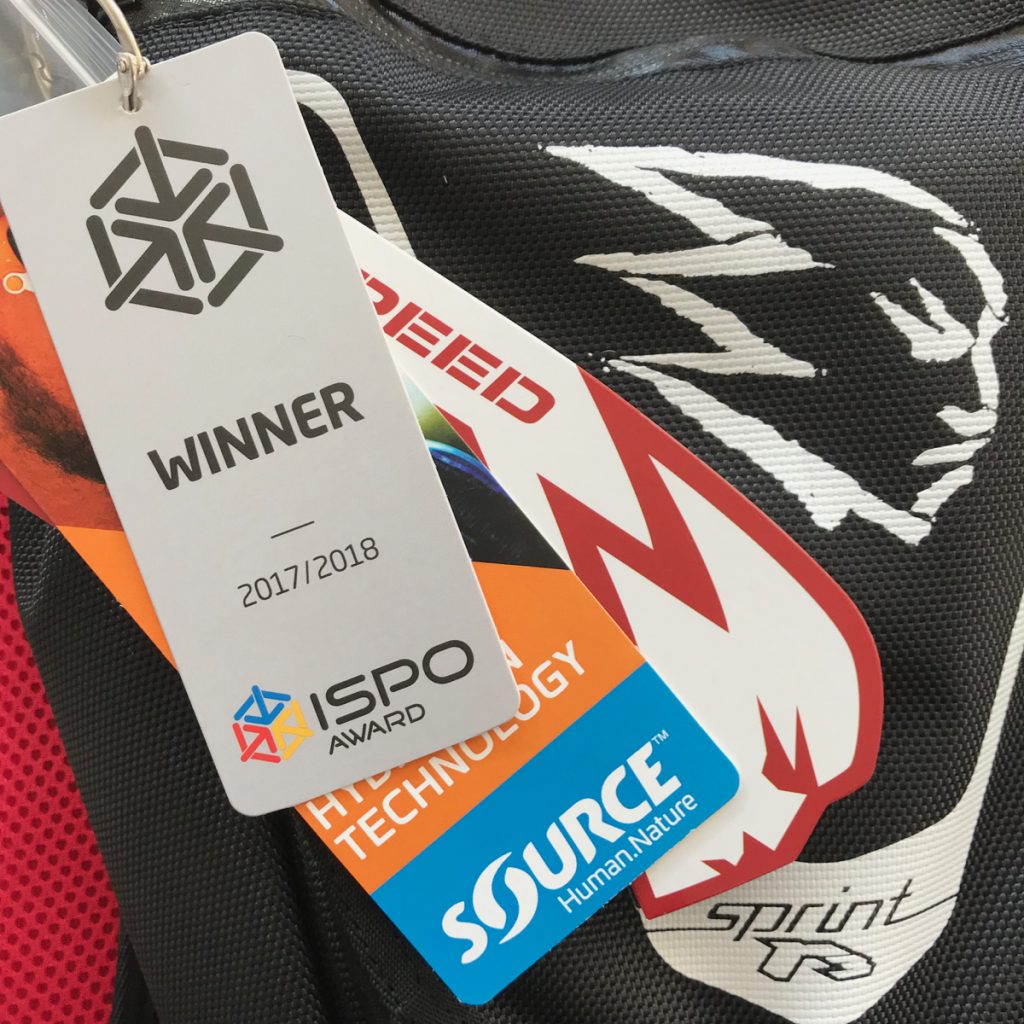 What is unique about Zac Speed?
We were really one of the first companies to integrate a protector into a backpack. We were unique in that we'd combined two elements that a rider really needs, hydration and protection. Now we have our CONFIGR8 system that combines even more elements. The sport has grown now where people are trying to add other technical elements like GoPros and tools. We entered the CONFIGR8 system into the ISPO awards in Munich and won an award.
What does the future hold for Zac Speed?
We want to expand to the broader action-sports market and make category-specific packs for sports like snowboarding and mountain biking. We are also launching some race-oriented packs for motorcycling, but which will be usable for other sports too.
We've entered into the United States market, which is the mecca of action sports. We've also just launched into Canada. We haven't tackled Europe, South America or Asia yet, but they are markets we want to get in. We are really trying to scale up what we're doing.
Check out all the products Zac Speed has to offer! www.zacspeed.com.au