Husqvarna Motorcycles has unveiled their 2017 TC 50 and TC 65 models – two new from the ground up mini motocross machines.
Entering the 50 cc and 65 cc mini bike sector for the first time in its new era, Husqvarna has modelled the all-new TC 50 and TC 65 machines on their full-sized motocross bikes.
HUSQVARNA TC 50
Featuring the same stylish look as Husqvarna's full size motocross bikes, the new TC 50 features a well-considered ergonomic package to perfectly suit the stars of tomorrow. Superior quality and attention to detail are incorporated into the TC 50 to make it a truly premium 50 cc motocross machine.
With mass centralisation a key design feature, the modern 2-stroke engine uses a 3-shaft design that brings the crankshaft near the centre of gravity. To make things even simpler for young riders, the engine is fitted with an automatic centrifugal clutch.
Specifically designed to match the performance characteristics of the TC 50 engine, the exhaust is made using a three-dimensional stamping process for added durability. Available from Husqvarna Accessories is a power reduction kit, which brings peak performance down to 5.5 hp for absolute beginners.
Fitted with the revolutionary WP AER 35 front forks and a fully adjustable WP monoshock, the TC 50 features the latest in suspension and chassis technology. Modelled after Husqvarna's full size motocross machines, the bodywork of the TC 50 offers the same contact points and ergonomic characteristics in a smaller scale.
MODEL HIGHLIGHTS
=>Compact 2-stroke engine with class-leading performance
=>WP Performance exhaust
=>Automatic centrifugal clutch technology
=>Power reduction kit available as extra
=>Bodywork offering optimum ergonomic feeling
=>Chromoly steel frame guaranteeing easy handling & precise cornering
=>WP AER 35 mm USD front forks (205 mm travel)
=>Fully-adjustable WP monoshock (185 mm travel)
=>Hydraulic brakes & waved discs
=>Black aluminium wheels & Maxxis tyres
=>Large radiators with air-channelling spoilers
=>High-quality aluminium handlebars & standard crash pad
=>In-mould graphics in Husqvarna's white, yellow & blue
RRP TC50 $4995 inc GST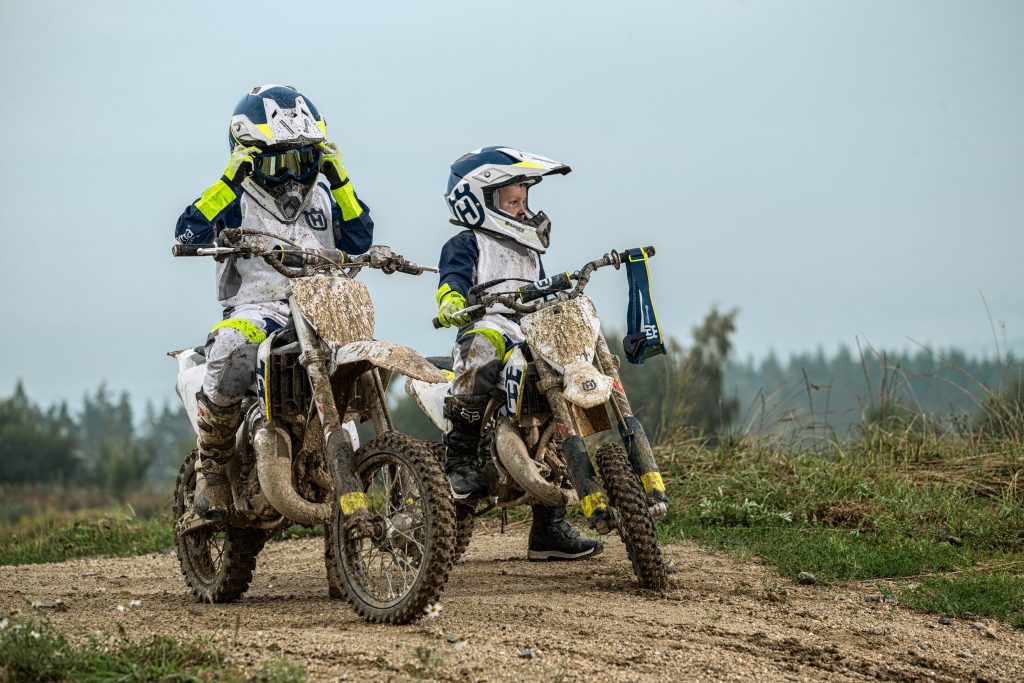 HUSQVARNA TC 65
Featuring a 6-speed gearbox and a manual hydraulic clutch, the TC 65 gives the opportunity for young riders to experience a fully-fledged competition motorcycle for the first time. With premium components featured as standard, it gets as close to Husqvarna's full-size motocross machines as possible.
Built using the lightest and most durable materials, its 2-stroke engine incorporates a pressure controlled exhaust valve (PCEV) and offers performance characteristics that are unrivalled in the 65 cc class.
Made by WP Performance, the high-strength steel frame comes with a lightweight aluminium subframe and a cast aluminium swingarm that work together to provide optimised handling characteristics.
Adopting a scaled-down version of Husqvarna's big bikes' bodywork design, the TC 65 offers riders the same contact points and ergonomic characteristics. Inspiring comfort in all riding conditions, the bodywork allows youngsters to perform at their best for longer.
In the suspension department, the innovative WP AER 35 USD front forks give 215 mm of wheel travel and are adjustable with the use of an air pump. Linked directly to the swingarm, the WP monoshock is matched perfectly to the forks for optimum damping characteristics. The shock offers 270 mm of travel and is fully adjustable.
The TC 65 features striking white, yellow and blue graphics in praise of Husqvarna's Swedish heritage. The graphics on both the TC 50 and TC 65 minicycles are applied using in-mould technology for optimal durability.
MODEL HIGHLIGHTS
=>Highly-competitive 65 cc engine
=>Pressure-controlled exhaust valve (PCEV)
=>6-speed manual gearbox & hydraulic clutch
=>Bodywork offering optimum ergonomic feeling
=>High-strength WP steel frame & aluminium subframe
=>Lightweight cast-aluminium swingarm
=>Integrated crankcase cooling system
=>WP AER 35 mm USD front forks (215 mm travel)
=>Fully-adjustable WP monoshock (270 mm travel)
=>Special bend aluminium handlebars & standard crash pad
=>Black aluminium wheels & Maxxis tyres
=>Hydraulic brakes & waved discs
=>In-mould graphics in Husqvarna's white, yellow & blue
RRP TC65 $6595 inc GST