2018 Yamaha WR450F Review | News
Motorcycle Trader Editor Chris Harris gives us a tour of the 2018 Yamaha WR450F he raced and crashed in the 24 hour Reliability Trial.
WHY'D YA BUY THE 2018 Yamaha WR450F?
I didn't have to. As the Editor of Motorcycle Trader magazine, I was actually able to borrow a 2018 Yamaha WR450 from Yamaha Australia. Cam Donald's story about the 2019 24-Hour (ADB #470) inspired me to do this year's. My bald grandfather used to say, "I'm not here for a haircut." And former MT Editor Greg Leech always says: "You're dead for a long time." Pearls of wisdom such as those ring loudly in my ears, so, despite modest off-road ability at best, and no real idea of what I was truly made of, I thought f*ck it, I'm gonna do the 24-Hour Trial. Cam, who was originally going to ride again this year, suggested something like Yamaha's bulletproof WR250F for its agility and ease of use. The electrical system for the EFI meant that it would cope better than a two-banger with the additional load of the lighting kit.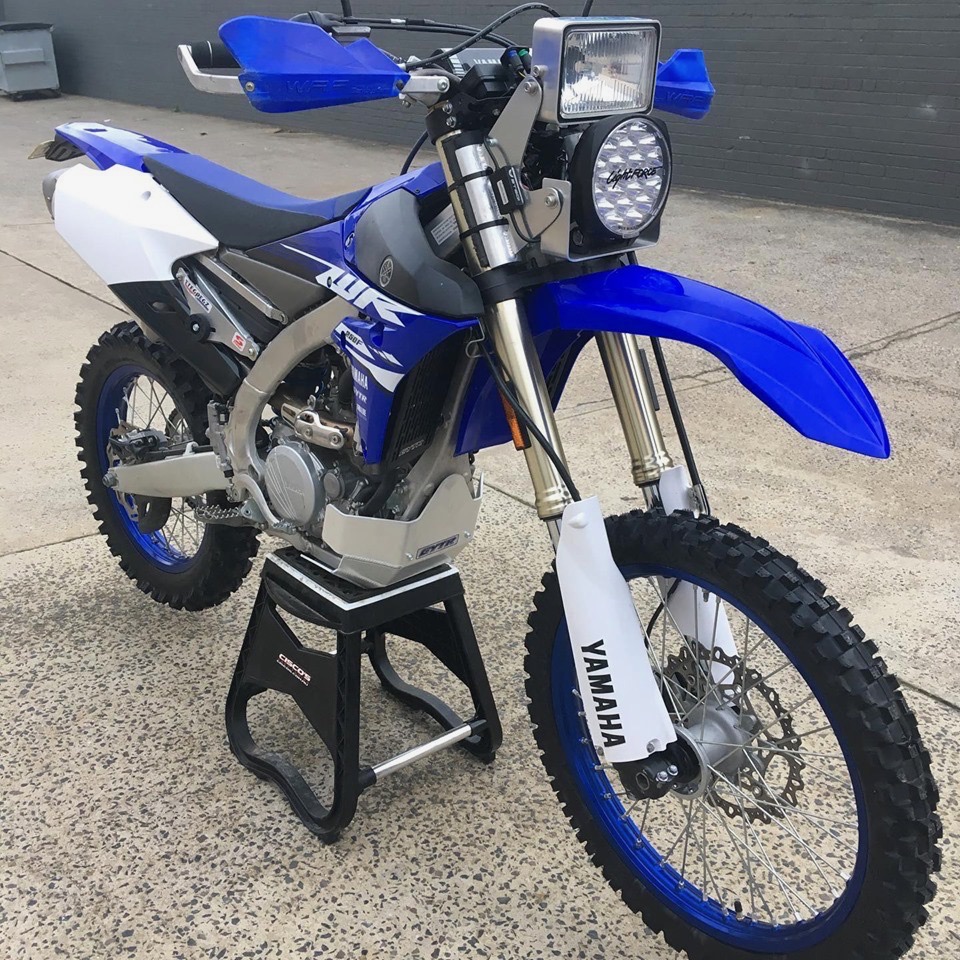 WHAT YA DONE TO IT?
While the WR250F is a great bike out of the box, some modifications were needed for the 24-Hour. The biggest addition was the Platinum Motorcycle Lighting rig. It comprised a rectangular spotlight with a 25W Stedi H4 LED globe up top and a 75W Lightforce Venom spotlight with 4407 lumens below. I also borrowed GYTR radiator guards, a GYTR air filter and a GYTR Enduro bashplate from Yamaha. Other additions included Barkbusters and Steg Pegz, while Ballard's chipped in with some folding mirrors and handlebar muffs. The last piece of the puzzle was a set of Pirelli Scorpion tyres. Steve at Cisco's Race Tuning in Croydon, Vic, fitted everything while I focused on my day job.
HOW'D IT GO?
The bike performed very well. Let's be honest, I was hardly testing it to its limits, but that's not what the 24-Hour is about. It's about self-preservation. The bike was very easy to use. It was very compliant and predictable, which are things I look for. The only problem was that the bolts on the mounting bracket for the high-beam headlight vibrated loose and the light was actually dangling by the wiring. By nightfall, I had it cable-tied but I couldn't hold it in the correct position. It was either pointing too high or too low. After a while, I stopped caring and it was flickering like a '90s rave party. The biggest surprise for me, and something that I think you can't go without, is the handlebar muffs. They are absolutely priceless. They were just cheapies, but they were a godsend. At no stage were my hands or fingers cold, even in the middle of the night.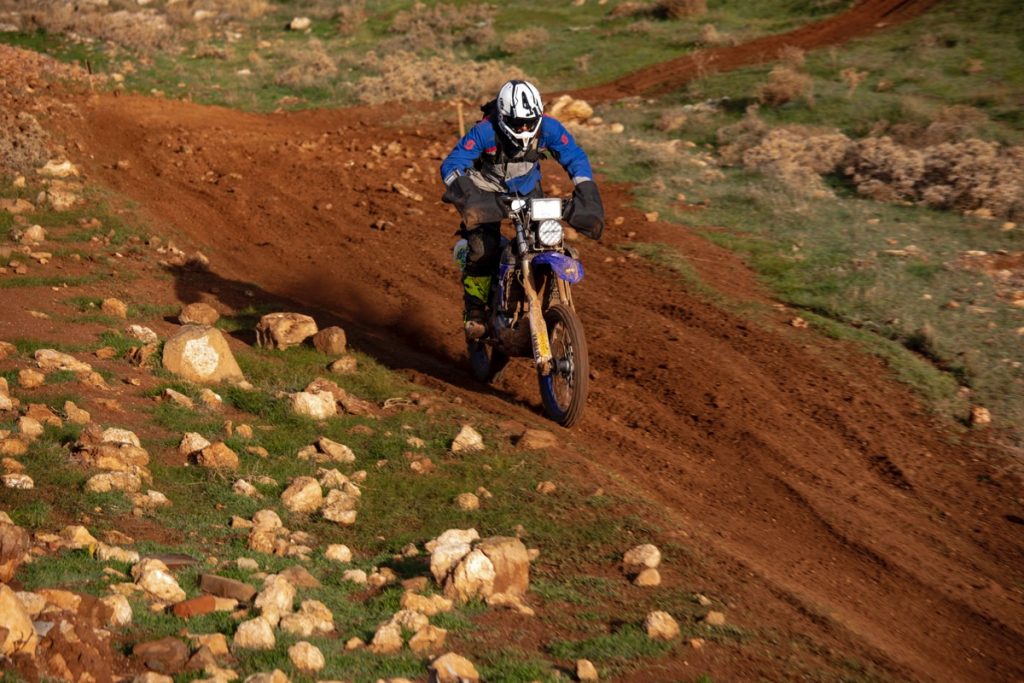 RECOMMEND IT?
I'd absolutely recommend doing the 24-Hour. I certainly wouldn't say, nah, you can't do it. I'm a prime example of that. I'm hardly an off-road rider and I think I did pretty well considering. I was never going to be at the front of the pack, but that was never my intention. The big drawcard for me is that, as well as being a test of machinery, it is also a test of yourself. The other thing people should know is that the preparation is as epic as the event itself. That cannot be under-estimated if you have a busy lifestyle.
with Dylan Ruddy
5 THINGS YOU DIDN'T KNOW ABOUT CHRIS HARRIS
1. Motorcycle Trader is an ADB sister mag that started 25 years ago. You can read all about Harris's 24-Hour adventure in MT #350.
2. Harris fell (no pun intended) agonisingly short of the finish line in the 24-Hour. He broke an ankle with less than two hours remaining.
3. Platinum Motorcycle Lighting is based in Lewiston and is renowned for preparing bikes for the South Australian Reliability Trial series.
4. Harris's personal bike is a 1986 BMW R80 G/S Paris Dakar, a model that probably featured in the 24-Hour in its heyday.
5. The trial began in 1924 and is now based in the Barossa Valley, with the towns of Eudunda and Kapunda alternating as host towns.