2019 Sherco Racing and Factory lineup | News
Sherco has lifted the covers off its 2019 off-road lineup to reveal a new range of non-homologated cross-country models, a 500 four-stroke and a host of changes to the Racing and Factory bikes.
The French manufacturer has continued to expand its extensive range with the addition of a brand-new cross-country range and a 500 four-stroke.
The all-new 500 is to be built specifically for Australia. It is based on the 450 SEF but with its own cylinder, larger 98mm piston, versus 95mm from the 450, and runs on its own mapping. Australia is Sherco's second largest market behind France and the 500 is being built at the request of Sherco Australia, however, it's unlikely the cross-country range will come down under.
2019 Upgrades across all models
– More flexible chassis, lighter by 400 grams
– Neken triple clamps 90 grams lighter
– Reinforced rear hub
– Michelin tyres
– New graphics and reinforced rear fender
– New regulator with increased cooling
– 10mm larger radiators (2T Models)
– New wiring harness (2T Models)
– FMF exhaust (2T models)
Two-Stroke Specific Upgrades
125
– New piston
– Improved lubrication and new crankshaft bearings
250 & 300
– New cylinder 15% lighter with improved cooling and reduced friction between piston and cylinder
– New exhaust valve actuation system
– New ignition management system
– Lighter stator to reduce inertia
– More powerful ignition coil reduces fouling rate and claims to improve engine efficiency
– New carburettor settings
Four-Stroke Specific Upgrades
250 & 300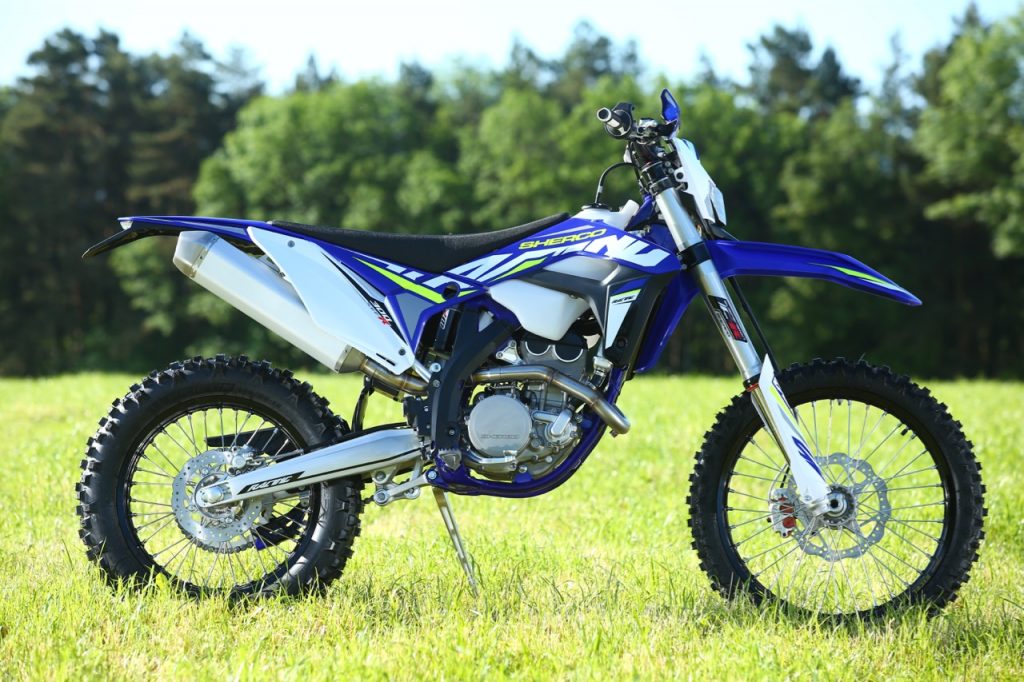 – New bore x stroke on 250 SEF – 2019 = 78 x 52.2mm (versus 76 x 54.80mm in 2018)
– Tweaked intake and exhaust ports
– New mapping
– Improved camshaft profile
– New 31mm intake and 26mm exhaust valves
– Lighter clutch basket
450 & 500
– Reinforced head gasket
– Increased compression ratio from 11.8 to 12.3
– New balancing mechanism
– New mapping
– New cylinder (500)
– 98mm piston (500)
2019 Factory Model Highlights
– Closed-cartridge KYB fork and KYB shock
– EXCEL rims anodised blue
– Alloy/steel rear sprocket
– Galfer solid brake discs
– Skid plate
– New Graphics
– Selle Dalle Valle gripper seat cover
– Neken handlebar pad
– Dual-compound Domino grips
– Cooling fan
– Full FMF (2T) or Akrapovic (4T( exhaust system
– Lithium-ion battery 1300 grams lighter
[slideshow_deploy id='18597′]