Braico explores the difference between the RX and Racing models and likes what he finds in this 2023 Beta RX 300 review.
Despite being originally manufactured for the American market only, it appeared a fair chunk of Aussies were all about the RX and that pushed Beta Australia into importing more of them. So I was pumped when ADB Ed, Mitch Lees, asked me to do a 2023 Beta RX 300 review.
I like how manufacturers like Beta with RX and KTM now with the 300SX, are bringing out these hybrid MX/XC 300 two-stroke machines. It opens up a window of opportunity for riders who want to be a little bit different than the average Joe Moto on his 250 or 450 MX weapon. Plus they are a little easier to keep on top of the maintenance as well and as always, you can't beat a big two-stroke for sound!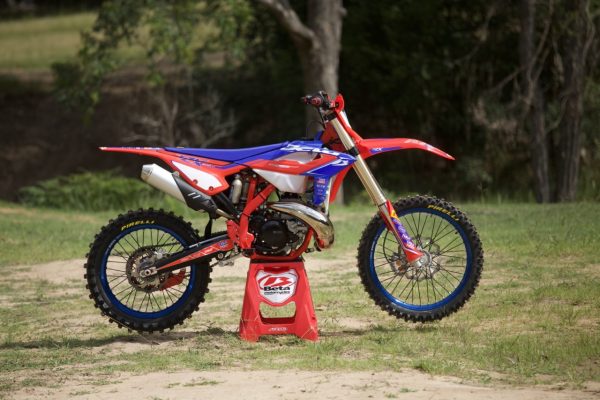 RX vs RACING
Once I did a bit of research in comparing the RX to the offroad Racing model, I realised how different they were. I was under the impression it was just a Racing model with stiffer suspension. I quickly found out doing this 2023 Beta RX 300 review that Beta don't play those games and they have a bunch of parts that make the RX its own animal.
Firstly, the motor inside the RX has a higher performance, longer stroke engine in it and the carby has been upped from a 36mm to a Keihen PWK38 so you just know that it's going to be a grunt machine. The RX also is rolling a 19-inch rear wheel with Michelin Star cross tyres and the foot pegs are extra wide units so that you have plenty of support when you get the courage up to wind the big girl out along the straights.
Just like the Racing models, the RX comes with a KYB 48mm closed cartridge AOS fork but for 2023, Beta have moved away from the Sachs rear shock and fitted a new KYB shock. It has a 45mm shock body with all the high/low speed and rebound adjustment you need. This change is a big deal for Beta as now they believe, that with the help of KYB front and rear, these RX300s are a serious threat to any motocross racer out there. The RX is also electric start only but there is the option of putting a kickstarter on should you feel it's necessary.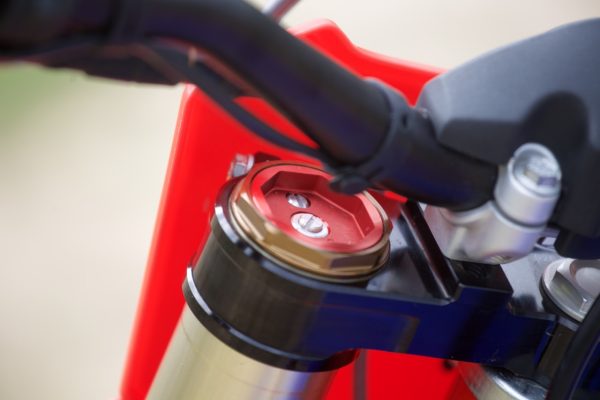 OUT ON THE TRACK
When firing up the big RX, this thing just oozes grunt and torque. The exhaust note at idle is deep and you get the impression that it means business. There was no hesitation at all when warming the bike up and once I got out on the track, I was pretty impressed with just how crisp and clean the bike was jetted.
We were pretty much at sea level but still, some carby two-strokes still take a little bit of tweaking to get right. Not the RX, it was ready and rearing to go and boy is it fast. Right from the bottom of the rev range, this thing did not miss a beat. From my previous experiences with carburetted 300 two-strokes, you don't want to rev them too much as the best part of the motor is when they are short shifted and ridden in the meat of the power.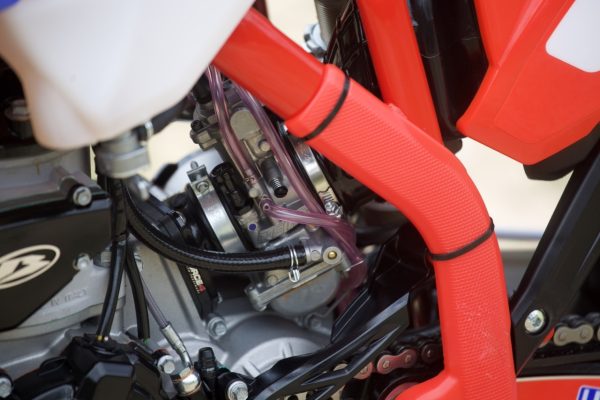 I quickly found out in this 2023 Beta RX 300 review that it has a lot of power. This motor is a weapon and I don't mean that in a scary unrideable way. It's still very useable and rider friendly in my eyes but it's definitely catered towards a more experienced rider. The thing pulls out of turns in 2nd or 3rd gear with ease and that's exactly where it wants to ridden.
In all honesty, I never really felt the need for 4th or 5th or 6th gear at all because the power just keeps on building. By the time you rev the bike out in 3rd, the next corner is already upon you and then you almost don't have to change down to 2nd because the motor is so torquey. I can't forget about the sound of this bike either. It is a proper 300 two-stroke sound and I'm pretty sure it makes any die-hard motorcycle rider smile every time they hear it even if it is when it's going past them on the track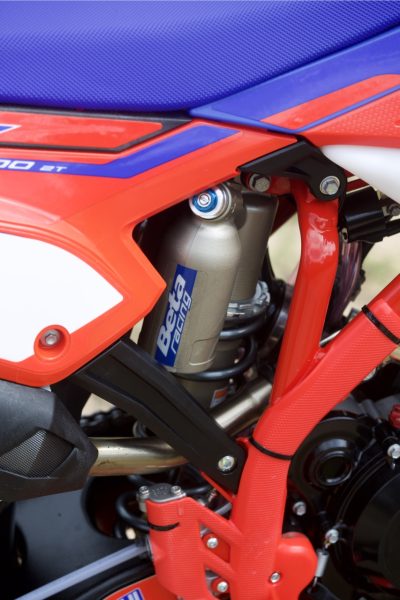 KYB TO THE RESCUE?
KYB suspension has been slowly making its way into more and more manufacturers and I for one am all about it. I've always enjoyed how the KYB forks react out on the track and the 48mm AOS units that come on the Betas are no joke. They are obviously much firmer than the average rider would probably run but when you buy a Racing or RX bike, you want to go fast so realistically, you need a bike that can allow you to do so.
I expected the forks on the RX to be a tad firmer again compared to the Racing versions and I wasn't wrong. They feel firmer especially in the bottoming resistance which is great for the moto track, yet they weren't so firm that they beat you up after five minutes. They still have that initial plushness that KYB is renowned for and that gives the rider plenty of confidence when charging into corners.
The new KYB rear shock is a big improvement over the Sachs unit. I found that the Sachs shock had decent feel but would kind of have these moments of inconsistency and as a result, I found myself riding a little reserved. Thankfully, those moments are few and far between now as the KYB shock is much more reliable and offers epic rear wheel traction which is just what the torque monster between the frame needs. I was super impressed with the straight line drive this bike gets out of corners. I know it has a gripper seat but I was almost inclined to run a bump in the seat just to keep me a little bit more locked into the bike.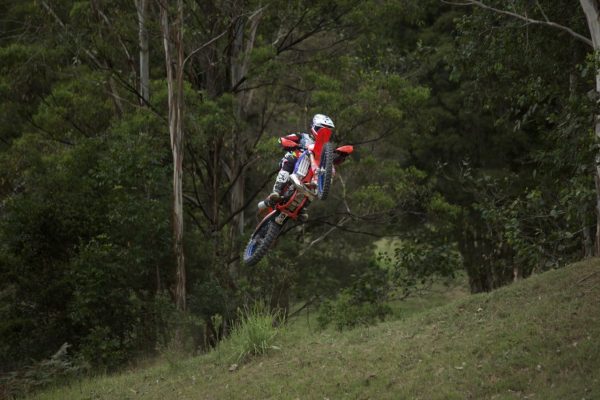 FINAL THOUGHT
This bike is a beast. I thoroughly enjoyed riding the Beta RX 300 and despite having to wait a few years to ride one, it lived up to my expectations. I was super impressed with the motor on this bike. It's so strong and torquey yet I found that it still is very manageable when you need it to be.
The new KYB suspension is a great addition to the bike and overall, the whole package just feels really planted and solid out on the track. If you are in the market for something a little different with a bit of Italian flair, then maybe the RX300 is just the right bike for you. I just wish I was a lot fitter so I could ride this bike longer for than 10 minutes and actually enjoy what it has to offer. It really was that much fun to ride.