Adam Cianciarulo captures 250 Motocross title | News
Monster Energy Pro Circuit Kawasaki rider Adam Cianciarulo captured his first AMA Pro Motocross 250 title aboard his KX250 this weekend in Crawfordsville, Indiana.
Cianciarulo began his championship campaign by winning the overall in the first four rounds. Cianciarulo's dominant performance all season long was displayed through his grit, determination, and consistency, never finishing off the overall podium during the season. The title is the 15th 250 class motorcross championship for Kawasaki, the most 250 class motocross championships of any manufacturer. Monster Energy Kawasaki rider Eli Tomac clinched the 450 class title last weekend at Budds Creek, leading Team Green to the first brand sweep of both motocross classes since Kawasaki achieved the same feat in 2011.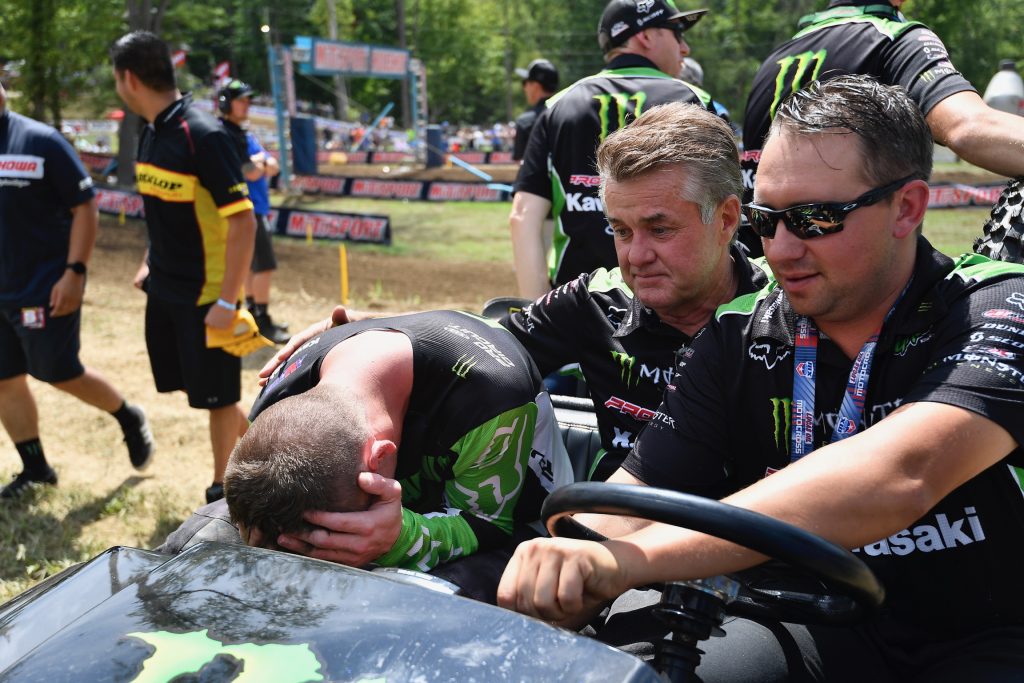 The battle for the victory at Ironman saw Dylan Ferrandis do exactly what he needed to do coming into the afternoon, riding to an impressive 1-1 sweep of the motos and his fourth 250 Class victory of the season. In the 450 Class, with the championship already decided one week ago, Monster Energy Kawasaki's Eli Tomac capped off his historic three-peat with an emphatic win.
The first 250 Class moto of the afternoon saw JGRMX/Yoshimura/Suzuki Factory Racing's Kyle Peters prevail with the MotoSport.com Holeshot, followed by Troy Lee Designs/Red Bull/KTM's Mitchell Falk and Ferrandis. Right behind the top three was Monster Energy/Star/Yamaha Racing's Justin Cooper and Cianciarulo. As Peters solidified his hold on the lead, Ferrandis quickly charged up into second. Behind him, both Cooper and Cianciarulo moved forward into second and third, respectively.
Peters held on to the lead for a lap, but Ferrandis made his move and put his Yamaha right where it needed to be out front. It didn't take long for both Cooper and Cianciarulo to also make their way around Peters and set the stage for what would ultimately be the deciding battle for the championship. Ferrandis appeared to have control of the moto, but he soon came under fire from a hard-charging Cooper. The teammates went at it for several laps, with Ferrandis able to fend off numerous pass attempts. Eventually, Cooper's persistence paid off and he took the lead just over a quarter into the moto.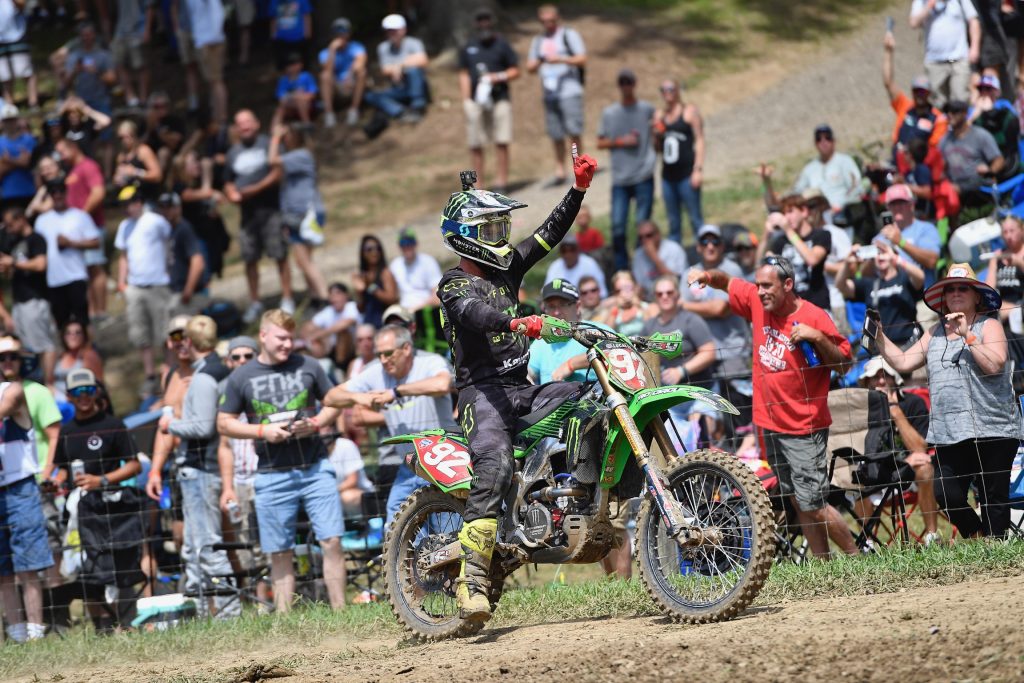 Cooper continued to charge ahead and soon opened up a comfortable lead. However, after they passed the halfway point of the race Ferrandis picked up his pace and went to work on chipping away at the deficit. As the 30-minutes-plus-two-laps moto surpassed the 20-minute mark Ferrandis was back on the rear fender of his teammate. With about seven minutes to go he pulled the trigger on a pass and took away Coopers line, reclaiming the top spot. The Frenchman was able to quickly distance himself, and it soon put Cooper within reach of Cianciarulo, who started to make a late push in recognition of what transpired ahead of him.
While Ferrandis continued to lead in the waning moments of the moto, Cianciarulo caught Cooper and was able to make the pass for second with a minute remaining. Cianciarulo continued to close on Ferrandis over the final two laps, but he didn't need anything better than second to wrap up the title. Ferrandis carried on to his class-leading eighth moto win of the season by 3.6 seconds over Cianciarulo, who mathematically eliminated Ferrandis with the result. Cooper soldiered home in third, with GEICO Honda's Chase Sexton fourth and Rockstar Energy Husqvarna Factory Racing's Michael Mosiman fifth.
The final 250 Class moto of the season got underway with Ferrandis surging to the MotoSport.com Holeshot, with GEICO Honda's RJ Hampshire, Cooper and Cianciarulo in tow. Both Cooper and Cianciarulo were able to fight their way by Hampshire on the opening lap and establish the same lead trio as Moto 1.
Ferrandis established a solid hold on the lead, and it didn't take long for him to move out to a multiple second advantage over his rivals. In their chase of the Frenchman, Cianciarulo and Cooper engaged in a spirited battle for second. The Kawasaki rider made multiple attempts to get by Cooper, but was unable to find a way around. Cooper eventually put some distance between he and Cianciarulo and proceeded to track down Ferrandis for the lead. Cianciarulo continued to lose ground, ultimately giving up third to Sexton.
A few bike lengths for several laps separated the Yamaha teammates, but Ferrandis was able to stabilize his lead late in the moto and carry it through to the finish for a wire-to-wire victory by 4.9 seconds over Cooper. It was his ninth moto win of the season. Sexton followed in third, with Cianciarulo finishing fourth.
It was Ferrandis' fourth overall win over the final six rounds of the summer, three of which came via 1-1 sweeps.
"I knew [winning today] wasn't going to be enough to win the championship today. AC [Cianciarulo] rode great all season, and he deserved [the title]. He was too hard to beat," said Ferrandis. "This was the best season of my career. We showed good things this year. We won races and we showed that next season everyone can look at me to possibly win the championship."
Cooper gave Star Racing a 1-2 finish in the finale in second (3-2), while Cianciarulo capped off his stellar season in third (2-4).
Cianciarulo's championship campaign was highlighted by his unparalleled consistency, in which he finished on the overall podium at all 12 rounds. That's the first time a champion has accomplished such a feat since Eli Tomac won the title during the 2013 season. Cianciarulo becomes the 31st different champion in the 250 Class, and also ends a six-year drought for his Monster Energy/Pro Circuit/Kawasaki squad, the winningest team in class history with 11 championships.
"It's been a journey, for sure. Like I've said, when I was a kid I knew I'd be here [winning championships], but then things got taken from me and I didn't know if I could anymore. I would have rather gone through what I went through to get to this point, because it made me a better human," explained Cianciarulo. "I've learned so much about myself and I've had to grow. The [adversity] has catapulted me into doing something I didn't think I could do, which is win this outdoor title. I'll hold onto this forever. No one can ever take this from me."
Cianciarulo ended the season with a 20-point margin over Ferrandis, while Cooper completed the championship podium in third, 58 points out of the lead.
With the championship in both the 250 Class and 450 Class, Kawasaki becomes the first manufacturer to sweep the titles since 2011, when Kawasaki accomplished the same feat with Dean Wilson (250 Class) and Ryan Villopoto (450 Class).
GEICO Honda's Jett Lawrence placed 12th in the first moto and 14th in the second to finish 13th overall.