Beta Welcomes Ben Grabham | Latest
Beta Motorcycles Australia is excited and proud to welcome Australian motorcycle legend, and all round good guy, Ben Grabham to its management team.
Ben will fill multiple roles at Beta including Brand and Promotions Manager and Technical Advisor. Ben will be based in his home town of Bathurst and will work closely with dealers and riders around the country to enable them to experience all that the Beta range of Enduro bikes has to offer.
Ben has had an outstanding career as a competitor across multiple disciplines and more recently as a race team manager. Ben is recognised and lauded for his outstanding riding ability but it is his "never say die" attitude, toughness, honesty, straight talking, insightful analysis and down to earth persona that has helped lead to his hero status.
Beta Motorcycles Australia is looking forward to allowing Ben to utilise this knowledge and experience and these personal attributes to represent Beta and to bring Beta motorcycles to more and more people throughout Australia.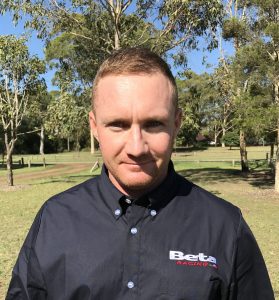 Ben Grabham – Beta Brand Manager.
"To say I'm excited to be joining Beta would be an understatement. Normally I want the Christmas holidays to go slow but I can't wait for them to be over so I can get stuck into my new position at Beta.
My first ride on a Beta was back in 2005 and since then I've managed to get a ride on one each year at magazine tests. Each time the Beta has more than impressed and ticked all the boxes. That's why I'm so excited to join forces with Beta motorcycles and make it possible for others to experience this as well.
Working with Beta dealers to make the Beta experience possible for many more to people is going to be very rewarding for myself. How much I enjoy riding the Beta has lit the flame again to burn off the manager belly and make the odd appearance on the start line of a few races myself.
I want to say a huge thank you to Gary from Beta Australia for this opportunity and I look forward to exciting times ahead with Beta."
Gary Grealy – Beta Australia's Director
"We are delighted to offer Ben an opportunity to take his already enormously successful career in a different direction and to further build on what he has bought to off-road motorcycling in Australia.
We see the extensive experience and knowledge that Ben will bring to Beta Australia as a huge plus to us at this stage of our development. More importantly, it is the personality traits of integrity, honesty, hard work and true grit that Ben has displayed over his riding and team management career, that align with our own aspirations, that we see as most valuable.
Obviously, KTM were disappointed to see Ben move on but we thank them for understanding that this is a good move for Ben's future and for his family. We look forward to a long and mutually rewarding relationship with Ben."