Cooper Webb wins by .02 seconds over Roczen and re-takes points lead | News
Round seven of the Monster Energy AMA Supercross, an FIM World Championship will go down as the closest 450SX Class finish in history after an inspired ride by Red Bull KTM's Cooper Webb.
The early laps appeared to be the return of the 2019 pre-season favorites, but Webb charged from seventh to take the lead in the final corner in an aggressive squeeze at the top of the final berm to nab the win, and simultaneously the points lead, from Team Honda HRC's Ken Roczen. In the second round of the Eastern Regional 250SX Class, Austin Forkner repeated his win at the previous round to take an eight-point lead in that class.
When the gate dropped on the 450SX Class Main Event it was Ken Roczen and Monster Energy Kawasaki's Eli Tomac nearly side by side, with Roczen edging out Tomac for the holeshot. Within three corners Tomac was in the lead and Red Bull KTM's Marvin Musquin had jumped into second. With Webb back in seventh it looked like this would mark the return of the old guard; before the first lap was over Roczen had re-taken second place and the three looked sure to fill the podium, only the order was in question.
A little over three minutes into the race Roczen overtook Tomac and found his flow. Two minutes later Tomac lost the front end in a rutted turn and picked himself up in seventh. From there he dropped slowly back, finally finishing in twelfth. Just past the halfway mark Webb made it around Team Rocky Mountain ATV/MC KTM WPS' Blake Baggett and set his sights on his teammate Musquin, who had closed the gap to Roczen to under two seconds. Webb could now see the win 3.6 seconds ahead. He got past his teammate in the whoops with under four minutes on the clock and began to reel in Roczen; Webb had some better lines including quadding a section that Roczen was tripling.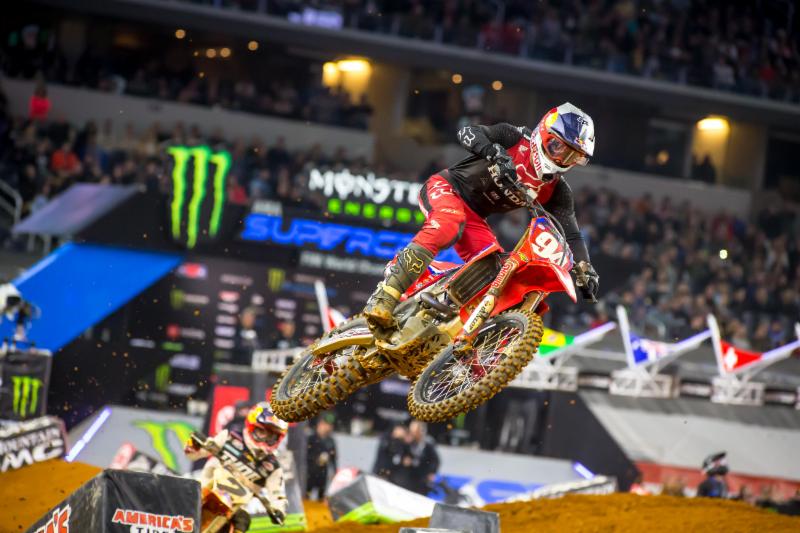 Webb nearly pulled the trigger heading up to the white flag but saved his blitz through the whoops until the final lap, where he then cut across the bottom of the final berm and rode Roczen aggressively high. Both riders came out of the turn off balance and wide open. Webb won the drag race to the finish line an incredible .02 seconds ahead. What would have been points leader Roczen's first win of the season instead turned into Webb's fourth – the only rider with multiple wins after seven rounds – and Webb's re-taking of the points lead. The Texas crowd of 57,614 went wild for the North Carolina star who has emerged as the man to beat in his third season in the 450SX Class.
Webb was fired up on the podium, "That was just insanity, it really was. I don't know, it was just clickin' I guess. I got a bad start, I don't know where I was the first lap, but just tried to make passes. I was behind Baggett for a while, he was riding really good and he got me to get the whoops a lot better, and then I got around Joey [Savatgy] and him. And I honestly was kinda settling for a podium and I just said, 'You know what, never give up.' I would have probably got yelled at by Aldon [Baker, his trainer] for settling. So just went out and gave it my all. And I knew that last lap he was doing the jumping line [through the whoops, so] I needed to skim. He saw me coming, I think, at the end and just picked it up. But dude, what, I mean daggone, I mean, that was historical for sure. It was so close, and I just want to give it up to the whole team. They resurged me this year… That'll go in the record books and I'm stoked. Daggone, that was sweet."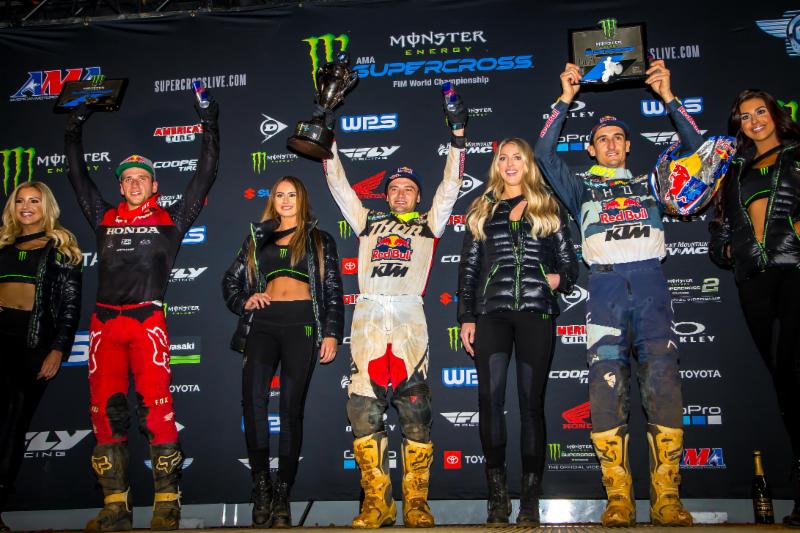 Roczen came within a single corner of his first win of the season, "I struggled in that rut before and even in the whoops, just did a lot of side to side there. I couldn't really get a rhythm down. I felt all right on the rest of the track, but it was one of those things where I messed up the turn multiple times, even the lap before. I kept losing time and got squirrely in the whoops and he ran it in there – and it's all good, I would have done the same thing, it was for the final pass. Out of the turn I couldn't really get on the throttle very hard because I was super close to the Tuff Blox and it was soft right there, so I did what I could and sure enough the win was right there, but I just didn't grab it." Roczen was down, but not discouraged, "I've just been putting in a lot of work during the week, just been suffering and suffering, just to get better. And yeah, we lost the red plate, but it was a good battle tonight; I had good aggression and it is what it is, I'm using it as fuel for the next race."
Musquin was feeling good to finish a rough day with a podium finish, "I don't know what was going on in the heat race. I got a bad start, and it was a tough track, and to get seventh place in the heat race is not acceptable. Got better in the main, obviously. Had a good rhythm going behind Kenny and when Eli went down I was running second. [I] started to tighten up a little bit when Cooper was behind and [I] started making mistakes and then he got me and from that I salvaged third place. So, it's some good points, but it's not fun to get beat like that. Still trying to get to 100% physically, I'm not quite there yet, but no excuses, those guys rode really well, and the conditions were tough. Like I said, salvage a third place, just keep on moving forward, and looking to next weekend again, and put more work during the week and be better next weekend."
450SX Class Results
1. Cooper Webb, Newport, N.C., KTM
2. Ken Roczen, Clermont, Fla., Honda
3. Marvin Musquin, Corona, Calif., KTM
4. Blake Baggett, Grand Terrace, Calif., KTM
5. Joey Savatgy, Tallahassee, Fla., Kawasaki
6. Cole Seely, Sherman Oaks, Calif., Honda
7. Justin Barcia, Greenville, Fla., Yamaha
8. Dean Wilson, Clermont, Fla., Husqvarna
9. Aaron Plessinger, Hamilton, Ohio, Yamaha
10. Justin Brayton, Mint Hill, N.C., Honda
450SX Class Championship Standings
1. Cooper Webb, Newport, N.C., KTM (150)
2. Ken Roczen, Clermont, Fla., Honda (148)
3. Marvin Musquin, Corona, Calif., KTM (144)
4. Eli Tomac, Cortez, Colo., Kawasaki (134)
5. Dean Wilson, Clermont, Fla., Husqvarna (110)
6. Justin Barcia, Greenville, Fla., Yamaha (104)
7. Blake Baggett, Grand Terrace, Calif., KTM (101)
8. Cole Seely, Sherman Oaks, Calif., Honda (94)
9. Chad Reed, Dade City, Fla., Suzuki (93)
10. Aaron Plessinger, Hamilton, Ohio, Yamaha (93)
Photos: Photo Credit: Feld Entertainment, Inc/Simon Cudby