2021 Kawasaki KLX fun-bike and junior KX range has been revealed. The announcement included details on the KLX140, KLX230R, KX65, KX85 and KX100.
KAWASAKI KX85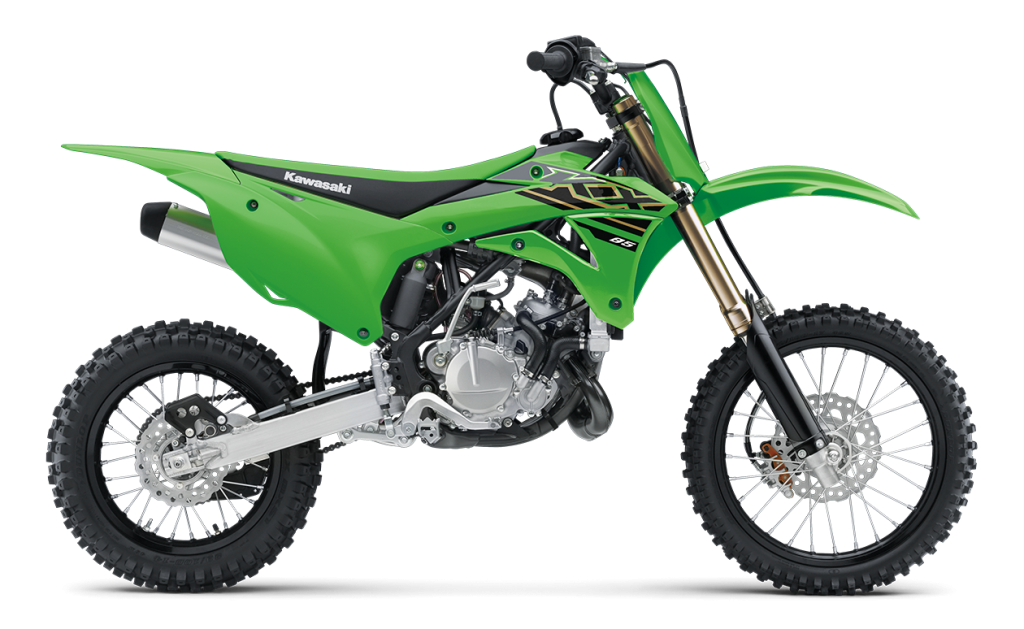 The 2021 KX85 motorcycle defines a "big bike in a small package" and has been strategically developed to meet the standards of youth racers searching for the upper hand over the competition. The two-stroke, 85cc engine is equipped with the highly advanced KIPS powervalve system that generates an easy-to-use wide-spread powerband.
ENGINE
High-performance 84cc two-stroke engine produces crisp, responsive power and offers proven durability to finish each ride with confidence. A close-ratio six-speed transmission and manual clutch allow aspiring racers to hone their shifting skills and get maximum performance out of the KX85 motorcycle.
KAWASAKI INTEGRATED POWER VALVE SYSTEM
The KIPS system varies exhaust port height for increased horsepower and torque. A breather in KIPS cover relieves exhaust pressure for more precise valve action and improved high rpm performance. KIPS lever stopper spring absorbs governor "over stroke" for added durability. The KIPS governor has a long stroke to open the cylinder valves more fully.
SUSPENSION
36mm inverted cartridge fork features adjustable compression damping, enabling excellent tuning throughout the impressive 274mm of travel. The Uni-Trak rear suspension is just as versatile with a fully-adjustable KYB shock, also featuring 274mm inches of travel.
ERGONOMICS
KX85 motorcycles grow with your young racer thanks to the ERGO-FIT system. Featuring six-position adjustable handlebar mounts, ERGO-FIT enables riders to set their ideal ride position.
FRONT AND REAR PETAL DISC BRAKES
For the ultimate in style, the KX85 features petal shaped discs just like the full size KX250 and KX450 models. A 220mm disc at the front and 184mm at the rear provide massive stopping power.
KX85 – AVAILABLE IN 2 SIZES
A fit for everyone. Riders can choose from two available sizes: the KX85-II feature 19" front and 16" rear wheels; the KX85 is equipped with a 17" front and 14" rear. Accessory small wheels from the KX85 can be fitted to the KX85-II.
2021 KAWASAKI KX65

The 2021 KX65 is the most compact bike in the Kawasaki KX lineup, built to serve as the machine of choice for aspiring motocross racers driven to follow in Kawasaki's championship footsteps. The durability and reliability the KX models are known for creating a dependable platform for starting off in racing. Featuring a six-speed transmission, race-ready engine, strong stopping power, and superb handling, the KX65 is built to win.
Its liquid-cooled, two-stroke 65cc engine and light weight chassis delivers strong controllable power and exceptional handling that results in the ultimate recipe for winning races. The 33mm front forks and four-way adjustable rebound damping are capable of performing at the highest level in aggressive terrain, while the rear is fitted with Kawasaki's Uni-Trak single-shock system with adjustable rebound damping and fully adjustable spring preload.
64CC TWO-STROKE ENGINE
Built for competition and to put them out in front of the pack. Easy, competitive operation to assist in building motocross riding skills.
Digital ignition rotor features rare-earth magnets, making it smaller, lighter and more durable. Its low inertial moment improves low-rpm response. High capacity ignition coil delivers a higher secondary voltage for a hotter spark, and the punchier response improves acceleration. Primary gear is secured using a lock-nut to help reduce mechanical noise. The oil seal of the left crankcase has a stopper for increased engine reliability. Metafoam gaskets are used for the generator cover, water pump cover and water pump elbow for improved sealing.
FRONT AND REAR DISC BRAKES
A high-performance engine needs high-performance stopping power and the KX65's mighty front and rear disc brakes deliver powerful braking performance and high resistance to fade. A re-designed front brake lever now also offers even better feel. Large 180mm front and rear disc brakes with single piston calipers for superb braking performance. The rear brake has O-rings sealing the pivot for smooth operation.
BOTTOM-LINK UNI-TRAK REAR SUSPENSION
The KX65's UNI-TRAK® rear suspension system features a rising-rate action increasing the damping strength as the suspension compresses. The nitrogen-charged shock offers 4-way rebound damping adjustability, a stiff spring, and damping settings to accommodate aggressive riding.
33MM CONVENTIONAL FORK
Front fork springs and damping settings reduce bottoming for more aggressive riding. The large 33 mm inner tubes assure rigidity for great handling on rough courses. Four-position rebound-damping adjustment accommodates different riding styles and terrain. Suspension built to reduces fatigue, improve line holding and create confidence.
24MM MIKUNI CARBURETOR
Feeds a 4-petal reed valve for excellent throttle response. Helps the engine to produce good power and torque at all rpm.
FUEL TANK CHECK VALVE
The fuel tank cap vent hose has a check valve to reduce the possibility of fuel seepage.
6-SPEED TRANSMISSION
The KX's smooth-shifting six-speed transmission offers a positive shifting action along with rugged durability thanks to hard chromed shift forks. The clutch is operated manually for maximum control and performance. The ends of the shift forks are hard chrome finished for durability. A bearing that is sealed on one side is used on the shift drum to raise the transmission's oil level for increased lubrication.
2021 KAWASAKI KLX Range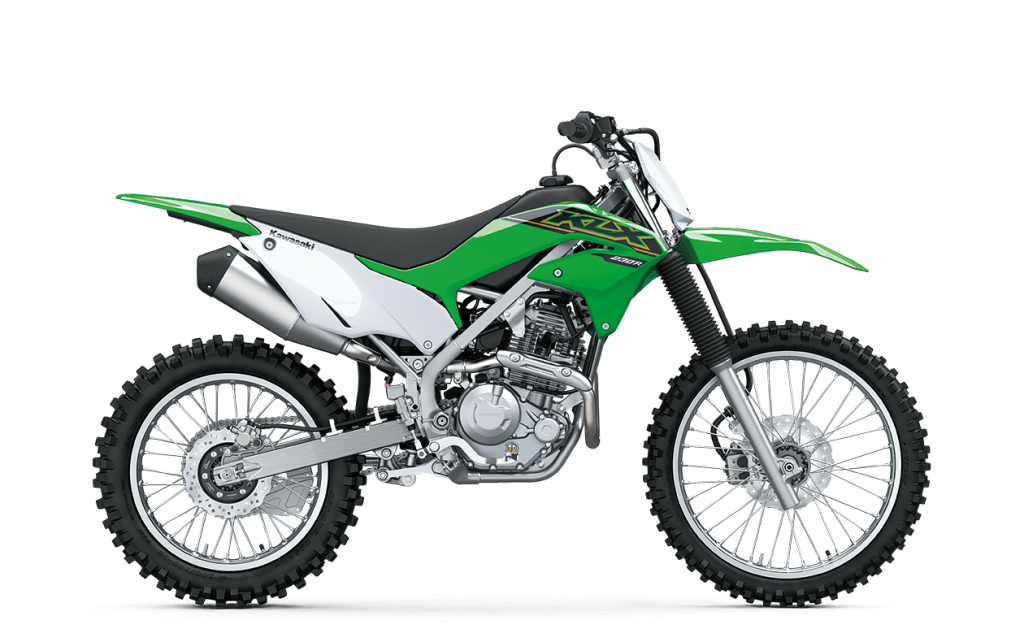 The Kawasaki KLX family of off-road motorcycles are widely popular for their low maintenance, easy-to-ride character, and capabilities while on trails. The three models consist of two engine configurations and are built to suit a variety of riders.
The KLX230R off-road motorcycle has been purpose-built for fun in the dirt. It was designed and built to be a lightweight and easily maneuverable motorcycle for a broad range of riders. A 233cc fuel-injected, air-cooled four-stroke engine utilizes an electric starter and keyless ignition and has been paired with a reliable, six-speed transmission and manual clutch. The KLX230R comes equipped with full-size off-road wheels and tires, using a 21" front and 18" rear, and long-travel suspension for optimal ground clearance.
You can read our review of the KLX230 HERE
The KLX140R motorcycle is available in two model variations. The 144cc, four-stroke, air-cooled, single-cylinder engine features an electric starter and keyless ignition. Its broad and smooth high-revving 144cc engine utilizes a manual clutch and five-speed transmission. The KLX140R uses a 17" front and 14" rear wheel, while the mid-sized KLX140R L motorcycle is equipped with a 19" front and 16" rear wheels to accommodate taller riders, providing extra ground clearance.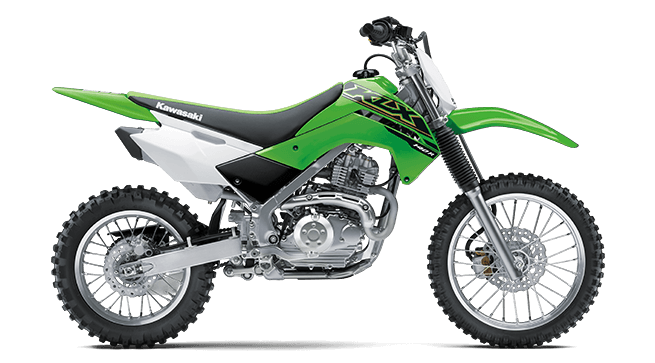 You can read our review of the KLX140L HERE
Information on the full-size 2021 KX and KLX ranges will be released on June 7.