Australia's Josh Strang won the weekend's round of the GNCC and reclaimed the championship points lead.
When the green flag waved SRT/KTM/Kenda Tires' Cory Buttrick grabbed the holeshot but it wouldn't take long for Strang to transition in the lead as they entered the bush.
Defending champ FMF/KTM Factory Racing's Kailub Russell struggled to get off the start and found himself buried toward the back of the pack in the first lap.
Strang held the lead as they checked through timing and scoring for the first time after a quick lap. Rocky Mountain ATV*MC/KR4 Arrive-N-Ride Team's Thad Duvall and FMF/KTM Factory Racing's Russell Bobbitt trailed in second and third.
Russell slowly started reeling in Strang around the halfway point of the race where he was only fifteen seconds behind. N-Fab/AmPro Yamaha' Grant Baylor and Ashburn also settled into a battle in the latter half of the race for the last podium position. After switching back-and-forth multiple times Baylor was able to hold the position once lapped riders came between them.
Once the white flag came out it was an all-out battle between Strang and Russell with only six seconds separating the pair. Russell was able to work his way around Strang but then the two came together and while Strang was able to quickly recover, Russell faced a mechanical issue which left the defending champion unable to finish the race. It was later revealed in a social media post by Russell that the crash had dislodged the fuel pump
"I got off to a quick lead and I think the dust helped me get a gap," said Strang. "Kailub started to catch me on the last two laps and then was right on me on the last lap. Around the six mile marker we had different lines and he came up next to me and we rubbed and I backed off and he passed me. Then about a half mile later the same opportunity came up where I was able to get up next to him and we both came together and got tangled. He hit a tree and then I hit the next tree in line. I'm not a dirty rider but that's racing. We both want to win, and it's unfortunate that it had to be this way."
Ashburn stayed consistent and kept charging in an attempt to catch back up to Baylor. A mere second would separate them as they crossed the finish line in second and third. Both riders have had their fair share of issues this season, but proved today that they will be overall contenders for the remaining five races.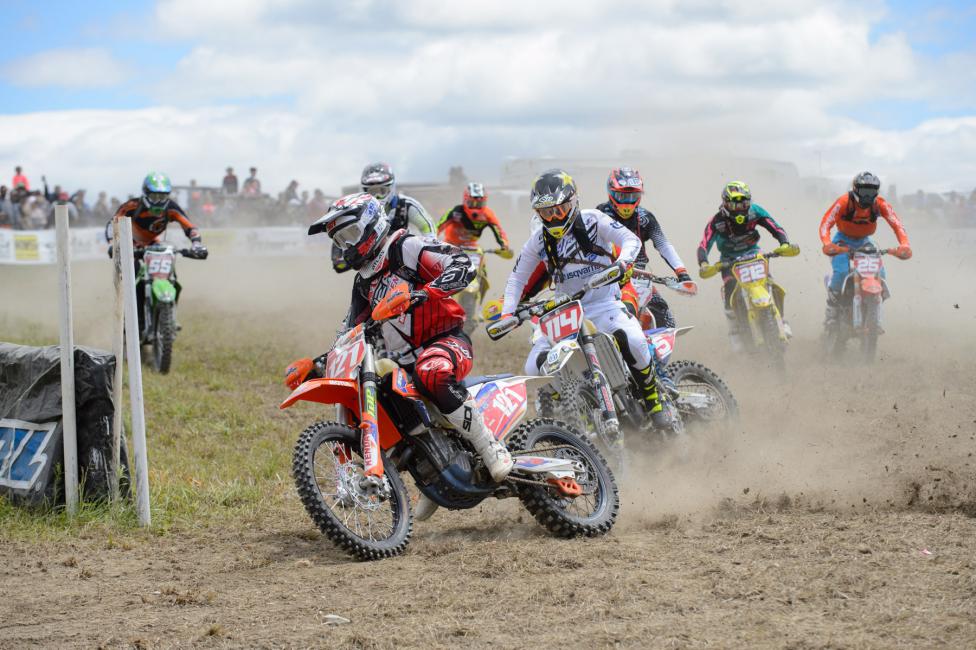 XC1 Pro Event Results:
1. Josh Strang (HSQ)
2. Grant Baylor (YAM)
3. Jordan Ashburn (KTM)
4. Ricky Russell (SUZ)
5. Russell Bobbitt (KTM)
6. Thad Duvall (HSQ)
7. Steward Baylor Jr. (KTM)
8. Chris Douglas (SUZ)
9. Cory Buttrick (KTM)
10. Philippe Chaine (KTM)
*Overall National Championship Standings:
1. Josh Strang (197)
2. Kailub Russell (196)
3. Trevor Bollinger (107)
4. Chris Bach (105)
5. Jordan Ashburn (105)
6. Craig Delong (93)
7. Thad Duvall (84)
8. Steward Baylor Jr. (83)
9. Grant Baylor (81)
10. Ricky Russell (80)
*Indicates that the Overall National Championship Standings will determine the 2016 National Champion.
XC2 Pro Lites Event Results:
1. Trevor Bollinger (HON)
2. Jesse Groemm (KTM)
3. Layne Michael (HSQ)
4. Craig Delong (HSQ)
5. Joshua Toth (KTM)
6. Michael Witkowski (KTM)
7. Trevor Barrett (HSQ)
8. Jason Klammer (KTM)
9. Vance Francis (HON)
10. Ryder Lafferty (HSQ)
XC2 Pro Lites Series Standings:
1. Trevor Bollinger (201)
2. Craig Delong (177)
3. Jesse Groemm (142)
4. Layne Michael (141)
5. Benjamin Kelley (109)
6. Trevor Barrett (91)
7. Joshua Toth (90)
8. Tegan Temple (89)
9. Samuel Evans (84)
10. Michael Witkowski (78)