Lettenbichler crowned WESS Ultimate Enduro World Champion at GetzenRodeo | News
Manuel Lettenbichler (KTM) becomes the 2019 Ultimate Enduro World Champion with a winning ride at the final round of the World Enduro Super Series, GetzenRodeo in Germany.
In what became a fairy tale outing for the home favourite, Lettenbichler delivered a riding masterclass in front of thousands of passionate Enduro fans to win both the morning GetzenRace qualifier and afternoon GetzenChamp race, clinching the world title in emphatic style.
"I'm over the moon, I can't describe it, said Lettenbichler. "To be honest I nearly cried on the podium. It was such a long, tough race today and it's been such a long season.\
"To finish the year with a first place in front of my home fans would have been amazing, but to win the championship as well is unbelievable. I'm on top of the world right now. My plan for today in both races was to get away well and try to control the race from the front. I was a little nervous in this morning's race but thankfully it all went to plan. I was honestly exhausted in this afternoon's race – I couldn't have given any more. When Taddy passed me, I knew I had to dig deep and carry on and thankfully I managed to get past him again and make it to the finish. The fans have been amazing too – I hope they enjoyed the race as much as I did."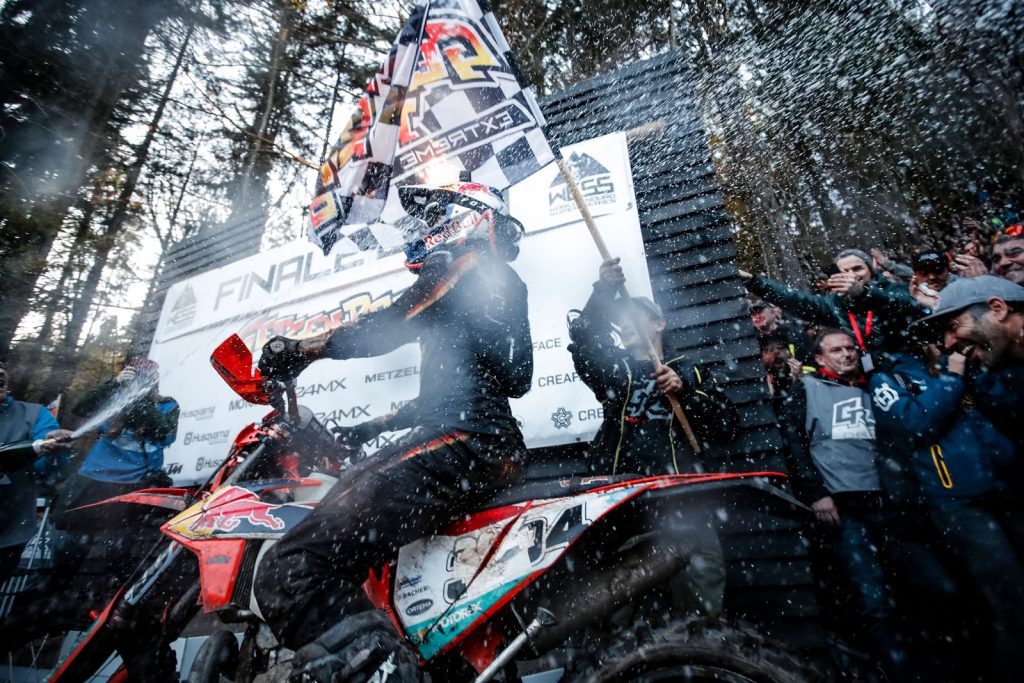 Putting in an incredible final charge in the closing moments of the GetzenChamp race, Rockstar Energy Husqvarna Factory Racing's Alfredo Gomez (ESP) secured second to jump from fourth to runner-up in the final series standings. A sixth-place finish on the day saw Red Bull KTM Factory Racing's Jonny Walker (GBR) slip to third in the championship.
Entering the eighth and final round of the 2019 World Enduro Super Series as champion elect, Lettenbichler didn't put a foot wrong all day. Taking control of the two-hour morning qualifier on lap one, he controlled his pace at the head of the 60-strong field of world-class Enduro riders.
Tone Set For GetzenRace
Going on to win the GetzenRace over Taddy Blazusiak (KTM – POL) and Walker set the tone for what was to follow in the all-important 80-minute plus one-lap GetzenChamp finale. With Gomez, Graham Jarvis (Husqvarna – GB), Billy Bolt (Husqvarna – GB) and Mario Roman (Sherco – ESP) close behind, the outcome of the afternoon battle seemed too close to call.
Lettenbichler wasted no time in establishing himself at the front and took the lead early on lap one. Behind him Gomez, Blazusiak, Walker and Jarvis all fought for position.
As the laps continued Lettenbichler appeared to pull clear of the field, but not from Blazusiak, with the Polish star picking up his pace during the final 30 minutes. Riding right up to Lettenbichler's rear wheel entering the final lap, it set up a showstopper of an ending.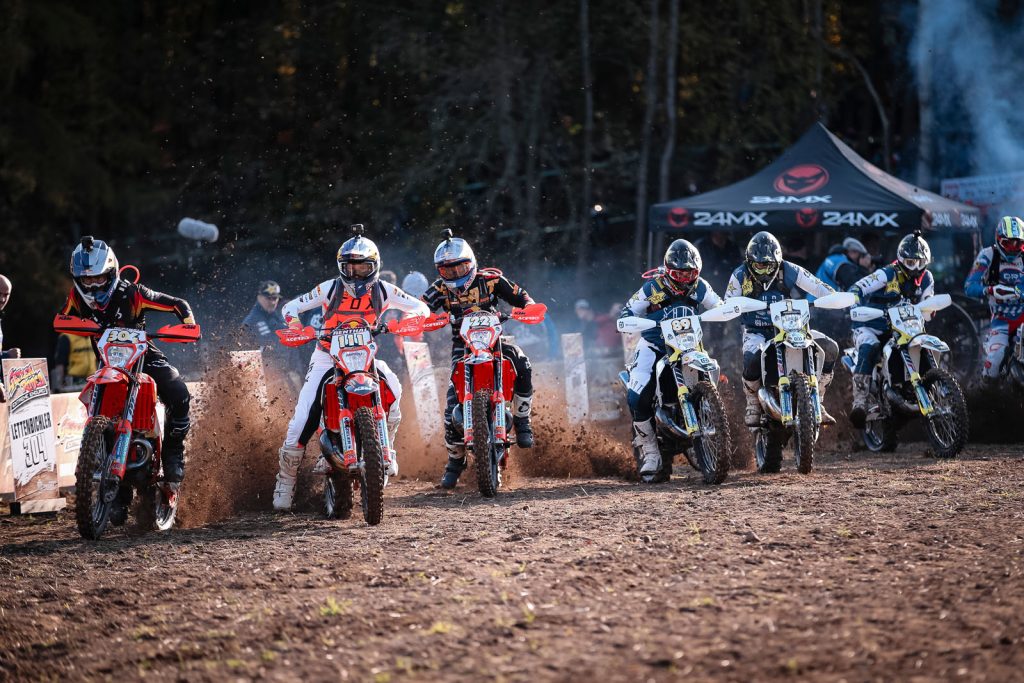 Going for Gold, Blazusiak briefly took the lead but then crashed, giving Lettenbichler the breathing room he needed entering the final Red Bull X-Loop. With Lettenbichler riding clear to claim victory and become world champion, drama then struck Blazusiak when his bike stopped.
Capitalising on Blazusiak's misfortune, Gomez incredibly worked his way past and into second – a move which ultimately sees him jump to second in the championship. With the top three decided, it was Bolt who ended his day in fourth, with TTR Officine Rigamonti Husqvarna's Pol Tarres claiming his best result of the 2019 series with fifth.
With Walker unable to break inside the top-five with a sixth-place result, and with Gomez placing second, it meant the Brit would slip to third overall in the final standings. Jarvis pushed on to take seventh, with Sherco's Mario Roman eighth.
Sweden's Eddie Karlsson impressed by bringing his Sherco home in ninth, while Norway's Ib Anderson completed the top-10 for Gas Gas.
With the 2019 season complete, the eight-round 2020 WESS Enduro World Championship begins with Extreme XL Lagares in Portugal on May 8-10.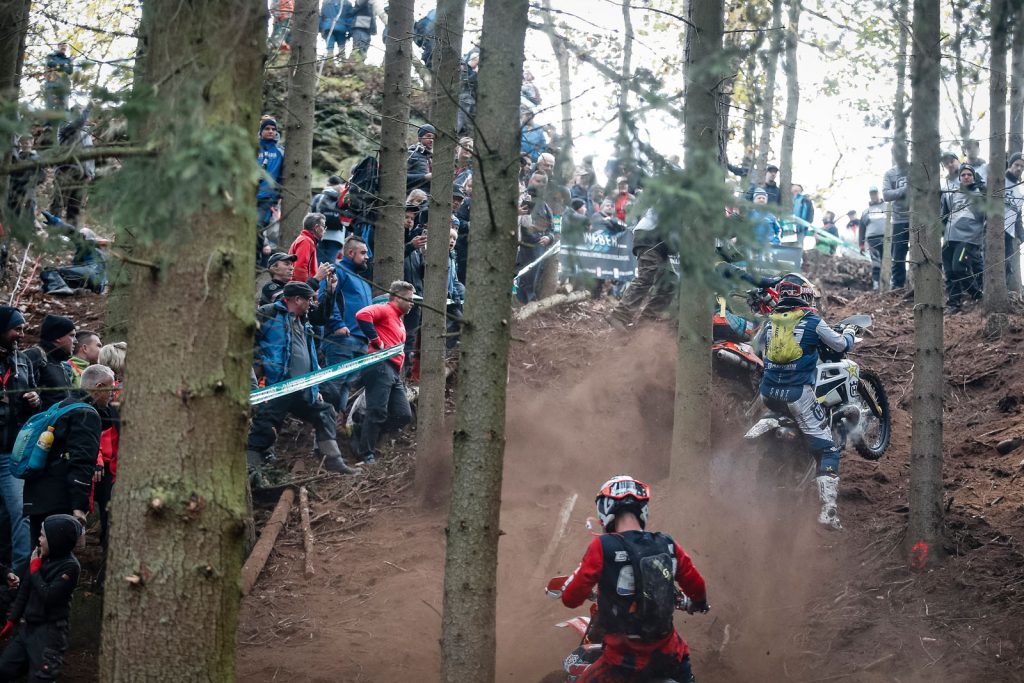 Alfredo Gomez (Husqvarna – ESP): "I'm very happy for myself and the team. I feel a little sorry for Taddy, but I actually damaged my bike on lap two and that meant I had a disadvantage for the rest of the race. I had a few crashes, but I think the race was tough on everyone – it's so physical and the terrain is so technical, there is no time to rest at all. That and the fact that everyone else is pushing as hard as they can makes it really, really tough. I'm really pleased with my result and so happy with second in the championship – it's what we were aiming for and it makes all the hard work worth it."
Jonny Walker (KTM – GB): "It was a really tough race today, I enjoyed it, but I'm a little disappointed not to get second in the championship. I had a good ride this morning, I just stayed consistent and tried to conserve some energy. This afternoon I really tried my best but it wasn't quite good enough. Nevertheless, if you'd offered me third overall at the start of the year I would have taken it. I have struggled all year in the extreme stuff, but I know what I need to work on, and with a good winter to get back to 100 per cent, the plan is to come back next year and attack right from the start of the season."
Taddy Blazusiak (KTM – POL): "I've enjoyed the race and rode my heart out, only to lose out just at the end. It's racing I know, but it seems I get a little more bad luck than others. I'm pleased with how I rode – the race was a little up and down but to catch Mani near the end and take the lead was fantastic. I was really pushing as hard as I could because I knew what I had to do to get second in the championship, unfortunately it just wasn't to be. I have to be proud – I've not given up all year and that is the main thing."
Results – World Enduro Super Series, Round 8
1. Manuel Lettenbichler (KTM – GER) 10 laps 1:52:29.720
2. Alfredo Gomez (Husqvarna – ESP) 10 laps 2:01:32.662
3. Taddy Blazusiak (KTM – POL) 9 laps 1:35:24.393
4. Billy Bolt (Husqvarna – GB) 8 laps 1:40:49.789
5. Pol Tarres (Husqvarna – ESP) 7 laps 1:36:36.490
6. Jonny Walker (KTM – GB) 7 laps 1:38:07.331
7. Graham Jarvis (Husqvarna – GB) 7 laps 1:46:21.162
8. Mario Roman (Sherco – ESP) 6 laps 1:45:55.845
9. Eddie Karlsson (Sherco – SWE) 5 laps 1:36:54.766
10. Ib Anderson (Gas Gas – NOR) 4 laps 1:46:32.079
Final Championship Standings (After Round 8 of 8)
1. Manuel Lettenbichler (KTM – GER) 6110pts;
2. Alfredo Gomez (Husqvarna – ESP) 4884pts;
3. Jonny Walker (KTM – GB) 4810pts;
4. Taddy Blazusiak (KTM – POL) 4620pts;
5. Graham Jarvis (Husqvarna – GB) 4450pts;
6. Josep Garcia (KTM – ESP) 4165pts;
7. Nathan Watson (KTM – GB) 4136pts;
8. Mario Roman (Sherco – ESP) 3560pts;
9. Billy Bolt (Husqvarna – GB) 3415pts;
10. Pol Tarres (Husqvarna – ESP) 3130pts