Rallying on a regular adventure bike is one way to do it but check out this fully worked 2022 Aprilia Tuareg!
WHAT IS IT? 2022 Aprilia Tuareg
WHO OWNS IT? Klaus Nennewitz
WHERE DID HE BUY IT? Borrowed for a race!
HOW MUCH? Free for me
WHAT WAS IT USED FOR?
I used it to compete in the Swank Rally in Italy which featured in issue #523 of ADB. The rally took on all conditions from four-wheel-drive tracks, to fire roads and singletrack sand thrown in as well. There were hill climbs and big descents too. I was riding where those on enduro bikes also went.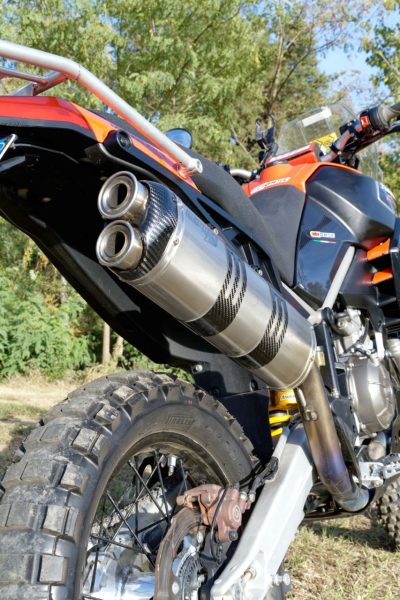 WHAT HAS BEEN DONE TO IT? 
First of all, the front fairing and headlight support, made of plastic material, was replaced with a sturdy frame made of aluminium sheet to carry the road book, including the tripmaster and other electronic devices.
In terms of suspension, an Öhlins cartridge has been fitted to the fork along with standard fork braces, bringing the stroke up to 250mm. At the rear end, an Öhlins TTX shock absorber was installed, providing 275mm of rear wheel travel (stock is 240mm front and rear) with original connecting rods and swingarm. The wheels are composed of billet hubs with Excel rims, 1.65 x 21 at the front and 2.15 x 18 at the rear.
Important modifications were made to the braking systems, always the weak point on these "heavy" dirtbikes. Up front a single disc with a diameter of 300mm and a thickness of 5mm is used (stock is twin 300mm discs 4mm thick) including a different master cylinder using a 12mm piston. At the back wheel a huge disc with a diameter of 280mm and 5mm thickness has been installed, the master cylinder remains the same while the brake lever is now made of steel.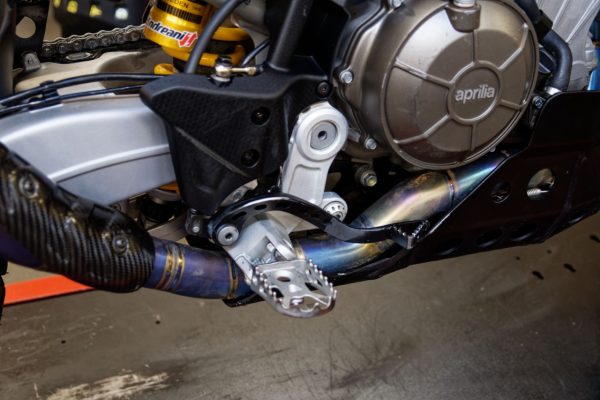 The exhaust system is replaced by a titanium unit from Zard in Italy that allows a considerable weight reduction. This is accompanied by a dedicated engine mapping that gives a fuller low and midrange punch "just like the Ténéré 700", in the words of Vittoriano Guareschi. The entire power unit is now wrapped in a 4mm thick protective plate in aeronautical aluminium.
The side stand has been redesigned in steel tubing, the handlebar has a straighter bend and has been cut 5mm on both sides, a small luggage rack has been installed for the tool kit. The final drive ratio remains stock, same for the fuel tank, airbox, fairing, dashboard and lights.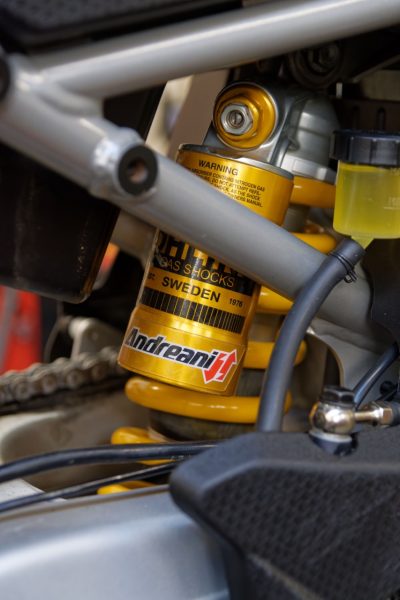 HOW DOES IT GO? 
My first impact with the bike was frightening and made me feel a bit like Gaston Rahier alongside his mighty BMW GS Dakar! Pushing it was a completely new sensation because the handlebars are at torso height.
Getting on the saddle required some workout because with the raised seat height of over a metre it became impossible for me to touch the ground with both feet. So the technique was to sit on my thigh while one leg rested on the ground. To get going it's best to put the bike into first gear from a standstill and hop on just like on a horse.
The Tuareg particularly excelled in continuous brake/acceleration sliding through the corners. Thanks to a rear brake system and a clutch that allowed an extraordinary feeling for controlling the bike at the limit. The dark trace on the ground caused by the spinning rear wheel remained continuous and uninterrupted. Few motorbikes in the world, and even fewer ADVs, allow such fine handling.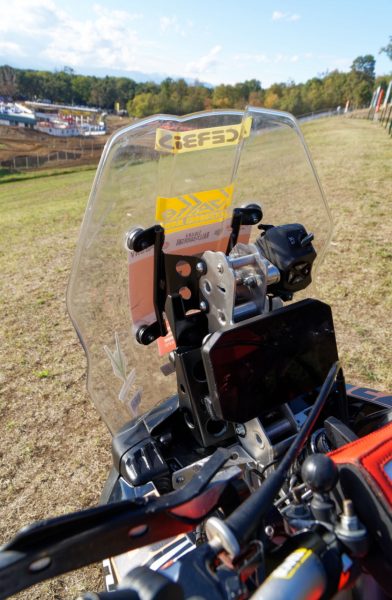 WOULD YOU RECOMMEND BUYING ONE? 
Yes! It did everything the other, smaller enduro bikes did but just required a little more effort. You can ride this bike across the country to use in a rally and then ride it home.