ADB is throwing its support behind the 12th running of the Kowen Forest Ride and offering readers the chance to win the full two-day trailride experience.
The winner will be given free entry to both days' riding, meal vouchers, two nights' accommodation, their choice of the 2017 KTMs to ride for the weekend and a KTM jersey, pants and gloves.
No only will the winner receive all that, but they'll also get full VIP treatment for the duration. We are talking exclusive early access to the trail on both days, permission to jump the line at food and drink queues, reserved seating at the captain's dining table and most importantly, their own personal VIP toilet.
For details on how to enter, check out the latest issue of ADB Magazine (449) – on sale now!
The Ride
The 2017 ride will be held over the weekend of 8-9 April. Riders will be allowed access to the camping area from 4pm on Friday, 7 April, with riding starting at 8.30am the following morning.
Riders will have exclusive access to 160km of marked trails which weave through the Kowen Forest Pine Plantation on four separate loops. Kowen is normally closed to the public and can only be used with a permit, making the ride a rare opportunity to explore the forest.
The Kowen Forest Ride caters for all skill levels. Two 60km loops headline the ride while beginners will have the option to ride easier, shorter loops and participate in special training sessions both mornings at 11am. Entry-level rides will be run on both days at 2pm.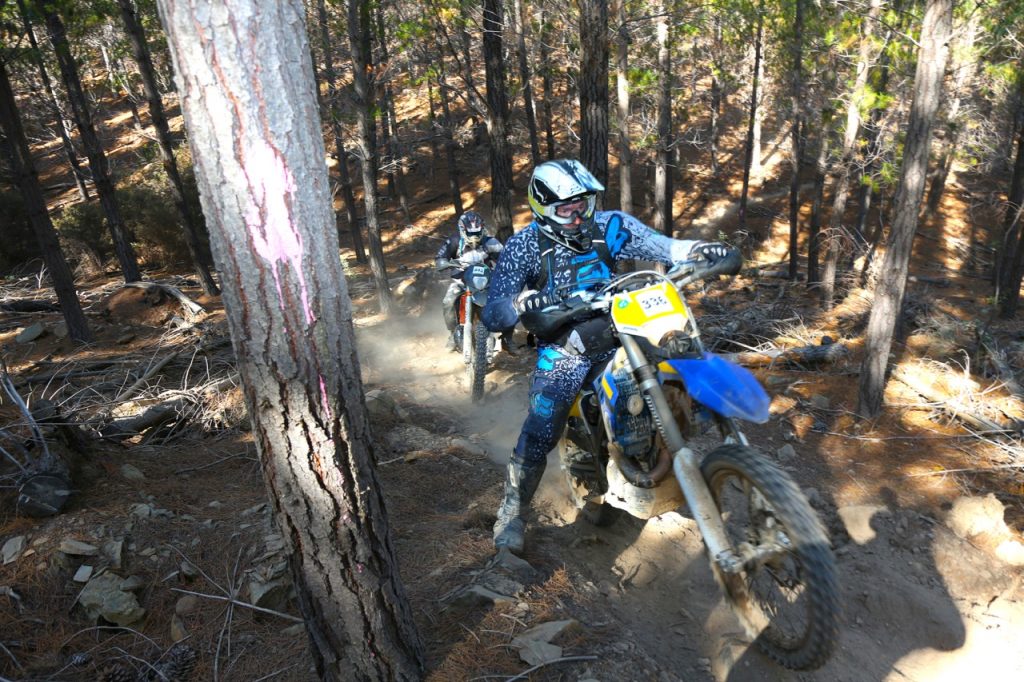 The camping area has been greatly expanded, riders will have an option to leave early to allow for more people in the afternoon and more demo bikes will be made available for test rides. Plus, the first 200 entries receive a free Kowen Forest Ride T-shirt.
This year will be the 12th running of the Kowen Forest Ride and event organiser Shaun Lonergan is telling riders to expect a lot of new terrain.
"The Kowen trailride is legendary for its singletrail. Like in previous years there will be two loops, east and west. Easy and hard," he said.
"From what riders have told us, the level has always been spot on but there were a handful who wanted more of a challenge. So this year we've decided to include a few extreme sections in the west loop.
"They will be much more difficult than what you would have seen at the Kowen Forest Ride, but these will all have an easy way around for riders not up to the challenge."
Rider will also have the chance to test their skill on an all-new trials obstacle course. "We have been working with the guys at Trials Experience to build the biggest obstacle course we've ever had at the Kowen Forest Ride," Lonergan said.
EXTREME COURSE
"Any rider will be able to have a crack at it. It'll be pretty difficult but because riders will be on enduro bikes we won't make it a true trails course, it'll be more of an extreme endurocross course. The course will be the centre piece of the event central so everyone will be able to watch."
If you've already paid your entry for Kowen and you win our competition, DSMRA will refund your entry.
All registered riders will receive a six-month subscription to the print edition of the mag plus the chance to win one of two KTM enduro bikes. First prize will be a KTM 500EXC-F.
Second prize will be a 300EXC and third will be a $1500 gift voucher from Canberra Motorcycle Centre. If that isn't enough there will be over $4000 worth of dirtbike-related products given away.
Riding spots are limited and this ride has a habit of selling out fast – head to www.dsmra.asn.au to register.