2T vs 4T – Husqvarna FC250 & TC250 Comparison | Bike Reviews | Features
Husqvarna is at the top of its game right now, manufacturing some of the best motorcycles on the planet while earning terrific results around the world.
There's no better example of its hard work than in the 250cc motocross class, where it has two-stroke and four-stroke options.
So, we decided to put these two different pieces of Husky technology head to head, and see how they compare.
Lee Hogan and Jeff Briggs' would be the test pilots, here is what they thought.
LEE HOGAN'S TAKE
My first few laps on the FC were a blast. The thumper is an awesome bike that has great power right through the range and handles a treat.
I hopped straight onto the TC two-stroke and eased my way into things. The handlebar, seat, footpegs and balance felt the same as the four-stroke, which gives you the impression that the bike will feel similar on the track. Not so.
I rolled the power on in second gear and the surge of grunt almost threw me off the back. I was a little thrown by the aggressiveness of this engine.
But I started to realise that the only way to ride this bike smooth was to ride it flat out. Once it was in the powerband and pulling the bike made terrific power. And a lot of it.
However, the power came on so strong off the bottom that it was like a light switch. I've never ridden a 250cc two-stroke that came on with quite so much of a hit right around 3000rpm.
So I figured out very quickly that if I wasn't going to look like a gumby I had to keep this bike above 3000 at all times.
The two-stroke was awesome at blasting berms and rocketing down straights, but was so much more difficult to judge distances with the bigger jumps, and numerous landing ramps were missed in those early laps. The suspension worked extremely well and the ergos felt identical to the four-stroke.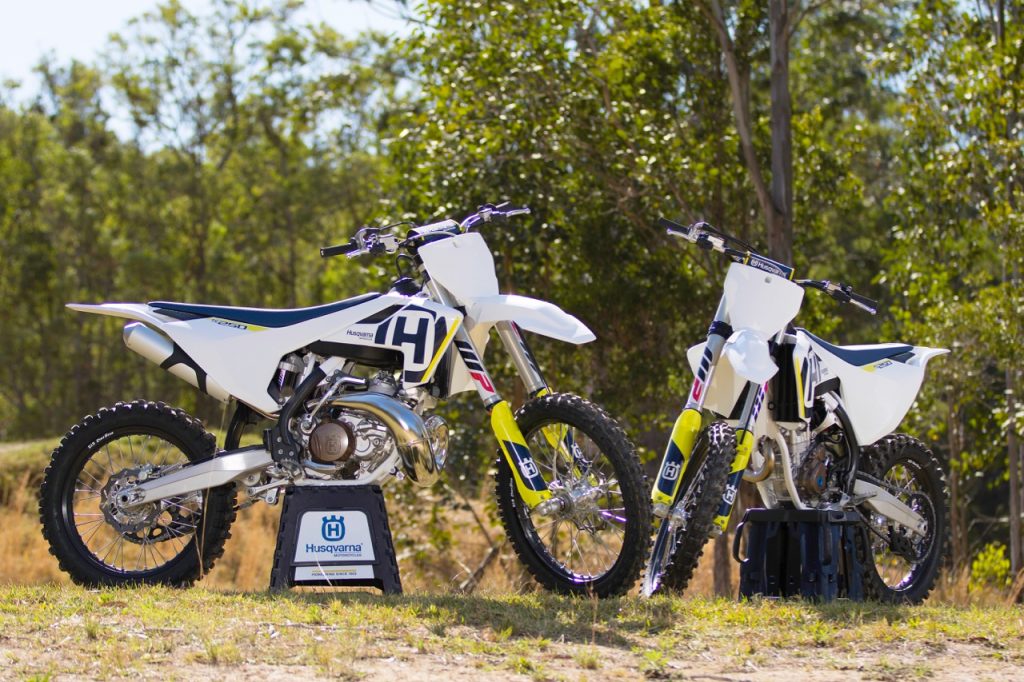 JEFF BRIGGS' TAKE
The word that comes to mind after riding the TC250 is "aggressive". I ride a 300cc two-stroke and was blown away by how much this 250 felt like it had an extra 2-3hp.
As a stocker this bike is very competitive and at first, feels like it's going to rip your arms out of their sockets until you adjust to winding that throttle on gently and remembering what's about to come.
The fork works well. The rear was a little hard to keep tracking on the hardpack due to the power delivery but with a few clicker adjustments of the compression and rebound we got it working great around the whole track. It also stood up to a few big hits from me going 110ft on an 80ft jump.
This bike is the perfect race bike for person on a budget that wants to be competitive and up front without having to spend a dime looking for more power.
The FC250 surprised me. The torque was so smooth and useable it was a pleasure to ride. Not once did I find myself on the clutch searching for more out of a corner, which is rare for me on a 250. This was really complemented by a motor that pulled well though the mid and all the way to the top end. For a 250 this thing felt like it had been brought close to FC350 spec and had a smoothness that made me not want to hop off.
The traction control and map switch are an added bonus and work well in a way that feels like you have throttle control beyond your ability.
Read the full test in ADB Issue #459 – on sale November 6.