Adam Cianciarulo Seizes the Overall Victory at Spring Creek | News
Kawasaki rider Adam Cianciarulo went 1-1 for first overall at Round 6 of the Lucas Oil Pro Motocross Championship, the Spring Creek National.
The 450 class rookie, Adam Cianciarulo, picked up right where he left off after the championship took a week break, with a nearly perfect weekend after grabbing both holeshots and leading every lap of the Spring Creek National to the overall victory with 1-1 moto scores.
450MX Race Recaps
As the gate dropped on the opening 450 Class moto, Cianciarulo grabbed his third consecutive holeshot of the season, followed by KTM Factory Racing's Marvin Musquin and Team Honda HRC's Chase Sexton. Championship point leader Zach Osborne circulated the opening lap in fifth aboard his Husqvarna Factory Racing machine.
The top three riders continued to pace each other out front, separated by just seconds for the first several laps. At the 20-minute mark, Rocky Mountain ATV/MC-WPS-KTM's Blake Baggett started to inch his way up towards the lead group, eventually latching onto and finding his way by Sexton for third. Baggett's push forward didn't stop there as he slowly started chipping away at the gap between Musquin and himself.
With Cianciarulo clicking off lap-after-lap, Musquin continued to search for faster lines behind him, but every time he would close in on the Kawasaki's riders rear fender, Cianciarulo managed to retaliate by reestablishing the gap. With just minutes remaining in the moto, Musquin made a costly mistake that saw him stall his motorcycle and relinquish the second position to Baggett.
Cianciarulo withstood the pressure like a seasoned veteran to take his second premier class moto win by 1.7 seconds over Baggett. Musquin would rebound to finish third, followed by Osborne.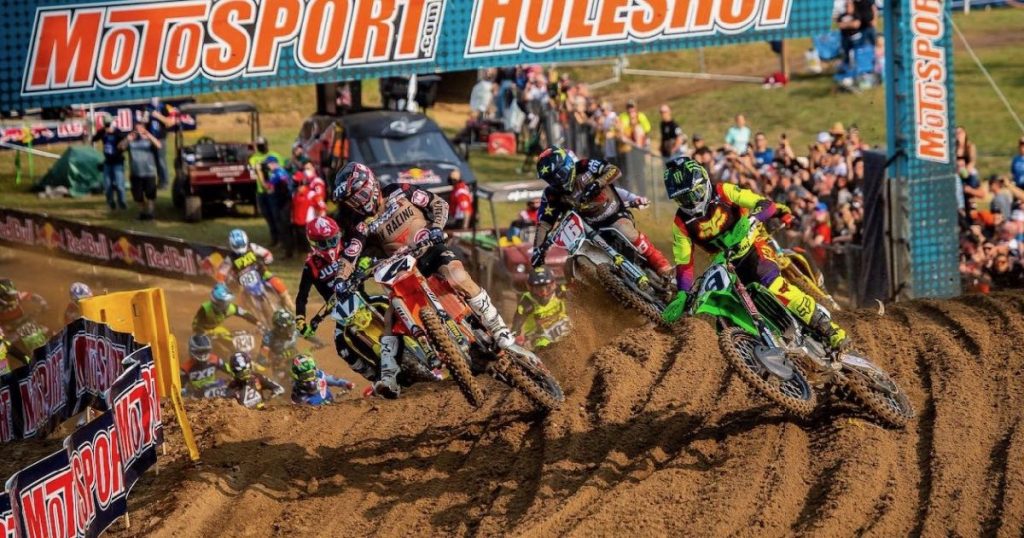 The final 450 Class moto of the afternoon once again saw Cianciarulo grab the holeshot to sweep the holeshots for the second consecutive round, followed by Baggett and Osborne. The rookie Sexton started in fourth, but quickly made his way around Osborne for third, just ahead of Musquin in fifth.
Cianciarulo continued his opening moto form by using the clear track to his advantage to open a small lead over the riders behind him. Sexton found his groove as he charged his way up to Baggett, eventually finding his way by for second and closing in on the leader Sexton. As the race wore on, Baggett refused to settle and eventually found his way back around Sexton to retake second.
Out front, Cianciarulo finished the race unchallenged to take his third moto win of the season by 2.7 seconds over Baggett. Sexton held on to finish third.
The 1-1 sweep gave Cianciarulo his second consecutive overall win in the premier class.
"For the first time, I'm almost at a loss of words! Going 1-1 was huge for me," said Cianciarulo. "It's a great accomplishment that I'm really proud of and something I wasn't even able to do last year in the 250 class when I won the championship. We've worked really hard to get to this point and even though I had a rough start to the season, all the hard work is paying off. My Monster Energy Kawasaki team sets me up in a position to win every week, so it feels good to bring home a win for them."
Baggett's consistency earned him second overall (2-2) while Barcia took the final step of the podium in third (5-4).
Despite finishing 10th overall (4-16) on the day and watching his points lead shrink, Osborne kept the red plate with a 15-point advantage over Cianciarulo who overtook Musquin. The Frenchman sits an additional five points behind in third.
Spring Creek 450MX Overall Results
1 Adam Cianciarulo 1 – 1
2 Blake Baggett 2 – 2
3 Justin Barcia 5 – 4
4 Chase Sexton 8 – 3
5 Eli Tomac 6 – 5
6 Marvin Musquin 3 – 10
7 Christian Craig 7 – 6
8 Joey Savatgy 9 – 7
9 Max Anstie 10 – 8
10 Zach Osborne 4 – 16
Spring Creek 450MX Overall Results
1 Zach Osborne 235
2 Adam Cianciarulo 220
3 Marvin Musquin 215
4 Eli Tomac 196
5 Justin Barcia 194
6 Blake Baggett 190
7 Chase Sexton 173
8 Christian Craig 141
9 Broc Tickle 134
10 Joey Savatgy 122