FIRST LOOK: 2020 Husqvarna Enduro | News
Husqvarna Motorcycles has launched the complete range of MY20 TE and FE enduro models boasting key chassis, suspension and engine developments.
WHAT´S NEW IN MY20
=>New frame on all models offering increased longitudinal & torsional rigidity
=>TE 150i featuring electronic fuel injection
=>New 250g lighter 2-piece subframe across the model range
=>Updated WP XPLOR fork with new mid-valve piston & setting
=>Updated WP XACT shock with new main piston & setting
=>New shock linkage dimension providing reduced seat height & added control
=>All-new exhaust systems for optimal performance & durability
=>New seat that places rider 10mm closer to the ground
=>Improved cooling circuit with radiators placed 12mm lower
=>Progressive new bodywork design offering new and improved ergonomics
=>Updated 4-stroke engines offering improved performance & rideability
=>1° lower mounting on T 250i/300i engines for improved front end traction
=>Updated TE 250i/300i cylinder for superior 2-stroke performance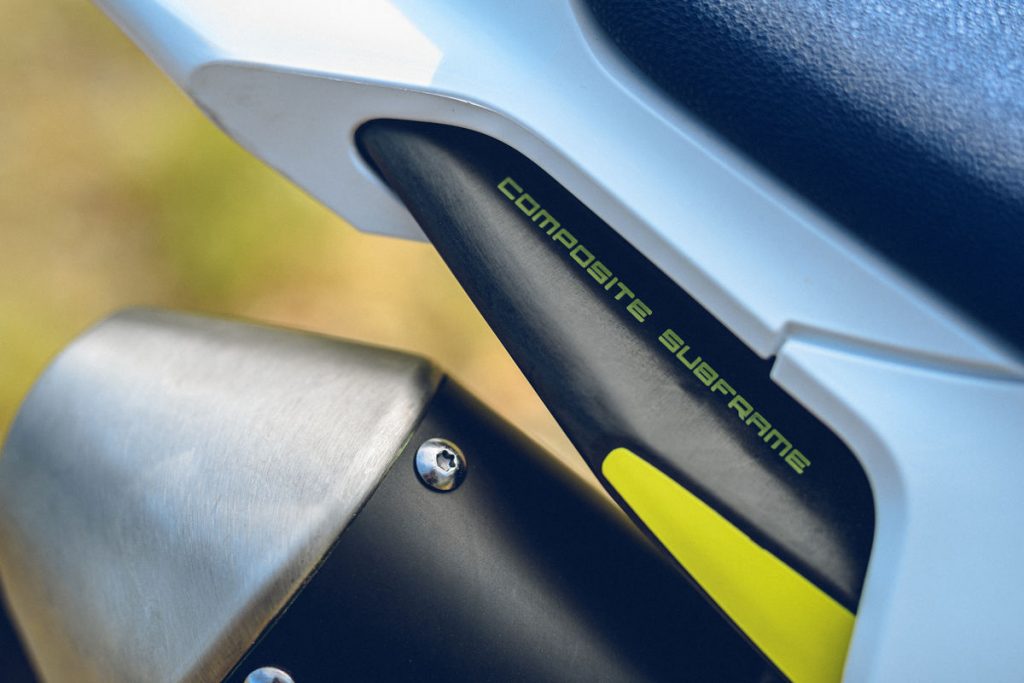 FEATURES AND BENEFITS – 2-STROKES AND 4-STROKES
Frame
The chrome-moly steel frame is expertly crafted using hydro-formed tubes, which are laser-cut and robot-welded to ensure the highest levels of precision and quality. Harnessing advanced geometries, the frame is developed using specifically calculated parameters of longitudinal and torsional flex. For MY20 the frame features an increase in longitudinal and torsional rigidity providing improved rider feedback, energy absorption and stability.
The cylinder head mountings are now forged aluminium on all models, further improving handling characteristics and comfort while on the TE 250i/300i the engine is mounted 1° lower at the swingarm pivot to improve front wheel traction and feeling.
The frame is finished off with a premium blue coloured powder coating and standard frame protectors, guaranteeing superior protection and durability.
– Increased longitudinal and torsional rigidity → improved rider feedback, energy absorption and stability
– Forged aluminium cylinder head mountings on all models
– 1° lower mounting on TE 250i/300i engines → improved front-end traction and feel
– Durable powder coated finish with standard frame protectors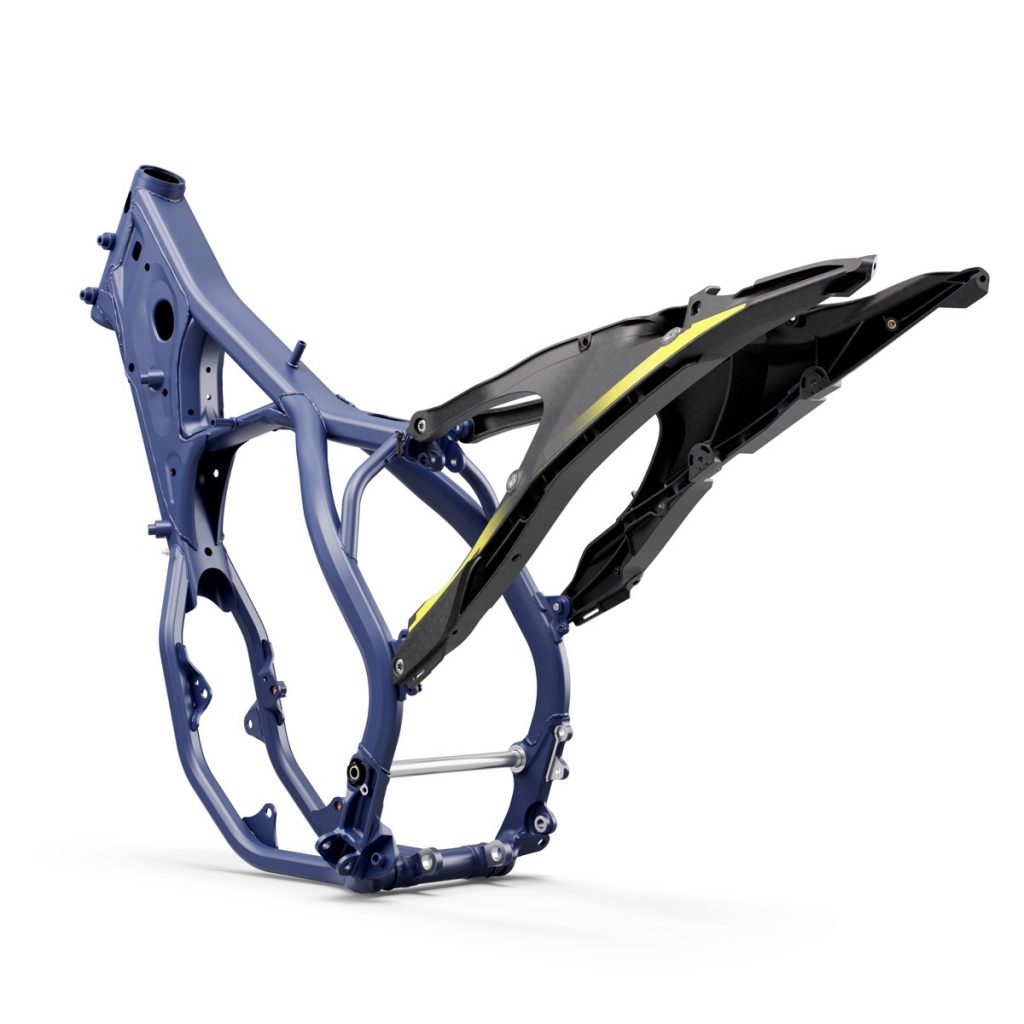 Composite carbon fibre subframe
Unique to Husqvarna Motorcycles, the carbon composite subframe showcases pioneering technologies and innovation. Using 70% polyamide and 30% carbon fibre, the new 2-piece subframe saves 250g for a total weight of just over 1 kg. Apart from being robust, specific care is taken by increasing the subframe's length by 50 mm to create the perfect rigidity for exceptional handling and rider comfort.
– New 2-piece subframe → 250g saving
– Carbon fibre composite construction → light-weight and robust
– Increased length → exceptional handling and comfort
Fork
The MY20 XPLOR forks features an updated mid-valve piston that delivers a more consistent damping function while a new setting allows the forks to operate higher in the stroke, delivering improved rider feedback and bottoming resistance.
– WP XPLOR front fork → 48 mm spring type with split damping function
– Updated preload adjusters
– New mid-valve piston and setting → superior performance, feel and comfort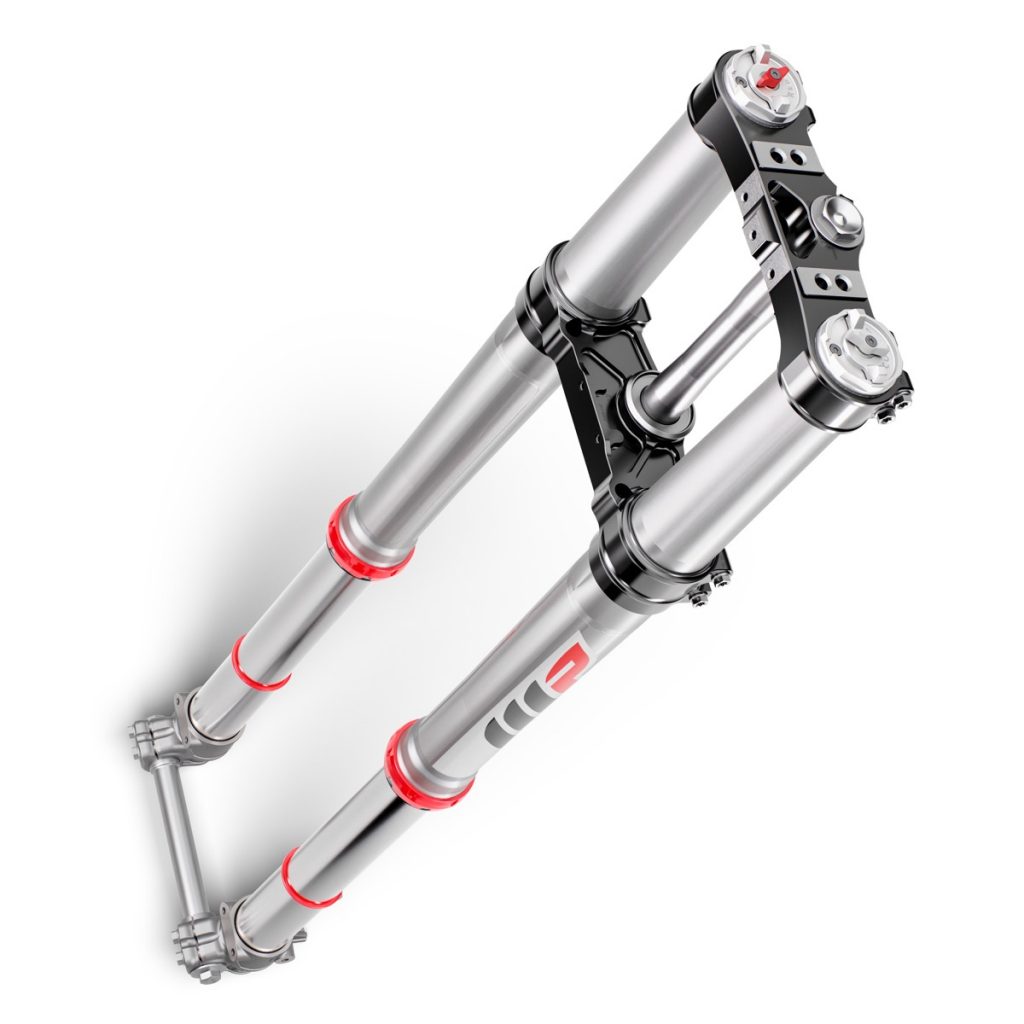 WP rear shock
Featuring a new main piston and updated settings, balanced with the new front-end set-up and frame rigidity, the WP XACT shock is further perfected to provide advanced damping characteristics while keeping a compact and light-weight design. With a pressure balance inside the shock, damping is consistent for superior rider comfort and handling.
Using the same linkage progression found in the Husqvarna Motocross range, the rear-end now sits lower, improving control and comfort in extreme enduro conditions. Additionally, by using a softer spring rate and increased hydraulic damping the rear shock maintains comfort with added sensitivity and feel.
– New main piston and setting → balanced with new front-end set-up and frame rigidity
– New Linkage progression → improved control and comfort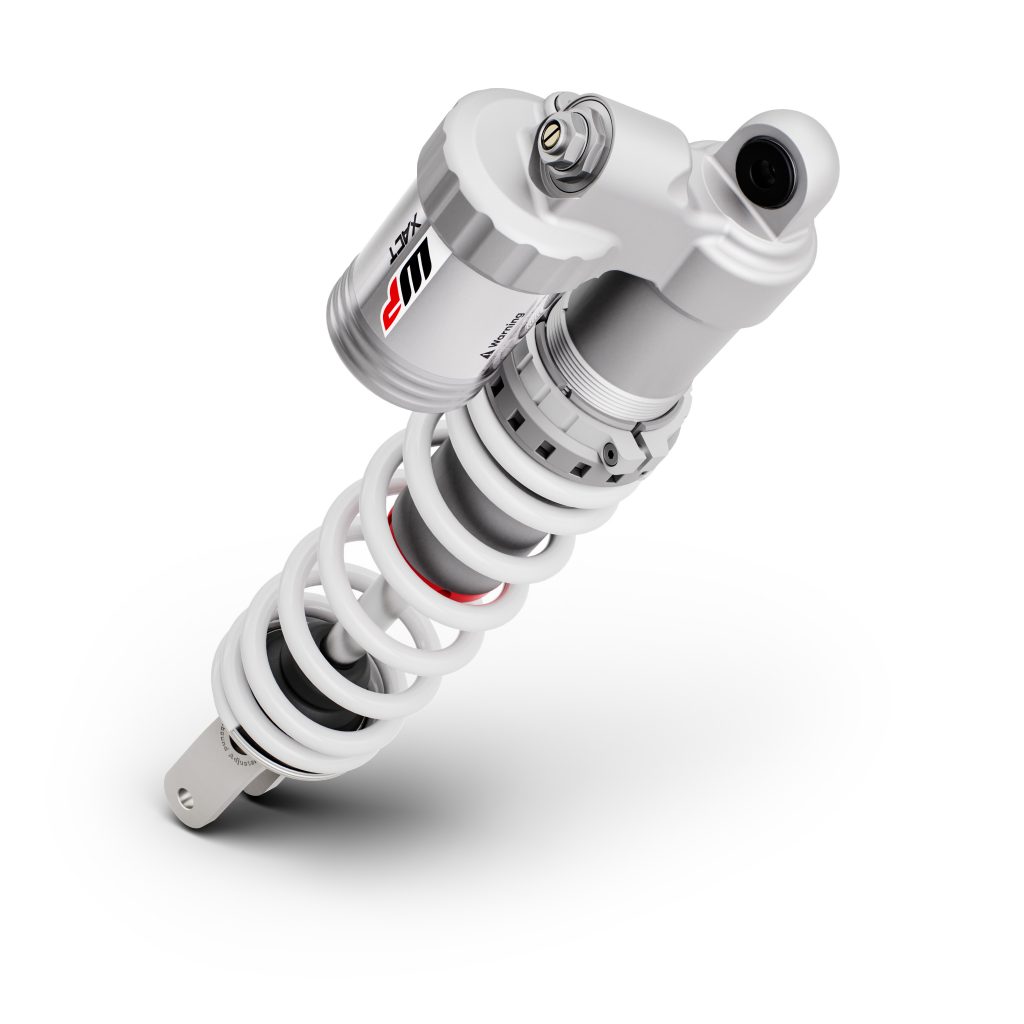 Exhaust system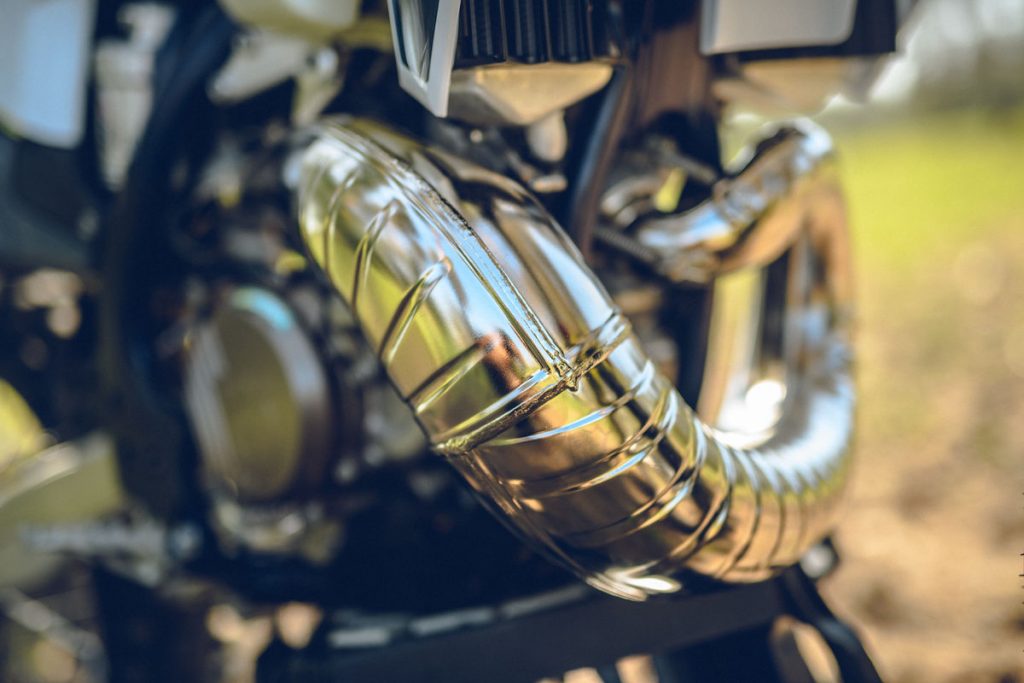 The 2-stroke header pipes offer further improvements in geometry and performance. The TE 250i/300i header pipe is 25 mm narrower and offers more ground clearance making it less susceptible to damage while a corrugated surface makes the header pipe more durable and resistant to damage from rocks and other hazards found on enduro trails. The 2-stroke mufflers feature a new aluminium mounting bracket with new internals and less dense packaging material for more efficient noise damping and a weight saving of 200g.
The 4-stroke exhaust systems are expertly designed to deliver leading performance at the lowest possible weight. The header pipe is separated in two pieces, designed to be as compact as possible. The new header pipe also features a new joining position allowing it to be removed without detaching the rear shock. The new silencer is shorter and more compact without increasing the noise level.
– New exhausts → light-weight, optimal performance
– Corrugated surface on TE 250i/300i → more durable against damage
– New header joining position on 4-stroke → removable without detaching rear shock