Honda CRF450L Adventure Build | Features
If you're as grey around the temples as me, you probably remember the mighty days of Honda's XR trailbikes.
In the 1980s and into the '90s, and even the early '00s, XRs were like backsides: just about everybody had one, and enough toilet paper to keep it clean.
The bikes were unbreakable, fun to ride and priced right, making them economical to buy and run. Meanwhile, names like Hederics, Ballard and Bell here, and Ogilvie, Summers and Campbell in the US, took turns at helping to put the capital 'L' in XR Legend.
So what happened to the XRs? Ever stricter global emissions requirements and Yamaha's YZ-F/WR-F 'new-generation' kicked the Red Riders in their reproductive organs. Honda fought back with the liquid-cooled CRF250X and CRF450X enduros, but they never quite recaptured the mass appeal of the XRs.
Now Honda's back with the CRF450L that hit the market 18 months ago looking like a serious CRF450R/X crossbred off-road weapon, but fitted with all sorts of global emissions requirements to make it road-legal around the world.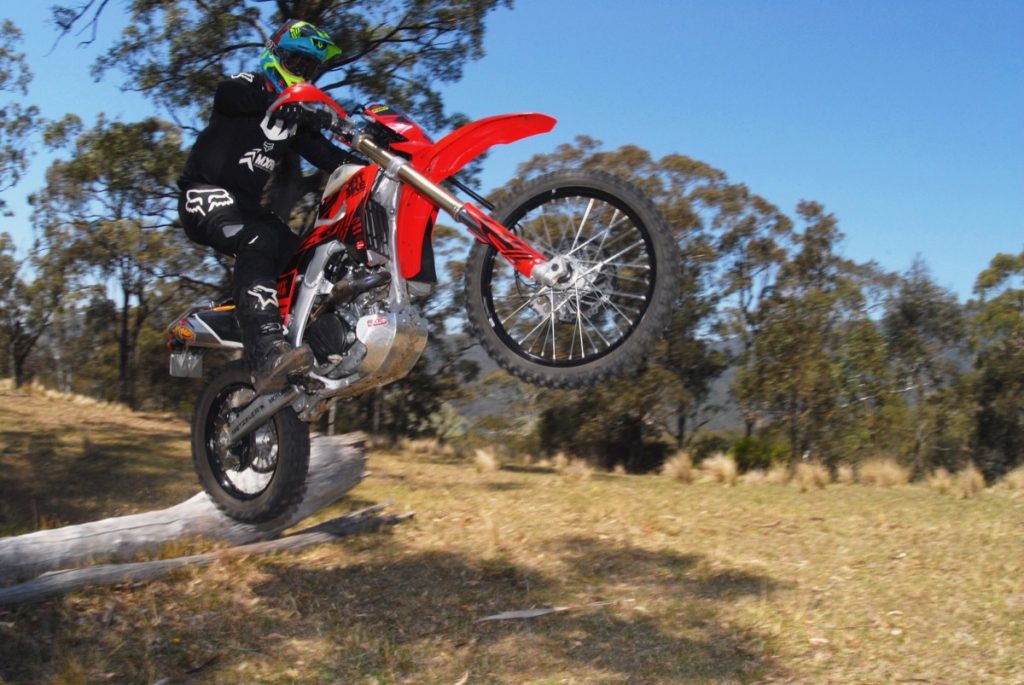 ADB's first test of the 450L appeared in December, 2018 (ADB #471), and we said it made a great trailbike. The power was mellow, the suspension softish and it carried its weight well compared to some, but we just had to wonder if it could be made into a more serious off-road weapon, like the previous 450X models and the latest CRF-X six-speeder sold in America. So we were rapt when Honda agreed to supply us with a long-termer. Who's sorry now?
The CRF450L lived on both sides of the border during its time with ADB. For the first few months it came under the "care" of Editor Mitch Lees, who wanted to put a little more fire in the 450L's belly and get a little pork off its fork. So he took the bike to our Tech Editor Mat Boyd's "chop shop" and they stripped it of as much road gear as possible in an effort to transform it into a more serious off-road mount.
In no time flat, OEM items lovingly crafted by Honda to meet stringent ADR and EU requirements, including the chainguard, clutch cover noise shield, stator cover shield, exhaust heatshields, taillight bracket, sidestand cut-out switch, rear brakelight switch, airbox lid, radiator overflow tank, horn and left-side frame guard were ripped off and tossed in a whopping big box with stickers saying: 'NLN, No Longer Needed' and 'Heavy. Lift with Care'.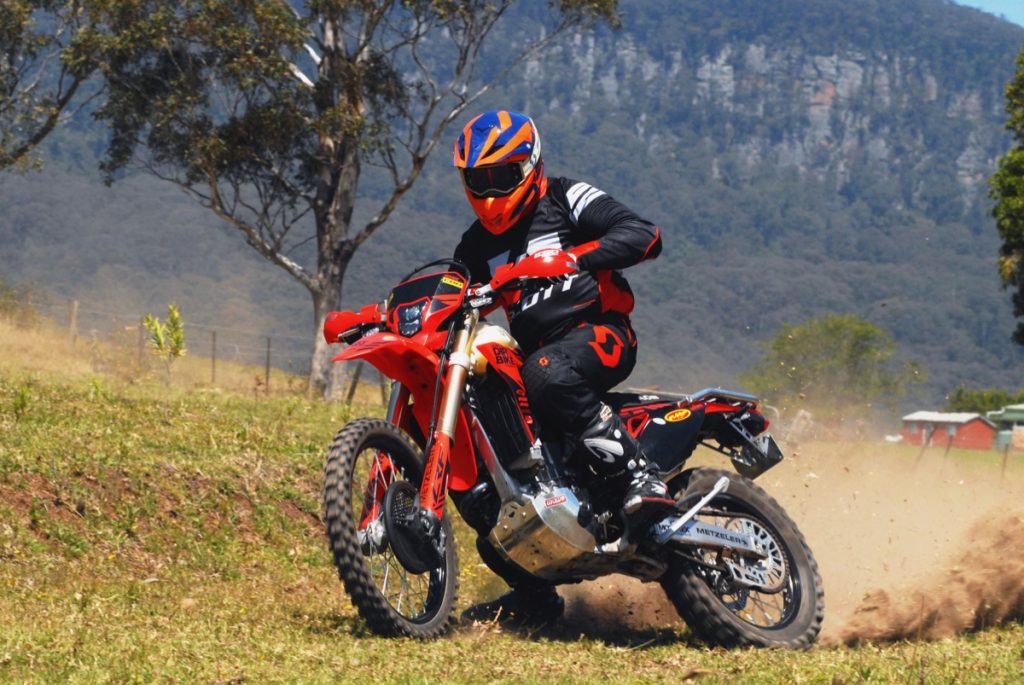 TYRE CHANGE
The 51-tooth steel rear sprocket with rubber dampers was also removed and replaced with a 53-tooth alloy RHK sprocket from JTR. All up, Boydy managed to take almost seven kilos off the 450L (ADB #476). The man's a hero.
While they were at it, the boys fitted Metzeler MC360 tyres, a Topline seatcover, ADB graphics from Kustom MX, Ballard's slimline taillight and Cycra handshields. Mitch ran the bike in this spec (when briefly uninjured) and while the weight saving, lidless airbox and lower final-drive gearing certainly helped to boost the L's performance in the bush, it was still way more trailbike than enduro [no kidding!] In hardcore singletrack riding the 450L still had a top-heavy feel and lacked the aggressive punch that 450 enduros deliver.
CRF450L Adventure Build
Soon after, a broken Mitch steered the 450L my way for stage two of its life at ADB and gave me a brief to make it into a light dualsport and adventure machine. And you guessed it: that meant putting heaps of the ADR gear back on to make it street-legal again. Those first few nights in the shed would have been perfect for CV-19 lockdown, as I got all the wiring, switchgear, indicators, tail/brakelight and the rest operational again.
Then I started with some genuine Aussie aftermarket goodness, which included a set of EGO Barkbusters with red foils, and a bashplate, compact rego plate hanger and rack from B&B Off-Road, all of which were straight-forward bolt-ons. Then came a set of Click 'N' Ride indicators, which were more involved to fit than I expected as they share nothing in size or shape with the stockers, plus they use bullet connectors, whereas the Honda has multi-pin connectors throughout. Once fitted, they worked a treat and can be quickly removed and stashed in your bumbag or backpack when you get in deep among the trees.
Then, to give the 450L a handy boost in range, Victoria's Nomad Tanks offered us one of their 11-litre fuel cells to replace the stock 7.3-litre titanium number. After swapping the fuel pump across, the Nomad tank slotted straight into place and instantly gave the 450L over 200km range in typical trail and dualsport riding.
I rode the bike with that set-up for a few months, but the big-ticket item we had been waiting for was a long-promised FMF exhaust with header pipe oxygen sensor. Riding the 450L, you always felt there was more to be had … if only those ponies could be freed!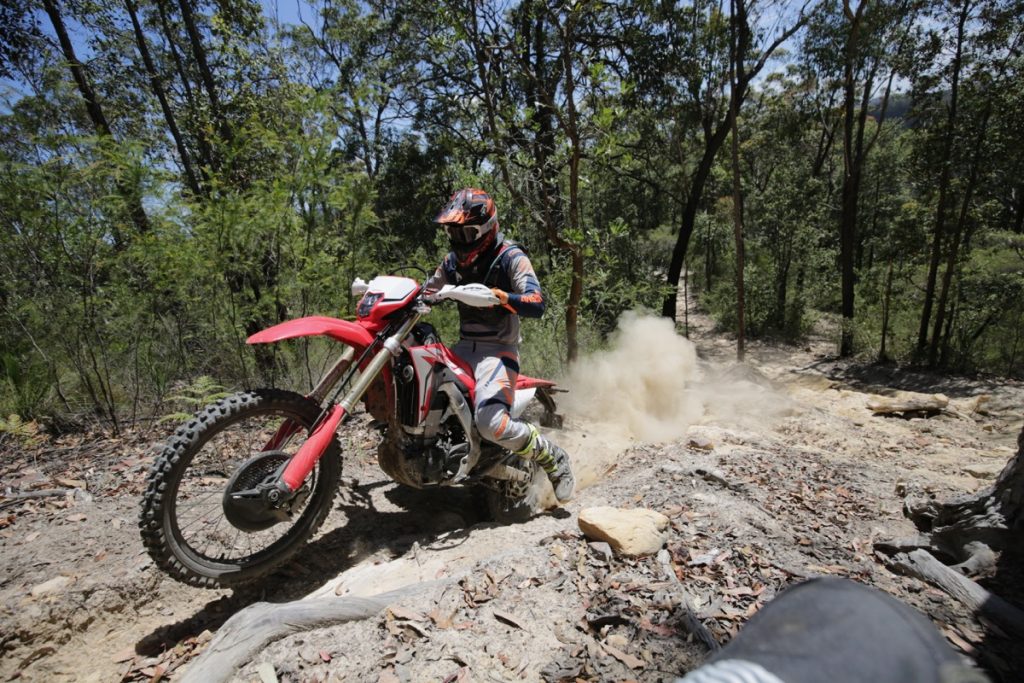 UNCORK THAT RED
Late last year Honda unveiled its LX Enduro Kit and we were like kids in a candy store. Priced at $2600, the kit includes a complete FMF exhaust with Powerbomb header and Q4 muffler, plus a Vortex X10 ECU, plus a set of custom LX Enduro graphics from SK Designs. It's a big-ticket item but the kit was worth every penny when it came to uncorking the Honda, as well as saving a few kilos.
The LX kit transformed the bike's performance, with cleaner response and stronger power right through the range, plus none of the politically-correct asthma of the stock bike. From the first ride, the kit made the 450L feel like a 'proper 450' and you could slide out of every corner and bark the front end up and over obstacles at will.
What's more, the Vortex ECU offered 10 pre-programmed engine maps, four of which are specific to the 450LX set-up with unmolested engine, airbox lid removed and FMF exhaust. We've loved the Best Trail Power and Traction/Enduro maps for the riding we've been doing on the 450L – we just wish the adjustment dials on the Vortex ECU were easier to get at. Installing a Vortex map switch on the handlebar would be the go to give you two maps at your finger tips.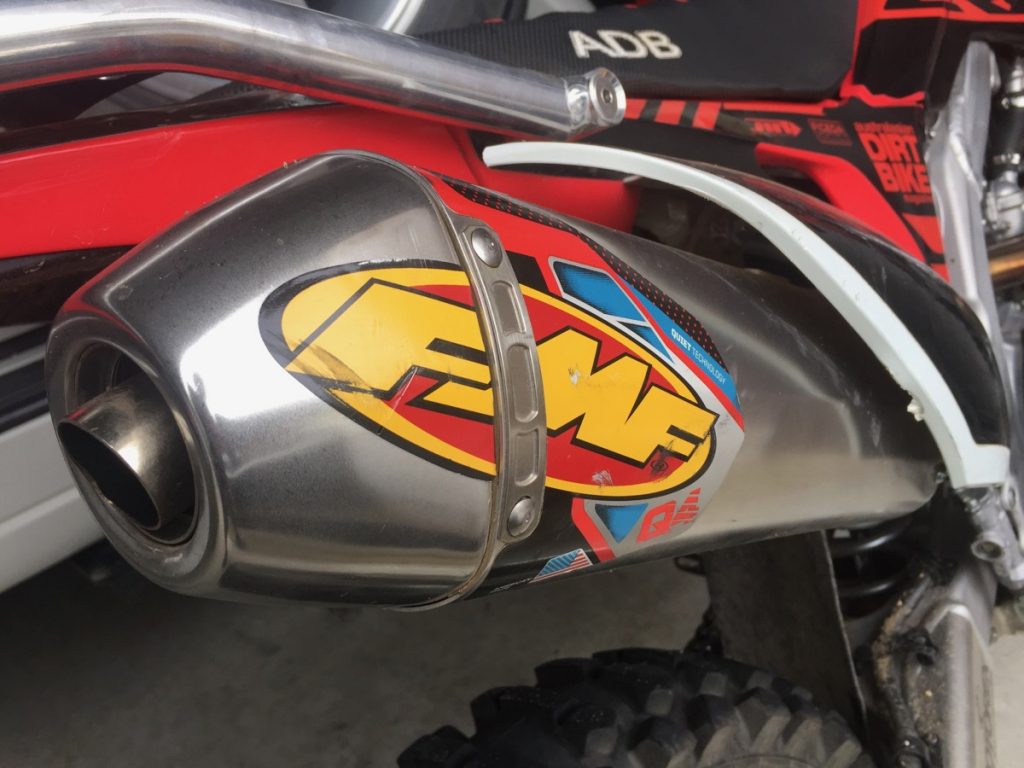 With the boost in performance the LX Enduro Kit offers, there is one trade-off: fuel economy. On the standard bike we averaged 22km/litre when trailriding and 18-19km/l when riding singletrack. With the kit fitted, those figures went down to 18km/l for trailriding and 15-16km/l for singey, which shows you just how lean the standard bike runs. Thankfully the Nomad tank gave us back the stock range of 200km when trailriding.
HASSLE-FREE
The CRF450L adventure bike now has almost 2500km on the odo and the bike has never missed a beat or produced coronavirus-like symptoms. I've used it on everything from lazy dualsport adventure rides to singletrack snot-fests with the DSMRA Sydney branch and the mighty red rooster has done it all with ease, which is right on brief with what Honda claimed the CRF450L would be: a trailbike you can ride to the bush and then ride home again when you're done carving up the forest.
I've racked up a bunch of 300km-and-more days just like that: riding from home in Sydney to the Watagans or Belanglo to carve up the bush, and then ride home in the arvo. Sure, those last tarmac miles coming home get a bit tiresome on the standard seat, but the 450L gets it done.
I really like riding the 450L as a dualsport and trailbike – even more since the LX Enduro Kit was installed – and, as I wrote a couple of issues ago, I'm surprised not to see more 450Ls out there on the trail.
Two factors are working against it, I reckon, and that's the bike's price, which is right up there in genuine enduro-bike country, and a service schedule that requires 1000km engine oil and filter changes. If Honda could have priced the 450L a little cheaper and squeezed another 500ml into an oil cooler or the crankcase to stretch the service intervals, this bike's popularity could have been on a whole other level … the level of those legendary XRs.
CRF450L Adventure Build Parts Counter
Money talks, especially as coronavirus sends the entire world into economic uncertainty and our exchange rate down the toilet. If you're wondering what the cost would be to build a CRF450L just like our long-termer, here's the rundown [Please make sure you're sitting down before you check out the Grand Total below, ADB is not responsible for any selfish cardiac arrests that may occur at this time]:
•The bike – $13,599 plus on-road costs
•Honda LX Enduro Kit – $2600
•B&B Off-Road rack – $195
•B&B Off-Road rego plate hanger – $89
•B&B Off-Road bashplate – $195
•Metzeler MX360 tyres – $229 (both)
•Kustom MX ADB graphics – $199.95
•Topline seatcover – $115
•RHK sprocket – $79.95
•EGO Barkbusters – $120
•Nomad Tanks 11-litre fuel cell – $549
•Click 'N' Ride indicators (four pack) – $149.95
•Click 'N' Ride resistors (pair) – $14.95
•Click 'N' Ride roll-up pouch – $12.95
•Enduristan Tornado 2S bag – $99
•Enduristan XS Base Pack – $79
•Enduristan Lyndon's Organiser – $59
•Enduristan Tool Roll – $59
•Enduristan Inferno heat shield – $40
•Zeta 19mm handlebar risers – $65
GRAND TOTAL – $18,549.75
Wish list for the ultimate CRF450L Adventure bike
•Cush-drive rear hub: JTR can now supply wheel sets with a cush-drive rear hub to suit the 450L. It will really make the ride smoother and give the drive train an easier life on long road trips.
•Seat Concepts seat kit: The stock foam is firm and the current Topline ribbed cover is great for short stints in the bush but not the most comfortable set-up for long days in the saddle.
•Windscreen: A slimline screen fixed to the stock headlight surround would help cut wind blast on long transports.
•Larger fuel tank: Nomad Tanks has just released a 20-litre reservoir for the 450L that will give another big boost in range over their 11-litre one. The new Nomad comes complete with a set of radiator guards which provide the front tank mounts and is priced at $749 plus GST.
Rally version
We've all been waiting for Honda to unleash a CRF450 Rally, especially since the mighty brand won the Dakar Rally with Ricky Brabec in January. If you just can't wait any longer, Italian aftermarket brand MST can help.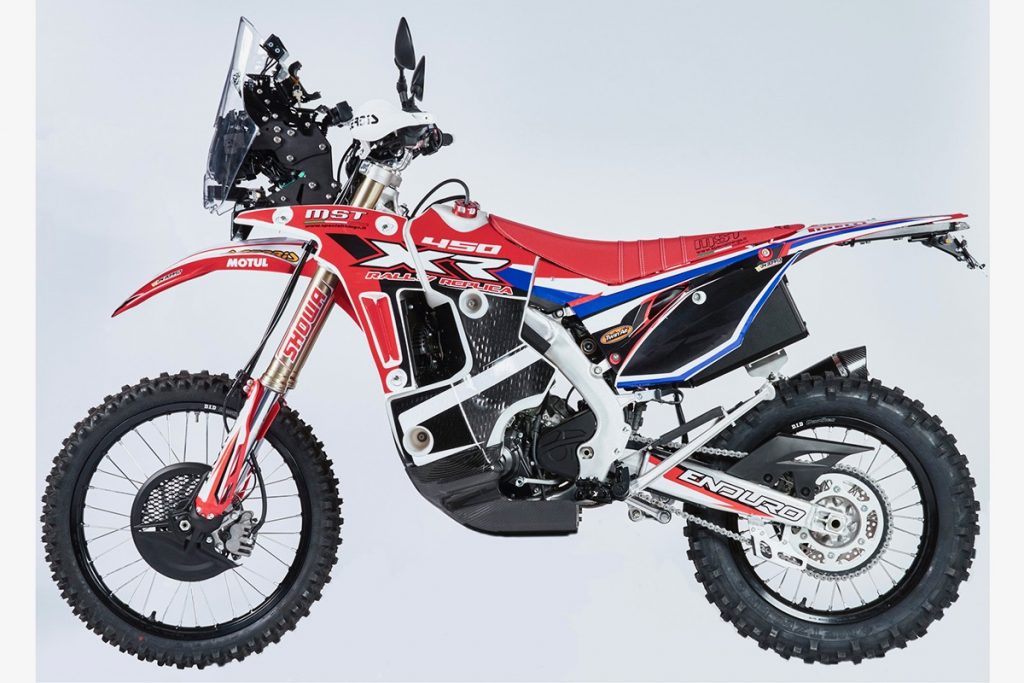 Dubbed a Rally Replica kit for the 450L, their package includes:
•Aluminium alloy navigation tower that accepts the stock lights and instruments.
•USB charging port and GPS mount.
•Transparent HRC-style plexiglass windscreen.
•Plastic fairing side panels
•Dual nine-litre front fuel tanks (total: 18L) with mounts and fittings.
•Carbon-fibre engine guard/bashplate
•Full low-exit exhaust system
•Right side toolbox in place of stock muffler (no pannier tanks)
•Custom XR graphics
The Rally Replica kit is priced at 3690 Euros and you can check it out at www.specialthings.it – but you might still be waiting a while as MST is based in northern Italy, which has been Coronavirus Central.
WORDS & PHOTOS // ANDREW CLUBB