GEICO Honda's Jett Lawrence finished fifth overall at Round 3 of the Lucas Oil Pro Motocross Championship, Ironman National.
Jett Lawrence finished fifth overall on the day after placing fourth in Moto 1 and fifth in Moto 2.
In a video posted after the race, Jett says he felt good all weekend from Saturday qualifying through to race-day Sunday but hopes he can improve at RedBud.
"I was struggling the first few laps to get my flow but once I got my flow I felt pretty good. I couldn't make a pass to save my life. My fitness was good, I went all the way to the end, ended up getting fourth in Moto 1. I tried making a pass on Hampshire in the second-last lap but I ended up crashing. I didn't lose any spots because I had a pretty big gap back to fifth.
"In the second race I had a better gate pick and got a good jump. I was around fourth. Again, the first few laps weren't so good but once I got into the flow I was behind #74 [Mitchell Hampshire] again, Muppet, I couldn't get around him because I couldn't pass. I finally ended up getting around him, dropped him, caught up to handshaft [Brandon Hartranft] again and we were on for a good battle but then [Dylan] Ferrandis came through and passed both of us, he was on a missing. I ended up getting fifth in the Moto and fifth overall. Definitely an improvement overall last weekend, it could have been a podium but it didn't happen but we are making improvements. Hopefully, we can go into RedBud with a better result, maybe even a podium."
Hunter Lawrence finished 16th overall but expressed his disappointment with his performance. "Today I sucked. 19-11 are not at all where I want to be and not where I should be, one week ago I thought my season was done so taking the positive that I can keep building and do what I'm capable of. Just gotta keep working to be better and rebuild my shoulder."
The first 250 Class moto saw point leader Dylan Ferrandis grab the holeshot, just edging out Jeremy Martin. With the clear track, Ferrandis was able to sprint out to an early lead over his Honda counterpart, while the field jockeyed for position behind them. Ferrandis quickly built a multi-second advantage over Martin, who soon was forced to contend with KTM's Brandon Hartranft from third. Martin responded and soon asserted himself into the runner-up spot, while Hartranft solidified his hold of third.
Out front Ferrandis continued to add to his advantage and eventually opened up a margin of more than 20 seconds on the rest of the field. He went wire-to-wire to earn his third moto win of the season in dominant fashion, crossing the finish line 26 seconds over Martin, followed by Hartranft in third. GEICO Honda's Jett Lawrence finished in fourth, while Husqvarna Factory Racing's RJ Hampshire completed the top five.
As the field emerged from the first turn to start Moto 2 it was Martin who surged to the head of the pack to secure the holeshot ahead of Yamaha Racing's Justin Cooper. Behind them Ferrandis was on the ground after an incident with his Star Yamaha teammate Shane McElrath, with the Frenchman finally returning to action in dead last.
With Ferrandis forced to battle his way through the field of 40 riders the window of opportunity opened for Martin to take advantage. The Honda rider was able to put some space between he and Cooper early on and continued to build that lead into a multi-second advantage, with Hartranft once again asserting himself in third. As Martin continued to lead the way out front, Ferrandis was making an impressive climb up the running order. He needed just one lap to break into the top 20, and continued to charge his way into the top 10 before the halfway point of the moto. The Frenchman's determined comeback didn't end there. He continually picked off riders, one-by-one, and eventually fought his way back into podium position.
Martin went unchallenged en route to his second moto win of the season, taking the checkered flag 5.7 seconds over Cooper, while Ferrandis made the most of a moto that started with him in the worst possible position by finishing third.
Martin's Moto 2 triumph gave him 2-1 finishes for the afternoon, which was enough to put him atop the overall standings for the second week in a row, and the 16th time in his career. Ferrandis' impressive performance helped him secure the runner-up spot (1-3), while Hartranft earned the first overall podium finish of his career in third (3-4).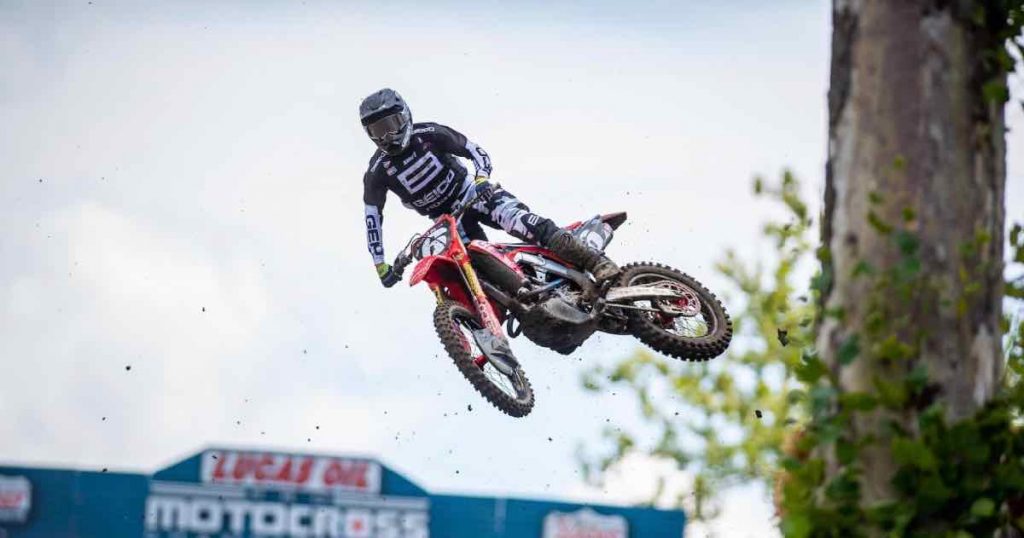 "Last week was a special moment [winning my first race since 2018], but I didn't win a moto. It made it more special to get a good start and ride my own race to get a moto win," said Martin. "Dylan [Ferrandis] was on it today, but I knew I needed to get a good start and that would put me in a position to win. I know Dylan didn't get the start he wanted [in the second moto], but my GEICO Honda was working really well in these conditions and I'm just happy to be back on top of the podium. It's going to be a fun battle [for the championship]."
By virtue of his damage control in the final moto Ferrandis maintained his hold of the point lead, losing just two points to Martin. The top two are now separated by four points.
"I just ride as fast as I can and pass the most riders I can. I have nothing to lose," said Ferrandis. "I wish there was more laps, but it is what it is. It's a disappointment to lose out on the second moto, but this is racing and sometimes things like that happen. We'll just keep fighting and try again next week."
Ironman National 250 Results
1 Jeremy Martin 2 – 1 Honda CRF250R
2 Dylan Ferrandis 1 – 3 Yamaha YZ250F
3 Brandon Hartranft 3 – 4 KTM 250 SX-F
4 Justin Cooper 8 – 2 Yamaha YZ250F
5 Jett Lawrence 4 – 5 Honda CRF250R
6 Alex Martin 7 – 6 Suzuki Rm-z250
7 Shane McElrath 6 – 10 Yamaha YZ250F
8 Jo Shimoda 12 – 7 Honda CRF250R
9 Mitchell Harrison 11 – 8 Kawasaki KX250
10 Carson Mumford 13 – 9 Honda CRF250R
250 Championship Standings after Ironman National
1 Dylan Ferrandis France 135
2 Jeremy Martin 131
3 Alex Martin 100
4 Shane McElrath 95
5 R.J. Hampshire 90
6 Cameron McAdoo 79
7 Justin Cooper 75
8 Jett Lawrence 63
9 Brandon Hartranft 61
10 Mitchell Harrison 61