Kawasaki's Eli Tomac has claimed his first win of the AMA Lucas Oil Pro Motocross Championship at the Ironman National, Round 3 of the championship.
Reigning three-time 450 Class Champion Eli Tomac found himself in unfamiliar territory coming into Indiana, sitting seventh in the championship standings and facing a 40-point deficit to leader, Husqvarna's Zach Osborne. As a result, Tomac and his Kawasaki squad entered the Ironman National looking to turn their season around, and they did just that. The Colorado native captured the 45th victory of his career, emphasized by an impressive Moto 2 win.
The opening 450 Class moto saw a pair of familiar rivals out front early as KTM Factory Racing's Marvin Musquin secured the holeshot just ahead of Tomac's Kawasaki, with point leader Osborne in third aboard his Husqvarna Factory Racing machine.
The top three asserted themselves at the front of the pack, while the rookies of Monster Energy Kawasaki's Adam Cianciarulo and Team Honda HRC's Chase Sexton gave pursuit to build a close fight amongst the top five. This group continued to trade momentum through the middle portion of the moto and at one point were collectively separated by just a handful of seconds. As the race wore on, the running order began to spread out, with Musquin and Tomac pulling away. Behind them, Osborne made a costly misjudgement trying to pass a lapped rider, resulting in contact that forced the point leader off his bike. That allowed both Cianciarulo and Sexton to get by, while Osborne continued in fifth. He then almost crashed again a short time later, which caused him to lose fifth to Rocky Mountain ATV/MC-KTM-WPS rider Blake Baggett.
Musquin withstood one final push from Tomac to capture his first Ironman National moto win since suffering a knee injury at this same track one year ago, taking the checkered flag by 2.2 seconds over the champ. Cianciarulo finished in third, just ahead of Sexton, while Baggett rounded out the top five. Osborne lost another position late to finish a season-worst seventh.
When the gate dropped on the second and deciding moto it was Osborne who prevailed to take the holeshot ahead of Cianciarulo, while Tomac and Musquin gave chase right behind them. Musquin and Tomac battled for third briefly, but Tomac got the upper hand to secure the position. With a clear track Osborne looked to pull away, but Cianciarulo responded to the torrid pace of the opening laps.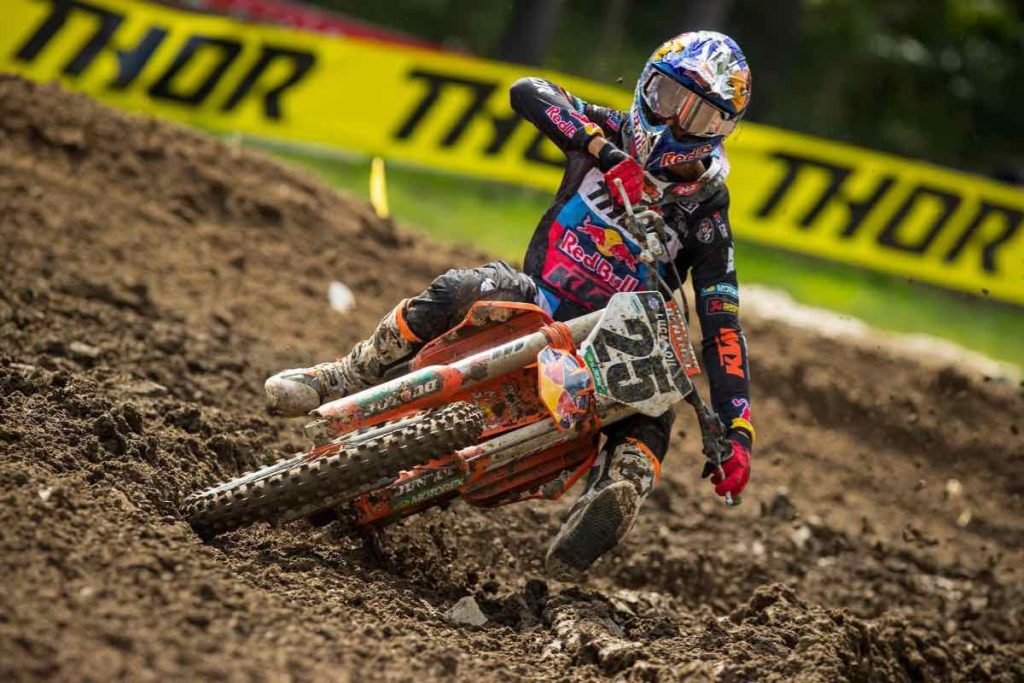 With Tomac closing in from third Cianciarulo put the pressure on Osborne for the lead and successfully made the pass stick, leaving Osborne to fight with the reigning champion. Meanwhile, Musquin lost additional ground after getting passed by Monster Energy Yamaha Factory Racing's Justin Barcia for fourth.
The top four maintained their positions throughout the middle of the moto, but with 10 minutes remaining this group had closed in on one another and were separated by just a couple seconds. As they encountered lapped traffic Osborne was slowed, which allowed both Tomac and Barcia to get around and drop the point leader off the podium. The lead trio still sat within less than two seconds of one another and Tomac went on the attack, successfully taking the lead away from his teammate. Barcia followed through into second, and then Osborne dropped Cianciarulo off the podium by moving up to third.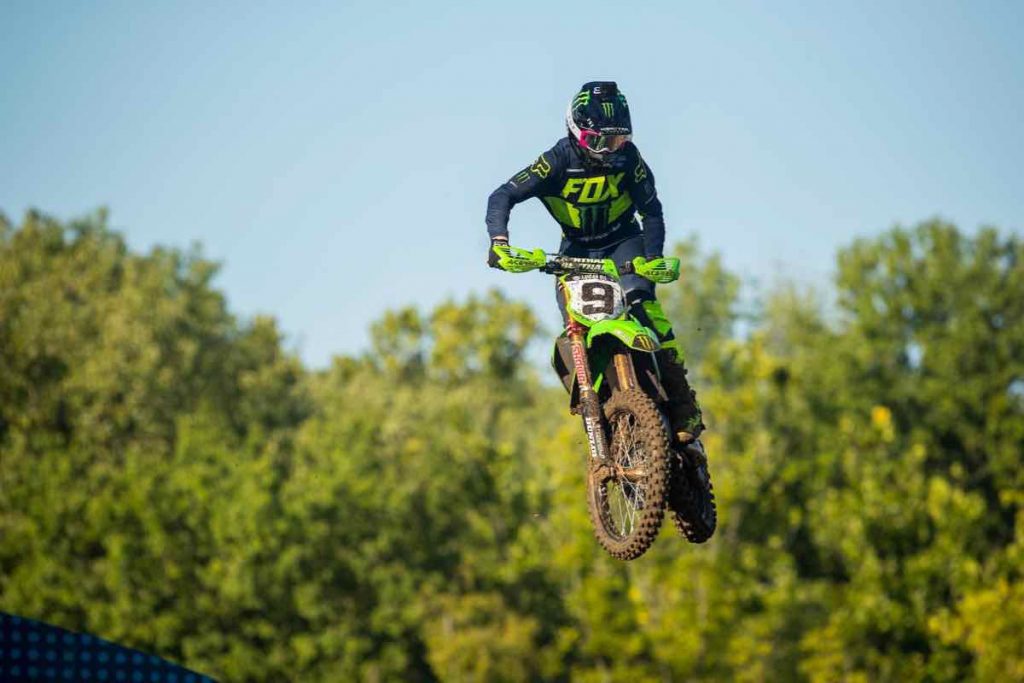 The closing stages of the moto turned into a compelling head-to-head battle between Tomac and Barcia, and while Barcia appeared to be faster in some areas of the track, Tomac excelled in different areas as well to keep the Yamaha at bay. In the end, Tomac charged to the finish line to take his first moto win of the season by 1.1 seconds over Barcia, while Osborne finished in a distant third.
Tomac's 2-1 moto results Tomac was able to secure his 45th-career victory just one week after finishing a career-worst 16th overall. The win puts him in sole possession of fourth on the all-time wins list.
"I just had a better feel [today]. The track came to us all day. We had good starts in both motos and that pace was insane there in Moto 2," explained Tomac. "I had pressure from Barcia for a while there and we were really pushing it at the end. He kept me honest, but I was able to keep it going and get us a win. We've got some good tracks for us coming up and hopefully we can keep putting work in to make up some ground in the championship."
Musquin finished in second (1-6), while Cianciarulo rounded out the overall podium in third (3-4).
"It's huge right now to get a moto win and to be back where I am right now," said Musquin. "Even though it's a second overall and the second moto didn't go as planned, that first moto was awesome – I was not tired or anything. In the second moto, the start was decent but I was behind the top guys and I knew it would be hard to pass those guys back. I wasn't riding quite the same as the first moto, so I unfortunately lost the rhythm and contact with those guys – they were on it. Overall, I'm happy. It's an improvement on last weekend with a moto win and second overall."
Cianciarulo on his result; "The day started off really good, especially with qualifying fastest. I had a lot of comfort on the bike from the start thanks to the great communication with the team; they really had my KX450 dialed. I kind of blew it off the start in the first moto but I was able to pass what felt like 15 guys in the first lap and finished third. I got a great start in the second moto, which was awesome, and it felt really good to lead some laps. Obviously, the goal is to win each time we get out on the track, but I'm proud of the effort we put out there today. I can't be too frustrated because I had the speed and I gave it everything I had. I'm so stoked for the entire Kawasaki team. We'll work to improve on some of those minor things and just keep proving I belong up front and on the podium."
Osborne's strong finish to the afternoon helped minimize the ground he lost in the championship standings. He now holds a 13-point lead over Musquin, while Barcia sits 26 points behind in third. Tomac vaulted from seventh to fourth, and now faces a 27-point deficit behind Osborne.
"The first moto was just really bad for me. I made some mistakes and it was just a mess, really," said Osborne. "It was a disappointment, but we bounced back in the second moto. I didn't have the pace to run up front with those guys, but still put in on the box and still have the red plate [as point leader]. We'll look forward to RedBud."
Ironman National 450 Results
1 Eli Tomac 2 – 1 Kawasaki KX450
2 Marvin Musquin 1 – 6 KTM 450 SX-F
3 Adam Cianciarulo 3 – 4 Kawasaki KX450
4 Justin Barcia 6 – 2 Yamaha YZ450F
5 Zach Osborne 7 – 3 Husqvarna FC 450
6 Chase Sexton 4 – 5 Honda CRF450R
7 Blake Baggett 5 – 7 KTM 450 SX-F
8 Dean Wilson 8 – 8 Husqvarna FC 450
9 Broc Tickle 9 – 10 Yamaha YZ450F
10 Christian Craig 11 – 12 Honda CRF450R
450 Championship Standings after Ironman National
1 Zach Osborne 122
2 Marvin Musquin 109
3 Justin Barcia 96
4 Eli Tomac 95
5 Adam Cianciarulo 89
6 Blake Baggett 81
7 Chase Sexton 78
8 Broc Tickle 71
9 Christian Craig 59
10 Dean Wilson 58