KTM 300 SXC Modern Restoration | Features
A few years back, I put a KTM 380 engine in a modern frame.
That build went okay but, after repeated mechanical issues with the old motor, I decided I wanted a cool, old-skool bike with the reliability of a modern engine plus decent suspension and handling. I had enough parts in the shed to piece together the bones of a mid-'90s Kato and, through a long-term parts exchange program with Bernie DH, could get a "roller" together. I just had to find a suitable engine. I managed to track down a mint 2015 KTM 300 EXC unit which had the early electric-start system. It was a warranty job that had been replaced and repaired, with about two hours on it.
Wanting a factory look and finish to the engine mounts I decided to outsource the fabrication work and found there was a local guy hand-building chopper frames and doing some awesome builds. Brado@Milwerx turned the frame around in a day, proving it really does pay to find the right people for the job. During the trial assembly everything seemed to be fitting neatly but, as expected, we had some issues with our modern swingarm and clearance for the late-model WP shock, and the only way around it was to replace the original linkage mount on the frame.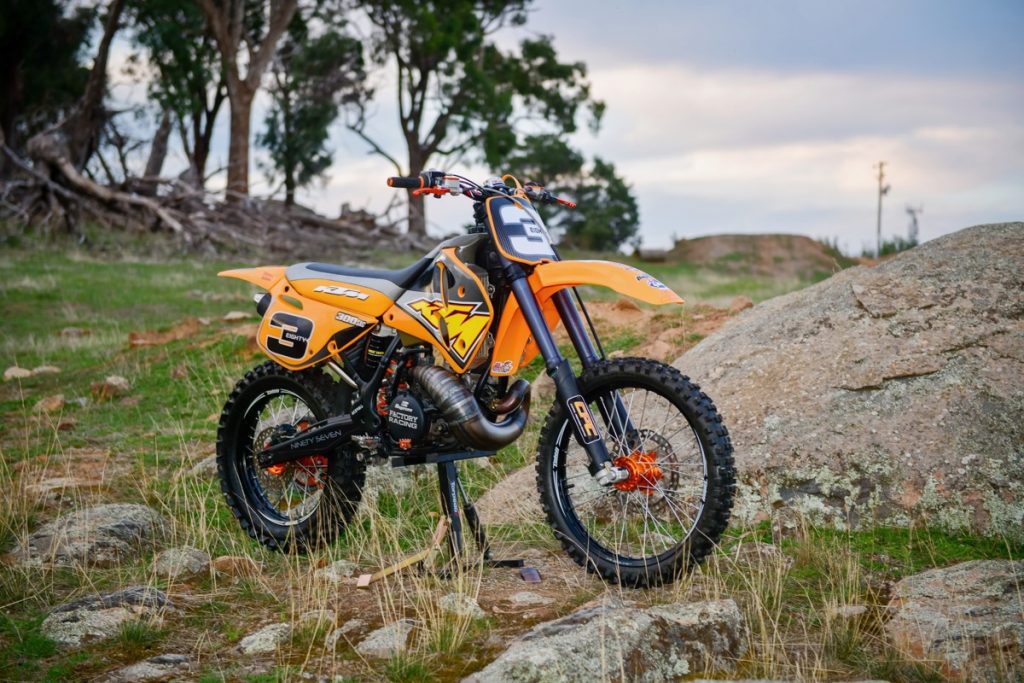 Brado was heading away so he hooked me up with his mate Jay@JRs Welding and Custom Fabrication who again did an outstanding job, getting the shock mount and suspension fitted up perfectly. We fitted an adjustable Devol dog bone link to the shock, which gives increased flexibility to adjust ride height and linkage ratios.
With the rear-end sorted, it was time to move to the front. With this bike intended for trailriding, I wasn't chasing excessive horsepower but looking to get speed through sweet handling and suspension. To really launch this build into the future, we fitted Dal Soggio Sphere Hydraulic Dual-Chamber Cartridges, topped off with a Pro Moto Fastway billet steering stabiliser.
A compact lithium battery fitted neatly in the '90s airbox, the only downside being that the battery has to be lifted out to service the air-filter, a small price to pay for the "Katoey Kicker"! Fitting the 38mm Lectron HV carb and Fresco cone pipe was all pretty simple thanks to the quality work done by Brado to get the engine sitting just right.
A worldwide search turned up NOS white plastics and a purple seat. Splashes of orange bling were added to compliment the orange lettering and highlights of the favoured '95 graphics and it looked good, but wasn't the killer look I was after. Kato's white era produced some sweet-looking rides but my personal favourite has always been the flowing seat and graphics combo of the honeycomb '97.
The '97 360 was also my first KTM, but it is the hardest to replicate and very few have taken up the challenge. The seatcover is basically unobtanium, reproduction covers are of poor quality and/or colours and finding a mint 23-year-old one is a futile quest. Which is why there are so few restored '97s around. There are a few good survivors getting around but original examples are on the verge of extinction.
It just so happened that KTM tragic Bernie DH, who took these photos, had the "Holy Grail" tucked away in one of his many sheds. We've had several debates about which was the better looker, the '96 or the '97 and, fortunately for me, Bernie is a diehard '96 fan and was willing to surrender his '97 parts. The KTM community is good like that, there are good guys happy to help out with builds and supplying parts. His collection just happened to include the immaculate seat you see here.
The ideal way to do this build would have been to buy a late-model two-stroke roller and just take the parts I needed but the two-strokes rarely completely lunch themselves like the four-bangers do and, when a sale fell through on one, I started sourcing the individual parts I wanted. It wasn't the cheapest option but it gave me better quality control and it came together.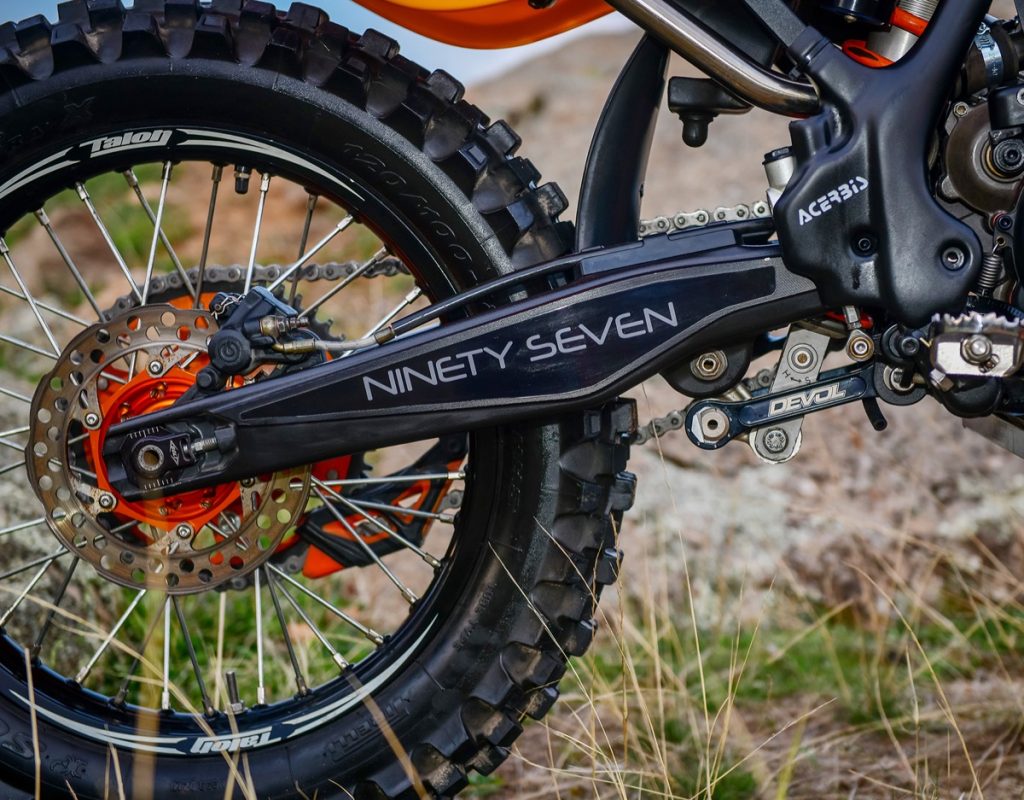 I never add up the cost of my builds. It gets a bit scary and you can start compromising towards the end of the build, but I think it would be fair to say I could have picked up a late-model 300EXC for the money I have invested in this build, but that wouldn't have given me anywhere near the satisfaction of riding this reincarnation of one of my favourite models of all-time.
WORDS // DANNY MCMAHON PHOTOS // BERNIE DEN HERTOG
Not Happy
This build can polarise opinion, with purists thinking a nut-an- bolt resto must be 100% stock parts. I prefer to call this a reparation! Amusingly, one KTM aficionado saw the electric start hanging out and said: "That's just wrong. It's like checking out a really hot chick and then getting up close and she has a package in her pants."
KTM 300 Parts counter
Old stuff
'90s EXC frame
(for ADR compliance)
'90s sub-frame & airbox
'90s Acerbis plastics
'90s Acerbis frame guards
'90s SX 9.0-litre tank with alloy cap
'90s radiators
Running gear
KTM closed-chamber
USD fork, coated by CPC
Dal Soggio Sphere inserts
Adjustable-offset KTM triple-clamps
BRP RDS handlebar mounts
Pro Moto Fastway billet steering stabiliser
WP monoshock with bladder conversion (Race Tech tuned)
Devol Transformer adjustable dog bone for monoshock linkage
Cerakoted KTM swingarm
Brembo brakes
Complete Talon wheels 21/18 inch
Engine
2015 KTM 300EXC complete
Fresco cone pipe
VForce4 reed block
SX CDI with map switch
Lectron HV 38mm carb
Steahly flywheel weight
Accessories
Motocell lithium battery
Boyesen clutch cover
Carbonteck starter cover
Hammerhead kickstarter
RHK unbreakable levers
Pivot Pegz
Pro-Bolt black-anodised bolts