KTM Australia is pleased to welcome four-time A4DE Champion Daniel Milner and exciting up-and-comer Lyndon Snodgrass to the KTM Enduro Racing Team for season 2017.
The KTM Enduro Racing Team's brand new Team Manager Glenn Kearney has announced that the pair will contest the Australian Off-Road Championships, the A4DE and Hattah Desert race in 2017, as well as selected other events.
Milner should need no introduction to fans of Australian off-road racing, having won four consecutive Australian four-day enduro championships from 2012-2015, and finished second outright in the 2013 ISDE in Sardinia.
After a year in the US, the 25-year-old from Lang Lang, south-east of Melbourne, has returned to Australia and taken up a long-term ambition to ride for KTM.
Milner has been test riding KTM's 450 EXC-F and 350 EXC-F, but his weapon of choice for season 2017 has not yet been fully decided.
His teammate, Lyndon Snodgrass is one of the most exciting young competitors on the radar, having scored outright podium finishes in this year's AORC, and taken a well-deserved podium in the E3 category of this year's A4DE just a month ago.
The fact that Snodgrass achieved these milestones at the age of 18 has flagged him as a rider to watch for the future.
Snodgrass rode a 300cc two-stroke with great effect this year, but it is not yet certain which category he will contest in 2017.
KTM Australia's desert racing team and support rider network will be announced at a future date.
For more information on KTM motorcycles visit www.ktm.com.au or www.facebook.com/KTMAustralia.
Daniel Milner: "It's something that's always been in the back of my mind, to come and ride KTM, being such a strong team here in Australia in both desert and off-roads. I've looked up to the team since Wonka ran it with Toby and the boys and it's a big move for me after being with another brand for the whole of my pro career. I'm really excited to get the opportunity to ride these bikes. KTM is massive all over the world and last year in America they had a really strong team in the GNCCs, and they have a really strong team at world championship level as well. Eventually I want to get to Europe and race there, and I think with KTM there is a better chance to make that happen.
"It was a bit of a bummer to lose my A4DE title this year and it's made me hungry to come and win it back next year on the new bike. The bike is unreal to be honest it so light and manoeuvrable compared to what I'm used to and it handles really well. I got my bike a week ago and I already feel at home on it.
"At the moment I'm switching my training between the 450 EXC-F and the 350 EXC-F, and right now I'm probably leaning towards the 450 for just that little bit more power, but I really enjoy both the bikes.
"I'm also really excited to be working with GK, I've looked up to that guy my whole career, I have so much respect for him, I've enjoyed racing with him and now to be able to work with him, it's going to be a really cool thing. I think it can be a really good team. Lyndon lives only an hour away from me, and it will be cool to have a young guy like him on the team that I can help and lead by example. The way GK was an example to me."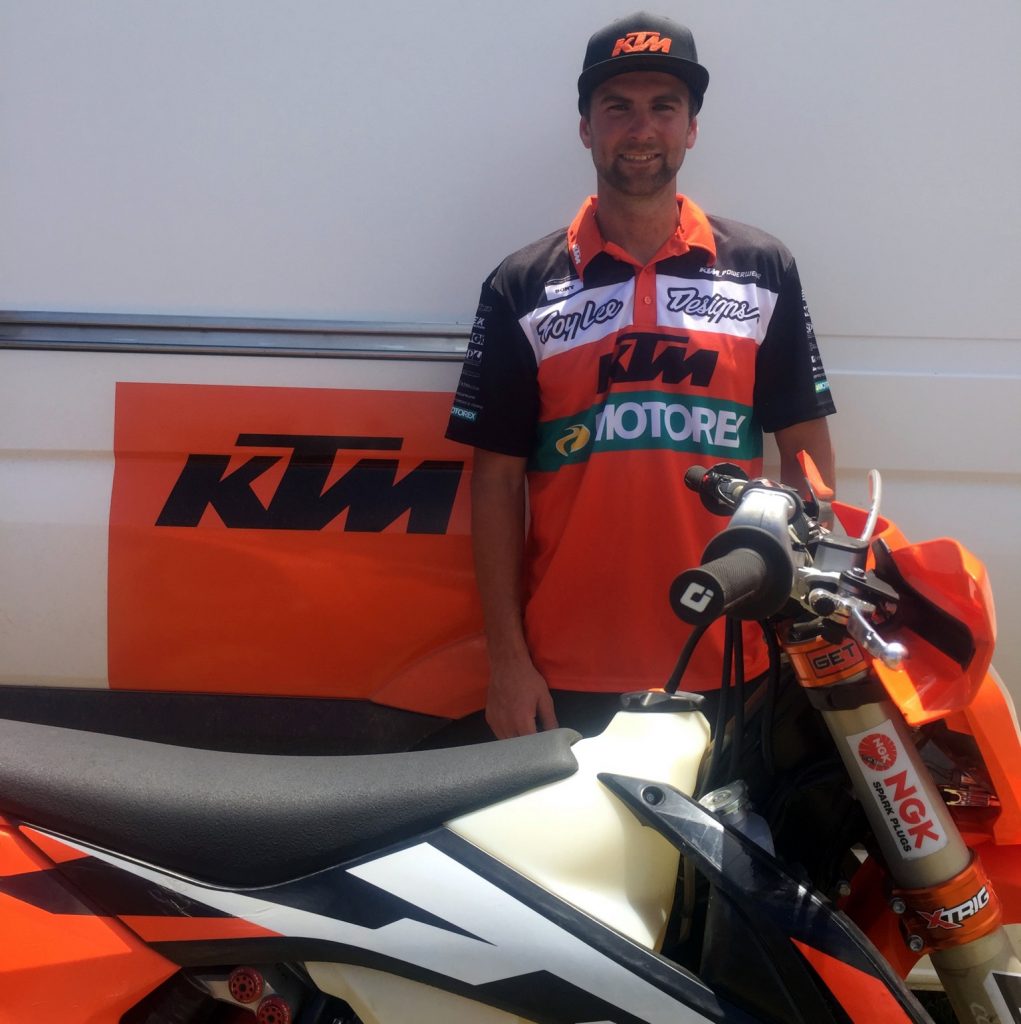 Lyndon Snodgrass: "It's awesome to get this opportunity. I can't wait to get out there and work with the team next year. It's been in the works for a while, so it's good to finally get it happening. KTM has had a lot of dominance in the off-road scene with Chucky, Tye and Toby, so it's definitely a great team and I'm excited to be a part of it. I'm looking forward to working more closely with Glenn, he's got a lot of knowledge and I get along well with Dan Milner too, so to have him as a teammate is pretty cool.We haven't nailed down what bike I will be riding yet, but I'm sure we'll have that worked out early next year.
"I've made some big improvements this year and I want to continue to do so next year, and being on this team will make that a lot easier. I like doing well and it's great that I've been able to better myself this year. Now I want to keep building until one day hopefully we are at the top."
Glenn Kearney – 2017 KTM Enduro Racing Team Manager: "I'm really excited to have the team locked in and all sorted before the New Year comes. We are looking to do big things with Daniel and bringing in Lyndon Snodgrass is pretty exciting, to have that younger element in the team that we can try and nurture and mentor him along a little bit. He's a young guy that's super keen and prepared to put in the hard yards to make things happen, and he's got some amazing speed in the muddy conditions and the sand so we'll be looking to help him improve himself on certain surfaces that he may have lacked in. But I think it's a good combination and it should bring a nice dynamic to the team, having that aggressive, win-at-all-costs attitude that Milner brings, and then a young guy that's keen and eager to learn, it should be a good balance. I'm really excited to work with the both of them.
I pursued Milner pretty heavily, he was a guy that I wanted to work with, and I believe he wanted to work with me as well. So it's exciting looking to the future.".
Jeff Leisk – KTM General Manager: "­­­Obviously with Chucky leaving it left a pretty big hole for us to fill, so it's exciting news that we have signed Daniel.
As a company, we are really thrilled about the fact that both Toby and Chucky have gone on to bigger and better things.
Daniel (Milner) had hoped that his American ride would lead to the WEC in Europe, but that never eventuated, and for next year he has become available to ride in Australia. At the same time I think he has always wanted to come on board with us but the timing has never been quite there. This time around though, the stars have aligned and we have a spot for him and the budget for him. I think he will be very happy on a KTM. I think is really going to enjoy the product and all the support that goes along with it, and I think we can put together a really good environment for him, particularly with Glenn on board.
We don't know for sure what he will be riding yet, whether it's a 350, or a 450, or a 500. I suppose that's the beauty of our brand is that we can confuse the hell out of you, because there are so many different bikes in the range that you can actually win on."