Top-10 result for Jarvis and Gomez at Hawkstone Park Cross-Country | News
Rockstar Energy Husqvarna Factory Racing's Alfredo Gomez and Graham Jarvis rode to eighth and ninth places respective at Hawkstone Park Cross-Country – round six of the World Enduro Super Series.
Held over two days at the historic Hawkstone Park venue, the event included a sprint enduro on Saturday, which decided the start positions for Sunday's two-and-a-half-hour cross-country. Despite the nature of the races favouring the classic-enduro specialists, Gomez and Jarvis held their own on the sandy terrain, finishing comfortably inside the top 10 and earning themselves valuable WESS Championship points.
More at home on technical enduro terrain, Alfredo Gomez nevertheless came into the race at Hawkstone Park keen to secure a top-10 finish. Saturday's sprint enduro, which comprised eight short timed tests – four motocross and four enduro – saw Gomez qualify in 13th for Sunday's main event. Following a steady start, the Spaniard's skill on the rapidly deteriorating track enabled him to slowly pick off riders ahead of him as the race progressed. Ultimately, finishing in a respectable eighth place, Alfredo earned 490 WESS points and lies a strong third in the provisional championship standings.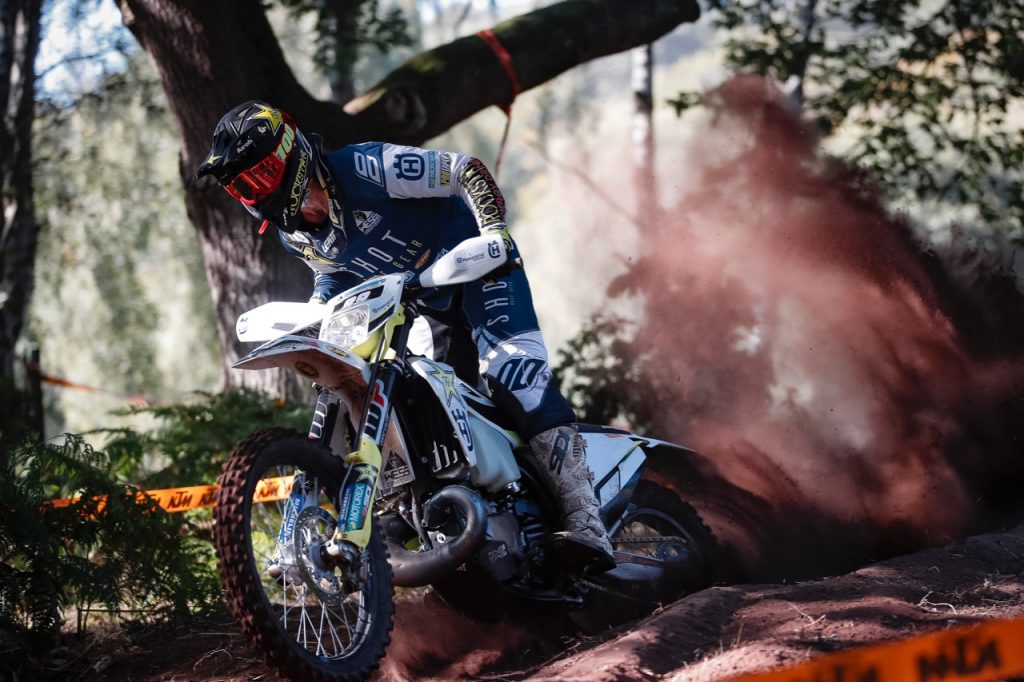 Alfredo Gomez: "I tried my best today but had a few crashes, which knocked me back a little. The track became so rough and it was really tough to ride for over two hours. Overall, I'm happy with my performance – I got eighth, which is not bad and earned good points for the championship. I'm looking forward to the next one now."
Similarly, to his teammate, the cross-country format of round six was not in Graham Jarvis' favour. However, the 44-year-old did what he does best and dug deep, right to the chequered flag. To the delight of his home fans, he showed impressive speed and endurance on the rough, sandy Hawkstone circuit. Able to make his way through the pack he claimed a final result of ninth. The Englishman remains second overall in the WESS championship standings.
Graham Jarvis: "I felt good today, I got an okay start and managed to get into a good rhythm. I was around 12th or 13th but got past a few riders ahead of me, so I'm pleased to equal my result from last year and get ninth. The fitness is there, which is the main thing. It can really wear you down out there so I'm happy with the result. It's always good to race in England, too. It's a shame it didn't suit my style a little better, but I'm glad to get some good points in the bag."
Billy Bolt was unfortunately unable to compete at round six due to recovering from recent surgery to his leg. The young Brit hopes to be back in action for the final round of the series – GetzenRodeo – in Germany in November.
The World Enduro Super Series continues with round seven – the BR2 Enduro Solsona in Spain on October 4-6.
Provisional Results – Hawkstone Park Cross-Country 2019
1. Nathan Watson (KTM) 2:30:41.111 14 laps
2. Manuel Lettenbichler (KTM) 2:33:19.480
3. Jonny Walker (KTM) 2:35:51.529
4. Taddy Blazusiak (KTM) 2:36:36.306
5. Josep Garcia (KTM) 2:39:09.380
6. Alex Snow (Gas Gas) 2:40:25.430
…
8. Alfredo Gomez (Husqvarna) 2:32:3.308 +1 lap
9. Graham Jarvis (Husqvarna) 2:33:22.425 +1 lap
Provisional Standings – World Enduro Super Series 2019 after round six
1. Manuel Lettenbichler (KTM) 4420 points
2. Graham Jarvis (Husqvarna) 3920 pts
3. Alfredo Gomez (Husqvarna) 3654 pts
4. Jonny Walker (KTM) 3470 pts
5. Taddy Blazusiak (KTM) 3280 pts
6. Josep Garcia (KTM) 3165 pts
…