The first ever VIP Experience at Chucky's Factory Compound was epic! Read all about what happened over two massive days of riding.
When you picture heaven, what do you think of? Our version of heaven is rolling hills, sunshine, moist, loamy soil and a network of dirtbike trails and tracks that snake through the mountain side. There would be perfectly manicured berms that flow from one into the other as seamless as can be. There would be no dust but there would be mud, well of course there would be a little mud! Sound like a VIP Experience?
The steeds we would ride would be brand new, shiny and made just in the image of God (or Grabbo, as it would be). There would be food and booze aplenty and tales from dirtbike legends that came before us to fight for our salvation. That's heaven for a dirtbike enthusiast and that's what we got for our first ever VIP Experience held at Daniel "Chucky" Sanders place.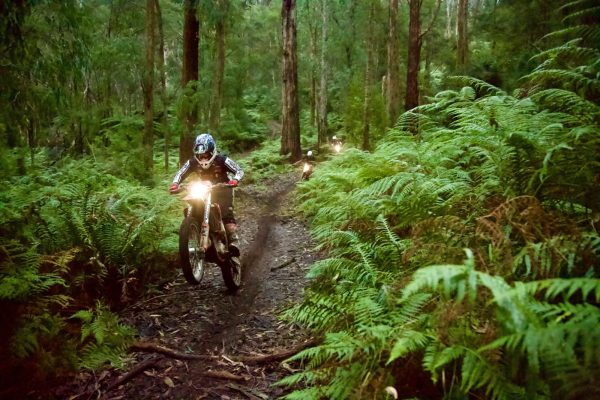 Our heavenly experience was further complimented by heavenly weather. Rain in July in Three Bridges, Victoria, is as likely as the English complaining about being hard-done-by in the cricket. Yet, unlike the English this Ashes series, it didn't rain, not in the lead up to this VIP Experience or during the days we spent testing the MY23 GASGAS EC and EC-F ranges. We had ideal weather for testing dirtbikes and perfect track conditions.
The VIP Experience rides in 2023 have been more about testing the GASGAS machines and working on bike setup and riding tips from Ben "Grabbo" Grabham than they were in 2022. Last year's rides were a festival of carnage as Grabbo challenged bike and rider to get through tracks they never would do on their own. Most riders loved the test but our fleet of GASGAS bikes weren't as fond.
We had some riders tell us they would love to focus more on testing the bikes this time round than testing their bodies. So that's what the VIP Experiences will focus on for 2023, bike testing and bike setup tips and coaching with Grabbo. And there's no better place to do this than Chucky's Factory compound.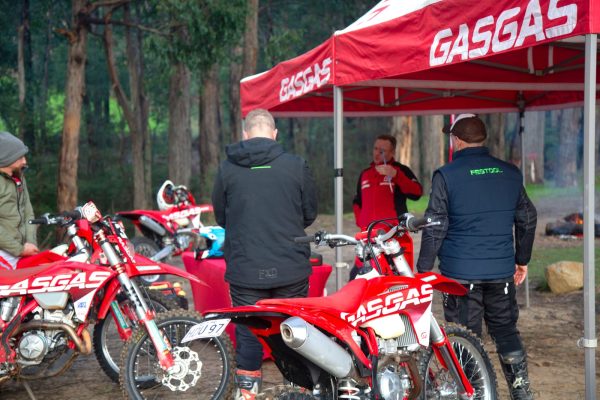 THE HEAVEN
Chucky's farm is a fully-operational apple orchard. If you've eaten an apple on the East Coast, there's a good chance it's come from the Sanders Apple Orchard. Chucky's family own most of the valley where his farm is based and that means plenty of land to play with. Chucky's dad Pete, also loves dirtbikes so it should come as no surprise that he saved the best portion of land for Chucky's training tracks.
On a perfectly slashed hill we had access to a grasstrack, motocross track, supercross track, endurocross track and rut track. All tracks lined up one after the other so our riders could jump onto whichever track they felt comfortable on. Chucky had all the tracks immaculately prepared, ripped and tilled to perfection with multiple lines in every corner.
But it got better, two minutes down a winding dirt road we had access to even more tracks, better suited to trailriding. Pete had jumped into the bush on his dozer and cut in three separate loops, a green track, a blue track and a beast-mode track that took about 30-45 minutes. They were all a mix of singletrack and twin track with arrows and bunting showing our riders where to go. No one got lost.
The background was of course the orchard. Apples as far as the eye could see. Beyond them was the Victorian High-Country, huge mountains skirted buy low-lying clouds. No, I'm not describing the set of the famous scene out of the Sound of Music where the family dance and sing, this is what was on offer at Chucky's Factory Compound for our VIP Experience.

THE GODS
There's more to a VIP Experience at Chucky's Factory Compound than heavenly tracks. On hand we had two of the most-respected dirtbike athletes Australia has ever produced. Grabbo, a multi-time Finke, AORC, ISDE, A4DE and Flat Track Champ, ran the show. He meticulously prepares the bikes and was on hand for two days to set the bikes up exactly how we liked it.
Using his knowledge from decades spent testing motorcycles for factory teams and ADB, Grabbo was our own personal mechanic for two days. He could change anything we wanted on the bike and if we didn't know what direction to go in, he could show us. I watched for two days as he imparted his wisdom onto the other riders who had a bevy of questions from where to sit to how to setup the shock.
But it wasn't just serious bike talk, a VIP Experience always includes luxury accommodation and top-notch food and booze. It was while enjoying some sort of duck banquet that some of the riders began asking Grabbo about steering dampeners and if they're worth it out at Finke. I listened on as Grabbo explained the intricacies of the steering dampener and how he managed to snap a small rod on one model after running it for over 100 hours in the desert. The boys listened in like the Lord himself was speaking.
If Grabbo is God, then Chucky is Jesus. Chucky is trained and coached by Grabbo and together their knowledge is more powerful than Captain Planet. Chucky was there all weekend to chat with us riders about his Red Bull GASGAS Factory Rally Bike, which was on display, and to answer any questions we had about the famous Dakar Rally. Of course he and Grabbo engaged in healthy banter the whole weekend and Chucky was also happy to lend his valuable knowledge when it came to bike setup and race tips.
At the end of the VIP Experience, we even got a chance to visit Chucky's Man Cave. We were taken aback by his championship-winning paraphernalia hanging on the wall and I'm not just talking jerseys and helmets. Chucky has most of his Championship winning bikes hanging from the roof and plastered on the walls not to mention parts and accessories he has collected as memorabilia over the years.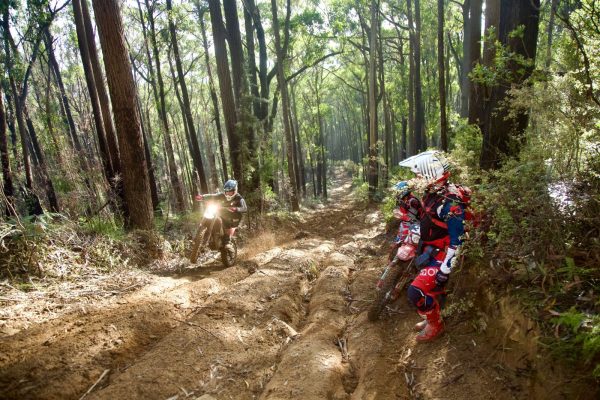 THE JOURNEY
While this VIP Experience held at Chucky's compound was all about having an awesome time bike testing, coaching and receiving bike setup tips, we also did some serious riding. After riders arrived Friday evening, we spent the night getting to know each other over a few cold beers and some snacks around the fire. We eventually retired to our dinner and then accommodation in nervous excitement for what was to come the following day.
Saturday morning had us up and eating bacon and eggs by 8am before a riders briefing conducted by Grabbo. We were allocated a bike to start on, which had the suspension and ergonomics personalised before we took off on the first loop. The blue loop took 10 minutes and was a feast of twintrack and singletrack. Leaf-matter covered the ground and provided some grip but if you weren't paying attention the track jumped up and bit you.
That's how it went down for our fastest rider, Hamish McKay, who returned from his first run on the blue loop with some unwanted grass stains on one side of his gear. He'd pushed the front-end too hard and let her low-side into a corner. He was alright and the bike was good so he soldiered on.
The morning was spent mixing it up on all three loops. We were encouraged to ride every single capacity GASGAS, the EC 250, EC 300, EC 250F and EC 350F. All morning we switched back and forth until we were comfortable riding every capacity. Then, just before lunch, Grabbo went out with each rider individually and gave us some one-on-one coaching. We all came back with something new we'd learnt.
Lunch was a serving of scotch fillet steak sandwiches, and jalapeno and cheese sausages from ???? in Armidale. If you haven't tried their meat you need to, it's phenomenal. The gourmet spread was desperately needed to refuel the tanks for more riding after lunch.
Once everyone had been coaxed back out of their lunchtime comas we hit the long loop. I've never seen berms so big in the bush in my life. As we left, Chucky yelled out, "Enjoy my bush supercross track!" I didn't know what he meant until I saw the berms and jumps. Of course we didn't have to send any of the jumps and no one of us did but we did enjoy trading paint in the perfectly formed ruts and bowl turns.
After we'd exhausted what little energy we had left, we called it a day and grabbed a beverage to swap battle stories. The fire was crackling and the beer refreshing. It was also a good chance to chat about what we'd learnt and which bikes we liked most.
The following day Grabbo had us on the tracks Pete cut into the best part of his property and we all got to race each other again and have a go at the endurocross track. Grabbo got us all up and over the tractor tyres and through the wood pile. By the end, Martin Convey and Steve Nancarrow were absolutely sending it off a large log at the end of a crater. It was loads of fun to watch.
Once we'd done enough on the tracks we ventured into the hills to practice our hill climbs. Grabbo went first up one particularly nasty hill before running back down halfway to help us up and provide some coaching. We bounced between epic views and lookouts before stopping for a delicious pub lunch then heading back into the mountains for more action. Once we couldn't move anymore, Grabbo gently guided us back into the comfortable surrounds of the apple orchard.

THE CONVICTION
Getting the opportunity to cut some laps on a factory riders own personal tracks was something I will never forget. I can't explain how perfectly manicured and well-setup Chucky's treasure-trove of tracks are. And being able to ride those tracks on brand new bikes with the likes of Grabbo and Chucky watching on was a divine experience.
Everything from the tracks to the bikes, the accommodation, food and booze made me feel like a very important person. If that's what heaven is, well I'm converted!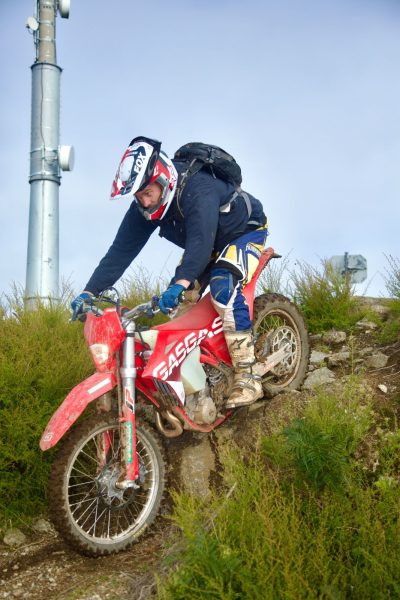 2024 EXPRESSIONS OF INTEREST!
We will have the all-new MY24 GASGAS enduro range on hand from January next year! That includes the brand new EC 450F and EC 500F. The entire GASGAS Enduro range has undergone massive changes for the next model run and we're keen to explore those changes with you. If you're keen to try them out for yourself, hit up Grabbo or the VIP Experience crew at info@vipexperience.com.au or contact ADB via our email, adbm@adbmag.com.au
THE TEACHINGS
Grabbo's coaching-style isn't what you're probably used to. He doesn't sit in a corner and make you go through it as a group a million times to get it right. He prefers to ride with you and watch what you do and provide little morsels of gold to hang onto and apply to your riding. Here are some of the things he told the group:
Seating position: Grabbo said too many of us had our weight too far forward or too far back. His advice is that if you could draw a line though the middle of the bike you should be able to line up your feet and footpegs with your arse and head.
Handlebars: Generally speaking, Grabbo said your handlebars should be in a neutral position. Again, he said draw a line up from the side of the fork legs and the bend of the bar should line up perfectly with that.
Look up: Too many of us weren't looking far enough ahead. Grabbo said that was key to going faster. He told us to focus on the next corner, not the one we were in.